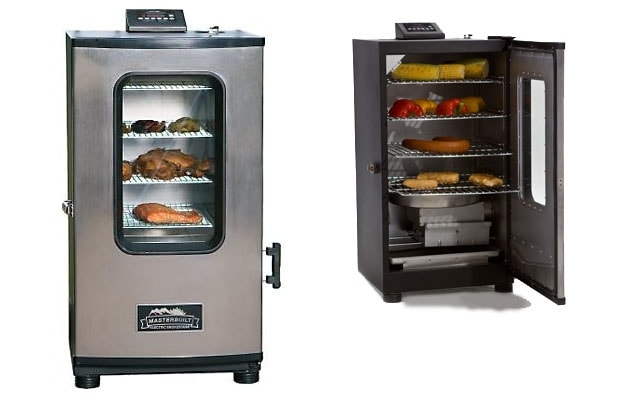 When our 10-year-old Masterbuilt propane gas smoker died, I wanted to buy a replacement for my husband for Father's Day that I would feel comfortable using as well. I wanted an electric smoker since I was uncomfortable using gas ones since I was certain that I was going to burn down the deck.
It was always such a big production to use our old smoker, and a huge pain when we would run out of propane and have to drive to the store to get another tank. We also had a hard time getting a correct and steady temperature with our old smoker. Instead, I wanted an electric smoker with a digital thermostat so we wouldn't have to guess.
Also, I didn't want another stacking style of smoker. When you needed to remove something on the bottom rack, you have to take everything out. Also, it's not easy to remove hot, slippery turkeys and chicken from this type of smoker. In fact, the last chicken we cooked in it ended up on the deck. Plus, you never know where to put down the hot lid when you're removing all the food you're smoking. All of these were reasons I wanted an "oven style" electric smoker with a door and racks that you can easily slide out.
With so many choices of electric smokers, which one was I going to choose? The electric smoker with a window, the one without, what brand, and what size, a 30 or 40 inch? Well, after sending out a message on Twitter asking for some recommendations, Masterbuilt's PR people contacted me and offered to send me a Masterbuilt Electric Digital Smoker - 30" Chrome with Window - Model 20070110.
Features of the Masterbuilt Electric Smoker (20070110)
Viewing window and internal light
Push-button digital time temperature and time control panel
Thermostat controlled temperature
Four chrome-coated smoking racks
Convenient side wood-chip loader
Removable drip pan and rear-mounted grease pan
Built-in meat probe that displays the internal temperature of the food you're smoking
You can buy the unit online directly from Masterbuilt or through Cabela's. It retails for $299.99 though you may find it for cheaper online.
My husband, Paul, put the unit together while I was out of town. He said it was fairly easy and straightforward to do, though he did have some difficulty putting in the heating unit at first.
Wood pellets not chips
Also, Paul told me he had to season your smoker before using it. So when you order your smoker, make sure you purchase some pellets, too. Yes, pellets and not chips. Paul had done some online research and found out that people got better results with flavored wood pellets. So I ordered several varieties of BBQr's Delight Smoke Flavoring Wood Pellets from GardenLuminary.com. A one pound bag is $3.89. You may want to purchase the BBQr's Delight Super Smoker Set for $19.99, which comes with four varieties of pellets. It also comes with a cast iron smoker pot, so you can use the pellets in your regular grill.
Using the Masterbuilt Electric Smoker is as easy to use as your oven
For our maiden smoker run, I made four racks of pork ribs. (Paul had prepared them the night before and used two varieties of rubs. He's a bit of a BBQ nerd.) He showed me how to program the unit for the temperature I wanted, and for the time I needed the ribs to cook. (He was at work while I was doing this.)
Putting the 1/4 cup of pellets in the side loader was simple to do, too. (You need to put in pellets every 4 hours or so.) Plus, not having to soak chips cut down prep time, too.
I loved that I could look through the window to check on the ribs. Also, it was incredibly easy to remove the ribs when I needed to wrap them in foil for the last hour of cooking. I just slid the rack out a bit, grabbed the ribs with a pair of tongs, and put them on the sheet of foil I had placed on the top of the smoker.
The only problem I had was that the door would swing open all the way when I only wanted it to open part of the way. I'm sure that's because our deck isn't perfectly level, so I need to put something underneath the front of the unit to correct this.
Also, I didn't realize there was a built-in meat probe until I was cleaning it. I'll make sure to use that next time so I don't have to get out my digital thermometer.
However, the true test of the unit (besides cooking – the ribs were FANTASTIC) was cleanup. The manual says not to use any cleaning products on the smoker interior. Instead, I filled a bottle with white vinegar and water, and sprayed down the cooled unit and inside the door. I then wiped it down with a Mr. Clean Magic Eraser sponge and a wet washcloth. I removed the racks and water pan and washed them in hot soapy water in the kitchen sink.
Next time, I will spray the racks a high heat cooking spray to make cleanup even easier. I like using Spectrum's Grapeseed Spray Oil when grilling, since grapeseed oil has a high smoke point.
I'm looking forward to smoking some trout and chicken this summer and using it to smoke our Thanksgiving turkey, too.
An interview with Masterbuilt
During his research, Paul read that there were some issues with the older electric models in regards to getting smoke and enough power. Many consumers were having problems with the heating element as well. So I requested a short email interview with Masterbuilt to answer those concerns.
This Mama Cooks!: From the online reviews of the Masterbuilt electric smoker, I've noticed that people have a tough time getting enough smoke. What are your best tips for getting "good smoke"?
Masterbuilt: You will achieve best results by not soaking your chips in the electric smoker.
TMC: I'm seeing online complaints about the heating element failing after a year of use. Is it still true that there is no replacement part for it in latest model? What should you do if you have a unit with a broken heating element?
Masterbuilt: We have redesigned the smoker for 2010 to allow the heating element to be replaced, if need be. For customers with older models, we will need to work with the customer to replace the box and element.
TMC: What type of warranty does the smoker have?
Masterbuilt: One year.
TMC: I've read that some people have issues with the unit getting enough power and that you shouldn't use an extension cord with the electric smoker - is that correct?
Masterbuilt: Yes, when you use an extension cord, customers may see a drop in amps. Our recommendation is to not use an extension cord to achieve best results. However, if an extension cord is needed, it is best to use a heavy duty cord with a 14 gauge minimum.
TMC: Maintenance – what are the best ways to keep your Masterbuilt electric smoker working at tip top shape, from cleaning to storage?
Masterbuilt: Make sure to clean the unit after each use. Also, it is important to store the unit in a dry area or use a electric smoker cover to protect your unit.
_____________________________________
Disclosure: Masterbuilt sent me the electric smoker to review. I purchased the wood pellets, food, and smoker cover. All opinions are my own or my husband's.
Amazon links are affiliate links. A commission may be earned from a referred sale to their website.