Last Updated on October 11, 2021 by Anne-Marie
A flat iron steak salad recipe featuring an easy to make flat iron steak marinade.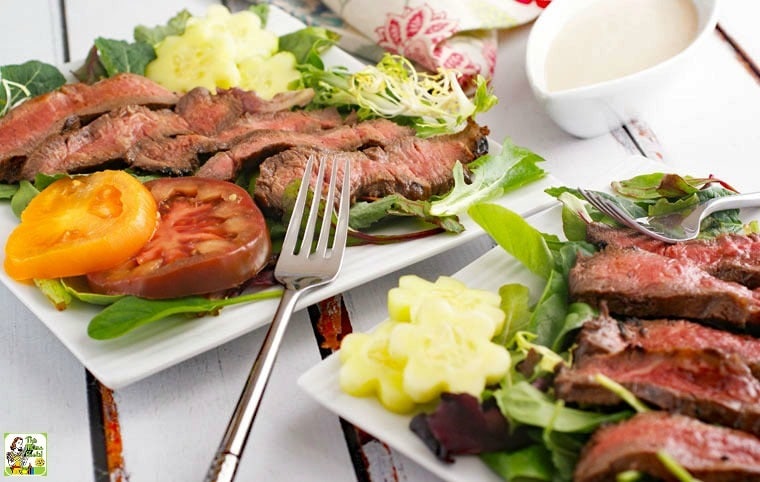 Why this recipe works
I created this Flat Iron Steak Salad with Yogurt Dressing since I'm trying to eat in a smart and wholesome way.
I thought a flat iron steak recipe served with a delicious salad and a homemade yogurt dressing would make an easy weeknight dinner, too.
Flat iron steak is also called flank steak or top blade steak. I usually find it on sale.
(If you can only find tri-tip, make Easy Smoked Tri-Trip in your smoker grill!)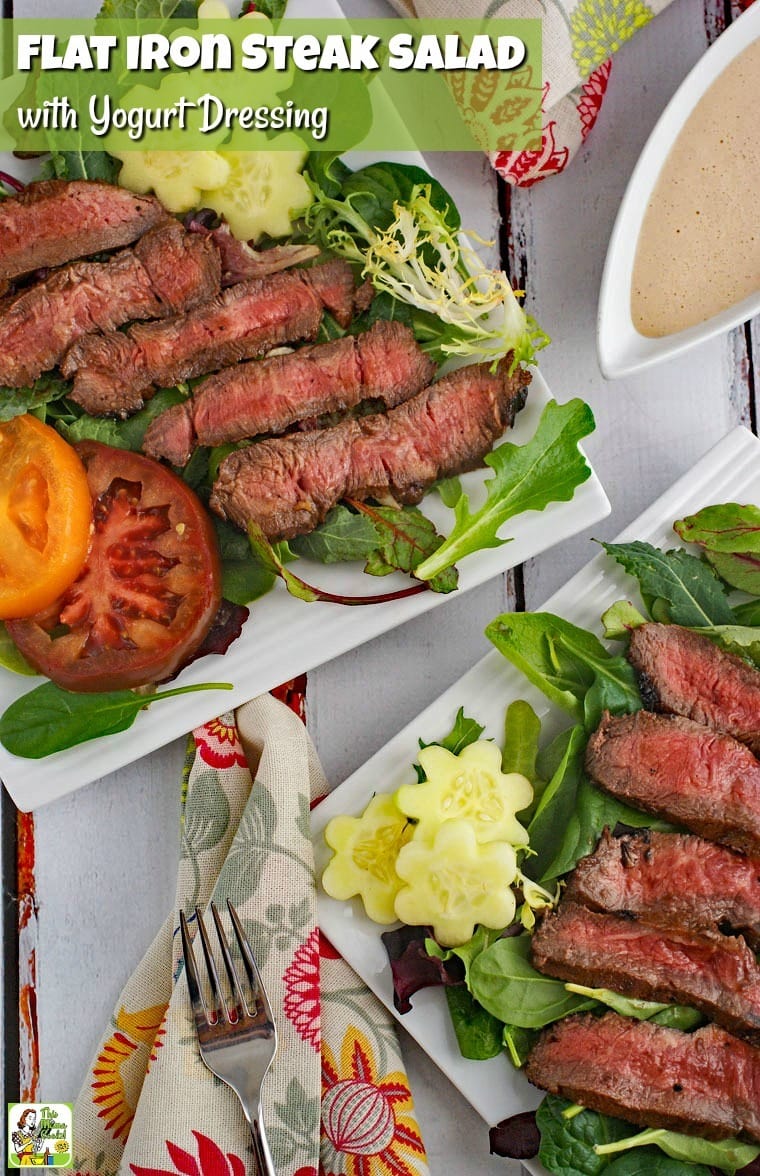 Tenderizing the flat iron steak recipe
While the marinade does a good job on its own, I highly recommend using a blade meat tenderizer tool.
This tool pierces the flank steak all over, helping it to absorb the marinade better.
I have a Jaccard Supertendermatic 48-Blade Tenderizer and highly recommend that you buy yourself one, too.
It also prevents cheaper cuts of meat from shrinking and curling up.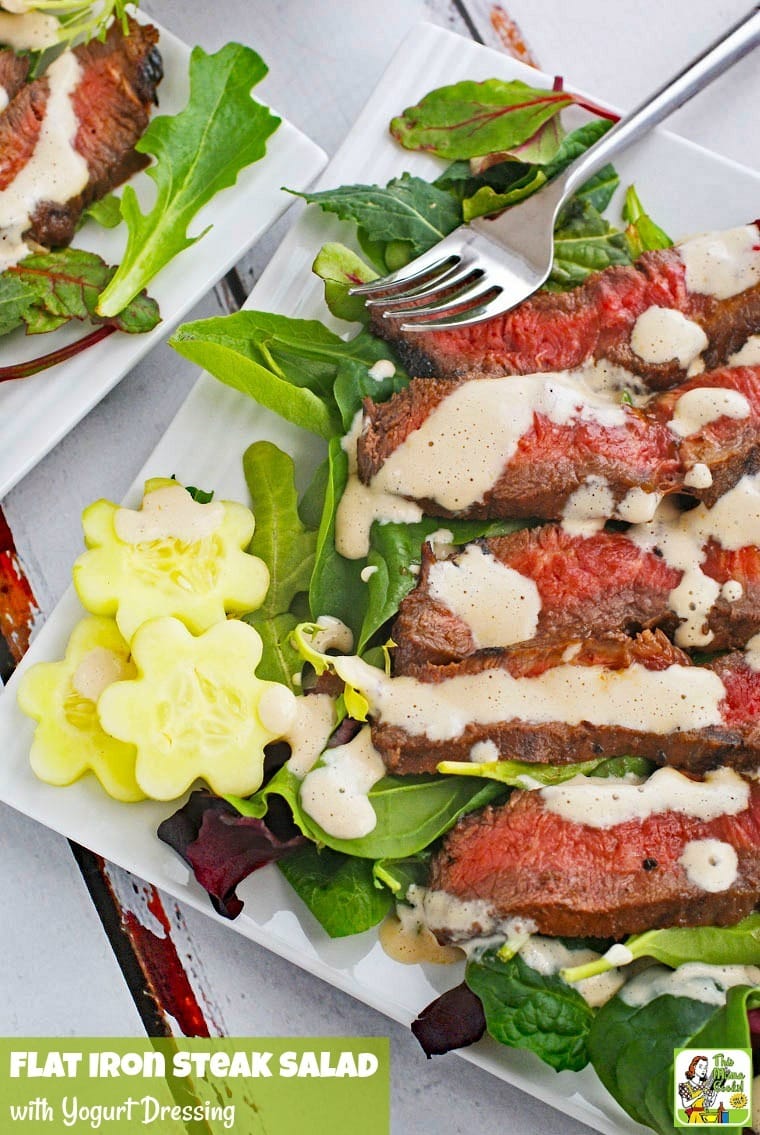 Flat iron steak marinade
I used a store-bought barbeque sauce for my flat iron steak marinade. What could be easier?
Since I believe in using real ingredients, I look for sauces that are as basic as possible with no funky ingredients like high fructose corn syrup.
So I recommend brands like Stubb's Original Bar-B-Q Sauce or you can make your own Sugar Free BBQ Sauce.
You'll want to marinade the flat iron steak overnight to up to 24 hours before grilling.
Make sure to boil the heck out of any marinade you've used on raw meat. You want to kill any germs!
If you don't feel the flat iron steak marinade is safe, make an extra half batch to use for the dressing. Just reduce it over the stove, cool it down in the refrigerator, and then make your dressing just before you grill.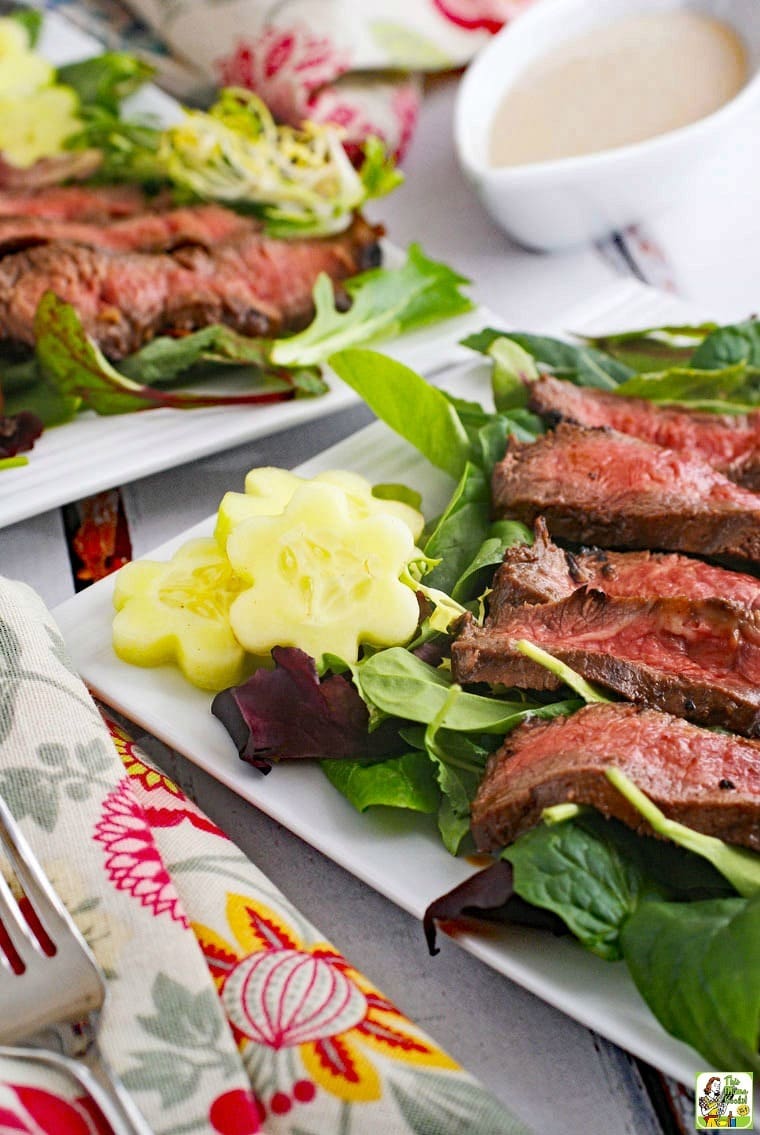 How to cook flat iron steak
The recommended doneness for flat iron steak is medium rare at around 135 F (60 C). Don't forget to use your meat thermometer!
If it's too rare, the steak is chewy. (I love rare steak, but not a too-tough-to-eat steak!) If you overcook the steak, it dries out and loses all its flavor.
I recommend grilling flat iron steaks over medium-high heat. Don't go as hot as possible unless you pick up a particularly thin cut that you can cook quickly.
When grilling, start with a quick sear before moving to a lower temperature to finish off to the desired doneness.
Remember to let the flat iron steak sit for a 5-10 minutes before slicing so the steak retains its juiciness. If you're worried about it cooling down too much, tent it with aluminum foil and cover with a clean dish towel.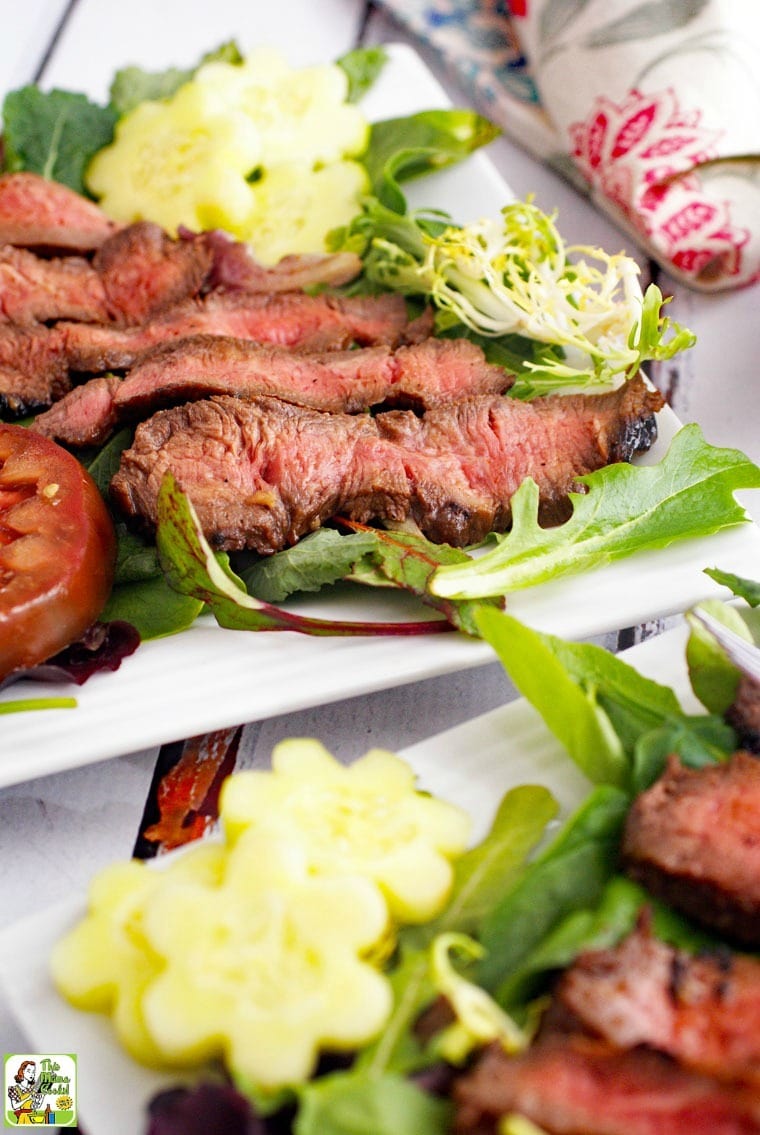 Putting the Flat Iron Steak Salad together
You can make this salad with just-off-the-grill steak. Or you can grill the steak and let it cool to room temperature – or even refrigerate it – and then carve it up.
I love steak salad both warm, room temperature and cold, so I'll let you decide how you want to do the steps of grilling, salad preparation, and dressing preparation.
For example, you can make the salads and dressing ahead of time. Then later on just before mealtime, do the grilling, and so you'll have a warm steak salad.
Or grill the flatiron steak and make the dressing the evening before, and put it all together for a Sunday brunch.
You can serve it with the dressing on it or on the side. (I like it on the side myself!)
If you're making this for a romantic meal, you may want to all the prep ahead of time. Set the table, then do the grilling at the last minute.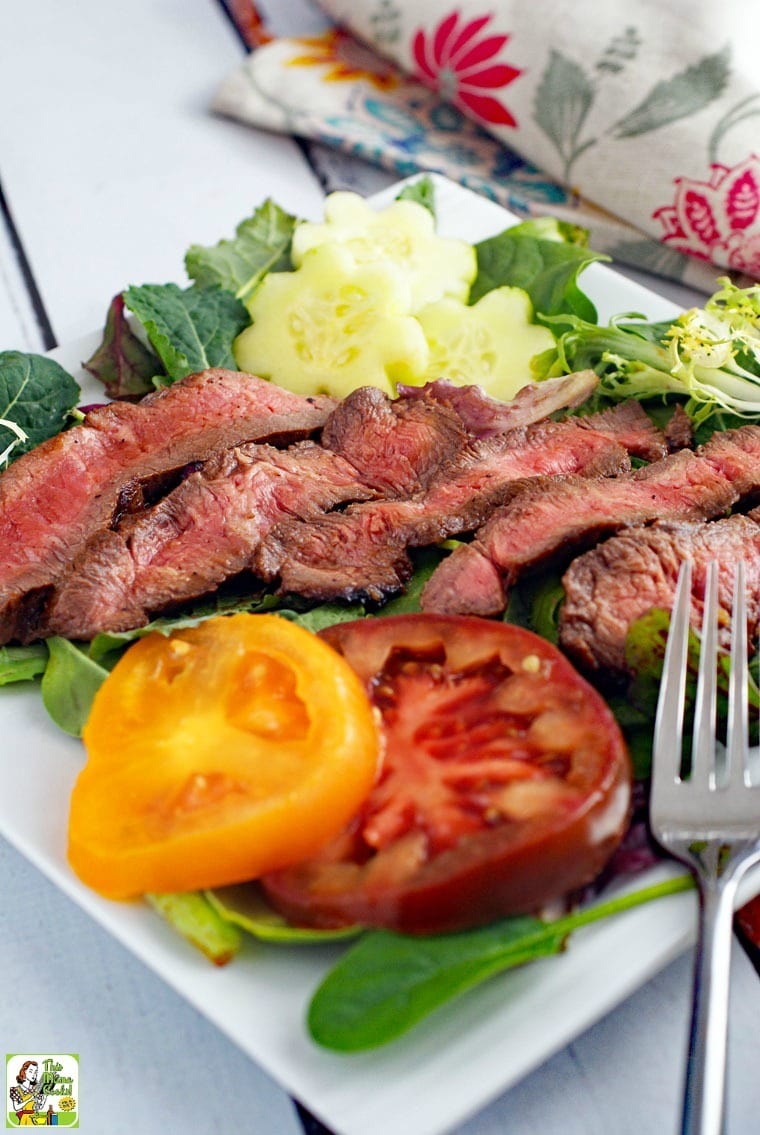 More tips to make flat iron steak salad
● I've started using minced garlic from a jar as a time-saving measure. (Now that I have a smaller kitchen, I don't have the counter space to keep garlic and other produce in bowls as I did when I had a larger home.)
● I find that 1/2 teaspoon minced garlic from a jar equals one fresh garlic clove, minced. I've read that some people find jar garlic is a little milder than fresh.
● I don't mind that it's milder and prefer the convenience. I also don't have to deal with garlic cloves going bad or drying out.
● In the dressing, you can use low fat or no fat Greek yogurt.
● Any leftovers can be made into sandwich wraps for the next day's lunch!  This recipe is very flexible, so have fun with it!
Yield: 4 SERVINGS
Flat Iron Steak Salad with Yogurt Dressing Recipe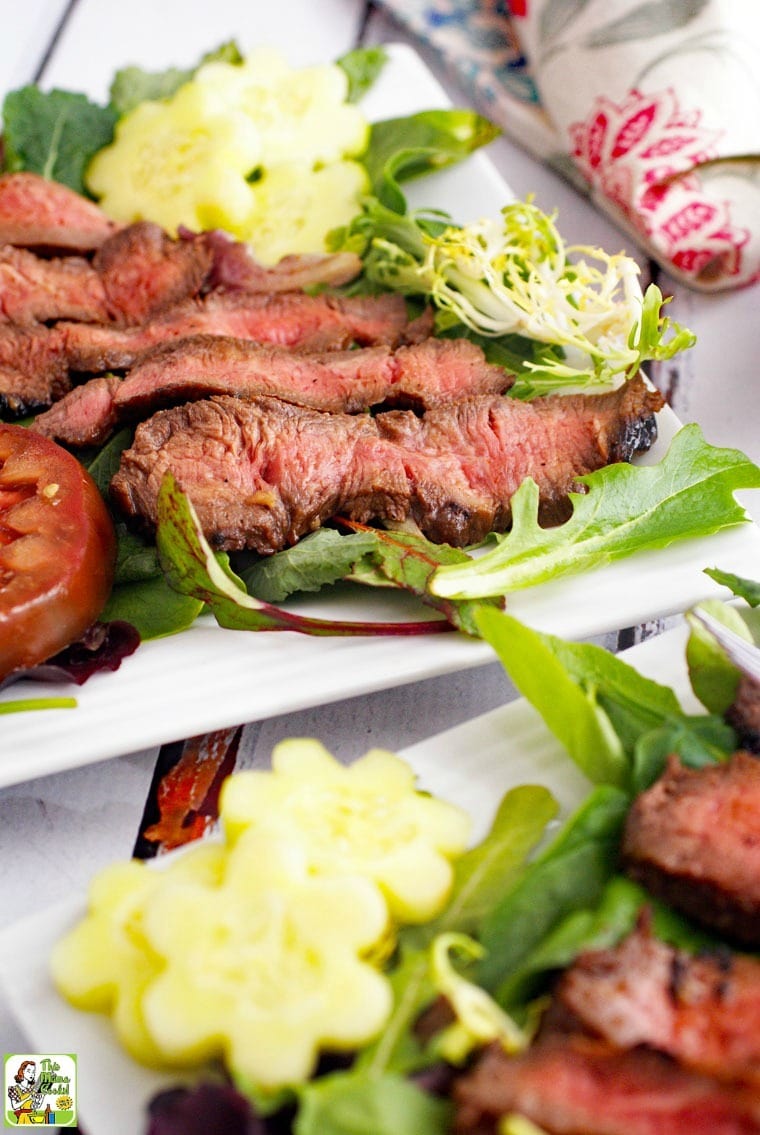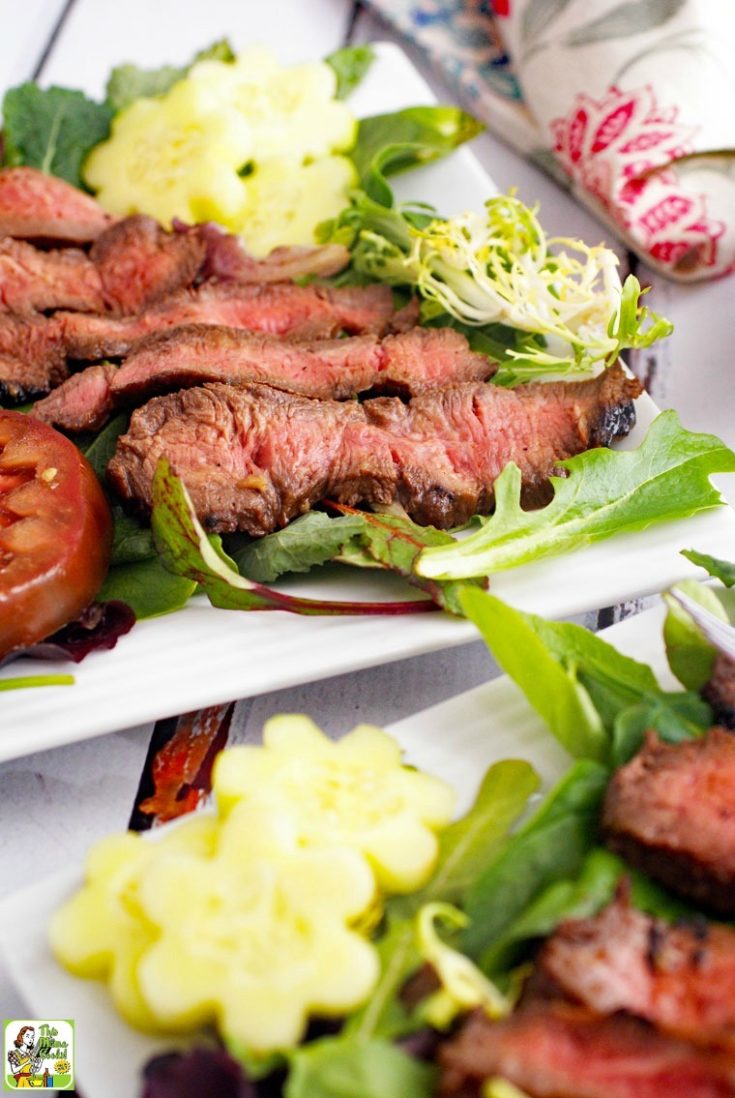 A flat iron steak salad recipe featuring an easy to make flat iron steak marinade.
Ingredients
For flat iron steak marinade:
1 cup barbecue sauce
1/2 cup olive oil
1/4 cup balsamic vinegar
2 cloves garlic, minced
1 1/2 pound flat iron beef steak
For yogurt dressing:
3 tablespoons flat iron steak marinade (boiled and reduced) 1/2
1/2 cucumber, peeled, seeded, and roughly chopped
1 cup low-fat Greek yogurt
1/2 teaspoon sea salt
For the steak salad:
8 cups mixed baby salad greens, divided (2 cups per plate)
tomato and cucumber slices
Instructions
For the marinade and steak:
Combine the barbecue sauce, olive oil, vinegar, and minced garlic in a bowl. Whisk to mix thoroughly.
Place flat iron steak on a cutting board. Generously tenderize both sides of the steak with a blade meat tenderizer tool.
Place flat iron steak in a large Ziploc plastic baggie. Pour in marinade. Push out extra air and seal.
Place on a tray or large plate (in case of accidental leaks) in the refrigerator overnight up to 24 hours before grilling.
To grill, remove flat iron steak from baggie and reserve marinade.
Grill flat iron steak until medium-rare – about 3 to 4 minutes on each side. Brush steak with extra marinade.
Remove from grill. Transfer to cutting board and let rest for 10 minutes.
Slice flat iron steak into thin strips against the grain
For the yogurt dressing:
Take the reserved marinade and place in a small saucepan. Bring to a rolling boil over medium-high heat.
Reduce heat to medium and boil for 10 minutes until reduced and thickened.
Place saucepan in the freezer to cool. (Marinade should be room temperature or cooler.)
In a blender or food processor combine cucumber, Greek yogurt, sea salt, and marinade. Process until cucumber is liquefied and ingredients are thoroughly combined.
For the salad:
Place salad greens, tomato slices, and cucumbers on a plate.
Place the thin strips of flat iron steak on top of the salad.
Serve with salad dressing on the side or drizzled on top just before serving.
Recommended Products
As an Amazon Associate Affiliate and member of other affiliate programs, I earn from qualifying purchases.
Nutrition Information:
Yield:
4
Serving Size:
6 ounces of steak, 2 cups salad greens and vegetables, 1 1/2 tablespoons dressing per person
Amount Per Serving:
Calories:

631
Total Fat:

35g
Saturated Fat:

14g
Trans Fat:

1g
Unsaturated Fat:

16g
Cholesterol:

209mg
Sodium:

484mg
Carbohydrates:

10g
Fiber:

2g
Sugar:

5g
Protein:

67g
Nutritional information is automatically calculated per the ingredients list. Serving size may not be accurate. Please double-check with your preferred nutritional app for the most accurate information.
Published on January 27, 2015. Updated with new information and pictures.