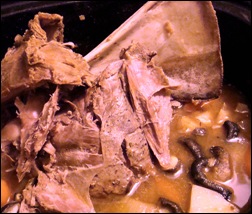 Below is my basic crockpot recipe for any type of beef or venison roast, bone in or without.
The challenge has been to find a healthy substitute for French onion soup mix. Most commercial mixes contain MSG, hydrogenated oils and even wheat, which can be a concern if you cook gluten free.
Instead, I've found a couple of homemade substitutes. The trick is making sure that the beef bouillon you use doesn't have MSG in it. Try your local health food store or healthy food aisle.
Slow cooker shoulder roast
The roast:
The size and weight of your roast will depend on how big your slow cooker is. For a larger roast, you should use an oval shaped 6-quart slow cooker
. For smaller roasts try a 5-quart Crock-Pot.
You can use venison, beef, or buffalo in this dish. I usually use an antelope or deer shoulder roast, depending on what we have in the freezer.
1 large shoulder roast (or a couple of smaller roasts)
The vegetables:
This is where you can get creative by adding as many vegetables as you like. Here are some suggestions. Just make sure to peel (if needed) and cut them into bite sized pieces:
Potatoes
Carrots (you can use baby carrots, too)
Onions
Mushrooms
Turnips
Sweet potatoes
Celery
Oils and seasonings:
1 tablespoon olive oil
Salt and pepper
1 packet of French onion soup mix (or 5 tablespoons of homemade mix)
Liquid:
Enough beef broth or water to cover
Directions:
Season the shoulder roast on all sides with salt and pepper.
Heat a large frying pan over medium heat. Add 1 tablespoon of olive oil.
Brown the shoulder roast on all sides, about 10-15 minutes.
Place shoulder roast in slow cooker.
Place vegetables on top of the roast. Then sprinkle French onion soup mix over vegetable.
Fill slow cooker with enough beef broth or water to cover.
Cook for 8-10 hours on low or 4-6 on high.
To serve:
Turn off slow cooker. (Or use warm setting if your slow cooker has one.)
Remove roast from slow cooker.
Separate bone from meat. (The meat should literally fall off the bone. If it doesn't, your roast may not be done.)
Cut roast into pieces and place back into slow cooker to keep warm until serving.
To create a thicker broth after the roast and veggies have cooked:
Add 3 tablespoon corn starch to 3 tablespoon waters. Stir until well mixed.
Turn the slow cooker on high.
Add corn starch and water mix to slow cooker after you have removed the roast (or after you have put the cut up pieces of roast back in.)
Thoroughly mix corn starch into broth, vegetables and meat and cook until thickened – about 10-15 minutes.
Turn off slow cooker before serving.
Serving tips:
My family likes to have prepared horseradish with our roast. Put a dollop of horseradish on your plate and slightly dip your meat in the horseradish. Remember that it's strong stuff and will go straight to your sinuses if you add too much!
Weight Watchers POINTS will depend on vegetables meat used. Venison is 1 POINT per ounce.