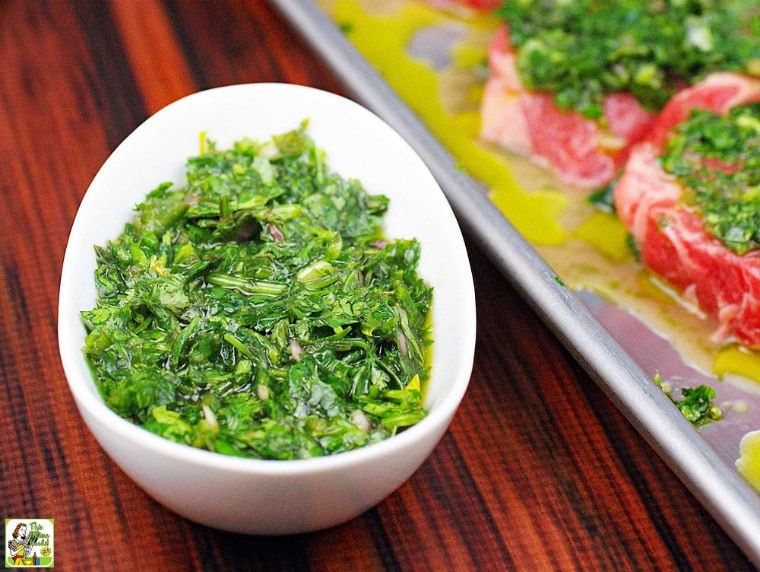 This is the best homemade Chimichurri Marinade and Sauce. It's the only way to go if you want to replicate Argentine chimichurri sauce from a fancy steak restaurant.
It's much better than using expensive gourmet bottled sauce, too.
The most terrific thing about this sauce is that it serves two purposes. 
Usually chimichurri sauce is used to flavor grilled steak. But you can also use it as a chimichurri marinade.
Your kids may be skeptical about trying this chimichurri steak recipe.
My daughter wouldn't try chimichurri with steak at first because it was green. Then she gave it a big thumbs up.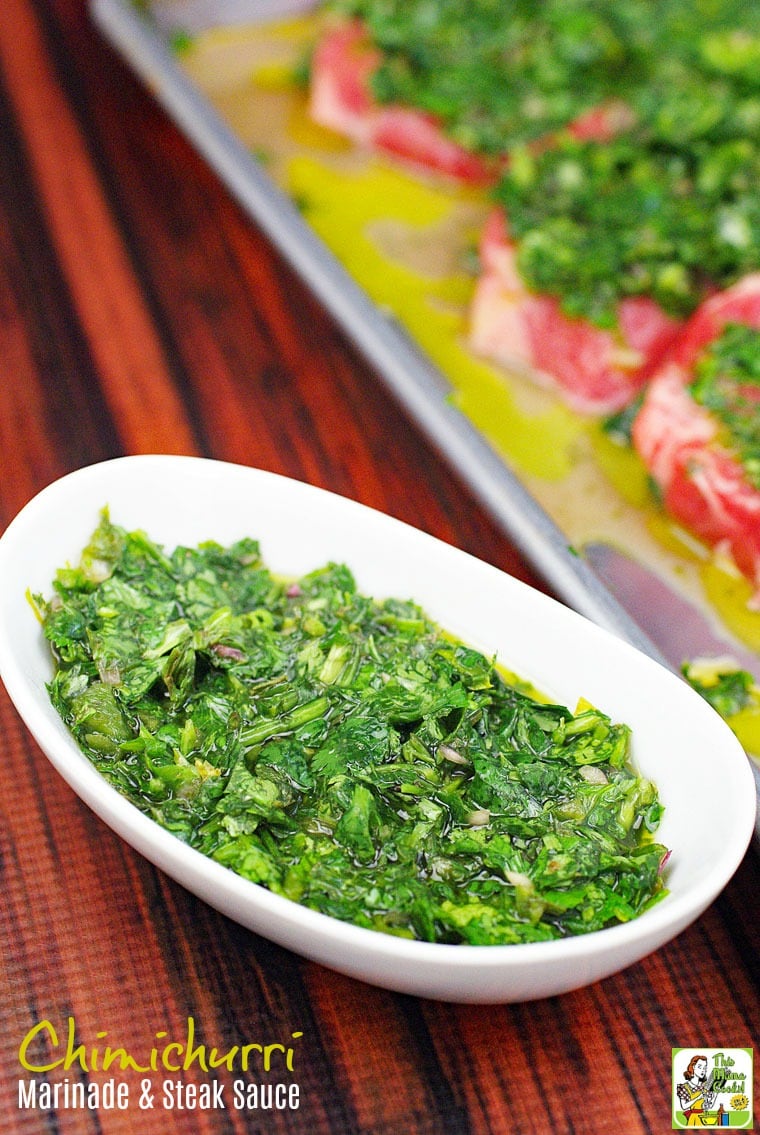 Making chimichurri marinade
Making this recipe for chimichurri sauce is easier than you think!
What equipment do I need?
Do yourself a favor and use an electric food chopper to make this chimichurri marinade recipe.
You don't want to mince the parsley, cilantro, oregano, shallots, and jalapeno by hand. Especially on a busy weeknight. That's a lot to chop!
How to measure out the herbs
Don't you hate when leftover parsley and cilantro goes bad in your veggie drawer because you don't have anything to do with it?
This chimichurri marinade recipe is a great way to use up leftover parsley and cilantro from other recipes.
But if you need fresh supplies from the store, one cup of parsley is about one bunch.
Two cups of cilantro is about two bunches.
And 1/3 cup of fresh oregano was the entire herb packet.
Garlic
Save time using jarred minced garlic. I use it and love it, especially since I no longer throw out dried out cloves of garlic.
One teaspoon of minced garlic equals a clove of garlic. EASY!
Red jalapenos?
If you can't find a red jalapeno, use a green one. No big deal.
Variations on authentic chimichurri recipes
I've seen another chimichurri steak sauce recipe that use basil, celery, and chili flakes.
So experiment at will if you feel comfortable doing so with whatever's growing in your garden.
Put aside half for the chimichurri sauce
Remember to put half of this recipe of Argentinian chimichurri for serving with your grilled steak. You'll use the other half as the marinade.
Please do NOT use the leftover chimichurri marinade as the sauce as it has bacteria from the raw steak. YUCK.
You don't want to give everyone food poisoning!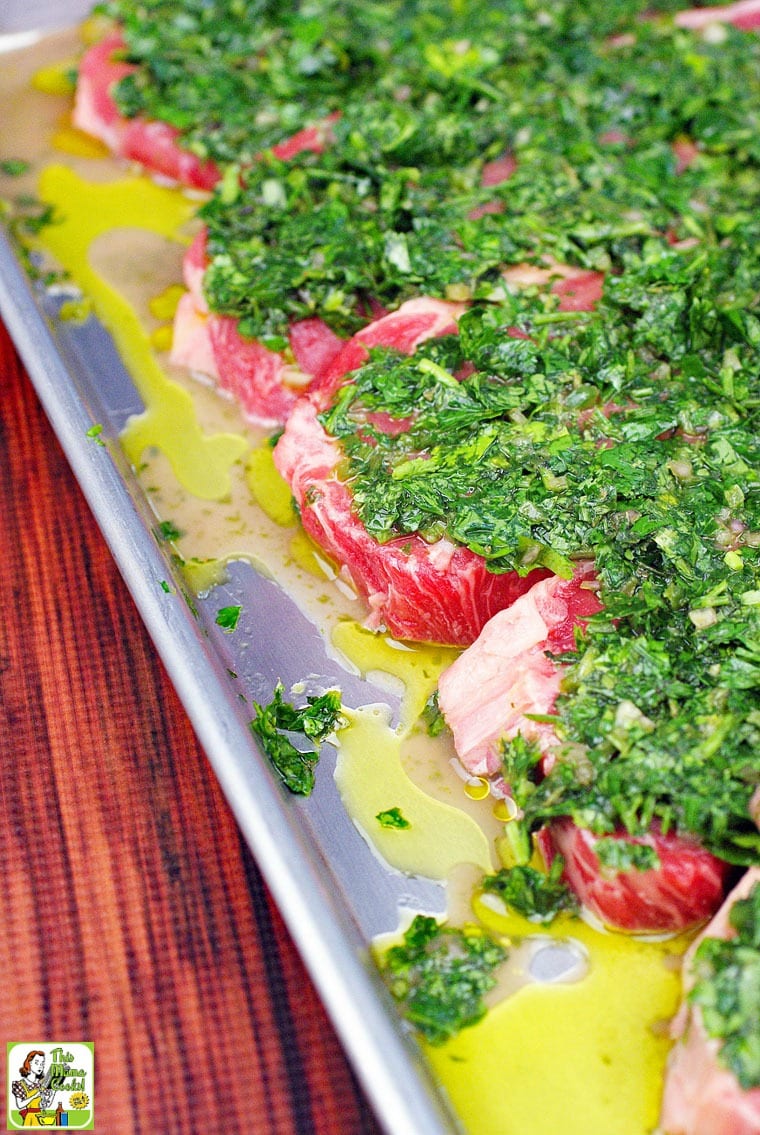 What kind of steak?
I used lean strip steak for this steak chimichurri recipe as that's what I had in the freezer.
Pretty decadent since it's a tender (and pricey) cut. But it was a manager's special, so what can I say?
Otherwise, you can use skirt, hanger, flank, or flat iron steak. All would work well and are much better priced.
Skirt steak: Tougher than flank, it needs to be marinated to tenderize the meat.
Hanger steak: Similar to skirt steak. Very flavorful.
Flank steak: Flank steak is leaner than skirt steak, and it's not quite as tough. It's cut from the belly muscle section of the cow.
Flat iron steak: Cut from the shoulder area of the cow, it's not as lean as flank steak.
Lean strip steak: This is a tender cut but not as tender as tenderloin.
Tenderizing your chimichurri steak
Just make sure to tenderize whatever steak you use with a steak tenderizing tool.
I swear by the Jaccard Meat Tenderizer Tool. Using the tenderizer helps the meat absorb the marinade.
Tenderizing the meat also prevents it from curling up during grilling.
This tool is very popular with my readers for tenderizing carne asada meat, too.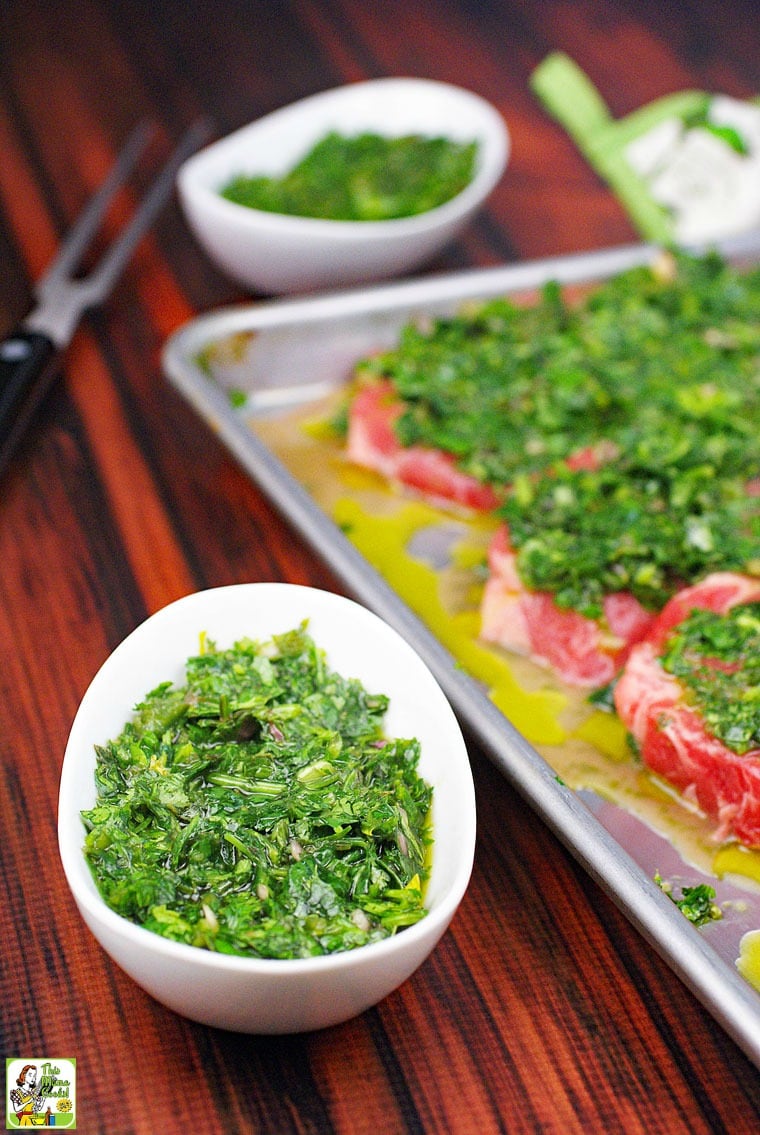 Can I freeze chimichurri sauce?
Freeze leftover chimichurri sauce in ice cube trays for later use.
We all like to be thrifty and reuse things. I'm not sure reusing marinade is a good thing since it's been in contact with raw meat.
Also, you wouldn't want to accidentally mix it up with chimichurri sauce, too. So, please throw out the leftover chimichurri marinade.
What to serve with chimichurri steak and sauce
These side dishes would go well with a grilled chimichurri steak:
This Cucumber Onion Salad goes great with anything grilled.
You can these Roasted Marinated Vegetables on the grill along with the steaks.
I love a good Brussel Sprouts Salad with Cranberries with steak.
This Easy Coleslaw Recipe is a classic.
This Watermelon Salad with Mint & Feta Recipe is refreshing and goes well with a zesty steak.
Yield: SERVES 4
Chimichurri Marinade and Sauce Recipe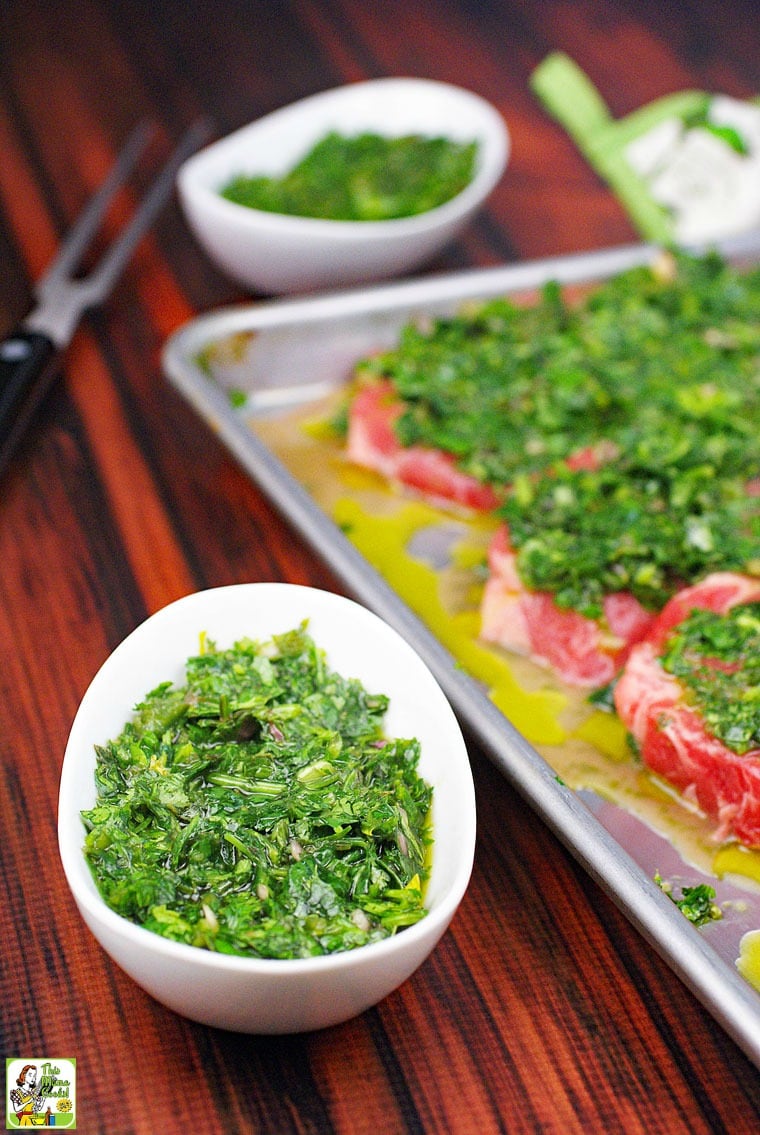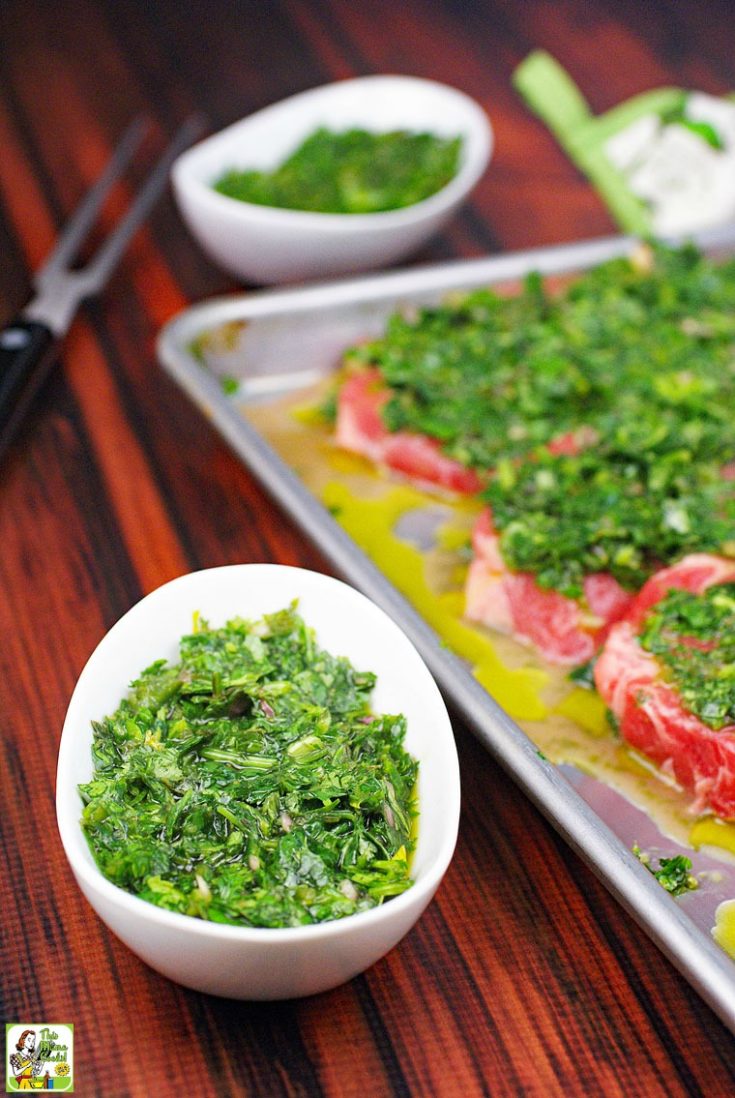 Looking for the best chimichurri marinade and sauce recipe? This chimichurri marinade for steak can also be used as a chimichurri sauce.
Ingredients
3 pounds strip or skirt steak (about 1/2-inch thick)
2 cups finely chopped fresh cilantro
1 cup finely chopped flat-leaf parsley
1 cup red wine vinegar
1/3 cup finely chopped fresh oregano
8 garlic cloves, minced
2 shallots, minced
2 red or green jalapeno peppers, finely chopped
2 teaspoons sea salt
1 1/2 cups extra virgin olive oil
Instructions
Combine vinegar, salt, garlic, shallot, chile, cilantro, parsley, and oregano in a bowl. Using a fork, whisk in olive oil.
Set aside half of the chimichurri to serve as a sauce with the cooked steak. Keep refrigerated until serving time.
Treat the steak with a meat tenderizing tool. Place the steak in a glass or ceramic dish. Or place it in a gallon-sized Ziplock baggie. Toss with remaining chimichurri marinade. Cover and chill the steak for at least 3 hours or overnight.
Remove meat from the chimichurri marinade. (Toss used marinade.) Before grilling, scrape off solids from the chimichurri marinade. Blot steak dry with a paper towel.
Cook until steak is medium-rare. Remove from grill and transfer steak to a cutting board. Cover with foil and let rest for 5 to 10 minutes.
Slice steak thinly against the grain and serve with the reserved chimichurri sauce.
Nutrition Information:
Yield:
4
Serving Size:
3/4 pound
Amount Per Serving:
Calories:

1612
Total Fat:

132g
Saturated Fat:

31g
Trans Fat:

0g
Unsaturated Fat:

95g
Cholesterol:

202mg
Sodium:

1368mg
Carbohydrates:

19g
Fiber:

9g
Sugar:

3g
Protein:

88g
Nutritional information is automatically calculated per the ingredients list. Serving size may not be accurate. Please double-check with your preferred nutritional app for the most accurate information.
Originally posted on September 9, 2014 and June 30, 2017. Updated with new pictures and information.