Looking for kings cake recipes? Try this more wholesome Mardi Gras King Cakes recipe that's easy to make at home with crescent rolls and cream cheese filling.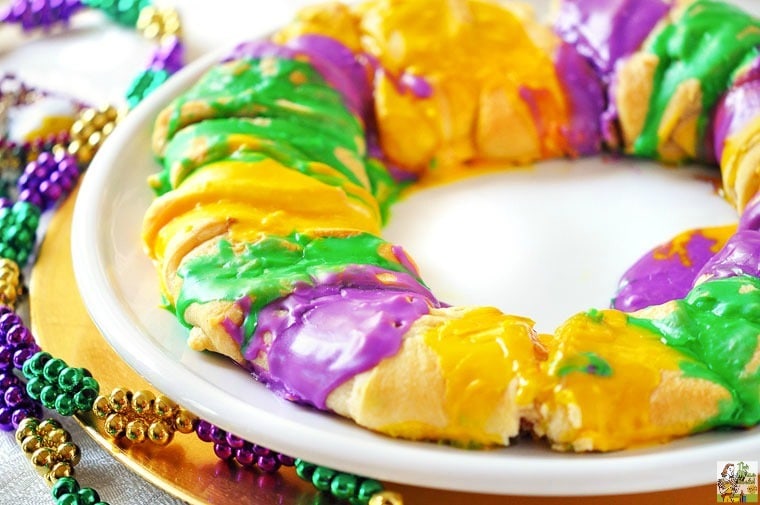 Why this recipe works
Looking for kings cake recipes? Leave it to my friend, Holly Clegg, who lives in Baton Rouge, Louisiana, to send an easy Mardi Gras King Cakes recipe just in time to include it with your party plans!
It's from her cookbook, trim&TERRIFIC Gulf Coast Favorites.
This easy Mardi Gras King Cakes recipe is a terrific solution if you cannot get an authentic Mardi Gras Kings Cake from a bakery near you.
When I shared this recipe, the kids absolutely loved helping to make the cake. The only thing easier is ordering it from your bakery and this version is so much better for you!
You can find more of Holly Clegg's trim& TERRIFIC® recipes at The Healthy Cooking Blog.
Check out Holly's trim&TERRIFIC™ cookbooks on Amazon, too!
What is a Kings Cake?
For those of you unfamiliar with Mardi Gras Kings Cakes, the tradition was brought to New Orleans from France in 1870.
Now as part of the Mardi Gras celebration, it's common to bake a Kings Cakes in honor of the three kings.
Since I have a French maman, I grew up with eating a more traditional king cakes recipe as part of another French tradition, the festival of Epiphany at the end of the Christmas season.
Both Mardi Gras and Epiphany King Cakes have little figurines baked inside. The most common one is the kings cake baby, which represents the Baby Jesus.
During Mardi Gras, if you get the slice of the cake with the baby, then you're named King of the Day, and by custom you must host the next party and provide the Kings Cakes.
An easy to make Mardi Gras King Cakes recipe
No matter where you live, I want you to be able to enjoy one of my favorite Louisiana traditions, Mardi Gras King Cakes.
This might be my most requested recipe. It's so easy and fun to make that people all over say they prefer it even to the store bought Kings Cakes variety!
This easy recipe is from my trim&TERRIFIC Gulf Coast Favorites cookbook.
You can make this quick kings cake recipe in your own home using crescent rolls. Kids will have so much fun getting in on the action too.
Each color of the icing represents something:
yellow equals power,
green equals faith,
and purple equals justice.
Don't save this sweet kings cake recipe treat for only Mardi Gras season!
You can make this cake year-round! For icing you can use red food coloring for Valentine's Day, pastel colors for Easter, and red and green colors for Christmas.
The madness of Mardi Gras is about having a good time, so start the music, toss the beads, and enjoy the food that has garnered a reputation all over the country.
As they say in New Orleans, "Throw me a party, mister!"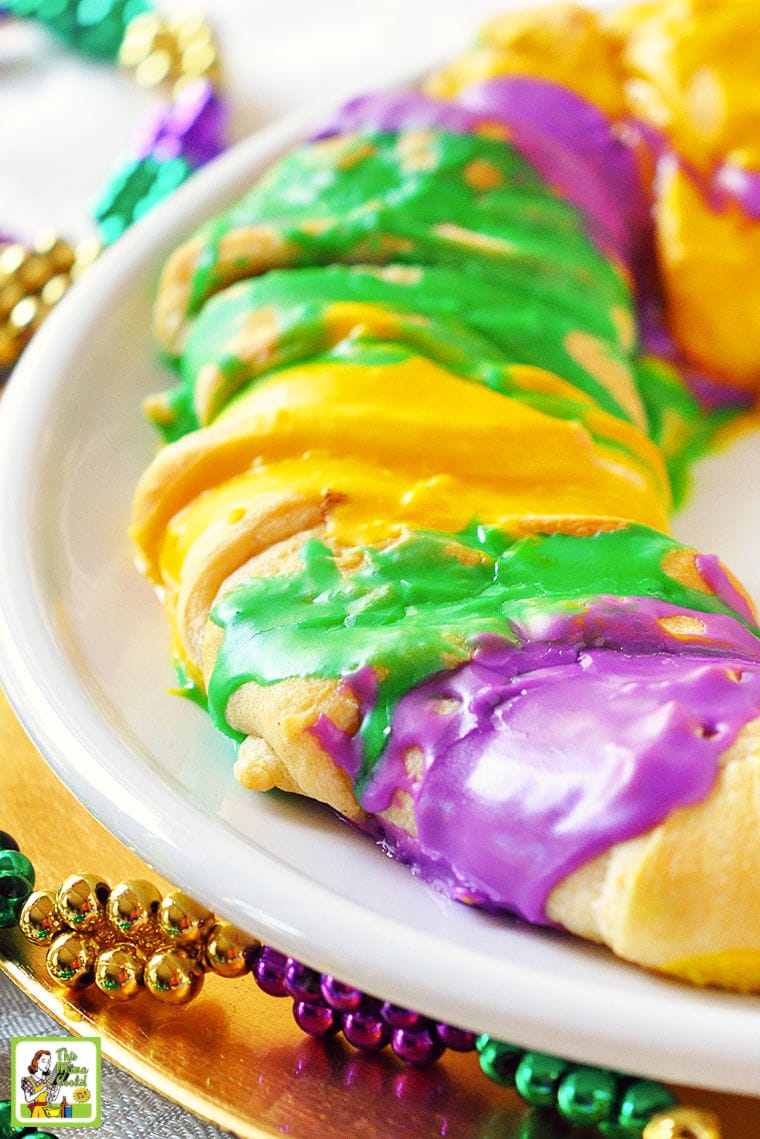 Tips on making this easy Mardi Gras King Cakes recipe
How to lower the calories
If you're interested in lowering the calorie count, try using Swerve Sweetener confectioners sugar instead of regular confectioner sugar in Holly's easy king cakes recipe.
It's a natural, no calorie sweetener that tastes great, and is as easy to use as regular powdered sugar.
What type of food coloring should you use?
I highly recommend Wilton's icing color sets. You can buy them online or at any crafting store that sells Wilton's cake decorating products.
Unlike liquid food coloring, Wilton's icing colors are vibrant and easy to use. You can also buy the exact color you need instead of mixing several colors.
Can you make dairy free king cakes?
You can make Holly's Kings Cake recipe dairy free by using a vegan cream cheese, non-dairy buttery spread, and soy, coconut, or oat milk.
For 6 delicious vegan and non-dairy cream cheese substitutes, check out The 14 Best Substitutes for Cream Cheese.
Pillsbury Crescent Rolls don't contain dairy. However, if you're using a store brand, check the label to make sure it's dairy free.
More awesome Cajun style recipes for Mardi Gras
● If you love jambalaya, check out this One Pot Andouille Sausage Jambalaya or this Spicy Instant Pot Jambalaya. Both are tasty and easy to make!
● If you're looking for more New Orleans style desserts, check out Tiana's Famous Beignets Recipe from Disney's Princess & The Frog.  
● You'll love this hearty Chicken and Sausage Gumbo recipe any time of year!
● Learn how to throw a Cajun Seafood Boil Party. So much fun!
● Make a batch of Skillet Cornbread and wash it down with some Iced Tea Sangria (mocktail).
Yield: 16 SERVINGS
Easy Mardi Gras King Cakes Recipe with Cream Cheese Cinnamon Filling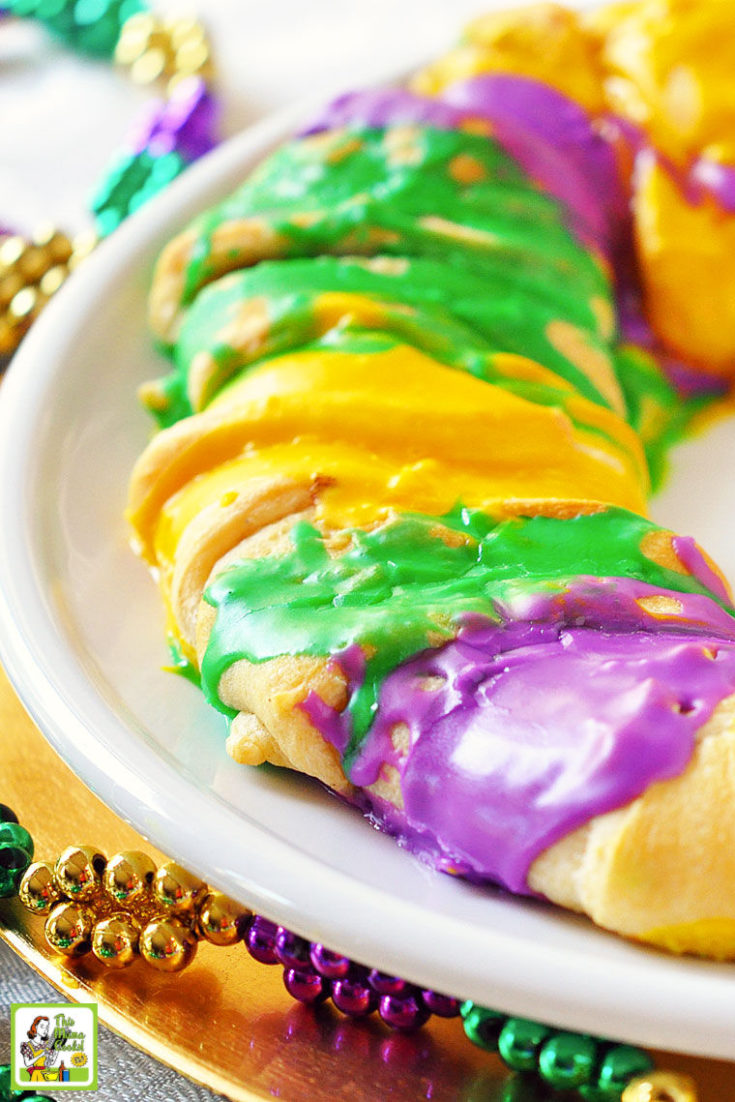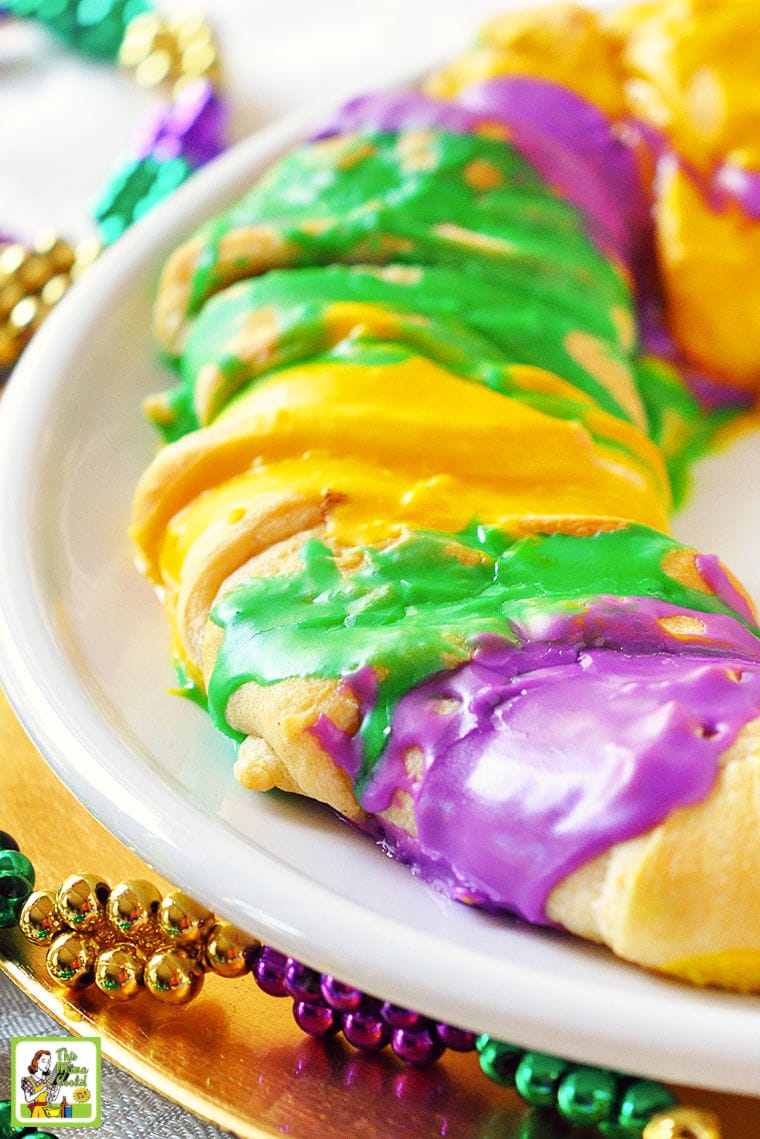 Looking for kings cake recipes? Try this more wholesome Mardi Gras King Cakes recipe that's easy to make at home.
Total Time
1 hour
10 minutes
Ingredients
King Cake:
2 8-ounce cans reduced-fat crescent rolls
4 ounces reduced-fat cream cheese
2 tablespoons confectioners' sugar
1 teaspoon vanilla extract
2 tablespoons butter
1/3 cup light brown sugar
1 tablespoon ground cinnamon
Mardi Gras Icing (recipe below)
Mardi Gras Icing:
1 cup confectioners' sugar
1 to 2 tablespoons skim milk
1/2 teaspoon vanilla extract
Instructions
King Cake:
Preheat oven to 350ºF. Separate crescent rolls at perforations into 16 slices. On a 10-inch round pizza pan coated with nonstick cooking spray, place slices around the pan with points in the center. About halfway down from the points, press seams together.
In mixing bowl, beat cream cheese, confectioners' sugar, and vanilla until creamy. Spread cream cheese mixture on dough in the center where seams of dough have been pressed together.
In another small bowl, combine butter, brown sugar, and cinnamon with a fork until crumbly. Sprinkle over cream cheese. Fold dough points over the cream cheese area and then fold the bottom of the triangle over points forming a circular roll like a king cake.
Bake 20–25 minutes or until golden brown. Cool slightly, drizzle with colored Mardi Gras Icing (recipe below).
Mardi Gras Icing:
In a small bowl, mix together confectioners' sugar, milk, and vanilla. Divide mixture into three bowls.
In the first bowl, add a few drops of yellow food coloring. In the second bowl, add a few drops of green food coloring. In the third bowl, add an equal amount of red and blue food coloring (will create purple color).
Drizzle each color over the baked cake.
Recommended Products
As an Amazon Associate Affiliate and member of other affiliate programs, I earn from qualifying purchases.
Nutrition Information:
Yield:
16
Serving Size:
1
Amount Per Serving:
Calories:

179
Total Fat:

6g
Saturated Fat:

3g
Trans Fat:

0g
Unsaturated Fat:

2g
Cholesterol:

25mg
Sodium:

114mg
Carbohydrates:

29g
Fiber:

1g
Sugar:

17g
Protein:

4g
Diabetic Exchanges: 1 1/2 carbohydrate, 1 1/2 fat
Recipe and photo used with permission.
Originally published on February 12, 2014, February 24, 2017, and February 8, 2018. Updated with new pictures and information.