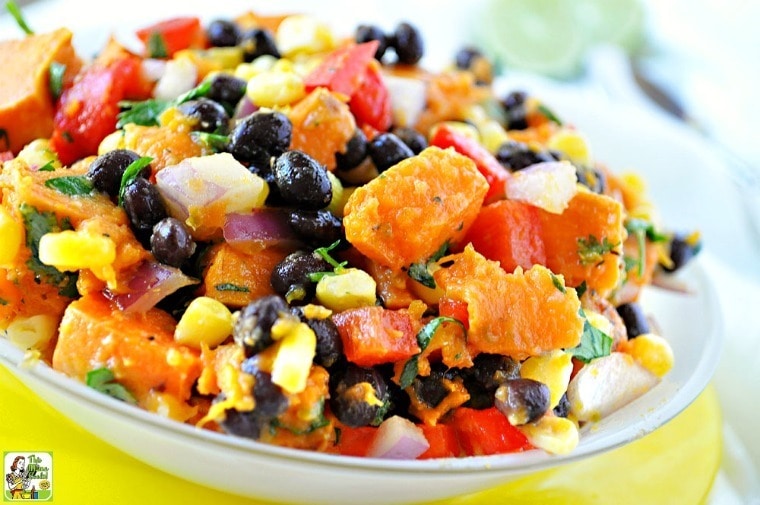 This Healthy Southwestern Sweet Potato Salad recipe comes from my contributor, Holly Clegg's cookbook her Eating Well to Fight Arthritis cookbook.
Sweet potatoes aren't just for the holidays. Enjoy them year round!
Not only is this cold sweet potato salad recipe delicious and diabetic-friendly, it's naturally gluten free, too. Perfect for those who are trying to eat healthier this time of year!
You can find more of Holly Clegg's trim& TERRIFIC® recipes at The Healthy Cooking Blog.
Check out Holly's trim & TERRIFIC™ cookbooks on Amazon, too!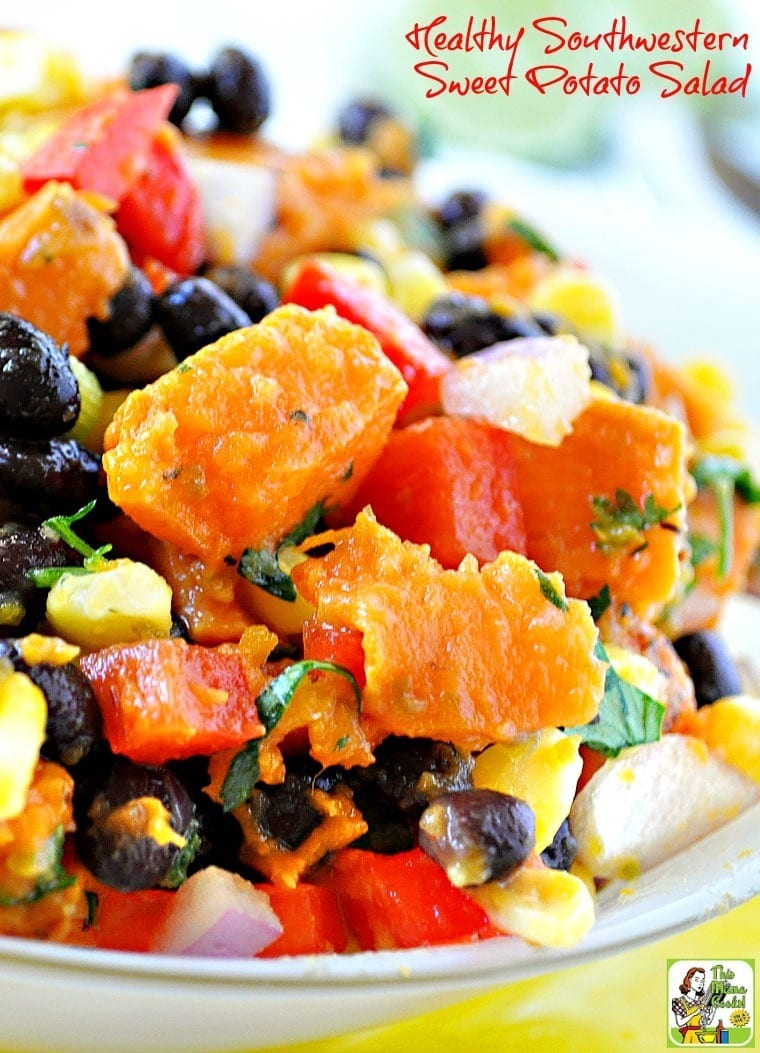 Serve this sweet potato salad at your next game watching party!
Looking for a healthy side dish for your next cookout or football watching party? Look no further than this amazingly delicious Healthy Southwestern Sweet Potato Salad!
It's a sensational and explosive combination of roasted sweet yams, crunchy corn, black beans in a light jalapeño dressing.
Most people can grill a hamburger or chicken pretty easily, but what side dish is the grill's perfect pair? The meal is never complete without this roasted cold sweet potato salad recipe.
Healthy Southwestern Sweet Potato Salad complements any barbecue style while reflecting the fresh ingredients of the season.
Plus, it's a healthy sweet potato salad recipe with NO MAYONNAISE that tastes incredible!
Bursting with sweet and spicy flavors, this cold sweet potato salad is one of my grilling go-to recipes!
It's also a diabetic-friendly recipe that's packed with flavor and nutrition. The rich orange color lets you know sweet potatoes are rich in vitamin A and powerful anti-inflammatory antioxidants.
This Mama's tips for making a healthy sweet potato salad recipe
If you're bringing this cold sweet potato salad to a potluck BBQ party, use an insulated potluck carrier to transport it safely and keep it cold.
I love the Rachel Ray Expandable Lasagna Lugger since it can be used to transport hot and cold foods. You can also use it to carry two dishes to the party or just use it for one dish. Super versatile!
Don't forget to bring a serving spoon with you to the party. Nothing worse than trying to serve your healthy sweet potato salad recipe with a tiny plastic spoon.
Make a double batch of roasted sweet potatoes the night before you make a batch of this healthy sweet potato salad recipe.
Serve half with dinner and let the rest cool down for making Healthy Southwestern Sweet Potato Salad the next day. Double the yum!
More awesome recipes from Holly Clegg
● Southwestern Sweet Potato Salad
● Ultimate Double Chocolate Brownies Recipe
● Watermelon and Cantaloupe Salad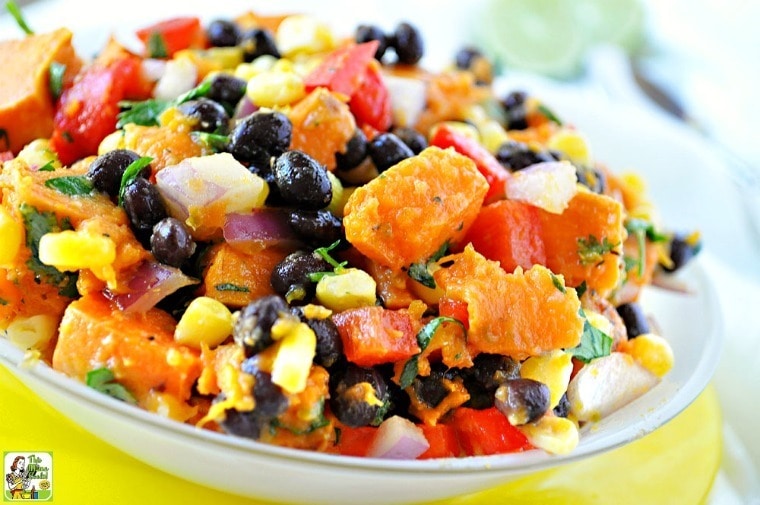 Ingredients
6 cups

peeled sweet potato (Louisiana yams) chunks (about 2 1/2 pounds)

Salt and pepper to taste

3 tablespoons

olive oil, divided

1/2 cup

chopped red bell pepper

1/2 cup

chopped red onion

2/3 cup

frozen corn, thawed

2/3 cup

black beans, drained and rinsed

1/4 cup

chopped cilantro

3 tablespoons

lime juice

1 teaspoon

minced garlic

1 tablespoon

jarred jalapeño slices
Directions
Preheat oven 425°F. Line baking pan with foil and coat with nonstick cooking spray.
On prepared pan, toss together sweet potatoes, salt and pepper and 1 tablespoon olive oil. Roast about 30 minutes or until potatoes are crisp. Cool.
In large bowl, combine sweet potatoes, red bell pepper, red onion, corn, black beans and cilantro.
In blender, puree lime juice, garlic, jalapeño and remaining 2 tablespoons oil. Toss with mixture.
Servings
:
Makes 12 servings
Serving size:

1/2 cup

Calories:

113

Calories from Fat:

32 (28%)

Total Fat:

4g

Saturated fat:

0g

Unsaturated fat:

4g

Sodium:

99mg

Total Carbohydrates:

19g

Sugar:

4g

Fiber:

3g

Protein:

2g
Dietary Exchanges: 1 1/2 starch, 1/2 fat
Pictures and recipe used with permission of author.
Originally published on August 1, 2016 and April 14, 2017. Updated with new information and pictures.