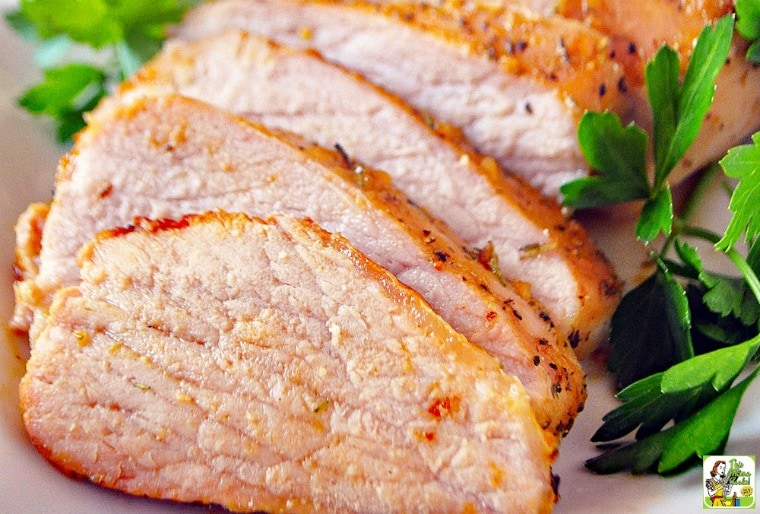 This Fig Glazed Pork Tenderloin recipe is easy to make with a little preparation.
If you love glazed roast Pork Tenderloin for dinner, but think they're too much fuss for a weeknight dinner, you have to try this recipe from my friend, Holly Clegg's KITCHEN 101 cookbook.
The combination of sweet figs, fiery chili powder, soy sauce and tart vinegar makes an intoxicating marinade.
You can either marinate it for an hour when you come home from work. Or prepare the pork tenderloin the night before or first thing in the morning.
This glazed pork tenderloin recipe only takes 40 minutes to cook in the oven or grill, giving you time to prepare side dishes and a dinner salad.
Try it with Holly's Healthy Southwestern Sweet Potato Salad or her Bruschetta Couscous Salad.
You can find more of Holly Clegg's trim& TERRIFIC® recipes at The Healthy Cooking Blog.
Check out Holly's trim & TERRIFIC™ cookbooks on Amazon, too!
Turn Fig Glazed Pork Tenderloin into a meal plan for leftovers
Let me help make meal planning a little easier for you with a menu idea that turns leftovers from this Fig Glazed Pork Tenderloin recipe into a fresh fun new meal!
I promise its worth buying fig preserves as you'll repeat this glazed pork tenderloin recipe often.
Cook your glazed pork tenderloin recipe in the oven or grill — either way this dish is a hit.
It's even diabetic friendly as long as you're choosing the leanest cuts of pork by looking for those ending in "loin" or "round."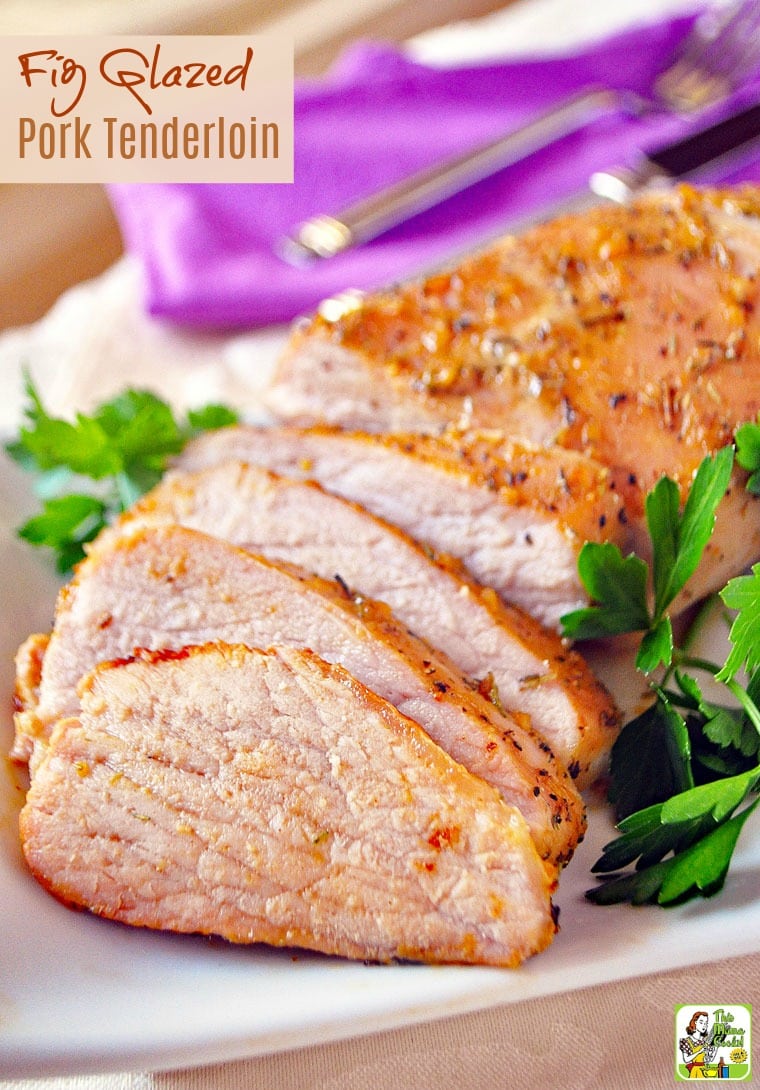 For a yummy main dish salad the next day, slice leftover pork tenderloin thinly to top a bed of romaine lettuce salad, sliced apples, avocado, almonds, your favorite cheese, and a drizzle of balsamic vinaigrette.
With so little time these days to prepare multiple meals, make sure your one meal provides built-in options for another dinner.
Remember to have fun with leftovers! Think of them as a no-stress convenience item to cook your next trim and terrific meal.
Tips for making a glazed pork tenderloin recipe
You may want to tenderize the pork tenderloins with a meat tenderizing tool before placing them in the marinade.
My favorite is the Jaccard Supertendermatic 16 Blade Tenderizer because it helps the meat absorb more marinade and become more flavorful. Tenderizing the meat also reduces cook time and prevents the meat from shrinking up while cooking.
To make this Fig Glazed Pork Tenderloin recipe gluten free, use a gluten free soy sauce or a tamari sauce.
Check the seasoned rice vinegar you're using doesn't have any gluten in it either. (Most shouldn't.)
If you can't find a seasoned rice vinegar, plain rice vinegar or red wine vinegar will work in a pinch, too.
More easy recipes from Holly Clegg
● Southwestern Sweet Potato Salad
● Ultimate Double Chocolate Brownies Recipe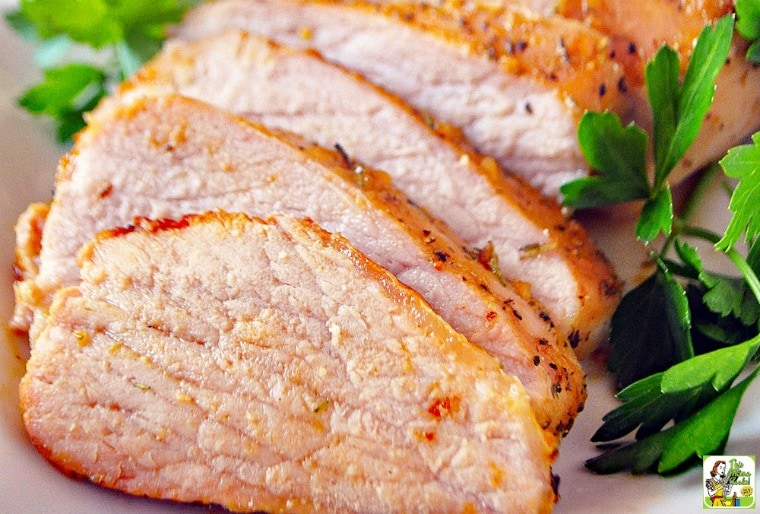 Fig Glazed Pork Tenderloin Recipe
Ingredients
1/3 cup

fig preserves

1 tablespoon

chili powder

1 teaspoon

minced garlic

2 tablespoons

seasoned rice vinegar

1 tablespoon

low-sodium soy sauce

2 (1-pound)

pork tenderloins, trimmed

Salt and pepper to taste
Directions
In a plastic resealable bag, combine fig preserves, chili powder, garlic, vinegar, and soy sauce. Season tenderloins to taste and place in bag. Refrigerate one hour or longer, time permitted.
Preheat oven 350°F. Place tenderloin on a baking sheet covered with foil. Cover tenderloins with some of the marinade. Toss out remaining marinade.
Cook tenderloins, basting after 20 minutes with marinade in pan and continue cooking another 20 minutes or until thickest part of tenderloin registers 160°F.
Prep Time:
1 Hour 15 Minutes
Total Time:
1 Hour 55 Minutes
Servings
:
Makes 6 servings
Serving size:

4 ounces

Calories:

241

Calories from Fat:

65 (27%)

Total Fat:

7g

Saturated fat:

2g

Unsaturated fat:

5g

Sodium:

143mg

Total Carbohydrates:

10g

Sugar:

7g

Fiber:

1g

Protein:

33g

Cholesterol:

100mg
Dietary Exchanges: 1/2 other carbohydrate, 4 lean meat
Pictures and recipe used with permission of author.