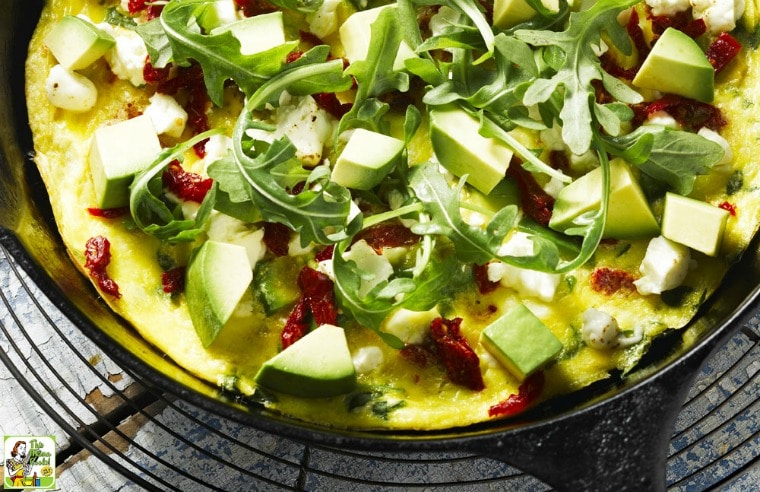 If you love easy frittata recipes, you have to check out this recipe for Avocado and Feta Frittata.
You can think of a frittata as the Italian version of the omelette. It's open-faced and not folded over, like a conventional omelette is.
Unlike an omelette, the egg mixture is cooked over a very low heat until the underside is set but the top is still runny.
Then the egg mixture is flipped over or set under a broiler to cook the top layer. It's a bit tricky, but learning to make a frittata is worth it!
Try it out for Mother's Day or another brunch time get together.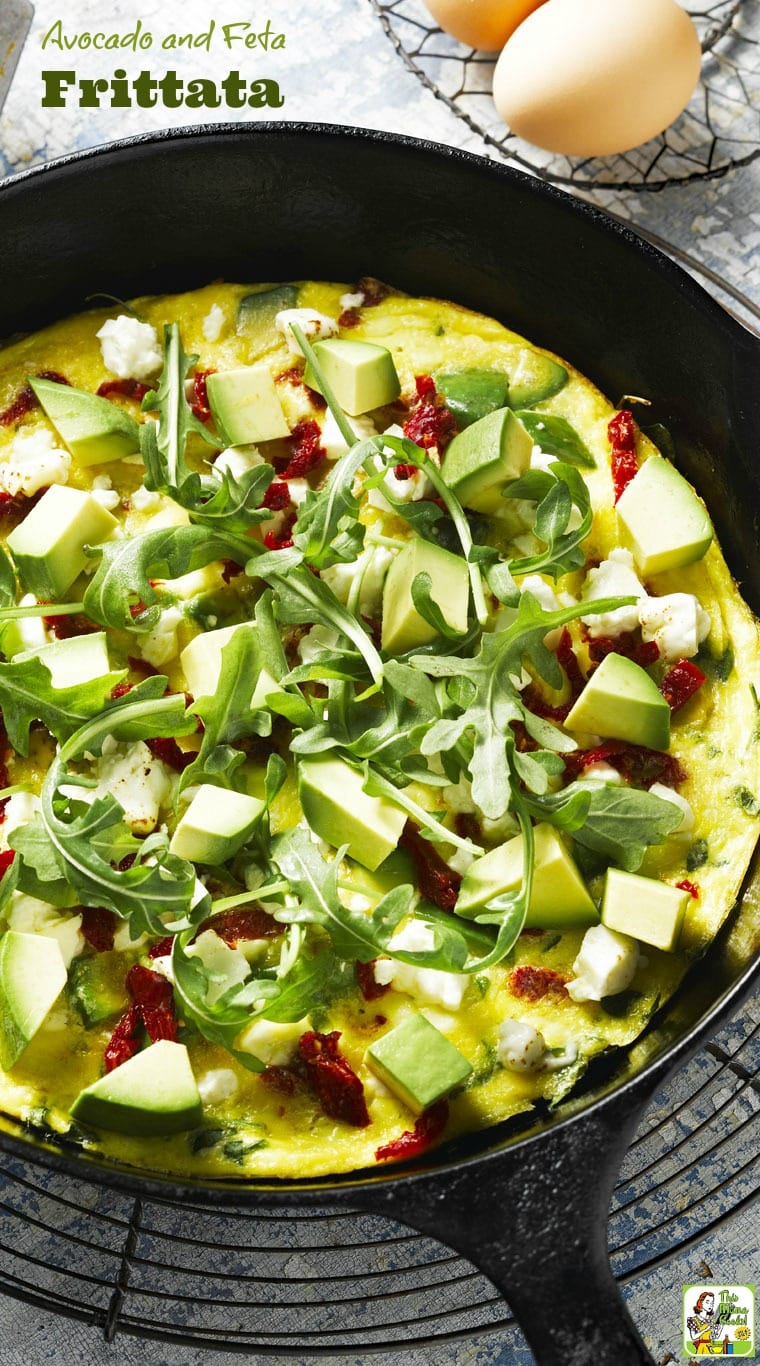 Healthing up an avocado frittata recipe
You can make this avocado frittata recipe even healthier by substituting liquid egg whites for some of the eggs. Just use 3 tablespoons of egg whites for one regular egg.
Another way to health up this avocado feta frittata dish is to use sundried tomatoes that aren't packed in oil.
You'll need to soften them up by soaking in hot water for 15 to 20 minutes or so before chopping them up for the recipe. 
While the avocado and feta frittata recipe shown in the picture is made in a cast iron skillet, there are all kinds of frittata pans that make frittata recipes much easier to make. Also, a frittata pan makes a terrific Mother's Day gift!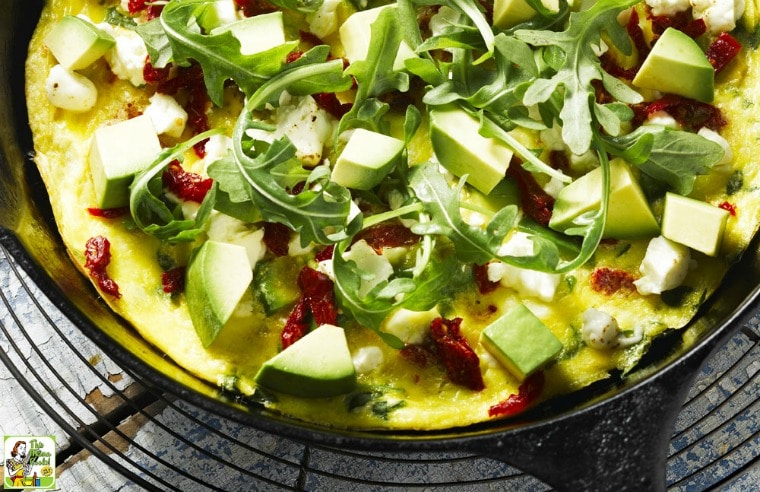 Avocado and Feta Frittata
Ingredients
6

large eggs

1/2 teaspoon

salt

1/4 teaspoon

pepper

1

avocado, halved, pitted, peeled and cubed

1/2 cup

feta cheese, divided

1/3 cup

oil-packed sun-dried tomatoes, chopped

1 tablespoon

olive oil

2 cups

baby arugula, divided
Directions
Preheat broiler.
In a medium bowl, beat eggs with salt and pepper.
Stir in half of the avocado, half of the feta and half of the tomatoes, and set aside.
Heat oil (can be from the tomatoes) in a 9-inch oven-proof skillet over medium heat. Stir in 1-1/2 cups of the arugula until wilted, about 30 seconds.
Add beaten egg mixture. Cook until eggs start to set, lifting sides a bit to let uncooked egg run underneath, about 5 minutes.
Sprinkle with remaining cheese and tomatoes.
Transfer skillet to broiler. Cook until eggs are set, 1 to 2 minutes; remove from broiler.
Sprinkle with remaining avocado and arugula. Serve hot.
Serving size:

1/4 of recipe
Recipe and picture courtesy of Avocados from Mexico and used with permission.
Originally published on May 7, 2013. Updated with new pictures and information.