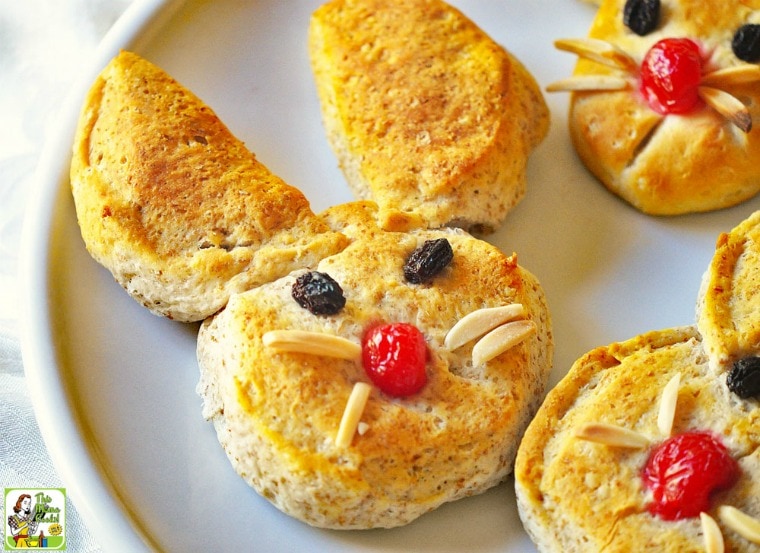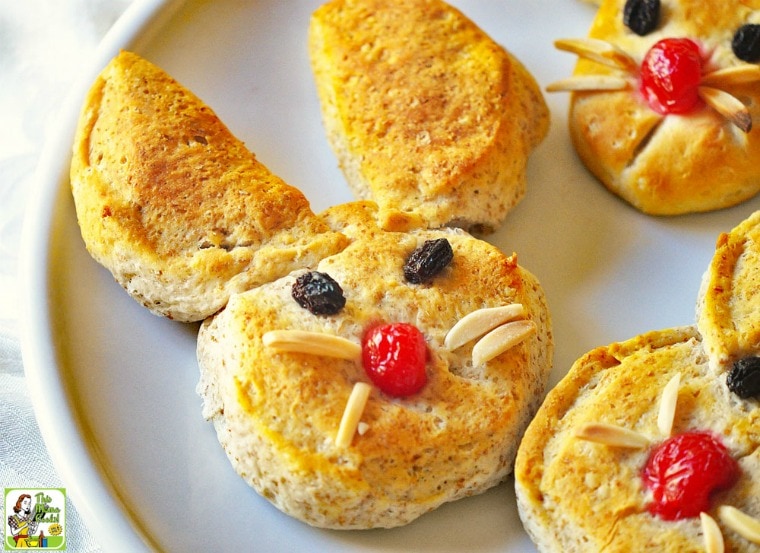 Want to make some easy biscuits recipes for your Easter brunch? You should try these Easter Bunny Biscuits from my contributor, Holly Clegg.
This fun Easter biscuit recipe is simple enough that you can make up a batch with the kids or grandkids. Since they take no time at all since they're made with refrigerated biscuit dough from the store, you can make some up after the Easter egg hunt.
Holly suggest these homemade bunny treats for breakfast. I bet this Easter biscuits recipe would go great with Easter Ham for dinner, too.
You can find more of Holly Clegg's trim& TERRIFIC® recipes at The Healthy Cooking Blog. Check out Holly's trim & TERRIFIC™ cookbooks on Amazon, too!
Easter Bunny Biscuits makes the perfect kid Easter breakfast
Simple ingredients make these fun and easy Easter Bunny Biscuits the perfect Easter morning breakfast or anytime treat.  Get the kids in on the fun, letting them help make the bunny ears and whiskers!
These biscuit bunnies make a great snack all year long but especially this time of year for Easter breakfast. I like to use raisins, maraschino cherries, and slivered almonds, but get creative and use other healthy ingredients for the whiskers, eyes and mouth.
Let each child create their own bunny biscuit. They can even use cheese and veggies like mushrooms and small broccoli florets for a savory snack.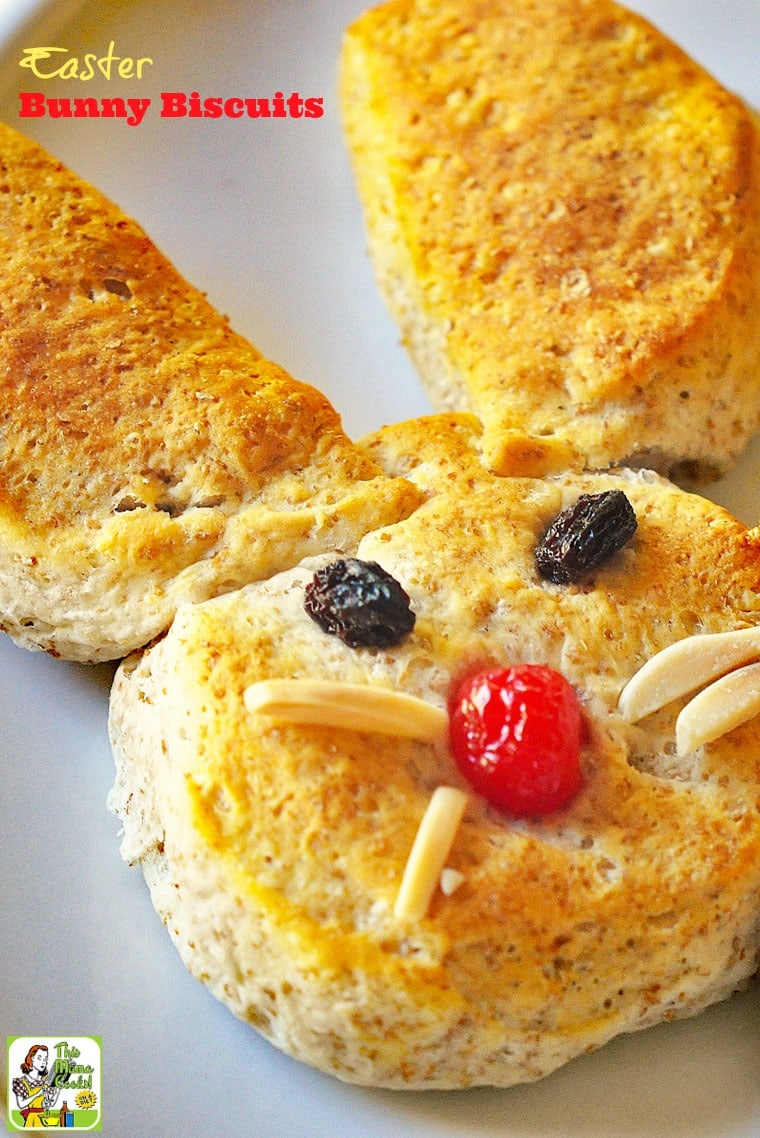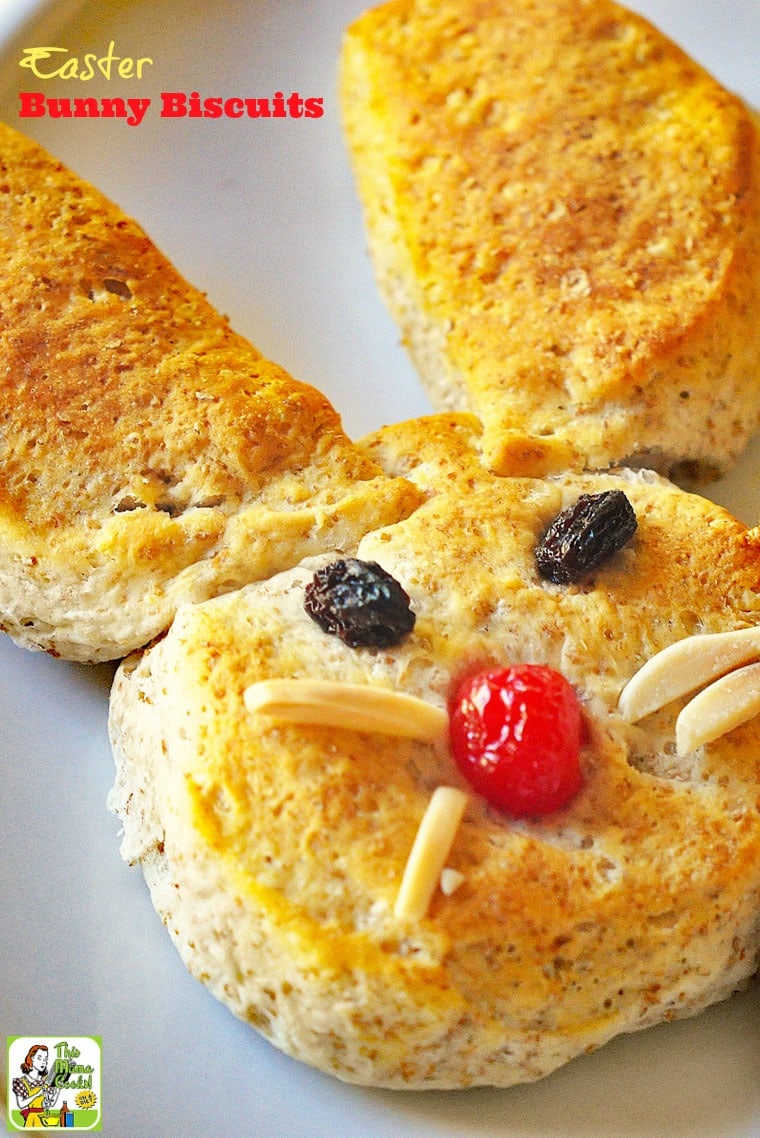 This Mama's tips for making Easter bunny biscuits
Use kitchen scissors to easily cut biscuit dough.
Don't have raisins for this Easter biscuit recipe? You can use dried cranberries, dried cherries, or diced pieces of dried fruit. You could also use golden raisins!
Don't like maraschino cherries? Use fresh cherry or grape halves. Or a piece of strawberry would work, too! 
Can't use almonds due to nut allergies? Slice pieces of fruit leather or carrots into slivers instead.
Find more healthy and fun recipes like Easter Bunny Biscuits in Holly's KITCHEN 101 cookbook.
Holly Clegg's trim&TERRIFIC KITCHEN 101: Secrets to Cooking Confidence: Cooking Basics Plus 150 Easy Healthy Recipes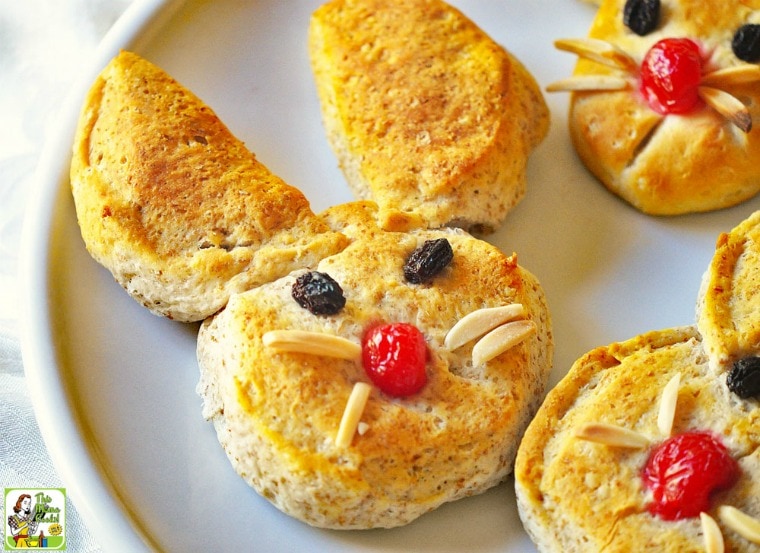 Ingredients
1 (10-biscuit) can

refrigerated biscuits (any variety)

10

raisins

5

maraschino cherry halves

20

slivered almonds
Directions
Preheat oven to 450º F. Place five biscuits on 15 x 10 x 1-inch nonstick baking pan.
To assemble bunny biscuits: Cut remaining 5 biscuits in half, pull a little to form ears. Press 2 biscuit halves (ears) under top of each whole biscuit to form bunny head.
In each whole biscuit, press in two raisins for eyes, cherry half for nose, two slivered almonds on each side of cherry half for whiskers. Bake 10 minutes, or until biscuits are done. Serve immediately.
Servings
:
Makes 5 bunny biscuits
Serving size:

1 biscuit

Calories:

116

Calories from Fat:

19 (16%)

Total Fat:

3g

Saturated fat:

0g

Unsaturated fat:

3g

Sodium:

360mg

Total Carbohydrates:

21g

Fiber:

3g

Protein:

3g

Cholesterol:

0mg
Diabetic Exchanges: 1.5 carbohydrate
Recipe and photo used with permission.