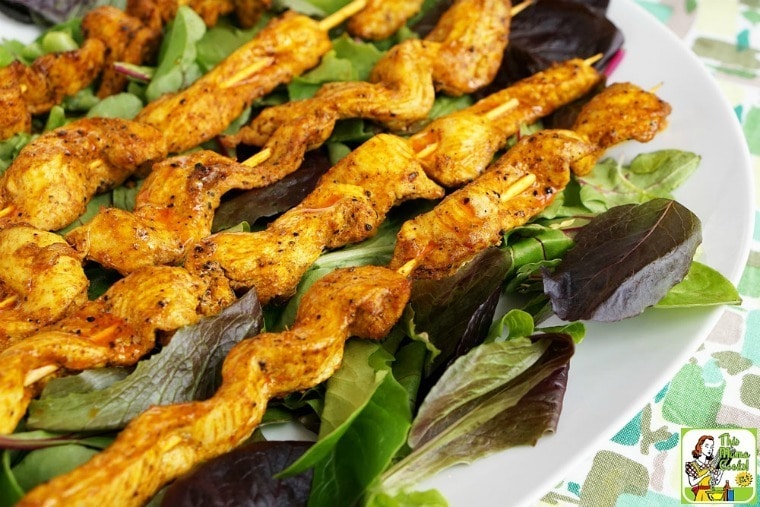 When I visit big cities, I make a point to visit the "street cart guys" to get a to-go order of chicken shawarma. I love Middle Eastern food having grown up going to Lebanese and Turkish restaurants since I was little. There's something about those spices and flavors that knock me out, you know?
Oddly enough, living in a foodie town, there isn't a decent Middle Eastern restaurant nearby. No worry, I've discovered it's easy to make recipes like chicken shawarma at home.
Win big with Easy Chicken Shawarma Appetizers
With football bowl season here, I thought chicken shawarma would make a fun football watching party recipe. However, chicken shawarma is usually served as a sandwich or wrap. Instead, I thought I'd turn the shawarma into a skewers recipe. After all, there's nothing that says "PARTY!" like food on a stick, right?
Easy Chicken Shawarma Appetizers are easy to serve to your football watching guests. Just serve the skewers on a platter. I also created a Greek yogurt and tahini based chicken shawarma sauce, which can be served as a dip on the side in a small bowl. Your guests can place a dollop of it on their plates and dip their chicken shawarma skewers into the sauce as they watch the games.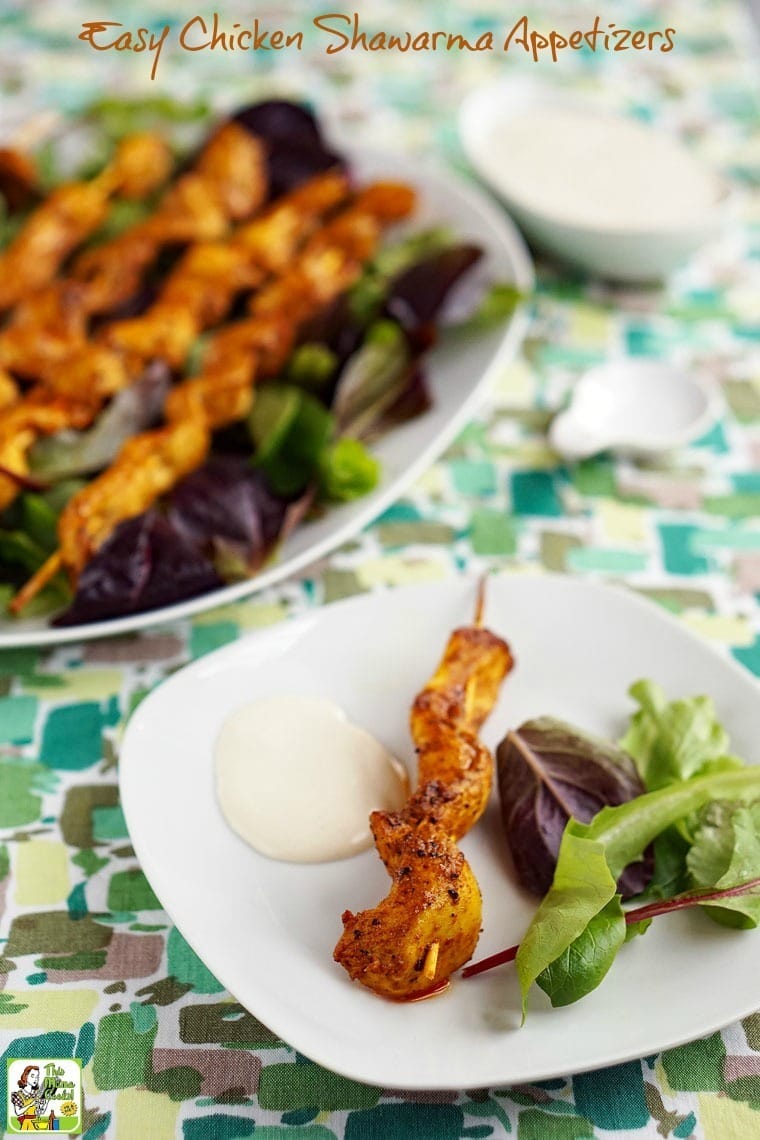 (Not into football? This recipe for chicken shawarma would also make a terrific New Year's Eve party appetizer!)
Making chicken shawarma appetizers is easy with Kroger
If you're a Kroger shopper, I'm sure you've come across their Simple Truth organic and natural products and their Private Selection gourmet and artisan foods. I love both brands because of their high quality and wonderful value compared to similar national brands.
Both brands have just about all the ingredients I need to make my Easy Chicken Shawarma Appetizers a hit at any football bowl watching party!
Variations on a chicken shawarma recipe theme
It's simple to turn this Easy Chicken Shawarma Appetizers recipe into a Easy Chicken Shawarma Wings recipe. (Your Kroger store may carry Simple Truth Natural Fresh Chicken Wings. Ask if you don't see them.) Use the shawarma spices marinade to marinate 2 pounds of chicken wings for an hour or more.
Then bake in an oven or grill until cooked through. Serve with the shawarma dip. If you like spicy chicken shawarma wings, add Simple Truth Organic Jalapeño Hot Sauce, Simple Truth Smoky Chipotle Pepper, or your favorite bottled spicy sauce to taste.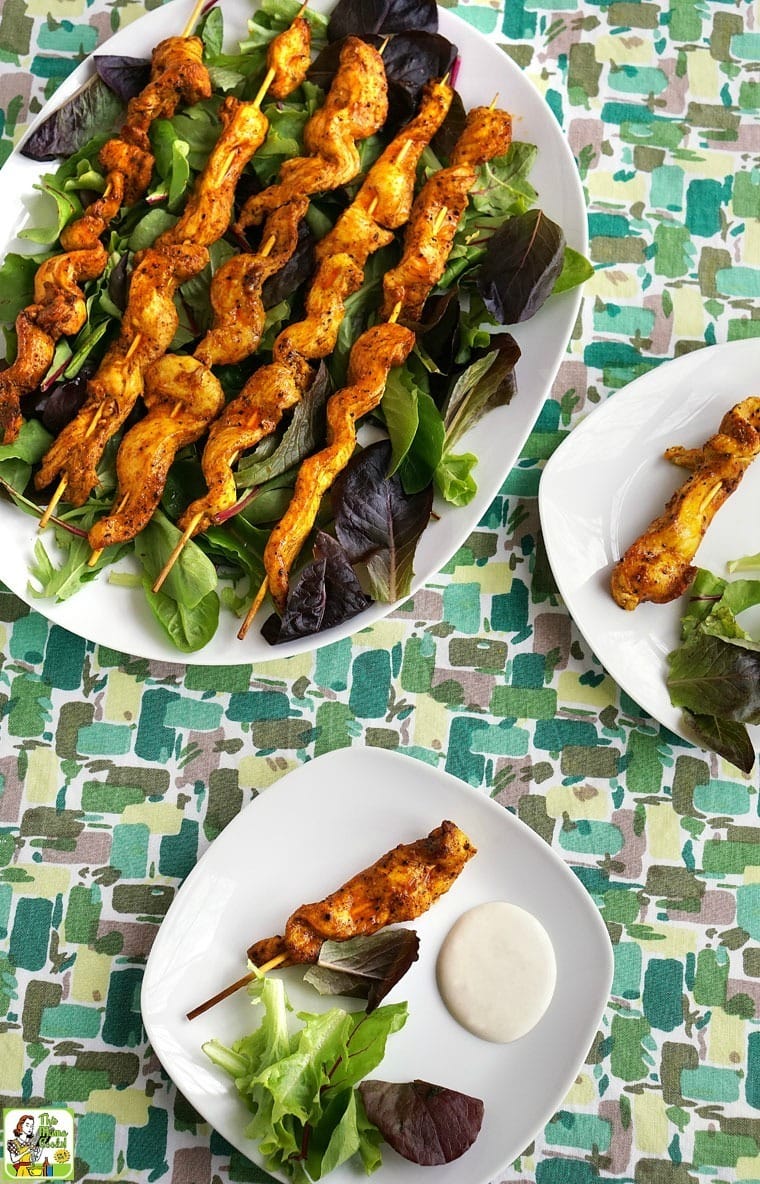 You can also make chicken shawarma as a dinner recipe. Serve the skewers on a bed of Simple Truth Organic Quinoa or Simple Truth Long Grain Brown Rice.
Finally, another chicken shawarma dinner recipe variation is to chop the chicken into bite size pieces before placing them into the plastic ziplock bag. After marinating, pan sauté the chicken until cooked through. Serve with Simple Truth Organic Quinoa or Simple Truth Long Grain Brown Rice and heated Simple Truth frozen vegetables on the side.
This Mama's tips for Easy Chicken Shawarma Appetizers with Dipping Sauce
I noticed that my Kroger sold only very thick skewers – almost dowels – in the cooking section but had skinnier bamboo skewers handing on a shelf in the rice aisle. (Why the rice aisle, I don't know!) If you cannot find the skinnier skewers, ask a manager. The thicker ones are great for steak shish kabob, but not ideal for chicken shawarma appetizers!
The bamboo skewers I found were a foot long. Cut them in half with kitchen shears before serving so they fit on your guests' plates.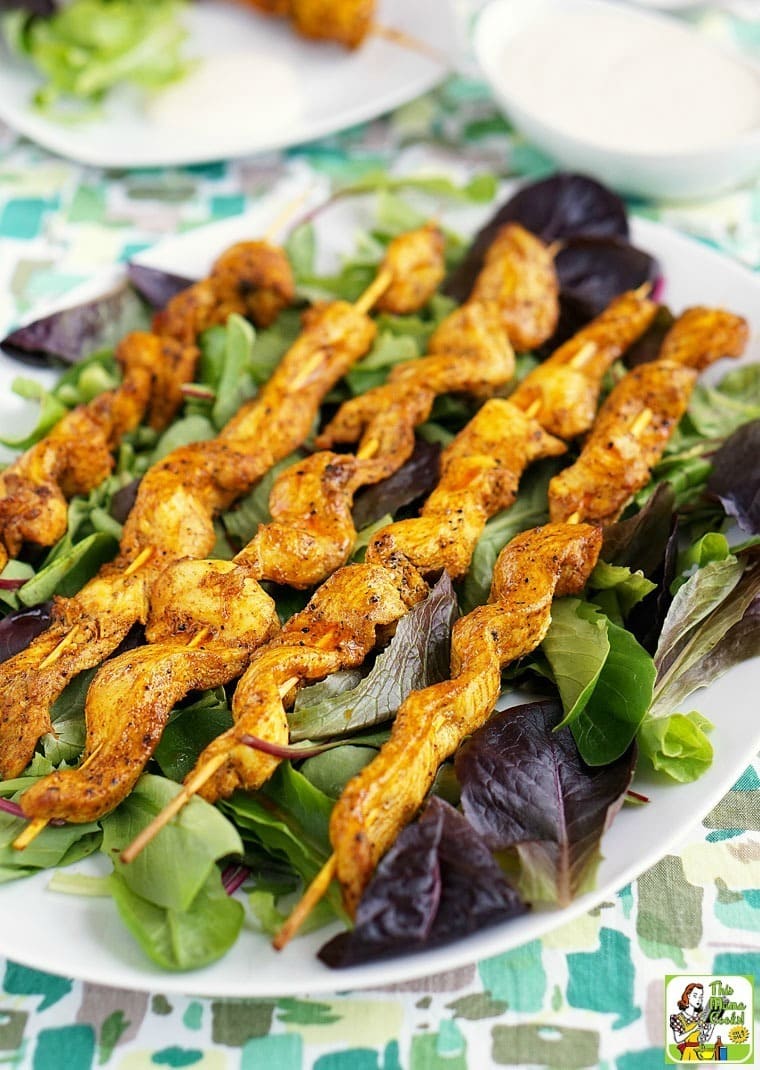 I used thinly sliced chicken breast cutlets since they were easy to thread on the skewers and cooked up quickly. If you can't find thinly sliced chicken breast meat, regular chicken breast is fine. Adjust cooking time accordingly.
I prefer olive oil based mayonnaise for the chicken shawarma based sauce, but you can use a lite mayo if you like.
If you don't have lime juice on hand and don't want to buy a bottle just for this recipe, it's OK to use just lemon juice. I love lime juice and it's always terrific to find an excuse to use it in a chicken appetizer recipe.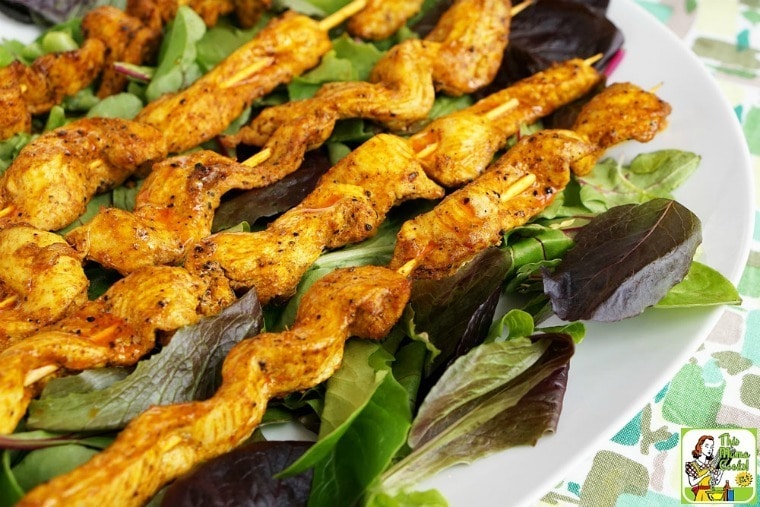 Easy Chicken Shawarma Appetizers with Dipping Sauce
Ingredients
For Skewers:
2 pounds

Simple Truth Natural Chicken Breast Cutlets Thinly Sliced Boneless/Skinless, cut into 3/4 inch strips

3 fluid ounces

Simple Truth Organic Italian Extra Virgin Olive Oil or Private Selection Italian Extra Virgin Olive Oil

2 teaspoons

Simple Truth Organic Cumin or Private Selection Ground Cumin

1 teaspoon

Simple Truth Organic Ground Paprika or Private Selection Ground Paprika

1 teaspoon

Smoked Paprika

1 teaspoon

Ground Allspice

1 teaspoon

Simple Truth Organic Turmeric or Private Selection Ground Turmeric

1/2 teaspoon

Onion Powder

1/2 teaspoon

Private Selection California Garlic Powder

1/2 teaspoon

Private Selection Fine Mediterranean Sea Salt

1/4 teaspoon

ground pepper

1/4 teaspoon

Simple Truth Organic Saigon Cinnamon or Private Selection Ground Cinnamon

Pinch

Simple Truth Organic Ground Nutmeg or Private Selection Ground Nutmeg

Pinch

Private Selection Ground Cardamom

Simple Truth Organic Canola Oil Cooking Spray
For Dipping Sauce:
3/4 cup

Simple Truth Plain Greek Nonfat Yogurt

1/2 cup

mayonnaise

1 1/4 teaspoon

Private Selection California Garlic Powder

4 tablespoons

Simple Truth Organic Tahini

1 tablespoon

lime juice

1 tablespoon

lemon juice
Directions
For Skewers:
Slice the chicken breasts into 3/4 to 1 inch strips. Place in a gallon ziplock baggie.
In a small bowl, whisk olive oil and spices. Pour into bag making sure chicken is completely covered in marinade.
Squeeze air out of bag and zip shut. Place bag in refrigerator and and let marinate for at least 1 hour up to overnight.
Preheat oven to 400 degrees F.
Place 15 bamboo skewers in baking pan and cover with water. Soak for 10 to 15 minutes so the skewers don't burn when cooked. (You probably won't need to use them all.)
Line a large baking sheet with foil for easier cleanup. Then place an oven safe baking and cooling rack on top of baking sheet.
Remove chicken from marinade and thread on to skewers.
Evenly place chicken skewers on racks and put baking sheet into the oven.
Bake for 10-12 minutes until the chicken is cooked through.
For Dipping Sauce:
Place dipping sauce ingredients in a blender and pulse until completely combined and creamy. Serve with chicken shawarma skewers as a dip or drizzle on top as a sauce.
Prep Time:
1 Hour 30 Minutes
Servings
:
Serves: 10 to 12
This is a sponsored conversation written by me on behalf of Kroger. The opinions and text are all mine.