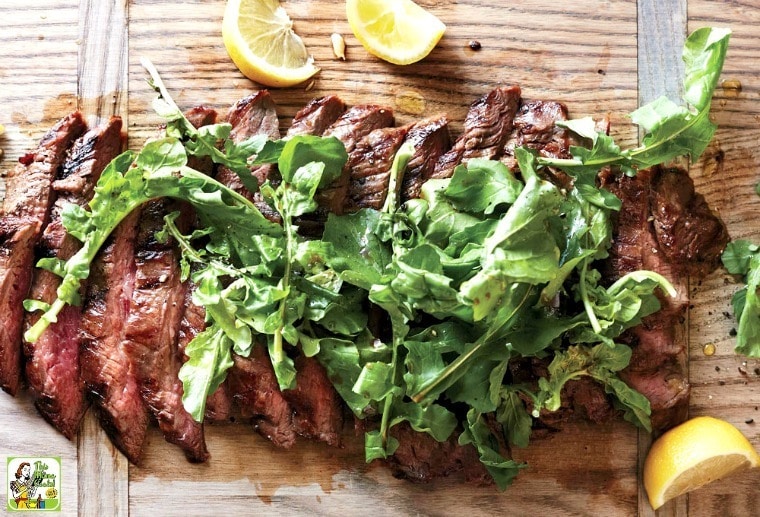 Since it's grilling season, I wanted to once again publish the recipe for Soy-Lemon Flank Steak with Arugula, from the May 2014 issue of Martha Stewart Living that they gave me permission to share with you all.
It's an ideal recipe for busy people who are budget minded, because flank steak is a fairly economical cut of beef and it grills up in no time.
Plus, this Soy-Lemon Flank Steak with Arugula recipe is so easy to prepare with just a minimum of planning.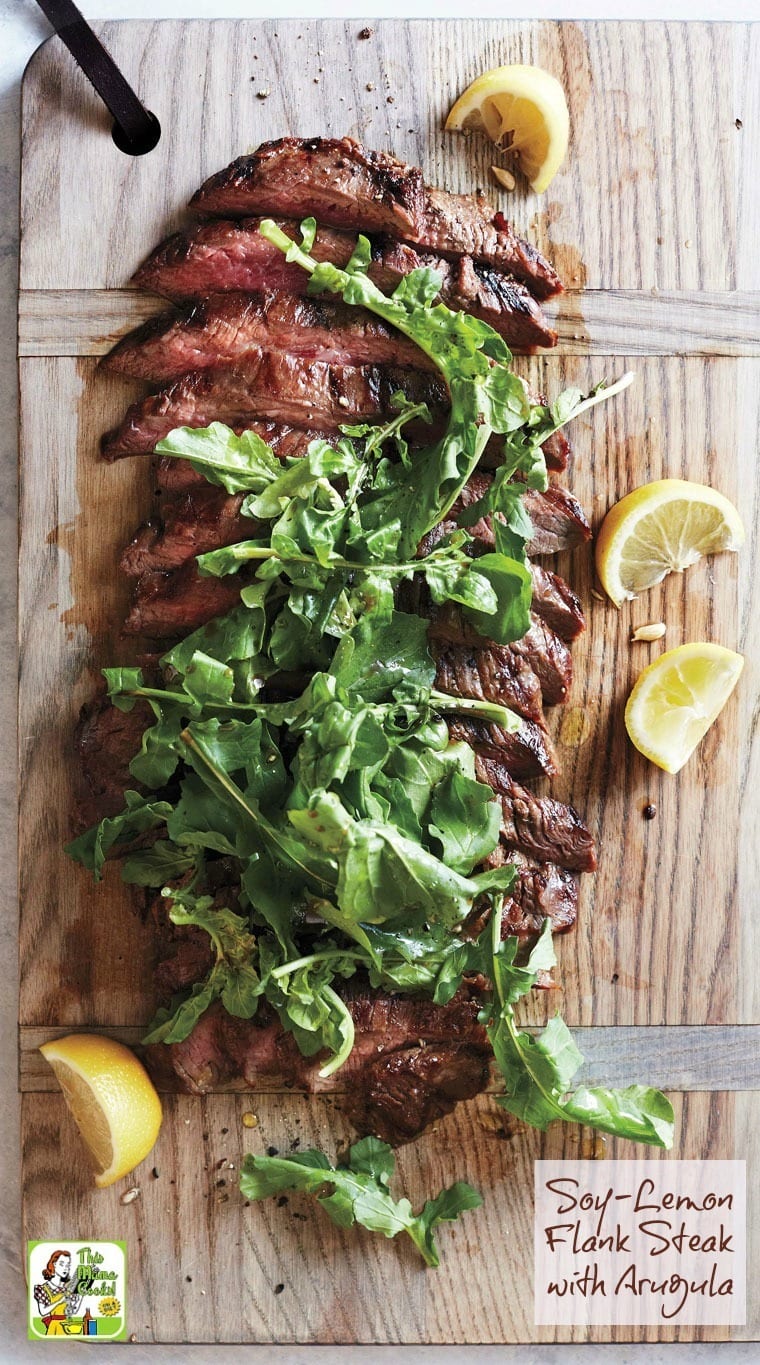 Making Soy-Lemon Flank Steak with Arugula is quick and easy
Get the beef marinating in the refrigerator before you head off for work in the morning. Then bring the flank steak up to room temperature when you get home.
I know the Soy-Lemon Flank Steak with Arugula recipe says only to marinate it for only six hours, but I don't see how doing so for a few hours more would be too much of a big deal.
If you think the soy-lemon marinade would over flavor the meat, add 1/2 cup of water to the marinade to dilute it a bit.
You can also marinate the flank steak for just an hour, too, according to the directions from Martha Stewart Living.
So if you're in a rush and didn't have time in the morning, when you get home from work, make up the marinate quickly and get the flank steak into a baggie or bowl.
Then change out of your work clothes and cook up your side dishes, such as Wine and Rosemary Quinoa. Grilled corn on the cob would be wonderful, too! Prepare a fresh side salad.
Make up a few cocktails and set the table. That should take up an hour, right?
More of This Mama's tips for making Soy-Lemon Flank Steak with Arugula
Use a Jaccard Supertendermatic 48-Blade Tenderizer to prevent the flank steak from shrinking and curling up when it's being grilled. (That sometimes happens with cheaper cuts of meat.)
Many of my readers have bought the Supertendermatic and emailed to tell me that they love it!
You can use it on chicken breasts and when making carne asada, too.
If you are gluten free, use tamari sauce instead of soy sauce. If you're on a low salt diet, look for the lower salt versions.
If you want to make the marinade sugar free, substitute 1 3/4 tablespoons monk fruit (I like using Sugar in the Raw Monk Fruit) and 1/4 tablespoon all natural, unsulphured molasses for the light brown sugar.
Want to make Soy-Lemon Flank Steak with Arugula for a backyard barbecue party? Just triple the recipe!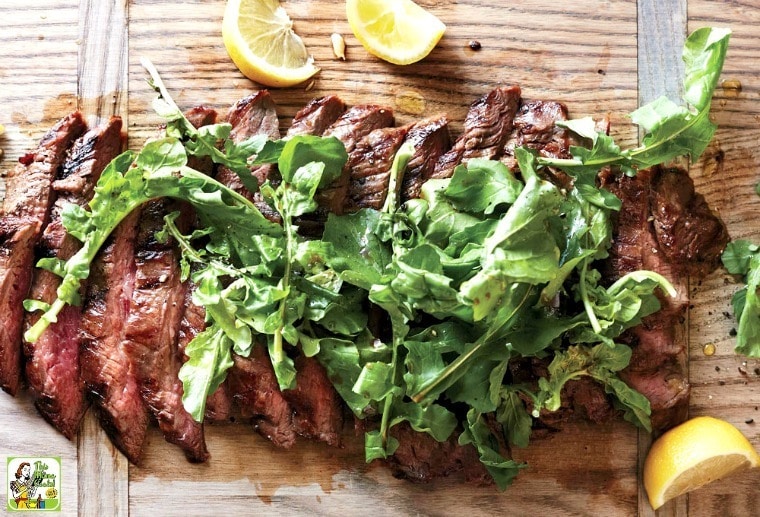 Ingredients
1/4 cup

extra-virgin olive oil

1/4 cup

soy sauce or gluten free tamari sauce

1/4 cup

fresh lemon juice (from 2 lemons)

2 tablespoons

packed light-brown sugar

2

cloves garlic, smashed

1 1/2 pounds

flank steak

1/2 bunch (about 2 ounces)

arugula, leaves torn if large

Coarse salt and freshly ground pepper

Lemon wedges, for serving
Directions
Whisk together oil, soy sauce, lemon juice, brown sugar, and garlic in a bowl. Place flank steak inside a gallon-size resealable plastic bag. Add marinade, press out excess air, and seal. Let stand, turning bag occasionally, at least 1 hour at room temperature, or up to 6 hours in refrigerator (if refrigerating, let come to room temperature before grilling).
Heat grill to medium-high. Remove meat from marinade, reserving marinade, and pat off excess with paper towels. Grill, uncovered, turning once, until a thermometer inserted into thickest part registers 130 degrees for medium-rare, about 5 minutes on each side. Transfer to a cutting board and let stand 10 minutes.
Meanwhile, transfer marinade to a small saucepan and bring to a boil. Remove from heat.
Slice meat against the grain and arrange on a platter. Arrange arugula on top; season with salt and pepper. Drizzle 1 to 2 tablespoons sauce over meat and arugula. Serve with remaining sauce and lemon wedges.
Cook Time:
1 Hour 10 Minutes
Total Time:
1 Hour 30 Minutes
Serving size:

1/4 of recipe
Originally published May 13, 2014. Updated with new pictures.
Recipe and image used with permission. Photography by Ryan Liebe.