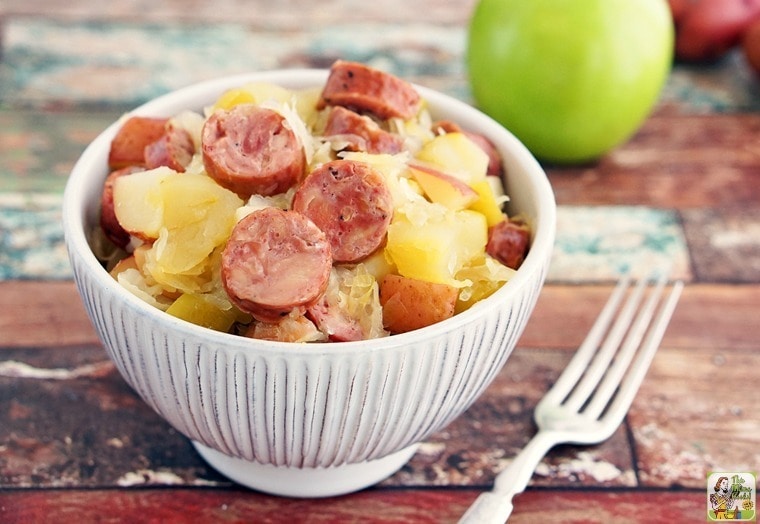 Do you have a go to dinner dish that you can make without having to consult a cookbook? For me it's Slow Cooker Sauerkraut and Sausage with Apples and Potatoes.
I originally found this easy to make sauerkraut and sausage slow cooker recipe in the Denver Post many years ago.
Since I lost the clipping, I have no idea if it came from a cookbook or networking cooking show. All I know is that my family loves the sweet and tangy combination of sauerkraut, sausage, and apples.
I love that it's so easy to put together. The most time consuming thing about this kraut and sausage recipe is cutting up the sausage, potatoes and onions – and occasionally trying to get the sauerkraut jar open!
Slow Cooker Sauerkraut and Sausage with Apples and Potatoes is even more convenient now that I've found the perfect sausage to go with this slow cooker recipe – Aidells® Chicken & Apple sausage.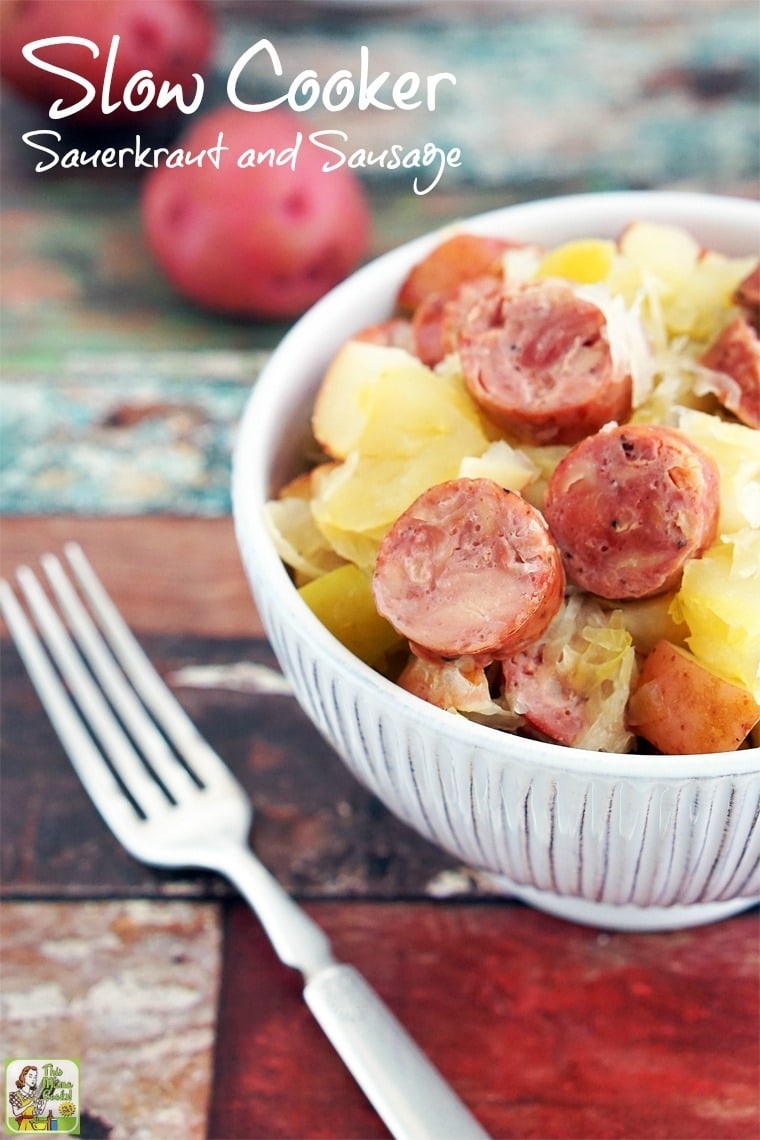 Why you should use Aidells® in Slow Cooker Sauerkraut and Sausage
If you or a family member is gluten free, you have to be careful of what is in store bought sausage. Many will contain bread or gluten containing fillers.
Luckily, all of Aidells® sausage varieties are gluten free! Aidells® also contain no nitrites or added hormones. All their sausages are hand-crafted with real, hand-picked ingredients in small batches with care.
Besides the chicken and apple variety (which are also available in a mini sausage version) Aidells® has a variety of sausage flavors for all your recipe needs.
Aidells® sausage only take 8 to 10 minutes to heat up in the oven, grill or stovetop. (You can sauté or grill over medium heat or bake at 375 degrees. )
However, since they're precooked, you don't have to worry about not cooking them perfectly. (Love that!)
This Mama's tips in cooking Slow Cooker Sauerkraut and Sausage
To help with cleanup, spray your Crock-Pot with cooking spray or line it with a slow cooker liner. (Love those liners! Since I started using them, I don't have to soak and scrub my Crock-Pot any more!)
Reynolds Slow Cooker Liners, 4-Count (Pack of 6)
While you can get canned sauerkraut, I prefer the fresh kind of jarred sauerkraut that's found in the refrigerated section of the grocery store.
There's no need to peel either the red potatoes or the Granny Smith apples. Another time saver!
In a rush? You can cook this on high for 3-4 hours in the slow cooker instead of 7-8 hours on low.
Planning a party? Don't slice up the Aidells® Chicken & Apple sausage, but keep them whole. They'll cook up fine in your Crock-Pot. Just make sure they're covered with plenty of apples, potatoes, and sauerkraut so they're kept moist.
Then serve the Aidells® Chicken & Apple sausage in (gluten free) buns slathered with a touch of Dijon mustard. Top the sausage with sauerkraut. Apples and potatoes can be served on the side.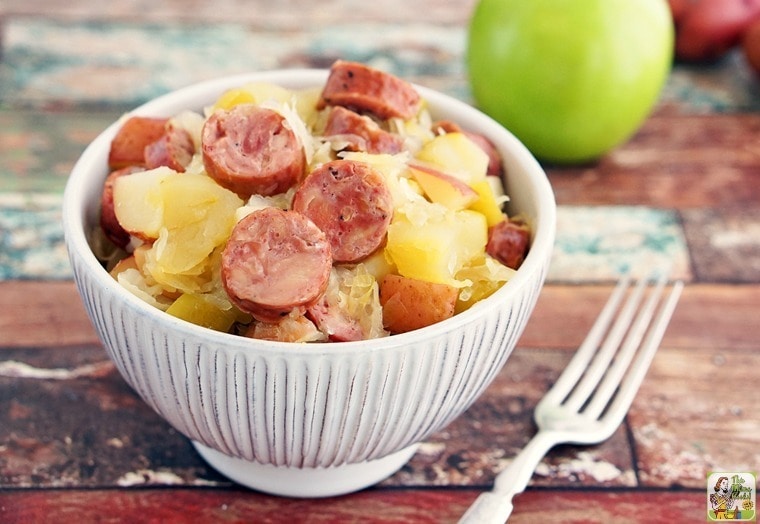 Slow Cooker Sauerkraut and Sausage with Apples and Potatoes
Ingredients
1 (32 ounce) jar

sauerkraut

2 (12 ounce) packages

Aidells® Chicken & Apple sausage, sliced into 1" pieces

1 pound

red potatoes, chopped into 1/2" to 1" pieces

2

large Granny Smith apples, cored and chopped into 1/2" to 1" pieces

1 cup

apple juice

1 cup

vegetable broth

2 tablespoons

brown sugar

1/2 teaspoon

sea salt

1/8 teaspoon

ground pepper
Directions
Pour sauerkraut, including juice, into a 6 quart or larger slow cooker.
Add the sliced sausage, potatoes, and apples to the crock.
Add the juice, broth, brown sugar, salt, and pepper. Stir to mix ingredients.
Cover and cook on low 6-7 hours or high for 3-4 hours.
Stir before serving.
Total Time:
7 Hours 15 Minutes
Servings
:
Serves 4 to 6 with leftovers