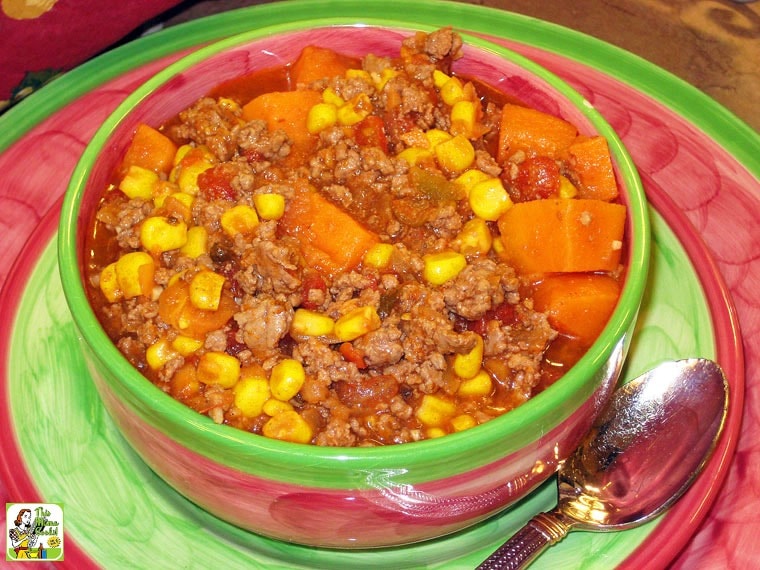 This Easy Burger Soup is perfect for those dreary cold days when you don't have much time – or energy – to make dinner.
This recipe comes from frequent contributor, Holly Clegg. She says when she has a big pot of hearty Easy Burger Soup brewing on the stove, it puts a smile on everyone's face.
Soup's also a terrific way to get vegetables into everyone's diet without too many complaints!
You can find more of Holly Clegg's trim& TERRIFIC® recipes at The Healthy Cooking Blog.
Check out Holly's trim & TERRIFIC™ cookbooks on Amazon, too!
Update on Holly: Holly was diagnosed with gastric cancer in 2018. For the latest on Holly's health, see her Instagram page.
You can learn more about Holly's Cancer Journey and donate to the Holly Clegg Gastric Cancer Research Fund at MD Anderson Cancer Center on her behalf.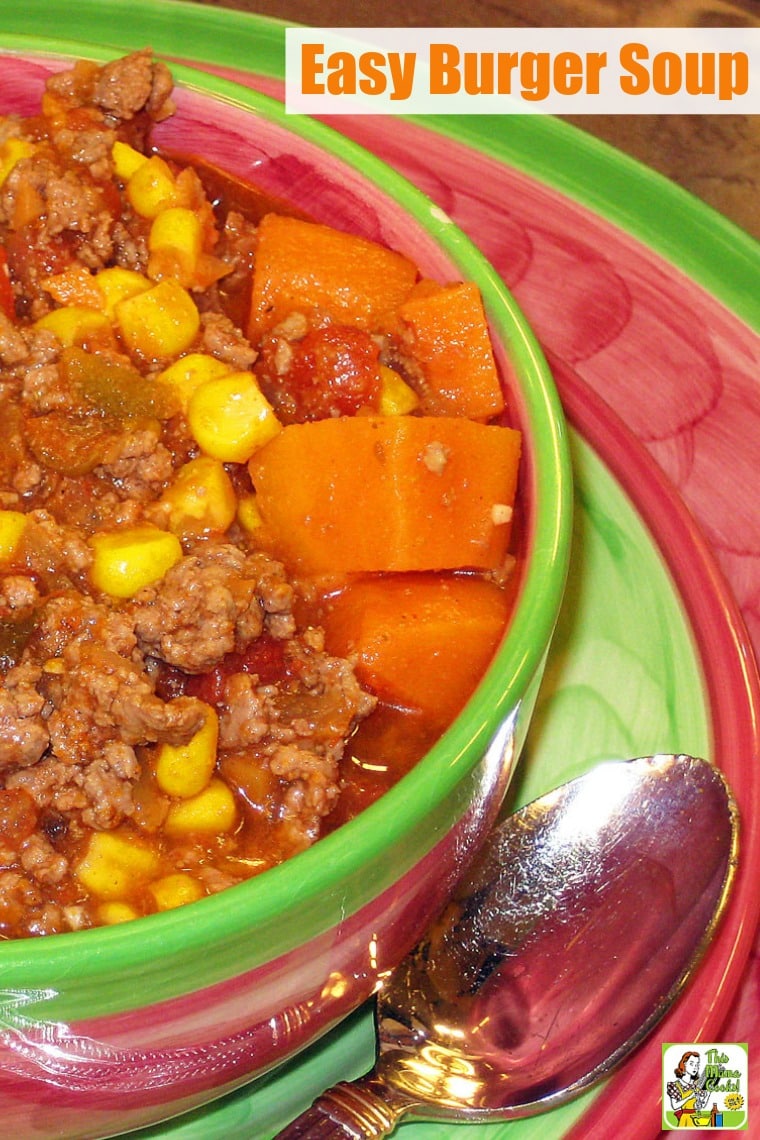 Burger soup makes dinner a breeze
I like serving this Easy Burger Soup in bowls, but my children always put it into mugs. I guess it gives them an excuse to drink every last drop!
What I also like about this burger soup recipe is that I can make it with little advanced planning.
I always have a tube of ground sirloin in the freezer and canned vegetables in my pantry or frozen vegetables in the freezer. (You can substitute frozen for canned, if you like.)
However, you can make it even easier by doubling the recipe and freezing half for another night when you don't have time to cook.
Just thaw the soup in the refrigerator and heat up on the stovetop or in the microwave.
It's also the perfect soup recipe for entertaining! Double or triple the recipe and keep the soup warm in a slow cooker for your guests to serve themselves in the buffet line.
Best of all, this burger soup recipe is naturally gluten free!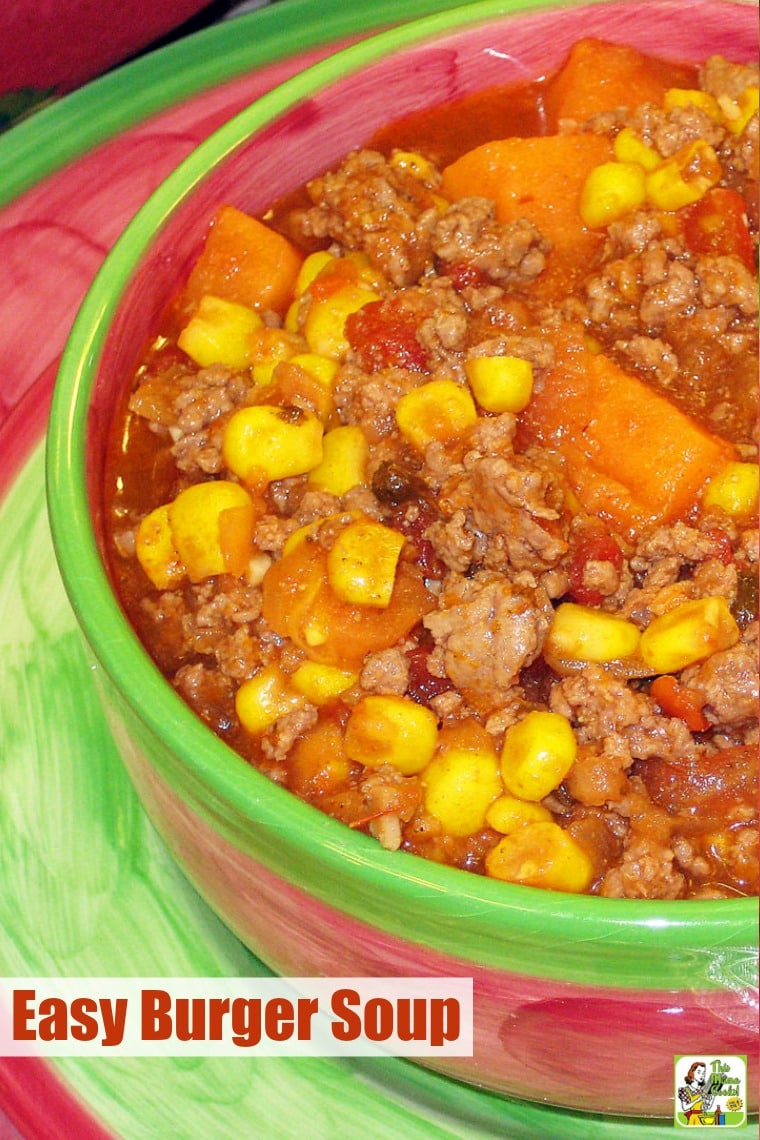 Give Holly's cookbooks for the holidays!
Easy Burger Soup is from the Holly Clegg trim&TERRIFIC Cookbook. Make sure to check out Holly's other trim & TERRIFIC™ cookbooks on Amazon, too.
They make wonderful holiday gifts for anyone who loves to cook or who wants to start eating in a better-for-you, more wholesome way. (They're great for New Year's Resolutions!)
Some of my favorites are:
● Guy's Guide to Eating Well: A Man's Cookbook for Health and Wellness
● Holly Clegg's Trim & Terrific Gulf Coast Favorites: Over 250 easy recipes from my Louisiana Kitchen
● The New Holly Clegg Trim & Terrific Cookbook
● Holly Clegg's trim&TERRIFIC Too Hot in the Kitchen: Secrets to Sizzle at Any Age - 200 Simple and Sassy Recipes
● Holly Clegg's Trim & Terrific Freezer Friendly Meals
More awesome recipes from Holly Clegg
● Easy Chicken and Sausage Gumbo
● Blueberry Muffin Streusel Cake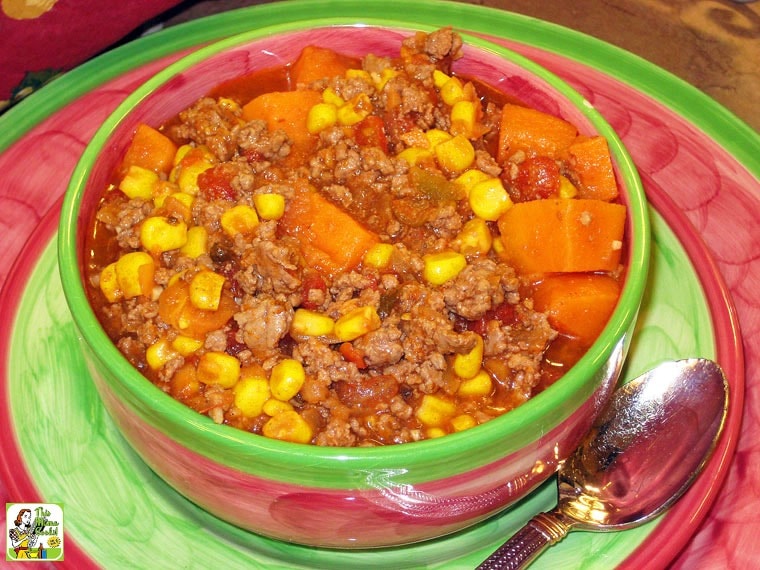 Ingredients
1 pound

ground sirloin

1

onion, chopped

1 teaspoon

minced garlic

1 (15-ounce) can

tomato sauce

1 (141/2-ounce) can

chopped tomatoes

4 cups

water

Salt and pepper to taste

1 tablespoon

Worcestershire sauce

1

bay leaf

1 cup

sliced peeled carrots (in rings)

(11-ounce) can

corn, drained

1/3 cup

rice, uncooked
Directions
In large pot, cook meat, onion, and garlic until meat is done. Drain any excess liquid.
Add tomato sauce, tomatoes, water, salt, pepper, Worcestershire sauce, bay leaf, and carrots. Bring to boil, lower heat, cook 10 minutes.
Add corn and rice, continue cooking over medium heat until rice is done and carrots are tender, 30 - 40 minutes. Add more water if too thick. Serve.
Total Time:
1 Hour 15 Minutes
Serving size:

1/8 of recipe

Calories:

160

Calories from Fat:

25 (16%)

Total Fat:

3g

Saturated fat:

1g

Unsaturated fat:

2g

Sodium:

482mg

Total Carbohydrates:

21g

Fiber:

3g

Protein:

14g

Cholesterol:

30mg
Diabetic Exchanges: 1.5 very lean meat, 1 starch, 1 vegetable
Recipe and photo used with permission of the author.