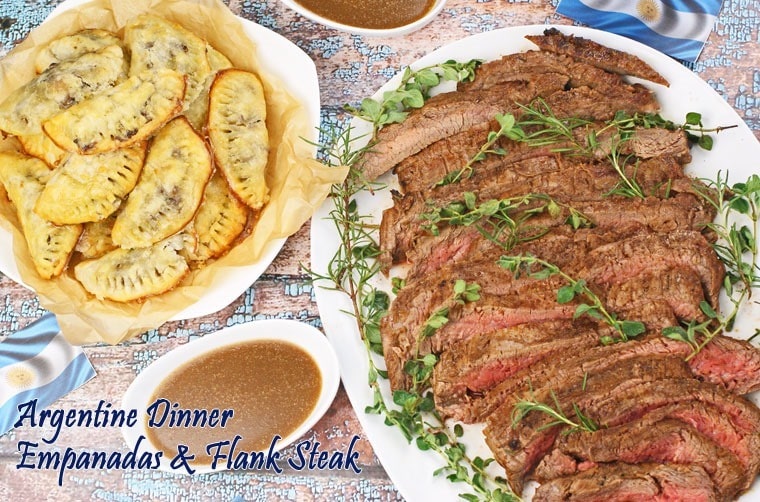 When I was growing up, my parents exposed my sister and me not only to their culinary traditions – French and Jewish food – but foods from other countries as well. We often dined at Japanese, Lebanese, Mexican and Greek restaurants, which back in the '70s and early '80s was pretty unusual. I continue this tradition by introducing my kids to international fare such as Indian, Thai, Korean, Cuban, Pilipino, Hawaiian, Spanish, and Vietnamese food both at home as well as when we dine out.
Recently, my husband Paul and I dined at Viva, an Argentine restaurant in Athens, Georgia. We ordered empanadas, which we joked were very similar to Hot Pockets and thought our kids would love them. Unfortunately, they weren't gluten free, so I had to be careful not to have too many. (I can have a little gluten from time to time without getting too much of a headache.)
As I know many gluten free families would love Argentine food like beef and vegetable empanadas and marinated flank steak, I've recreated them with a little help from McCormick. They've recently broadened their Recipe Mix product line to include gluten free options. McCormick Gluten-Free Recipe Mixes flavorful seasoning blends are made without gluten, MSG or artificial flavors or colors. Best of all, they're not more expensive than their non-gluten-free counterparts.
They sent me their gluten free seasoning mixes to try: Chili, Fajita, Turkey Gravy, own Gravy, and Taco. I used three of them to create an Argentine Family Dinner Party with a little something for everyone. Beef & Vegetable Empanadas serve as appetizers and should appeal to both kids and adults. But if your kids don't like flank steak, they can have a empanadas as a main course instead.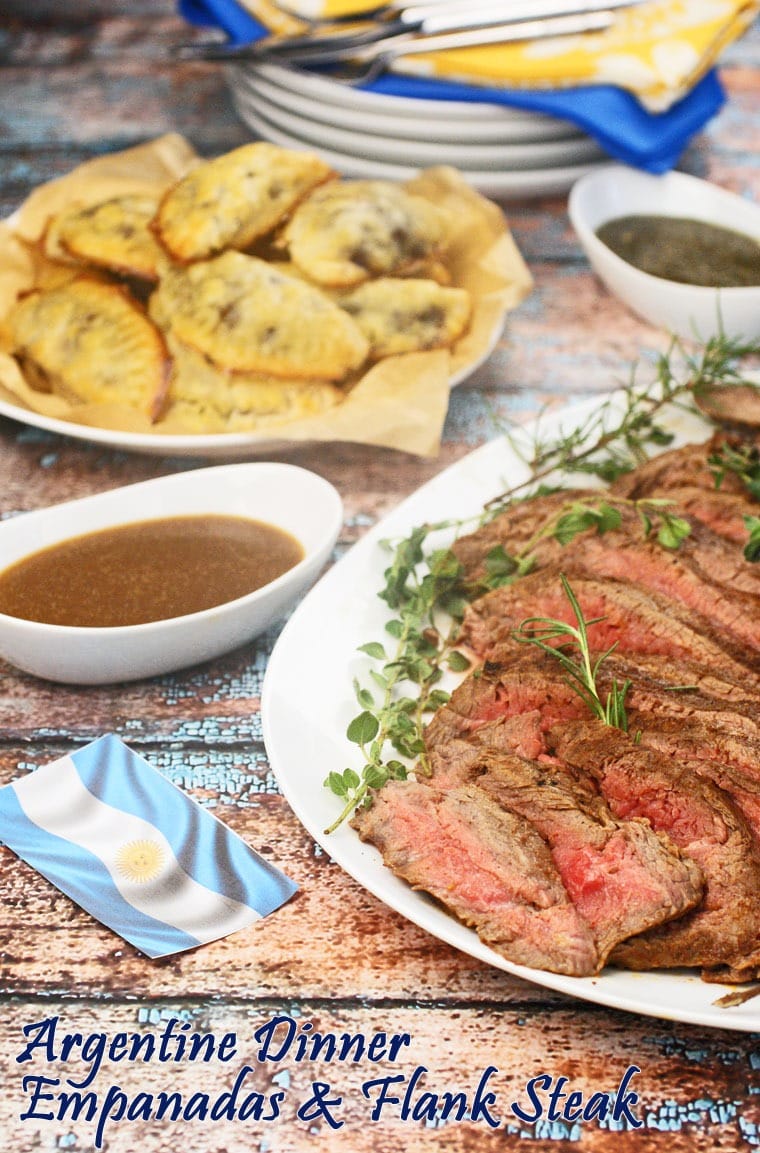 Dipping sauces
When we were at Viva, they served several types of dipping sauces for the empanadas including chimichurri. You've might not have heard of chimichurri sauce before, but it's very trendy right now as I've been seeing it in magazines, at restaurants, and even sold in bottled at the grocery store. You can use premade chimichurri or my recipe for Chimichurri Marinade. (The one I used in the pictures above I found at Marshall's in their gourmet section!) Chimichurri sauce is also terrific on the Marinated Flank Steak.
Since chimichurri is a little on the grownup side, I also made a gravy with McCormick Gluten-Free Turkey Gravy Mix. The kids can use this as a dipping sauce for their empanadas or on their steak. (I won't tell if you adults wish to do the same. I love chimichurri sauce, but it may not be your thing since not everyone loves cilantro and parsley.)
Tenderizing the steak
While the marinate does a good job on its own, I highly recommend using a blade meat tenderizer tool. This tool pierces the flank steak all over, helping it to absorb the marinade better. I have a Jaccard Supertendermatic 48-Blade Tenderizer and highly recommend that you buy yourself one, too. It also prevents cheaper cuts of meat from shrinking and curling up.
You'll want to marinade the steak overnight to up to 24 hours before grilling, so plan accordingly!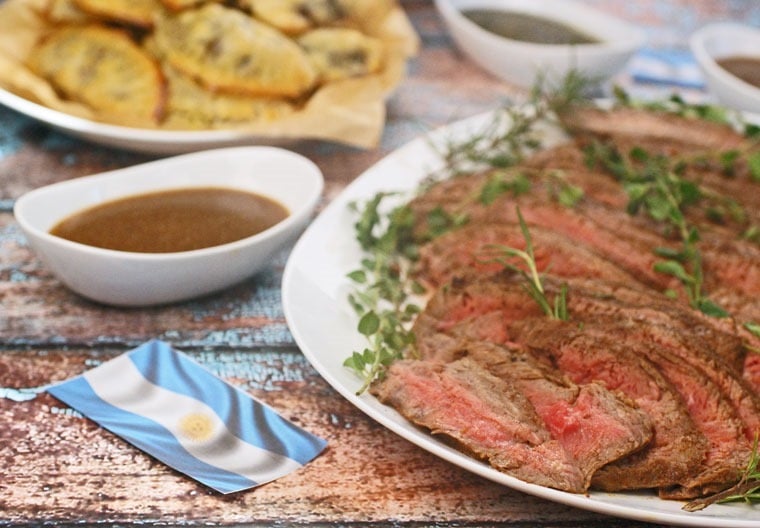 Gluten free pastry dough
For convenience, I used Pillsbury Gluten Free Pie and Pastry Dough. If you have a favorite gluten free pie dough recipe, go ahead and use that instead, because Pillsbury's dough is rather temperamental.
First it was too sticky, so I had to add handfuls of gluten free all purpose flour to my board and rolling pin. Then it broke when I folded the dough over to make the empanadas, though I was able to pinch it together and fix it. Then the last few dried out, and fell apart while I was trying to put them together. So frustrating! (And here I was thinking I was trying to save my readers some time with a convenience product!)
If you do decide to use Pillsbury's dough, make your empanadas in batches a few at a time so the dough doesn't have a chance to dry out. In it's defense, Pillsbury's dough baked up well, was delicious, and very flaky. However, make sure to eat the empanadas while they're hot or at room temperature. They don't reheat well in the microwave as they get kind of gummy from the grease in the meat.
If you don't have a favorite gluten free dough recipe, but want to make one from scratch, try my friend, Toni of Boulder Locavore's empanada recipe – but with my filling!
Setting the table
Argentina's flag is blue and yellow, so I chose to decorate my table with print outs of the Argentine flag and napkins that were the same color. You may wish to do the same and bring some educational materials about Argentine culture to the table for discussion depending on the ages, interests and attention spans of your children. Put on some Argentine music from whatever streaming music service you use, and open a bottle of Argentine wine. The kids can have sparkling grape juice as a special treat.
Eat, drink, and enjoy this gluten free Argentine feast!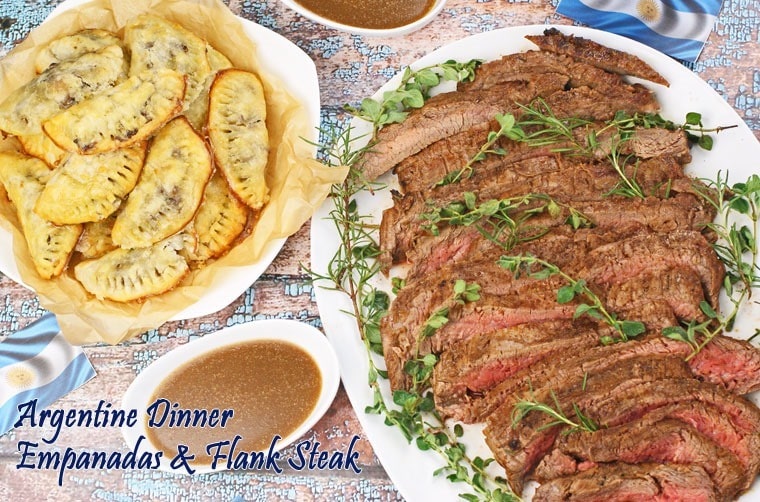 Ingredients
1/4 cup

lemon juice

1/2 cup

red wine vinegar

1/2 cup

cup olive oil

1 cup

water

1 packet

McCormick Gluten-Free Chili Seasoning Mix

2 1/2 pounds

beef flank steak

2 sprigs

rosemary

4 sprigs

oregano

4 sprigs

thyme

Additional herbs for garnish (optional)

Chimichurri sauce, for serving

McCormick Gluten-Free Turkey Gravy, for serving (recipe below)
Directions
Combine lemon juice, vinegar, olive oil, water and seasoning mix in bowl. Whisk to mix thoroughly.
Place flank steak on a cutting board. Generously tenderize both sides of the steak with a blade meat tenderizer tool.
Place in a large zip lock plastic baggie along with herb sprigs. Pour in marinate. Push out extra air and seal.
Place on a tray or large plate (in case of accidental leaks) in the refrigerator overnight up to 24 hours before grilling.
To grill, remove flank steak from baggie and throw out marinate.
Grill steak until medium rare – about 5 minutes on each side.
Remove from grill. Transfer to cutting board and let rest for 5 minutes.
Slice meat in thin strips against the grain. Arrange on a platter and garnish with herbs.
Serve with chimichurri sauce and McCormick Gluten-Free Turkey Gravy.
Serving size:

1/4 to 1/6 of recipe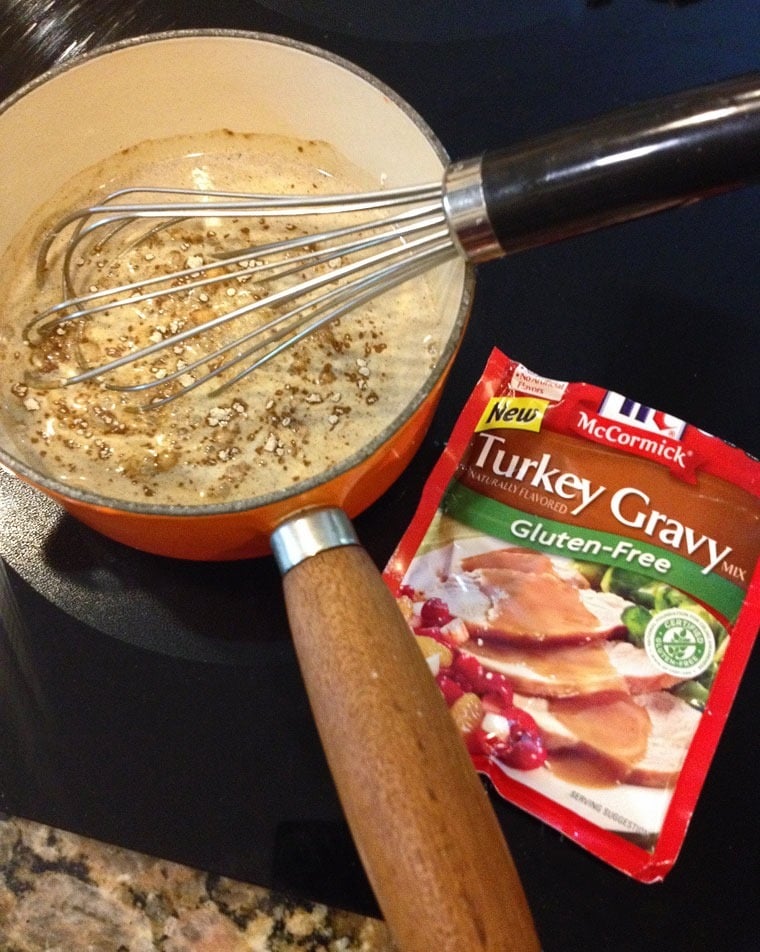 Turkey Gravy
Recipe from McCormick
Prep: 1 minute
Cook: 5 minutes
Serves: Makes 4 (1/4-cup) servings
Ingredients:
1 cup water
1 package McCormick Gluten-Free Turkey Gravy Mix
Directions:
Pour water into a small saucepan. Add gravy mix. Whisk to combine.
Stirring frequently, cook on medium heat until gravy comes to boil. Reduce heat and simmer 3 to 4 minutes. (Gravy will thicken upon standing).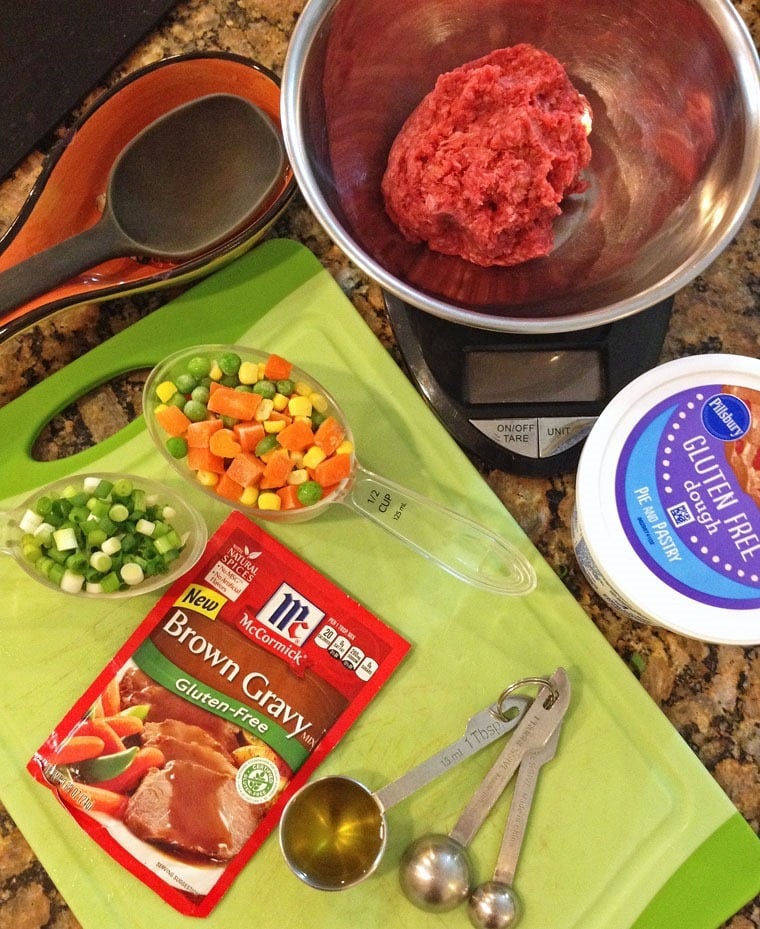 Beef & Vegetable Empanadas
Prep: 30 minutes
Cook: 30 minutes
Servings: Makes approximately 20 empanadas
Serving size: 2 to 4 empanadas
Ingredients:
1/2 pound ground beef
1 tablespoon olive oil
1/4 cup thinly sliced green onions
1/2 cup frozen mixed vegetables
1/2 pound lean ground beef
1 packet McCormick Gluten-Free Brown Gravy Seasoning Mix
2 tubs Pillsbury Gluten Free Pie and Pastry Dough (you'll have leftover dough)
All purpose gluten free flour, for dusting
1 egg, thoroughly beaten
Chimichurri sauce, for serving
McCormick Gluten-Free Turkey Gravy, for serving
Directions:
Heat oven to 375 degrees F. Line baking sheets with parchment paper or silicon baking mats. Set aside.
Heat olive oil in a large sauté pan. Add green onions and mixed vegetables. Cook for 2 minutes, stirring frequently.
Add ground beef and brown gravy seasoning mix. Stir to combine with vegetables.
Use sides of spoon to break up meat into small pieces. Stirring frequently, cook until beef is thoroughly browned and cooked through.
Remove beef and vegetable mixture from stovetop and set aside.
Roll dough out on cutting board or counter top with a rolling pin. Use flour if dough sticks to pin or surface. Using a 3-inch round cookie cutter, cut 3 to 6 rounds at a time from pie crust. (Make in batches so dough doesn't dry out.) Place rounds on cookie sheet.
Working with one dough round at a time, top each with 1 teaspoon of beef and vegetable mixture. (Don't overstuff!) Using a pastry brush, moisten edges of dough with water, fold dough over and press with fingers to seal. Use fork tines to create a design around the edge.
Place finished empanadas back on cookie sheet about 1 inch apart. Using a pastry brush, brush tops with beaten egg.
Bake empanadas 15-20 minutes until golden brown.
Cover and keep warm. Serve with chimichurri sauce and McCormick Gluten-Free Turkey Gravy.