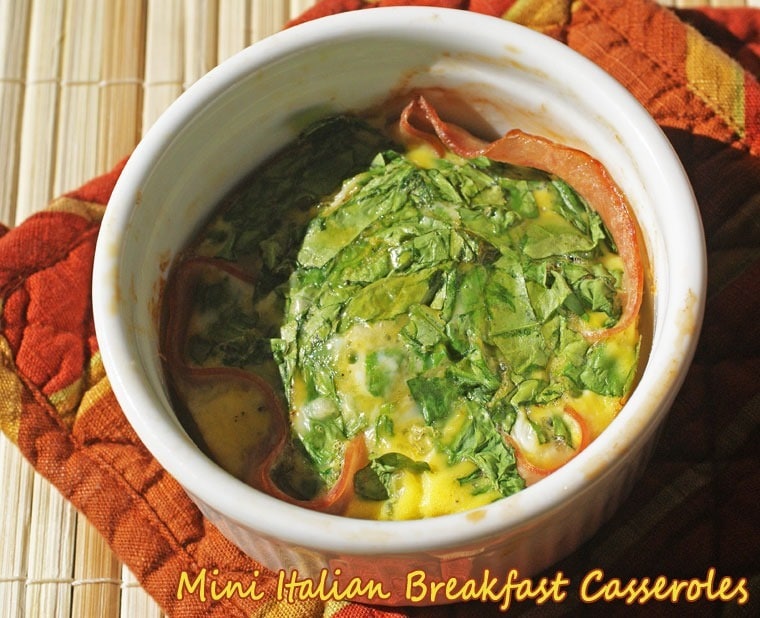 If your family needs something a little more substantial than plain eggs in the morning, this breakfast egg casserole  with ham, cheese and spinach. Prepare the night before and cook in the morning when you shower and dress. This is perfect for back to school or anytime!
This Mama's Tips
Cut slits in ham slices as needed to make it lie flat against the ramekins.
Don't overcook or you have rubbery eggs.
To lower the fat content substitute two of the eggs with 6 egg whites or 2/3 cup of liquid egg whites.
Don't have Parmesan cheese? You can substitute mozzarella or leave it completely out.
Kids don't like spinach? Puree the spinach then add to to the egg mixture. You now have green eggs and ham!
These are also good cold (like a quiche) or heated back up for 30-60 minutes in the microwave.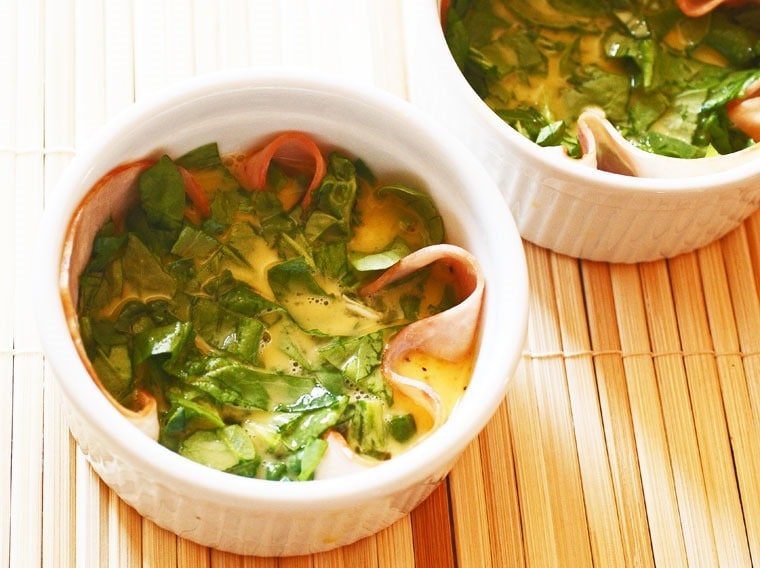 More healthy back to school breakfast ideas from This Mama Cooks!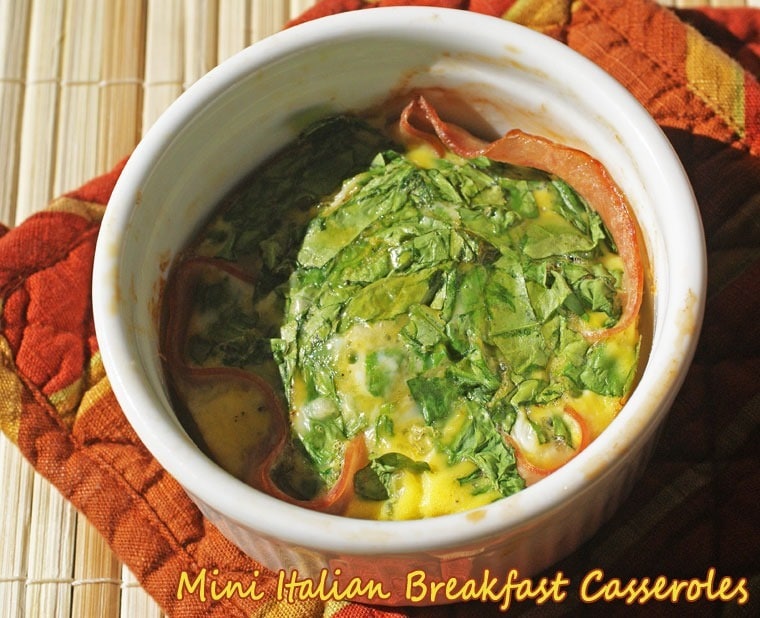 Mini Italian Breakfast Casseroles
Ingredients
4

eggs

3 tablespoons

milk

1 tablespoon

Parmesan cheese

Dash pepper

1 cup

baby spinach, chopped

4

slices ham
Directions
Heat oven to 350 degrees F.
Whisk eggs, milk, 1 tablespoon cheese and pepper in medium bowl until blended.
Add spinach and stir into mix.
Line four greased 10-ounce ramekins or custard cups with ham, pressing against bottoms and sides.
Divide egg mixture among ramekins and place on a baking pan.
Bake in center of 350 degree F oven until egg mixture is just set, about 20 minutes.
Remove from oven and let stand 5 minutes. Then sprinkle with remaining cheese.
Servings
:
4 mini casseroles
Serving size:

1 mini casserole

Calories:

115

Total Fat:

6g

Saturated fat:

2g

Unsaturated fat:

4g

Sodium:

404mg

Total Carbohydrates:

2g

Fiber:

0g

Protein:

13g

Cholesterol:

226mg