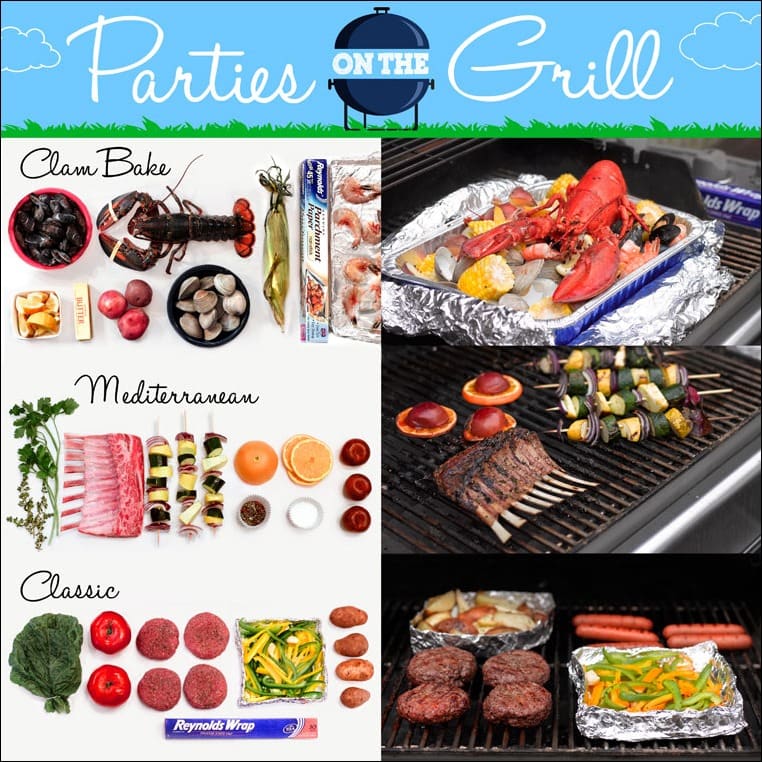 With Labor Day just a few weeks away, many of us are planning end of the summer grilling and barbecue parties. How about cooking up something special this year besides the usual steaks and franks? The folks at Reynolds®, whose Bakeware Pans, Parchment Paper, classic Aluminum Foil, make grilling and cleanup easy, have provided me with three entertaining themes for a terrific cookout: Classic, Mediterranean or Clam Bake. 
Classic:
You can create trays out of heavy duty Reynolds® Wrap. Fill one with potato wedges and the other with sliced green and yellow peppers. Cook until fork tender. Serve with fresh lettuce, tomato and condiments.
This Mama's tips:
Peruse the aisles of your grocery store for gourmet ketchups, mustards and barbecue sauces (or make your own).
If you're making your own burger patties, mix in onion soup mix. Try to find a brand that's gluten free and is made with no MSG like Trader's Joes. Also, when forming the patties, make a thumb-sized indentation at the top, so they don't split when cooking.
My family also loves our burgers served with caramelized onions, avocado slices, and sharp cheeses.
Don't forget the gluten free buns for your gluten sensitive friends!
Mediterranean:
Rub rack of lamb with oregano, coriander, salt, pepper and garlic to prep for grill.
Skewer pieces of zucchini, yellow squash and red onions and season as desired. Don't forget to soak wooden skewers in water for 20 minutes before adding food so they don't burn!
Cut plums in half, remove pits and place on slices of orange.
Place all items directly on grill and cook until desired temperature.
Add pita bread to grill near end of cooking process to heat and toast. (Use gluten free bread for your gluten free friends.)
This Mama's tips: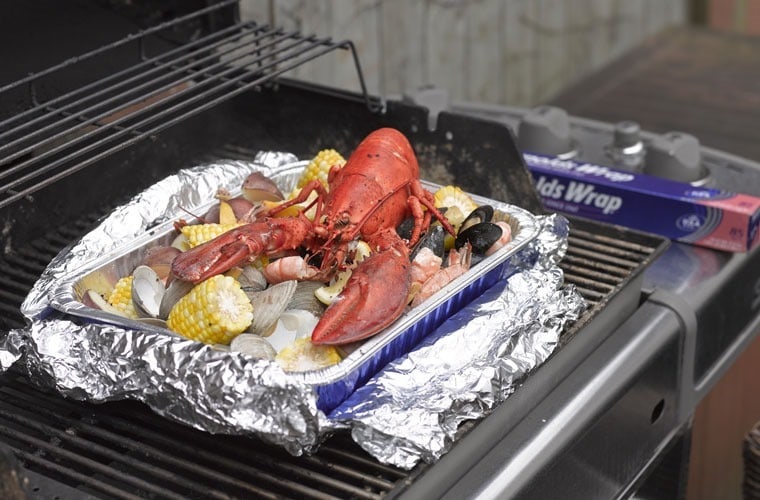 Clam Bake:
While the Reynolds site suggests you cook the seafood first, then the potatoes and corn. I know from doing crab boils that the potatoes and corn actually take longer to cook. There's nothing worse than spending good money on seafood and ruining it by overcooking it.
Instead, wrap potatoes and shucked corn in Reynolds Foil, place into Reynolds Disposable Bakeware Pan, and cook until just about done.
Then add the clams, mussels and lobster to the pan.
Keep checking your food. If you feel the corn and potatoes are getting overdone, remove, and wrap in kitchen towels to keep warm.
Cook until the shellfish is open and the lobster is red. If the lobster turns red before the shellfish opens, remove it, wrap it in foil and kitchen towels to keep warm.
This Mama's tips:
For easier eating, you may want to stick to just to lobster tail instead of a whole lobster.
Serve lobster and seafood with Wasabi Avocado Cole Slaw.
What will you be grilling up this Labor Day weekend?
I was selected for this opportunity as a member of Clever Girls Collective and the content and opinions expressed here are all my own.