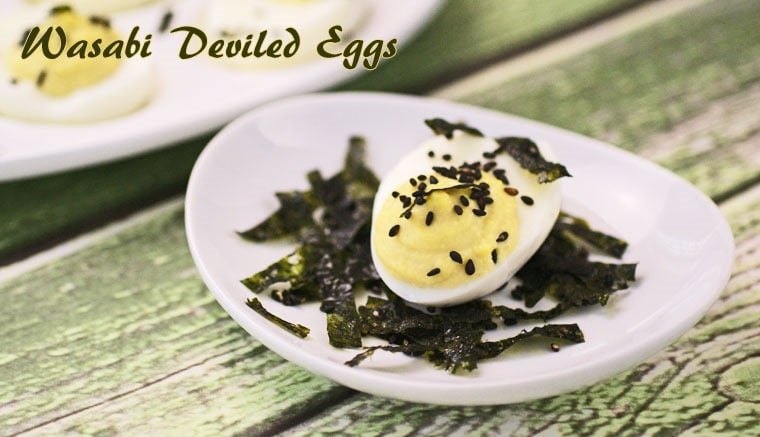 Do you know the difference between a deviled egg and a stuffed egg? I thought all hard boiled eggs cut in half with the egg yolks taken out, combined with a little mayonnaise, and added back into the egg white (maybe with a dash of paprika on top) were deviled eggs. Nope. Those are stuffed eggs. Real deviled eggs have to be spicy, which is why I created two types of deviled egg recipes this week in time for Easter – today's Wasabi Deviled Eggs and tomorrow's Sriracha Roasted Red Pepper Deviled Eggs – as two fun twists on traditional deviled eggs and a great way to use up all those leftover hard boiled eggs!
A foolproof way to hard boil your eggs
First, here's how I make hard boiled eggs. Since my deviled egg recipe calls for 6 eggs, I cook up 2 or 3 more. Inevitably, 1 or 2 will get cracked, will be hard to peel, or will end up getting torn. If you have extra hard boiled eggs, save them for a salad, to slice into your ramen, or to have as a healthy snack.
Put them the eggs in a medium sized pot and cover with cold water.
Place pot on stove over high heat and bring to a boil.
Turn off heat. Remove pan from stove and cover.
Let eggs cook in the hot water for 11-12 minutes.
Bring pot over to sink, uncover and rinse under cold water until they are cool enough to handle.
Refrigerate for several hours, then peel.
Rinse any shell pieces or membranes off of eggs, cut in half with a sharp knife, remove yolks, and prepare eggs as directed.

Tips for making Wasabi Deviled Eggs
I looked through vintage and contemporary cookbooks and food magazines to research deviled and stuffed egg recipes. Some suggested that you grate the hard boiled egg yolks. However, after trying it, I thought it a waste of time and found that using a mini-food processor worked very well to create a smooth deviled egg mixture. You could also use your blender.
Other recipes suggested using all sorts of healthy substitutes for mayonnaise like Greek yogurt or plain yogurt. I even experimented with my Non-Dairy Tofu Sour Cream. It makes a delicious sandwich spread, but it created rather bland in deviled eggs – oh well. Bottom line, there's no substituting for mayonnaise, so my suggestion is picking a brand you really like, feel is the most healthy for your family, and that works best for your food sensitivities. I personally like Trader Joe's Reduced Fat Mayonnaise, which is dairy free.
For this recipe, I used Trader Joe's Wasabi Mayonnaise, which is amazing, especially on roast beef. If you don't have a Trader Joe's near you, or want to use a healthier mayonnaise, you can use of your favorite mayo and 1 to 1 1/2 teaspoons of wasabi paste instead. You can find wasabi paste in the Asian section of most grocery stores. (Or use up all those packets of wasabi you have leftover from takeout sushi in the refrigerator. I know that's what you've been saving those up for!)
Finally, a pastry bag worked amazingly well to pipe the deviled egg mixture back into the egg white half. If you don't have a pastry bag with a wide tip, place the egg mixture into a Ziplock bag. Zip it shut and snip off a small section of one of the corners of the baggie to use as a piping bag instead. Once you pipe your deviled or stuffed eggs, you'll never use spoons again, believe me!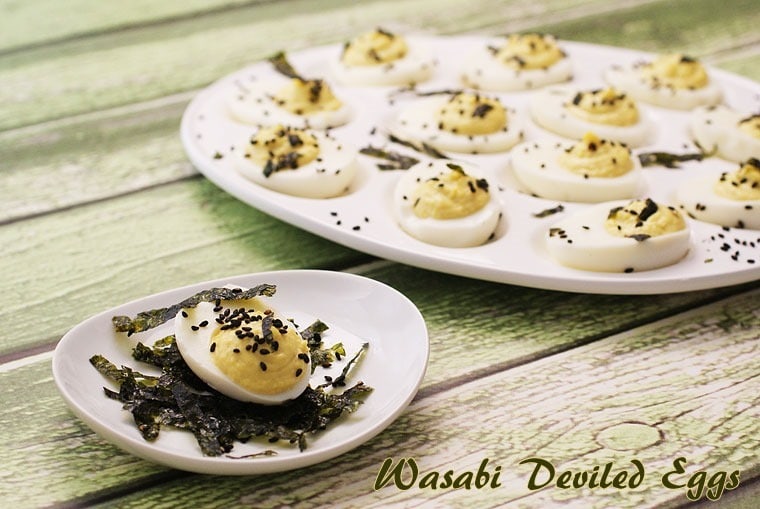 A trip to the Asian market
There's a fantastic ethnic market in Atlanta, the Buford Highway Farmer's Market in Doraville, which was featured in Anthony Bourdain's show, The Layover. It's a great place to purchase foods like wasabi paste, black sesame seeds, dried seaweed snacks, rice vinegar, and miso paste at a great price. (The market also features Hispanic, European, Indian, and Middle Eastern foods.) My mom was the first person to take me to an Asian market, 99 Ranch Market in the San Diego area. She loved going there and finding the craziest things from frog legs to unidentifiable vegetables that she'd turn into a funky ratatouille. My mom loved to experiment and my dad was keen on eating whatever she cooked up.
However, for the optional garnish, I used Trader Joe's Wasabi Roasted Seaweed Snack, which just happens to be one of my daughter's favorite snacks. You can use regular strips of dried seaweed snack from the Asian market instead if you wish.
White miso paste is another cool ingredient available at Asian markets as well as many health food stores. You can use it to make soup, salad dressings, add it to sauces, and so on for a unique umami flavor. If you don't think it's something you'd normally want to use, you can substitute 1/2 teaspoon of gluten free soy sauce instead.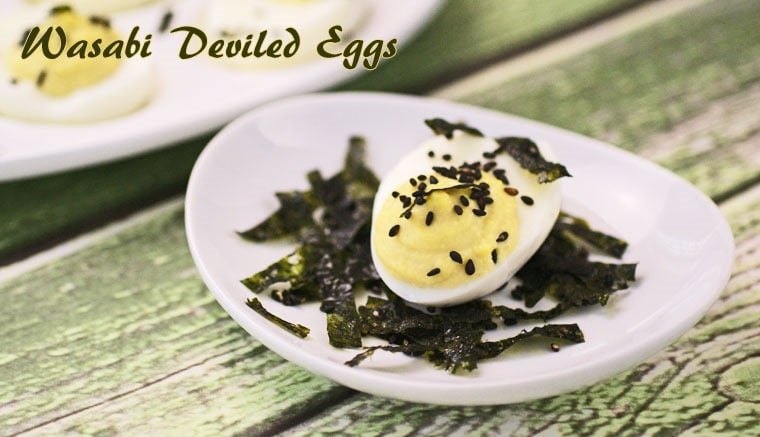 Ingredients
6

hard boiled eggs, cut in half with egg yolks removed and set aside

1/3 cup

Trader Joe's Wasabi Mayonnaise or 1/3 cup light mayonnaise and 1 to 1 1/2 teaspoons wasabi paste

2 teaspoons

Nakano Red Pepper Seasoned Rice Vinegar

1 teaspoon

white miso paste (or 1/2 teaspoon of gluten free soy sauce)

Small strips of dried seaweed or Trader Joe's Wasabi Roasted Seaweed Snack for garnish (optional)

Black sesame seeds for garnish (optional)
Directions
Combine egg yolks, wasabi mayonnaise, vinegar, and miso paste in a mini-food processor or blender. Pulse until well blended and creamy.
Place egg mixture into a piping bag. Pipe egg mixture into egg white halves. Garnish with optional sesame seeds and/or seaweed strips.
Serve immediately.
Servings
:
12 deviled eggs
Serving size:

1 deviled egg