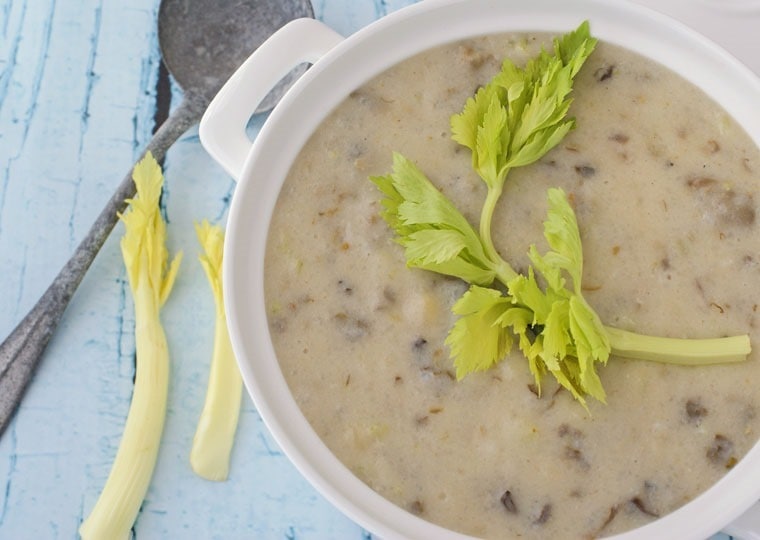 I jumped at the chance to join the Cook the Books selection for February/March of Twain's Feast: Searching for America's Lost Foods in the Footsteps of Samuel Clemens by Andrew Beahrs. It gave me an excuse to finally create a recipe for Gluten Free and Dairy Free Oyster Chowder.
My love for Mr. Twain's books go way back to grade school. However, I didn't appreciate him until my freshman English teacher introduced us to Letters from The Earth in college. A very cynical and sarcastic collage of essays that was perfect for someone who loved Kurt Vonnegut and Joseph Heller.
I've dipped into Twain's works since then, but after all these years I didn't realize what a gourmand he – well, Samuel Clemens – was. Documented in his first successful novel, A Tramp Abroad, Mr. Twain  takes every opportunity to poke fun of the horrid hotel food in Europe and how he can't wait to come back to "a great cup of American home-made coffee with the cream a-froth on top" or "a plate of hot buckwheat cakes, with transparent syrup." So different from today's culinary adventurers who find bliss in every European bistro and sidewalk café and shutter to think of American fast food and chain restaurants! I wonder what Mr. Clemens would think of my Gluten Free and Dairy Free Oyster Chowder!
Exploring American food ways with Twain's Feast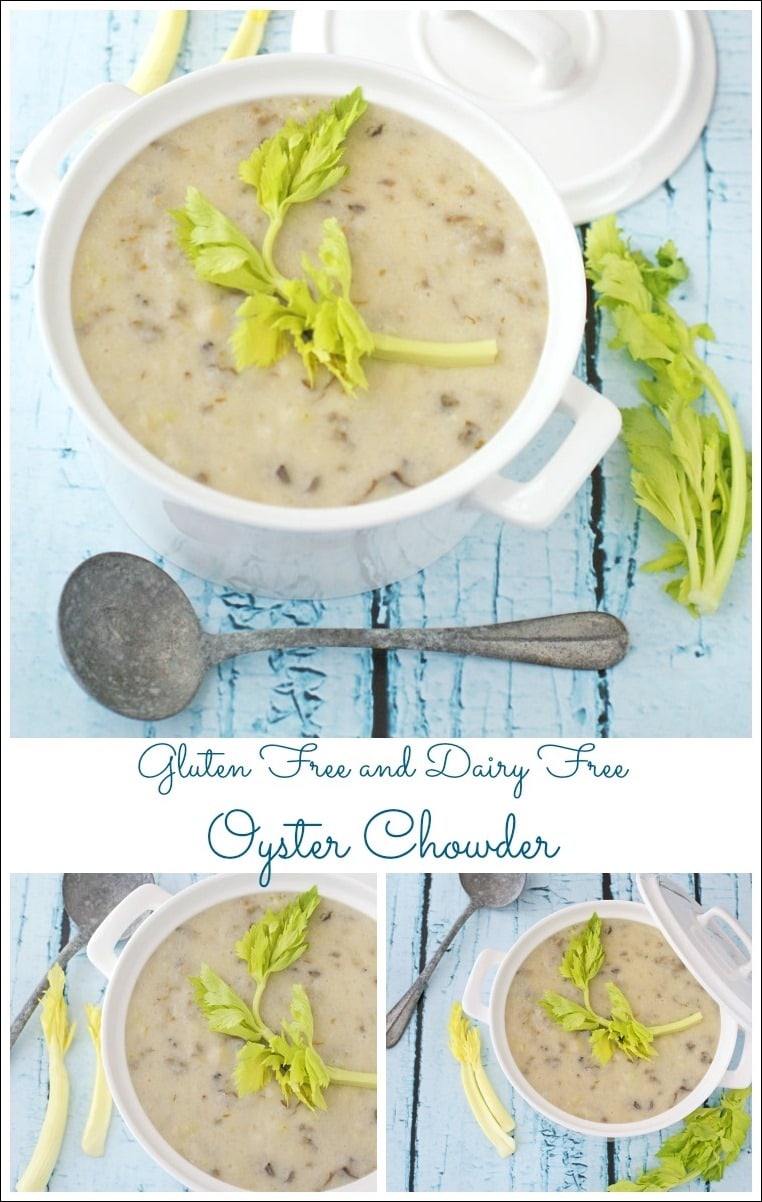 Even if you're not a big fan of Mark Twain's books, if you love American food history, you're sure to flip over Twain's Feast: Searching for America's Lost Foods in the Footsteps of Samuel Clemens. He takes some of the foods Mr. Twain mentions in A Tramp Abroad, digs deeper into how people enjoyed them back in Twain's time, and shows us how so many of foods that were taken for granted, like prairie chickens and terrapin turtle, are gone or endangered now due to environmental destruction and/or overhunting. I was fascinated to learn how certain fish and oyster species no longer exist in their native habitats, like the native oysters in San Francisco Bay and the trout in Lake Tahoe. In fact, we've had to transplant other U.S. species just to keep up with demand and our changing landscape! Luckily there's oysters at the store for my Gluten Free and Dairy Free Oyster Chowder!
My choice for Cook the Books – oysters!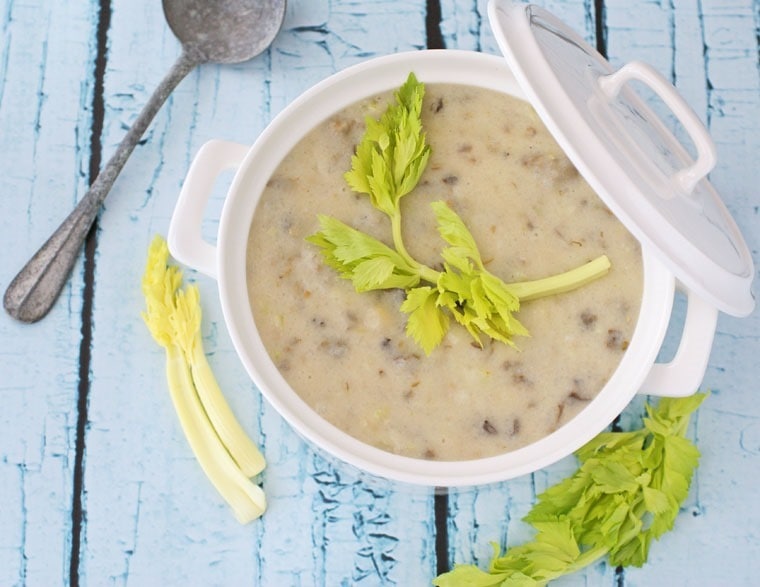 When Twain was living in San Francisco in the 1860s, oyster places were popular places for men (and men only!) to gather, talk, eat, smoke, drink – and drink some more. In 1892, according to Beahrs, Americans would eat 197,639,000 of dressed (meat only) oysters. It was the Age of Oysters! I find it sad today that most Americans go, "Ewwwww, oysters, how disgusting!" and won't even eat cooked oysters let alone raw ones.
Inspired by Twain's Feast and food my husband makes me sometimes, I decided to make Oyster Chowder. While I was recovering from brain surgery, one night for dinner my husband made two versions of oyster soup – one with milk and the other with rice milk for me, since I have a food sensitivity to the whey in milk. The funny thing was that after trying both soups, Paul preferred the soup made with rice milk, which had a nice sweetness to it that complimented the taste of the oysters. The soup made with cow's milk tasted like milk and then like oysters. It was kind of nasty, frankly.
There's got to be a better, more delicious, and gluten and dairy free way to make oyster soup!
From oyster soup to oyster chowder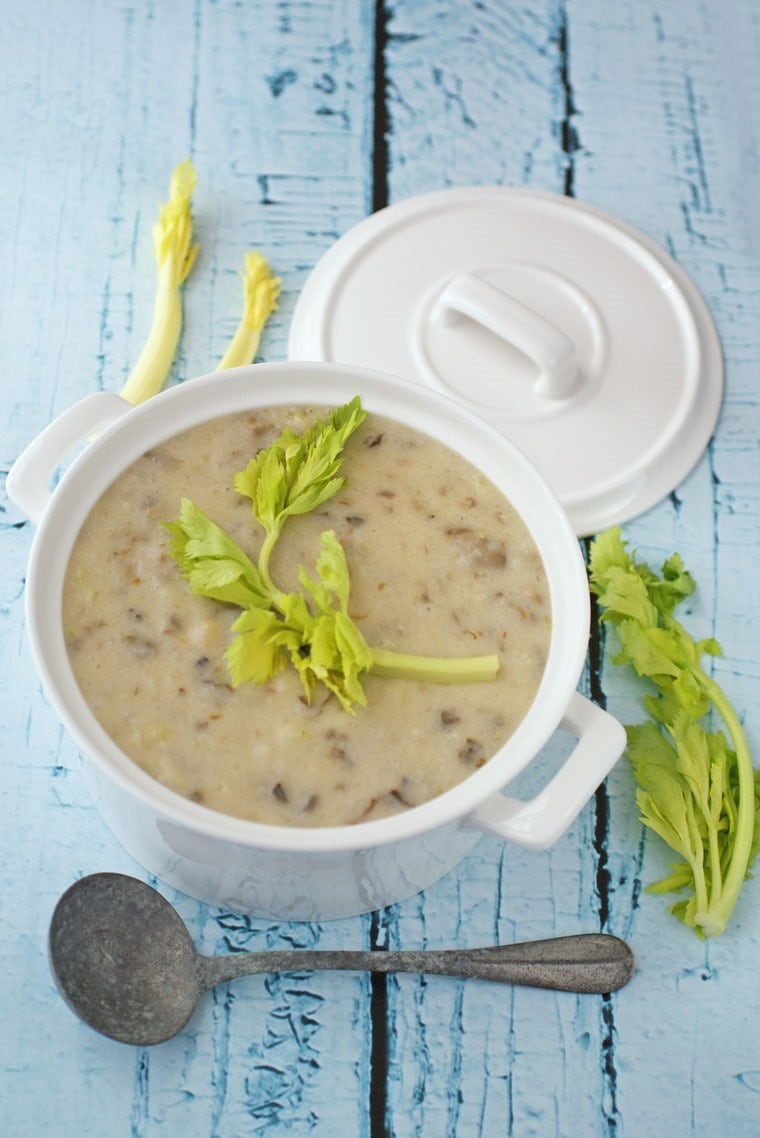 When Paul made his oyster soup, he hadn't bothered to thicken either with a roux or cream, so I wanted to figure out how to do that while keeping the soup gluten free and dairy free. I decided to try two methods in my Oyster Chowder recipe. Maybe this was overkill, but it worked out rather nicely to thicken the oyster soup into a creamy oyster chowder that was both gluten and dairy free.
First, I added cooked rice to rice milk, heated it up, and then used an immersion blender to create a super thick rice milk broth. Second, I cooked up a roux with all purpose gluten free flour and a non-dairy buttery spread. While this served to further thicken the chowder and give it a velvety finish, it also added a lot of buttery flavor to the stew. If you're used to making a roux with regular flour and butter, don't expect a gluten free flour and buttery spread roux to brown. It just won't. If you wait around, it'll just start getting crusty and burnt.
I also want to add a note about oysters. I used canned Chicken of the Sea Oysters and was pleasantly surprised of their excellent quality. The oyster liquor tasted great and the oysters themselves were plump and fresh smelling. It's nearly impossible to get fresh oysters outside of one of Hugh Acheson's restaurants here in Athens and I didn't want to assume my readers have access to fresh oysters or the budget to purchase them, either.
I did find fresh (dressed) oysters at Publix, but I don't trust the seafood at grocery stores. Plus, eight ounces of (dressed) oysters were $6 versus $2.49 for the cans. Ideally, if I lived closer to Atlanta, I would have gone to the Buford Highway Farmers Market or one of the other Asian markets with an amazing fresh seafood selection and would have gotten fresh oysters and had them shuck them for me right there. Talk about fresh and much more affordable for your Gluten Free and Dairy Free Oyster Chowder!
Finally, if you don't like oysters, feel free to use clams instead as this recipe would also make a wonderful clam chowder. Add a bag of frozen pre-diced potatoes at the end, heat through, and you're ready to go!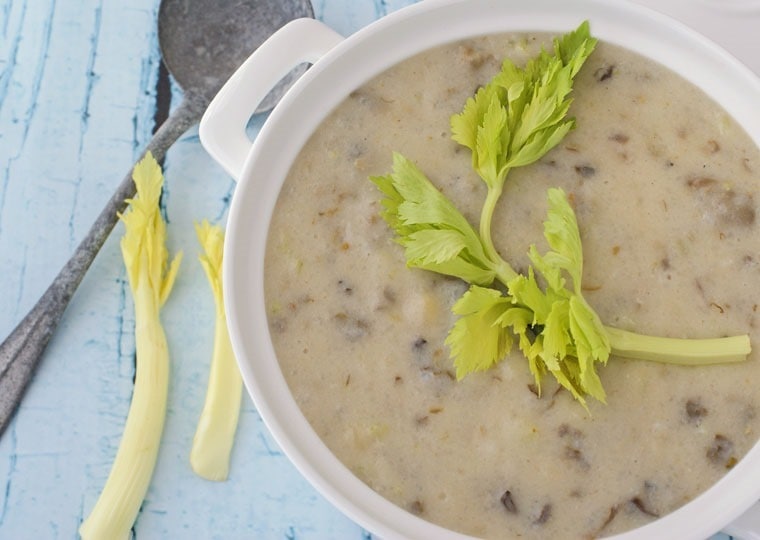 Gluten Free and Dairy Free Oyster Chowder
Ingredients
7 cups

rice milk, divided

3 cups

cooked white rice

1 cup

dairy free buttery spread

1/2 cup

all purpose gluten free flour

2

large shallots, minced

4

large stalks celery, minced

4 (8 ounce) cans

oysters, drained reserving the liquid

Salt and white pepper, to taste

Hot sauce for serving
Directions
Heat 4 cups of rice milk and white rice in a large pot slowly over medium heat, stirring occasionally. Bring to a low simmer.
Take an immersion blender and blend rice milk and rice until smooth. (You can do this in stages in a blender or food processor instead.)
Add remaining 3 cups of rice milk and bring rice broth back to a low simmer. Reduce heat to low.
In a separate skillet, melt the buttery spread over medium to medium high heat for the roux. Add the gluten free flour tablespoon by tablespoon, stirring it in until the flour is totally incorporated. Cook and stir for 2 minutes.
Add the minced shallots, minced onions, and the reserved oyster liquid. Cook until the celery and shallots are softened, about 5-7 minutes.
Add the roux, shallots and celery mixture to the rice broth. Stir until fully incorporated. If chowder seems too thick, you can add more rice milk if you like.
Add oysters to the chowder and season with salt and white pepper to taste. Cook until heated through and keep on low heat.
Serve with hot sauce.
Serving size:

1 to 2 bowls