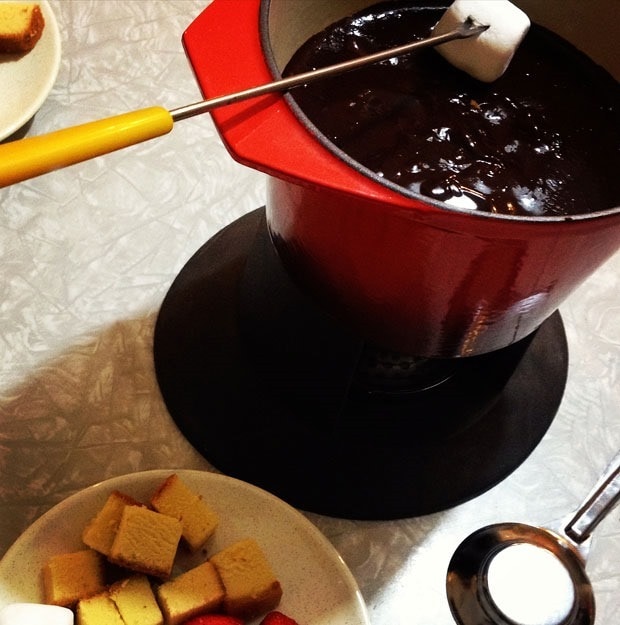 Earlier this week I posted a recipe for Citrus Hummus as a healthy appetizer for Oscar watching parties. Well, if you're looking for something more decadent and indulgent, look no further than chocolate fondue! Unlike other fondues, this one uses coconut cream instead of whipping cream. So if you have a food sensitivity to dairy (or whey like me) you can indulge in as much chocolate fondue as you like without worrying about a tummy ache the next day!
This chocolate fondue is so rich and creamy that it's pretty tough to eat too much of it. I found that after dipping a few strawberries or marshmallows, I was on chocolate overload and had enough. Since none of us could eat a lot of chocolate fondue, we had quite a bit leftover when I made this on New Year's Eve. So I kept the chocolate fondue in the pot, covered it with aluminum foil and put it in the refrigerator. Then I just heated the pot on low on my stovetop the next few evenings when it was time for dessert!
You can also put the leftover fondue into a brownie pan as the firmed up chocolate makes excellent refrigerator fudge. Just cut off a piece when you want to indulge in some creamy chocolate!
Fondue pots!
I have an old green aluminum fondue pot from the '70s that I found at a thrift store. However, the fondue pot I love using is my Le Creuset Enameled Cast Iron Fondue Pot [affiliate link] shown here. What I especially like about this fondue pot that you can prepare the chocolate fondue right in the pot on your stovetop instead of using another pot and then transferring the chocolate. Since its enameled cast iron, it heats up the same as my other Le Creuset pots, so I don't run the chance of accidentally scalding the chocolate.
The Le Creuset Enameled Cast Iron Fondue Pot also has an extremely sturdy and heavy stand, so you don't have to worry about someone accidentally tipping over the pot or knocking over the burner element since it's built right in.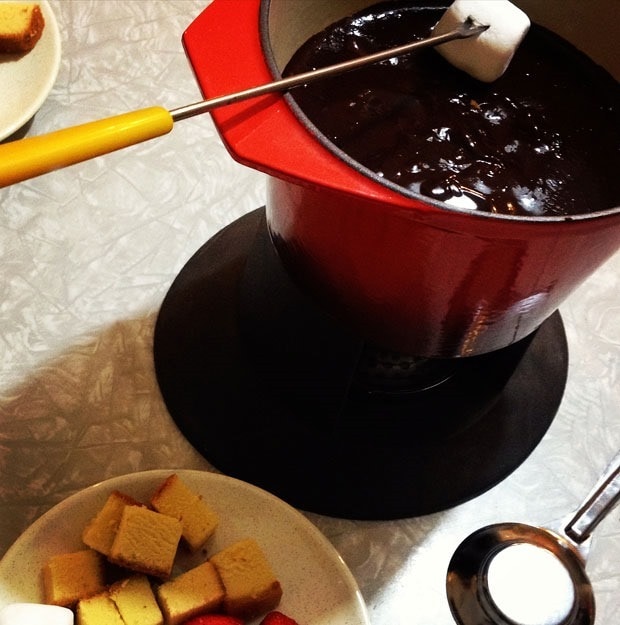 Easy Dairy Free Chocolate Fondue
Ingredients
1 (14 ounce) can

coconut cream (not milk)

1 (20 ounce) bag

semi-sweet organic chocolate chips (dairy free & gluten free)

2 teaspoons

pure vanilla extract (gluten free)

1 pinch

salt

Goodies for dipping: strawberries, marshmallows, chunks of banana, sponge cake, etc.
Directions
In a medium sauce pan or stovetop safe fondue pot, heat coconut cream over medium heat until hot.
Add chocolate chips. Lower heat.
Stir until chocolate is fully melted.
Transfer to fondue pot, if needed and serve warm with favorite dippers.
Add vanilla extract and salt. Stir frequently until chocolate is fully melted
Servings
:
Makes about 4 cups