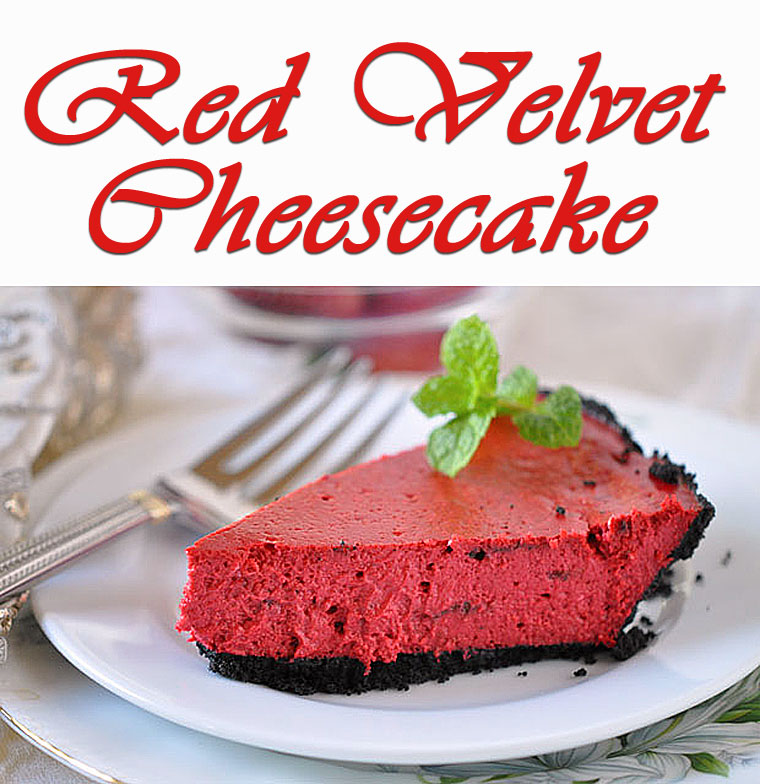 When Holly Clegg sent over this month's guest post, I nearly fell off my chair. I mean, Red Velvet Cheesecake, and one that's healthy? She's a miracle worker! This is perfect for Christmas entertaining, holiday potlucks at the office, or just to treat the family to on Christmas day. Holly even suggests making a few ahead of time, freezing them and giving her Red Velvet Cheesecakes as holiday gifts. I'm not sure I could part with them!
You can find  more of Holly's trim& TERRIFIC® recipes at hollyclegg.com and The Healthy Cooking Blog. Don't forget that Holly's new cookbook, KITCHEN 101: Secrets to Cooking Confidence, makes a terrific holiday gift, too!
Holiday menus – no thinking required
The holidays are a magical time of fun and festivities, but before you know it, they can turn into one of the busiest, most stressful seasons making your "to do" list longer than ever! And there's no need to stress about hosting a holiday meal when my new cookbook, Kitchen 101: Secrets to Cooking Confidence, takes the guess work out of meal planning with complete dinner and party menus, no crazy ingredients, just healthy, mouth watering food– no thinking required!
From the "Holiday Heroes" menu of the Ready-Made Menus chapter, the Red Velvet Cheesecake is a luscious combination of American's favorite dessert with a holiday twist, and best of all you can make ahead and keep in the freezer to pull out before the meal. And, if you want an affordable gift for your neighbor, teacher, or friend, purchase commercially prepared chocolate crusts in foil disposable pans, fill, freeze and give out for the ultimate holiday gift – that's what I'm doing!
This Mama's tips
Make this even healthier by using a sugar substitute like stevia or monk fruit.
To make your own Terrific chocolate crust, combine 1 1/4 cups crushed chocolate cookies, 1 tablespoon sugar, 1/2 teaspoon vanilla extract, and 2 tablespoons melted butter. Press into bottom of spring form pan and bake 350 degrees F for 10 minutes.
To make a gluten free chocolate crust, use the above method with gluten free chocolate cookies!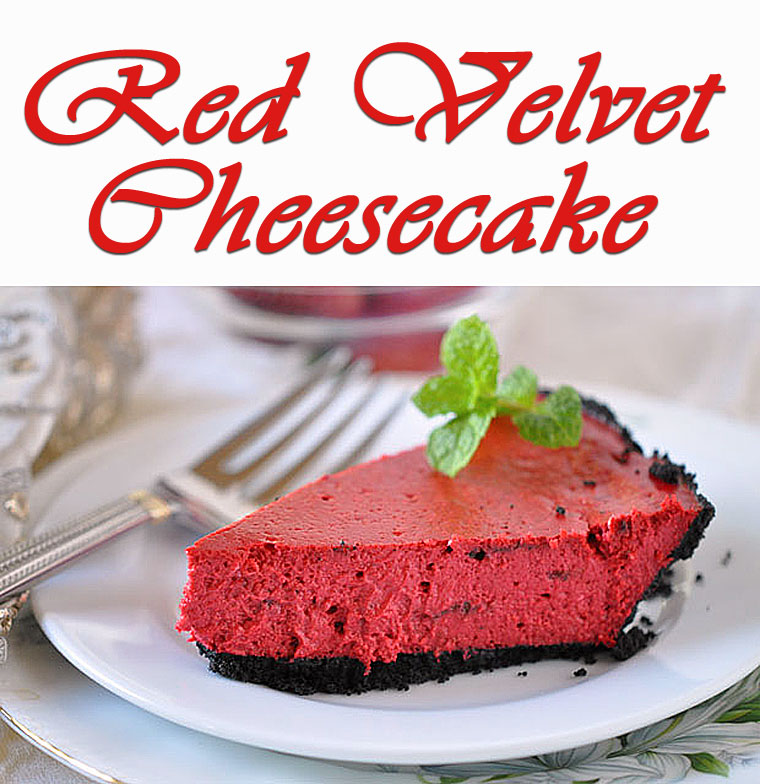 Ingredients
2 (8-ounce) packages

reduced-fat cream cheese

1 1/4 cups

sugar

2

eggs

1

egg white

1 tablespoon

cornstarch

3 tablespoons

cocoa

1 cup

nonfat sour cream

1 teaspoon

vanilla extract

1/2 cup

buttermilk

1 teaspoon

vinegar

1 (1-ounce) bottle

red food coloring

2 (9-inch) round

commercially bought chocolate pie crusts
Directions
In mixing bowl, beat cream cheese and sugar until creamy.
Add eggs, egg white, cornstarch, cocoa, sour cream, vanilla, buttermilk, vinegar and red food coloring, mixing well.
Pour into crusts, equally dividing the batter. Bake 35-40 minutes or until center is firm. Turn off oven and remain in oven 30 minutes.
Remove from oven. Cover and refrigerate until well chilled.
Total Time:
1 Hour 40 Minutes
Servings
:
Makes 2 (9-inch round) cheesecakes
Serving size:

16 servings

Calories:

270

Calories from Fat:

109 (39%)

Total Fat:

12g

Saturated fat:

5g

Unsaturated fat:

7g

Sodium:

262mg

Total Carbohydrates:

34g

Sugar:

23g

Fiber:

1g

Protein:

7g

Cholesterol:

46mg
Dietary Exchanges: 2 1/2 other carbohydrate, 2 1/2 fat
Recipe and photo used with permission of the author.
_________________
Disclosure: Amazon links are affiliate links. A commission may be earned from a referred sale to their website.