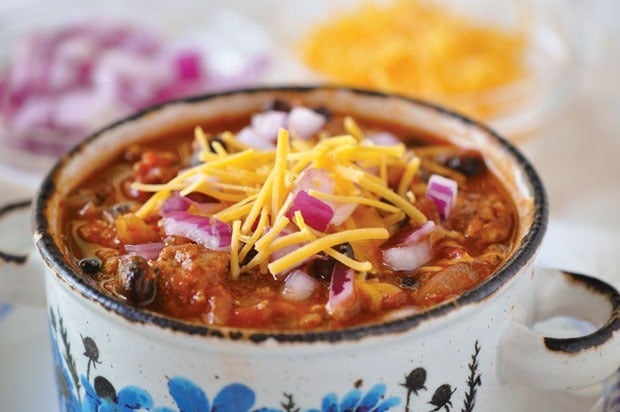 Here's another trim& TERRIFIC® recipe from my  friend, Holly Clegg's new cookbook, Kitchen 101: Secrets to Cooking Confidence. This one's perfect to serve on a busy Halloween night – or any night!
You can check out more of Holly's trim& TERRIFIC® recipes at hollyclegg.com and The Healthy Cooking Blog.
Satisfy a crowd with Quick Chili
When you think of October, sure candy is on the minds of little one's. But there's more to this fun filled night than just sugar-loaded snacks. Even though this holiday focuses on the children, there are always adults around, and all of that trick-or-treating can really make a crowd hungry! A simmering pot of hearty soup on the stove is a satisfying economical dinner that not only feeds a crowd, but also this one-pot meal leaves little cleanup.
And not much else hits the spot on a crisp fall evening than a big bowl of Quick Chili – full of flavor and oh-so-simple to whip up! Not enough bowls to go around? Don't worry! Pull out mugs for easy entertaining.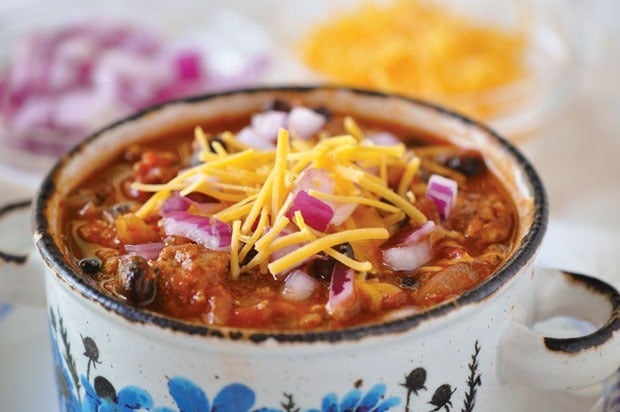 Healthy & Quick Chili
Serve with chopped red onions, avocado and shredded reduced-fat cheese. Terrific Tip: To cook in slow cooker, first cook meat and onion in skillet until done.
Ingredients
1 pound

ground sirloin

1

onion, chopped

1 (15 ounce) can

fat-free chicken broth

1 (10 1/2-ounce) can

diced tomatoes and green chilies

1 (6 ounce) can

tomato paste

1 tablespoon

chili powder

1/4 teaspoon

ground cumin

Dash ground cinnamon

Salt and pepper to taste

1 (15-ounce) can

black beans, drained and rinsed
Directions
In large nonstick pot, cook meat and onion until done; drain off any excess fat.
Add remaining ingredients and bring to a boil. Reduce heat, and cook over low heat about 10 minutes.
Servings
:
Makes 4 heaping servings
Serving size:

1 cup

Calories:

318

Calories from Fat:

64 (20%)

Total Fat:

7g

Saturated fat:

5g

Unsaturated fat:

2g

Sodium:

759mg

Total Carbohydrates:

31g

Sugar:

9g

Fiber:

11g

Protein:

34g

Cholesterol:

62mg
Dietary Exchanges: 1 starch, 3 vegetable, 4 lean meat
Recipe and photo used with permission of the author.
_________________
Disclosure: Amazon links are affiliate links. A commission may be earned from a referred sale to their website.