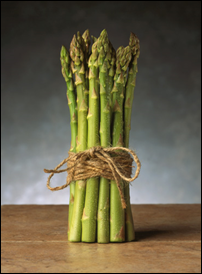 If asparagus is on sale at the grocery store, it must be spring. I love asparagus sautéed in olive oil, seasoned with a little salt and pepper and topped with fresh squeezed lemon juice or a balsamic reduction. I even get the kids to eat asparagus by telling them it will make their pee smell weird, which they think is uproariously funny.
Asparagus is a fantastic source of folic acid (folate) a B vitamin necessary for blood cell formation, growth and prevention of liver disease. Asparagus is also contains vitamin C, thiamin, vitamin B6, potassium and many micronutrients.
According to the National Cancer Institute, asparagus provides more of the cancer-fighting micro-nutrient glutathione than any other food. Asparagus is also high in rutin, which is thought to strengthen blood vessels.
Asparagus is good for your love life
Dave Grotto in his book 101 Optimal Life Foods writes that asparagus is rich in a plant substance called protodioscin, which has been known to enhance nitric oxide in the body. This in turn relaxes blood vessels to allow more blood flow to your, uh, girly bits. Yes, asparagus enhances female libido! (Other foods that raise nitric oxide levels include Concord grapes, oats, pomegranates and olive oil.)
So light a few candles, grab your sweetie, and try out these recipes from California Asparagus Commission.
Asparagus and Goat Cheese Tart
Makes 8 servings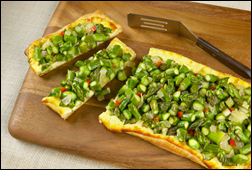 Ingredients:
puff pastry, store bought, frozen
Filling:
4 oz. log goat cheese
1 oz. cream cheese
1 egg
1/2 teaspoon fresh ground black pepper
Topping:
1 tablespoon olive oil
1/2 cup onion, diced
12oz. asparagus, ends discarded
salt to taste
Directions:
Preheat oven to 400 degrees.
Blend all filling ingredients in food processor until smooth.
Slice off 1/2 of pastry sheet, approximately 10 x 5 inches.  Roll pastry out to 13 x 5 inches. Place on a parchment- lined sheet pan.
Spread filling on top of puff pastry, leaving a ½ inch border. Refrigerate until ready to assemble.
Heat oil in a sauté pan. Add diced onion. Cover and sauté until caramelized.
Chop asparagus into 1 inch pieces. Add to pan. Season with salt. Sauté 2-3 minutes.
Arrange asparagus mixture on top of the pastry*. Bake for 20-25 minutes or until pastry is golden brown.
Transfer to cutting board. Slice as desired. Serve warm or at room temperature.
*add chopped red bell pepper for color
Nutritional information per serving:
Calories 126, fat 10 gms, calories from fat 90 gms, saturated fat 5 gms, cholesterol 45 mg, sodium 170 mg, dietary fiber 2 gms, protein 7 gms
Weight Watchers POINTS = 3
Sweet and Spicy Szechuan Asparagus
Makes 8 servings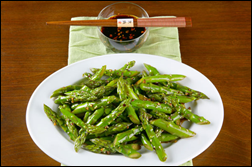 Ingredients:
2 lbs. asparagus ends discarded
1/4 cup soy sauce, low sodium
2 tablespoons rice wine vinegar, unseasoned
1/4 cup sugar
1 teaspoon red chili flakes
1/2 teaspoon fresh ground white pepper
1/2 cup water
2 tablespoons vegetable oil
2 tablespoons garlic, minced
1 tablespoon  fresh ginger, minced
1 tablespoon sesame seeds, toasted
Directions:
Cut asparagus into 3 inch pieces on the diagonal.
In a small bowl whisk together soy sauce, rice vinegar, sugar, chili flakes and pepper. Set aside.
Heat a large sauté pan over high heat. Add 1/2 cup water and asparagus. Cover and cook until asparagus is still crisp to the bite, about 2 to 3 minutes. Uncover and pour off any remaining water.
Add oil, garlic and ginger to the pan with asparagus. Sauté until lightly browned.
Add soy sauce mixture. Bring to a boil. Cook until the sauce coats the asparagus.
Sprinkle in toasted sesame seeds. Transfer to a serving platter. Serve immediately.
Nutritional information per serving:
Calories 85, fat 4 gms, Calories from fat 36, saturated fat 1gm, sodium 540mg, dietary fiber 8 gms, protein 8gms
Weight Watchers POINTS = 1
Pictures courtesy of California Asparagus Commission © 2010
_____________________
Disclosure: All links to Barnes & Nobles are affiliate links. A commission may be earned from a referred sale to their website.