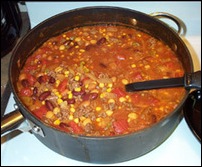 I've been making Taco Soup for years since 1 cup equals 4 Weight Watchers POINTS. It's so delicious my family loves it, too.
Over time, I've tried to "health it up" by eliminating the dry ranch dressing (too fake in my opinion) and using store brand organic canned beans and corn. Since my kids thought the diced green chilies made the soup too hot, I've switched to using Muir Glen's Fire Roasted Diced Tomatoes with Green Chilies instead. They give the soup a smoky and spicy flavor.
Finally, if you have a leftover can of pumpkin puree from Thanksgiving, add it to the soup. It will add fiber and increase the veggie content of the soup and the other ingredients will cover up the pumpkin flavor.
Taco Soup Revisited
(1 cup = 4 Weight Watchers POINTS)
Brown 1 lb. very lean chopped meat (I used ground venison) with one large diced onion in a large stew pot.
Add:
Heat to boiling. Immediately lower heat to simmer for 30 minutes. Serve.
Tips: