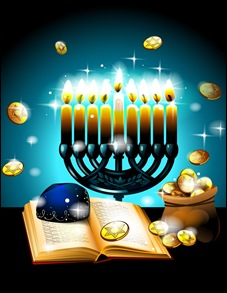 Hanukkah starts this year on Friday, December 11. I'm half Jewish and love to share my father's traditions with my own children as he did with me and my sister. One way we both do that is through food.
Since traditional potato pancakes are greasy and full of fat, I'm always on the lookout for healthier latke recipes. This year I'll be making butternut squash latkes from a recipe I found in the Denver Post.
Butternut squash is full of Vitamins A and C, potassium and fiber and low in calories, about 65 a cup. During preparation, whether you grate your onions and squash with a box grater or a food processor, make sure to squeeze out as much of the juice as possible. You can do this by taking the grated vegetables and placing them in a dish towel or paper towel to blot away the moisture.
Butternut Squash and Sage Latkes
Makes 12 latkes
Ingredients:
1 medium onion, shredded ( 3/4 cup)
3 cups shredded butternut squash (1 small squash)
1/4   cup matzo meal
1/2   teaspoon salt
1/2   teaspoon ground black pepper
1 tablespoon chopped fresh sage
1 large egg, lightly beaten
6 teaspoons olive oil, divided
Directions:
Heat the oven to 450 degrees. Lightly coat a baking sheet with cooking spray. (I like using Spectrum's Grapeseed Spray Oil since PAM tends to leave yellow "gunk" on my baking pans.)
Add the squash, matzo meal, salt, pepper and sage, then toss to coat.
Add the egg and 2 teaspoons of the oil. Toss to coat.
In a large nonstick skillet over medium high, heat 2 teaspoons of the oil.
Working in batches, use a 1/4 cup measure to scoop the squash mixture into the skillet, leaving several inches between each mound. Use a spatula to flatten them into roughly 3-inch pancakes.
Cook until lightly browned, 2 to 3 minutes per side. Transfer the latkes to the prepared baking sheet.
Bake until the latkes are crispy and hot, about 10 minutes.
Per serving: 109 calories; 67 calories from fat; 7 g fat, 1 g saturated; 0 g trans fats; 15 mg cholesterol; 10 g carbohydrate; 1 g protein; 1 g fiber; 249 mg sodium.
Weight Watchers POINTS = 3 per latke
Tips:
To lower the fat, substitute 3 eggs whites for the whole egg.
Non-sweetened apple sauce is always a healthy topping for potato pancakes. Try different types of fruit sauces like those made by Santa Cruz – apple-raspberry, apple-cherry and apple-blackberry would be delicious.
If you like sour cream on your latkes, try plain, non-fat Greek yogurt instead. It tastes the same and is lower in calories and fat and higher in protein.
More healthy latke recipes