Reynolds recently introduced fun shapes baking cups. These are a disposible, easily stored alternative to mini shape baking pans like those by Wilton. Coming 24 foil cups to a package, and retailing in the $2-3 range, they're much cheaper, too.
The Reynolds fun shapes website gives you many recipes for everything from appetizers to desserts. There are also tips on using the cups as serving dishes for dips or side salads. I'm going to use my fun shape cups this weekend for individual servings of flan (Mexican style egg custard). I think the flan will hold up better in the cups than in one big bowl when I take it to my bookclub meeting.
Here are two of my favorite recipes from the site:
Stained Glass Lollipops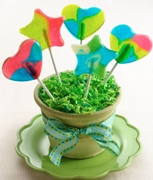 8 Reynolds® FunShapes™ Stars Baking Cups
8 (6-inch) Lollipop sticks
40 Hard candies*
PREHEAT oven to 300°F. Place Reynolds FunShapes Stars and/or Hearts Baking Cups on a cookie sheet with sides.
MAKE a hole in one side of each of the baking cups near the bottom of the cups with a toothpick. Insert the lollipop sticks from the inside of the cup through the hole made with the toothpick and push it to the outside leaving at least 1 inch inside the cup.**
ARRANGE 5 candies in each baking cup, placing one candy over the lollipop stick. (It does not need to lay flat, it will melt around the stick.)
BAKE 5 to 6 minutes or until candy is melted. Carefully remove baking cups from cookie sheet onto a tray to cool; immediately twirl stick to completely coat with candy. Prop sticks with handle of a wooden spoon if necessary to keep the sticks straight in baking cup while lollipop cools.
REMOVE lollipops from baking cups by tearing foil and peeling away from lollipops.
*REYNOLDS KITCHENS TIP: We used Jolly Rancher® Hard Candy for our testing.
**The lollipop sticks must be inserted from the inside out to avoid getting the pierced foil edges in the melted candy.
Number of Servings:8
Mini Fruit Pizzas
20 Reynolds® FunShapes™ Stars and/or Hearts Baking Cups
1 package (18 oz.) refrigerated sugar cookie dough rounds
1 package (8 oz.) cream cheese, softened
1/4 cup orange marmalade
1/4 cup powdered sugar
Fresh fruit, sliced
PREHEAT oven to 350°F. Place Reynolds FunShapes Stars and/or Hearts Baking Cups on two cookie sheets with sides; set aside.
PLACE one sugar cookie dough round in the center of each baking cup.
BAKE 16 to 21 minutes or until golden brown; cool. Remove cookies from baking cups.
MIX cream cheese, orange marmalade and powdered sugar in small bowl. Spread about 1/4 cup of mixture onto each cookie. Arrange fruit slices over cream cheese mixture. Cover with Reynolds® Plastic Wrap and refrigerate until ready to serve.
Number of Servings:20 Snacks