Last Updated on February 10, 2023 by Anne-Marie
Shepherd's Pie with Ground Turkey is a thrifty alternative to the classic shepherd pie recipe. It's also gluten free and super tasty!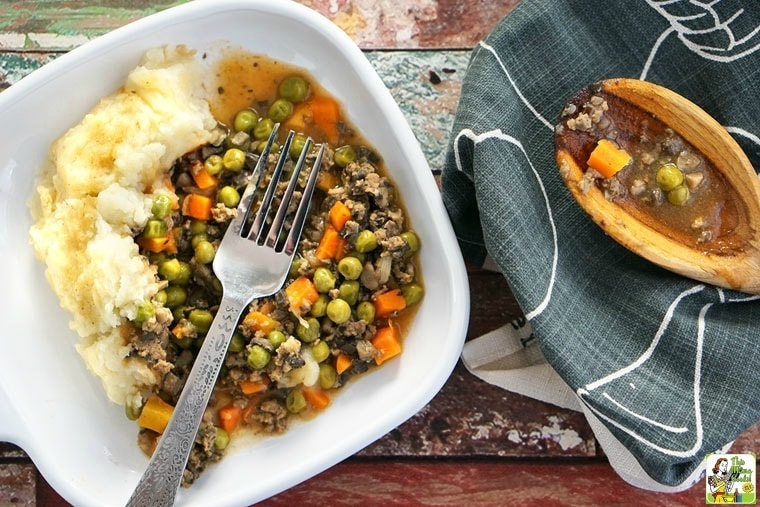 Why this recipe works
My family gets excited when I serve this Shepherd's Pie with Ground Turkey for dinner.
That's probably because they love my Gluten Free Shepherd's Pie Recipe and my Gluten Free Pot Pie Recipe in a Skillet, which are similar.
However, when I was first coming up with this recipe I was concerned that the making a shepherd's pie with ground turkey would lack flavor. 
So I've jazzed up this quick and easy shepherd's pie recipe with Worcestershire and steak sauce.
I've also added a secret ingredient – finely chopped Portobello mushrooms. So tasty!

Making a shepherd's pie recipe with Portobello mushrooms
When I chose to make my healthy shepherd pie recipe with ground turkey, I knew the chopped Portobello mushrooms bulks up the ground turkey and make it go further.
The mushrooms also added a terrific umami flavor, which my family raved about.
My husband even said, "Hun, you could sell that!" after eating my shepherd's pie dinner.
And my teenage son thanked me for making it! Can you believe it?
The added Portobello mushrooms generated more servings and stretched my simple shepherds pie recipe into more portions.
This made me happy, since I had leftovers to dine on the next day for lunch or an after school snack.
Winner, winner Shepherd's Pie with Ground Turkey makes a delicious dinner!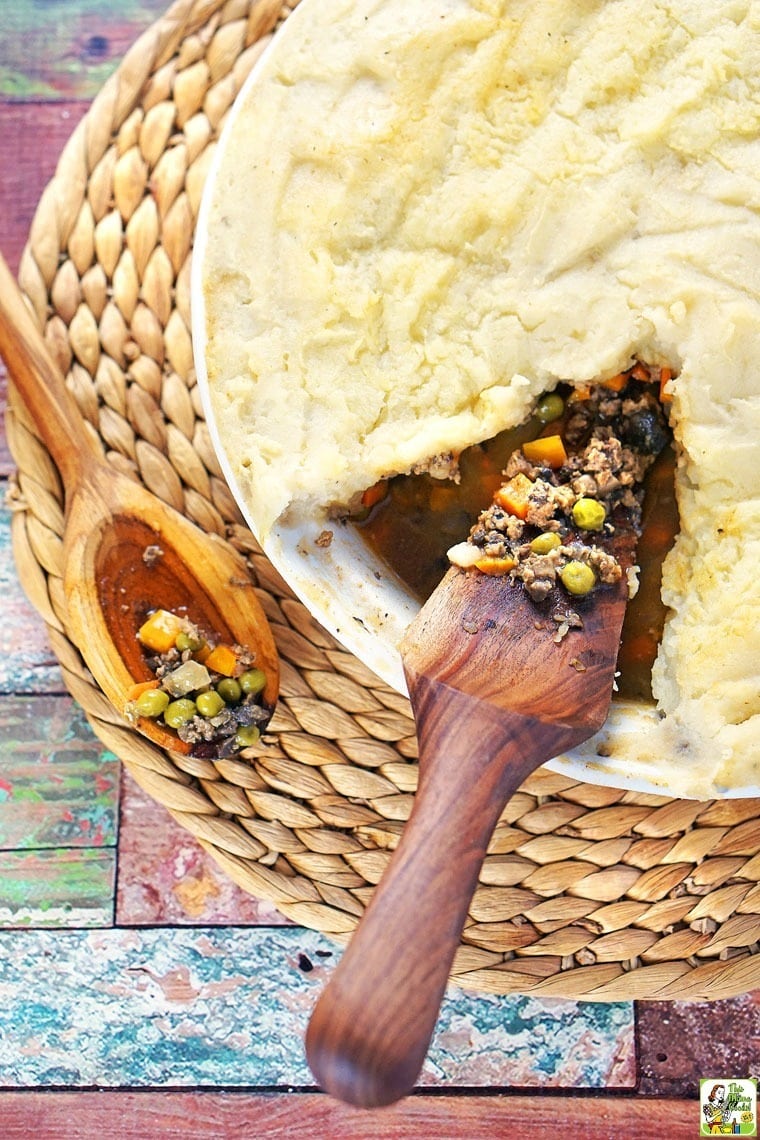 Tips for making a gluten free shepherd's pie
Broth and stock: If you're gluten free or want to avoid ingredients like MSG, make sure to check the ingredient labels carefully on the vegetable stock or vegetable broth you're buying when making this recipe.
I love using Massel, Bouillon Stock Powder - No MSG, Gluten-Free, Vegetable Flavour to make a quick batch of vegetable stock, especially when I forgot to pick some up at the store or just need a small amount.
I also like using Massel Bouillon powders as a seasoning for sautéed vegetables or making some soup when you feel a cold coming on. Great stuff!
Steak sauce: Same thing goes for the steak sauce – check those labels, especially those bargain store brands that tend to use fillers or cheaper ingredients.
A-1 Steak Sauce is gluten free and is safe to use in this shepherd pie recipe.
Worcestershire sauce: Lea & Perrins Original Worcestershire Sauce is gluten free. However, if you have a seafood allergy, you should avoid it as it has anchovies. (I found this out from a friend who has severe allergies.)
If that's the case for you, just add more A-1 sauce. Or you could use some tamari sauce (gluten free soy sauce).
Rice starch: Rice starch is a terrific gluten free thickener. If you have to avoid corn based products and are looking for rice starch, you can find it at Asian markets or online.
I find that rice starch works just as well as corn starch if not better for thickening soups and gravies! But you can use corn starch if you prefer that.

More tips for making a quick and easy shepherd's pie with ground turkey
Potatoes: If you hate peeling potatoes when making this simple shepherds pie recipe, use red potatoes instead of Russets. No need to peel.
Just wash, cut them into big chunks, and cook them for the mash. The red peels add a bit more fiber to the mash.
Peas & Carrots: If you don't have time to defrost the peas and carrots on the countertop or microwave for this quick and easy shepherd pie.
Then add them as directed but cook until they're heated through.
Mushrooms: Portobello mushrooms are just very large brown cremini. (Or a brown cremini is a juvenile Portobello!)
It's just easier to chop up three large mushrooms than lots of smaller ones. And Portobello's have a richer flavor!
Garlic: I find using the minced garlic in jars you buy at the store is such a time saver. I find I'm no longer am throwing out dried and moldy garlic cloves, too.
Yield: 8 SERVINGS
Shepherd's Pie with Ground Turkey Recipe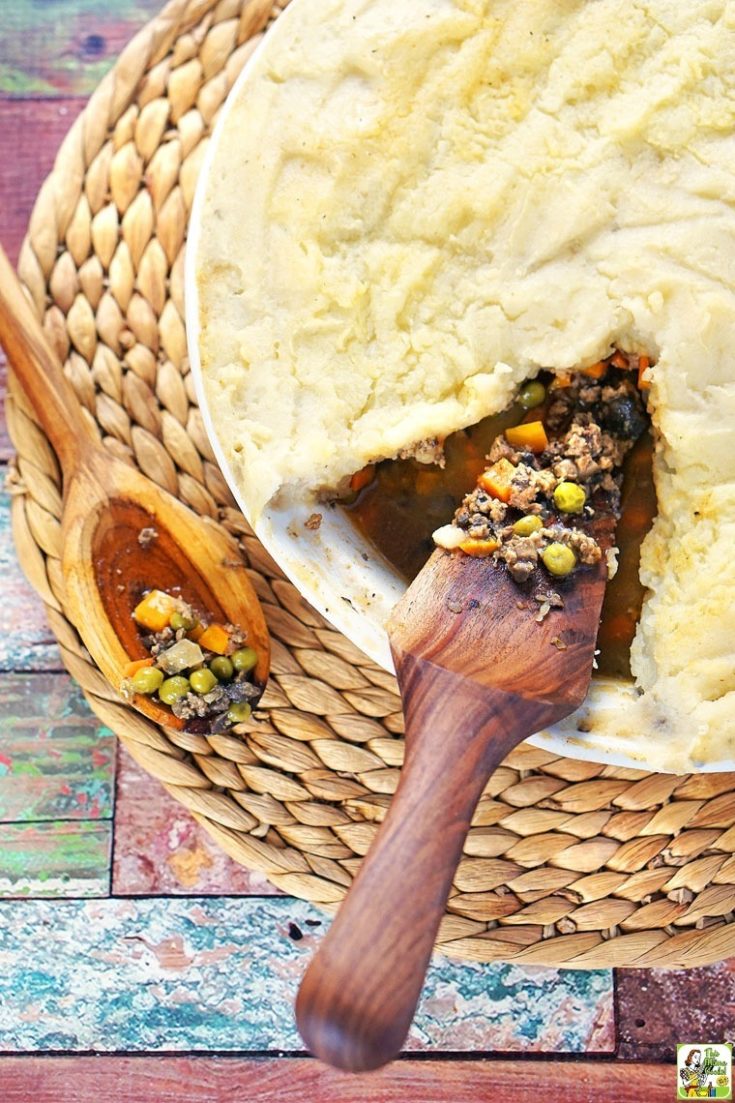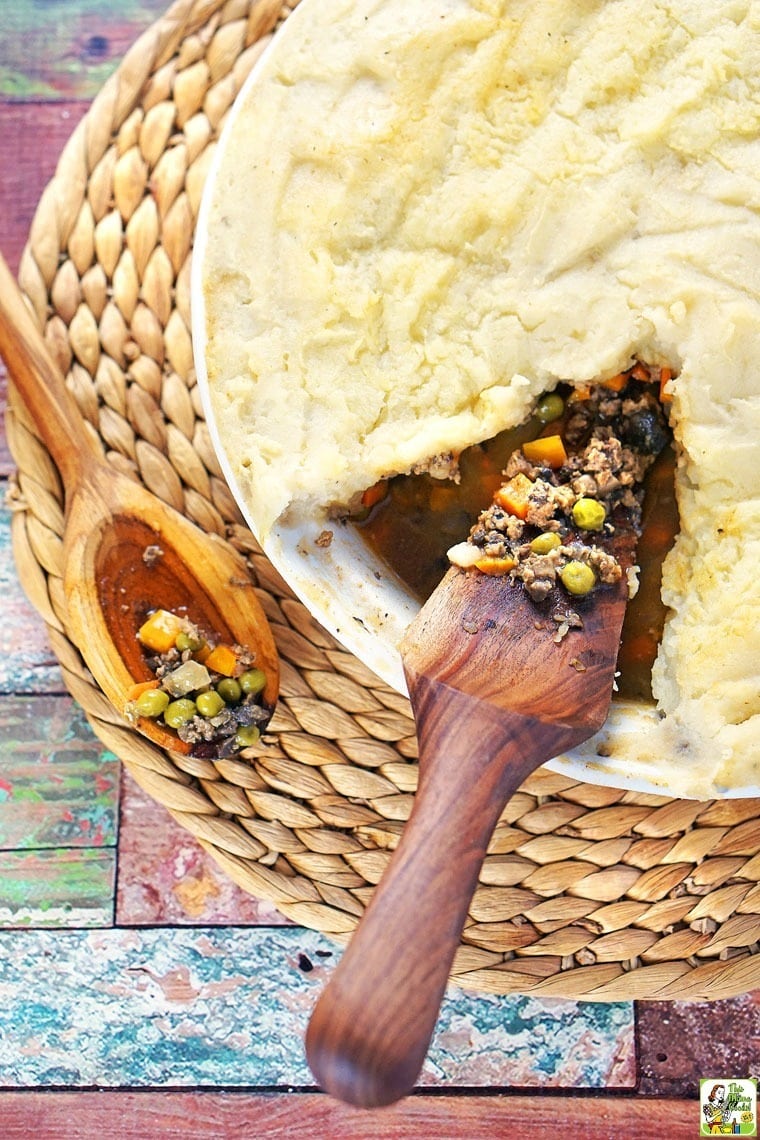 A Shepherd's Pie with Ground Turkey Recipe. This gluten free shepherds pie recipe is made with Portobello mushrooms.
Total Time
1 hour
40 minutes
Ingredients
2 pounds Russet potatoes, washed and peeled
2 1/2 cups gluten free vegetable stock, divided
3 tablespoons butter or buttery spread plus extra for topping
1 pound lean ground turkey
3 3-ounce Portobello mushrooms, finely chopped
1 tablespoon olive oil
1/2 cup diced onions
3 tablespoons rice or corn starch
2 12-ounce bags frozen peas and carrots, defrosted
2 cloves garlic, minced
2 tablespoons Worcestershire sauce
2 tablespoons steak sauce
1/2 teaspoon salt
1/4 teaspoon pepper
Instructions
Cut potatoes into large chunks. Place into a large pot and cover with water. Bring to a boil and cook until tender. Drain potatoes. Mash potatoes with 1/2 cup vegetable stock and 3 tablespoons butter or spread until fluffy. Cover and set aside.
Preheat oven to 350 degrees F.
In a large bowl, combine chopped mushroom and ground turkey using hands to thoroughly mix ingredients. Set aside.
Heat a large skillet over medium-high heat. Add olive oil and diced onion. Cook until onion starts to brown at edges, about 3 minutes. Add mushroom and turkey blend, using the edge of a spoon to break up the mushroom-meat blend. Cook until completely browned then remove from stovetop and set aside.
In a small bowl, mix 3 tablespoons rice or starch with 3 tablespoons of vegetable stock until thoroughly mixed.
In a skillet on medium-high heat add stock, peas and carrots, minced garlic, Worcestershire sauce, steak sauce, salt, and pepper. Then add the starch and broth mixture. Stir until the broth thickens.
Add the browned mushroom-meat blend and onion mixture to the pan. Mix and keep at a simmer. Cook until thickened. Remove from heat.
Pour vegetable and meat mixture into a baking dish. Carefully spoon mashed potato over mixture.
Place small chunks of butter or spread on the mashed potatoes. Then place the baking dish on a baking sheet in case of any spillovers.
Bake 30 minutes at 350 degrees until mashed potatoes are golden.
Remove shepherd's pie from the oven and let sit for 5 to 10 minutes before slicing and serving.
Nutrition Information:
Yield:
8
Serving Size:
1
Amount Per Serving:
Calories:

429
Total Fat:

15g
Saturated Fat:

5g
Trans Fat:

0g
Unsaturated Fat:

8g
Cholesterol:

70mg
Sodium:

628mg
Carbohydrates:

54g
Fiber:

6g
Sugar:

8g
Protein:

23g
Nutritional information is automatically calculated per the ingredients list. Serving size may not be accurate. Please double-check with your preferred nutritional app for the most accurate information.