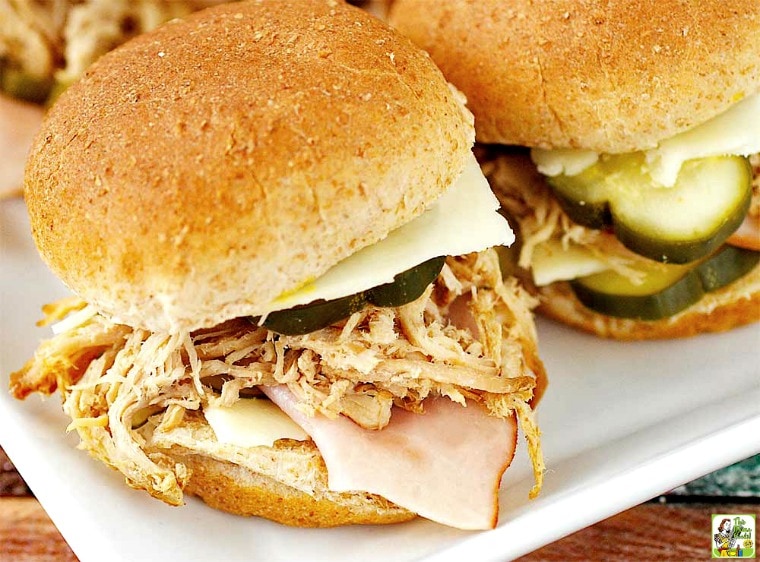 Have a party coming up? Then you have to make these Cuban Sliders!
They're so easy to make because you cook up the pulled pork in your slow cooker. Then you put the Cuban pulled pork sliders together with a few additional ingredients from the store.
Cuban sliders are a fun party food to serve at your tailgate or at home while watching the game with friends and family.
Your guests will flip over these mini Cuban sandwiches. Everyone will marvel at how adorable they are and how fun they are to eat!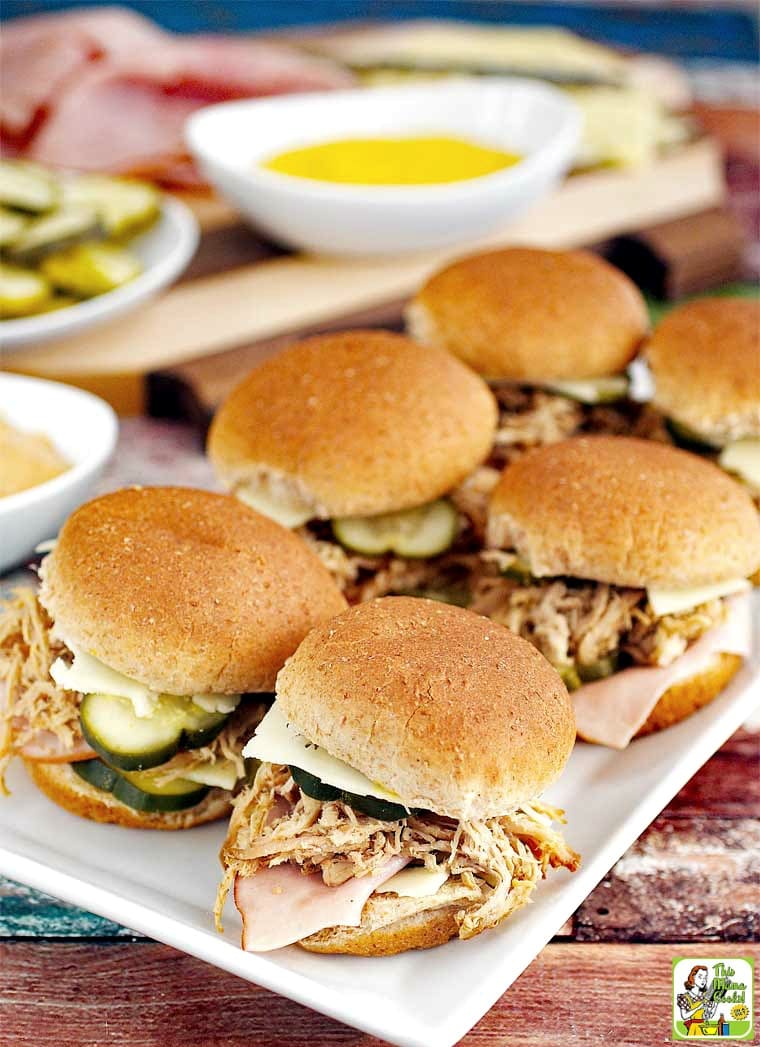 Making Cuban sliders with your crock-pot
I fell in love with Cuban sandwiches when I first visited the Columbia Restaurant in Tampa. I wanted to recreate the taste of an authentic Cuban sandwich, but with a fun party twist.
I thought Cuban sliders made with pulled pork would be a fun and oh, so delicious. Plus, pulled pork is easily made in a slow cooker and kept warm until your party starts up. 
You can set up the pork the night before for your easy Cuban sliders recipe. Store it overnight in the refrigerator and get it going that morning while you eat breakfast.
If you're in a rush, get the pork cooking on high so the pulled pork is ready to add to your Cuban sliders for an early afternoon game.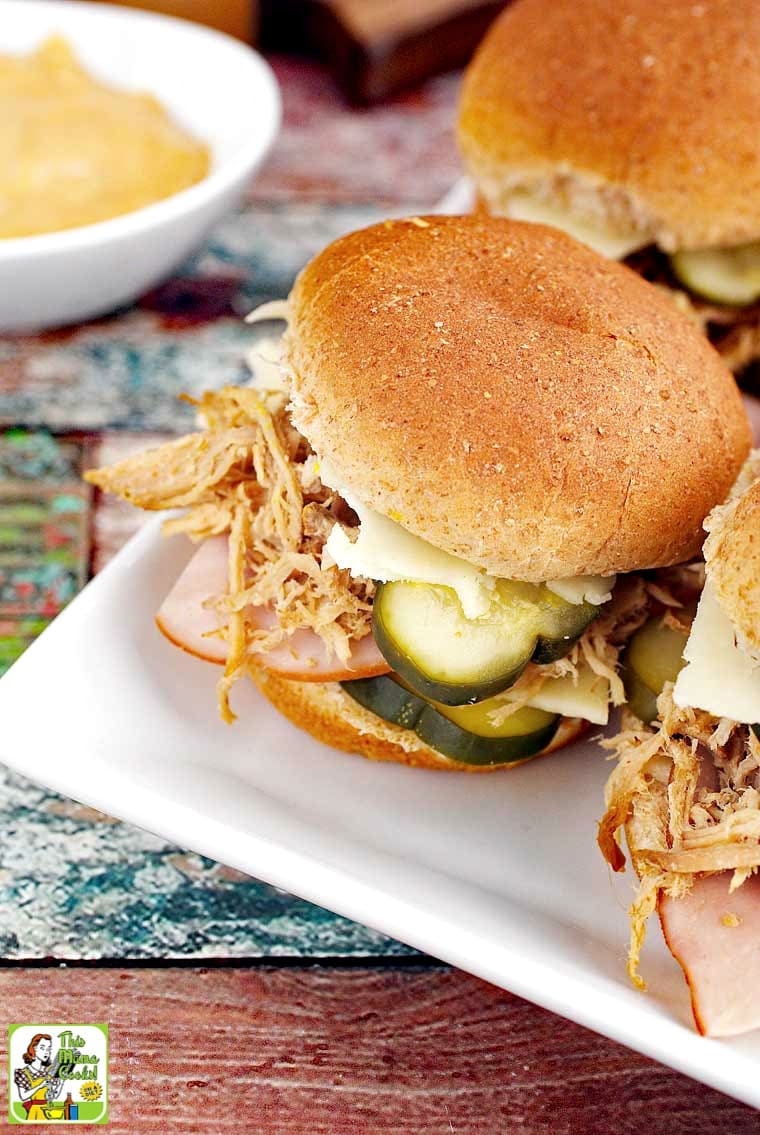 One of my favorite ways to season shredded pork is by using marinades. Since a marinade is very similar to a salad dressing, I used my favorite bottled ranch dressing in this Cuban sliders recipe to give it a unique flavor.
You can use either a regular or lite ranch dressing. Both would be delicious!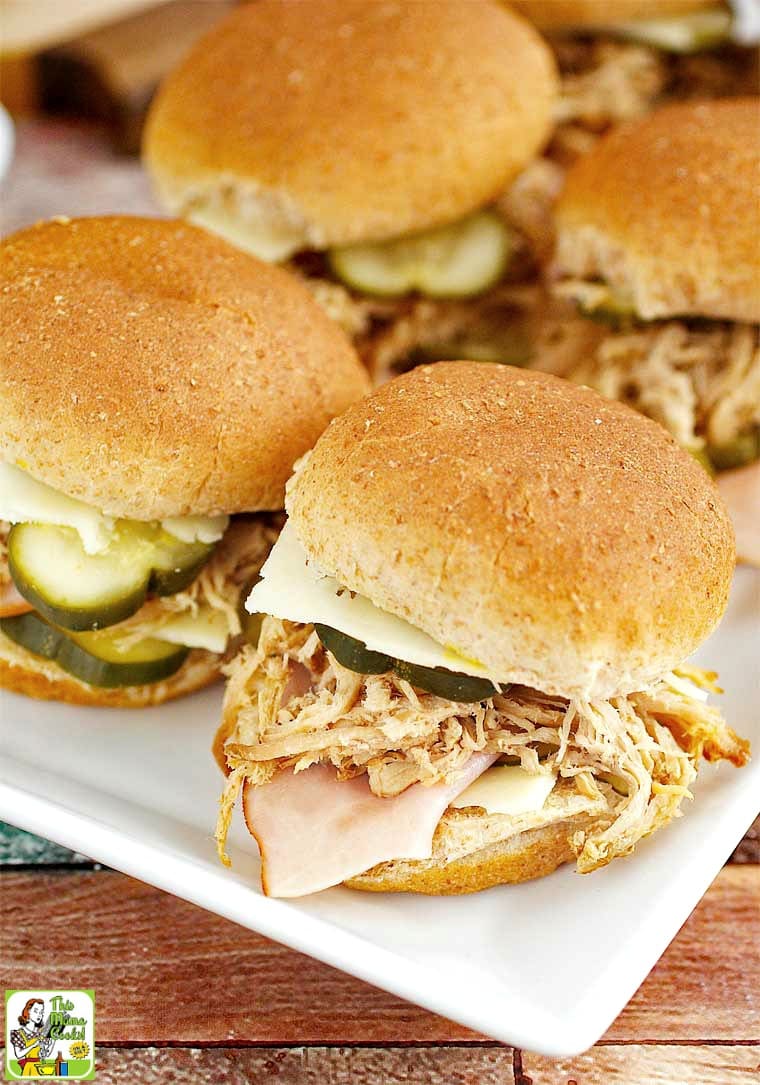 For easy crock-pot cleanup, use slow cooker liners. They're WONDERFUL.
Now that I use them, I no longer have to soak my crock-pot overnight and scrub it using Bar Keepers Friend Cleanser and a scouring pad.
Stock up on slow cooker liners on Amazon at a great price!
How to serve up your Cuban sliders recipe
Cuban sliders, like authentic Cuban sandwiches, should be served with the following fillings and condiments:
• thinly sliced Swiss or baby Swiss cheese, cut into small squares the size of the Cuban pulled pork sliders buns
• thinly sliced deli ham, also cut into small squares the size of the slider buns
I like using kitchen shears to cut up several slices of ham and Swiss cheese at a time into squares. I find it a little easier than using a knife and cutting board.
• yellow mustard (Yes, the regular yellow stuff you put on hot dogs and not a fancy, grainy mustard!)
• thinly sliced dill pickles
Most grocery stores have a terrific selection of slider buns. My local store has regular, whole wheat, potato, honey, sweet, and Hawaiian. Get a variety to make your Cuban sliders even more fun to serve up!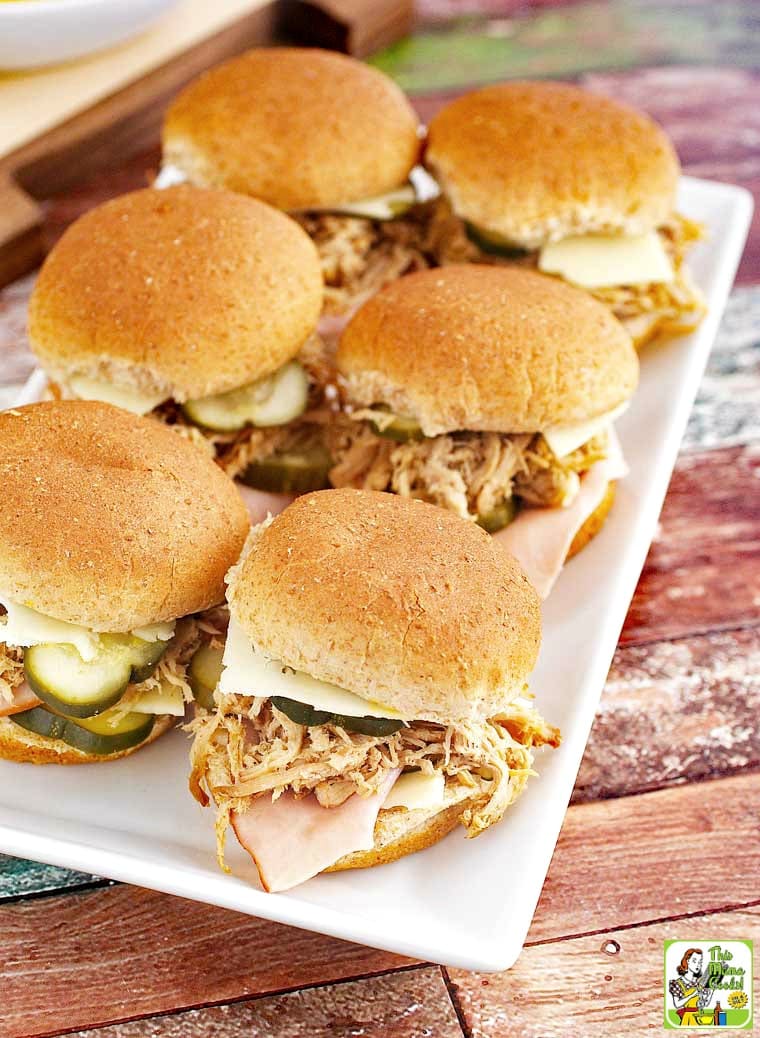 How to make mini Cuban sandwiches for the game
One party appetizer option is to make up a batch or two of Cuban Sliders before your guests arrive. Then keep them warm in the oven on an oven safe serving platter or baking sheet. Loosely cover with a sheet of foil so they don't dry out.
Or keep the pulled pork warm in your crock-pot and have people make their own by keeping all the ingredients out on a table. That way everyone has a fresh batch of mini Cuban sandwiches and the buns don't get soggy.
Love Cuban pulled pork sandwiches? Then you have to try making Cuban Panini!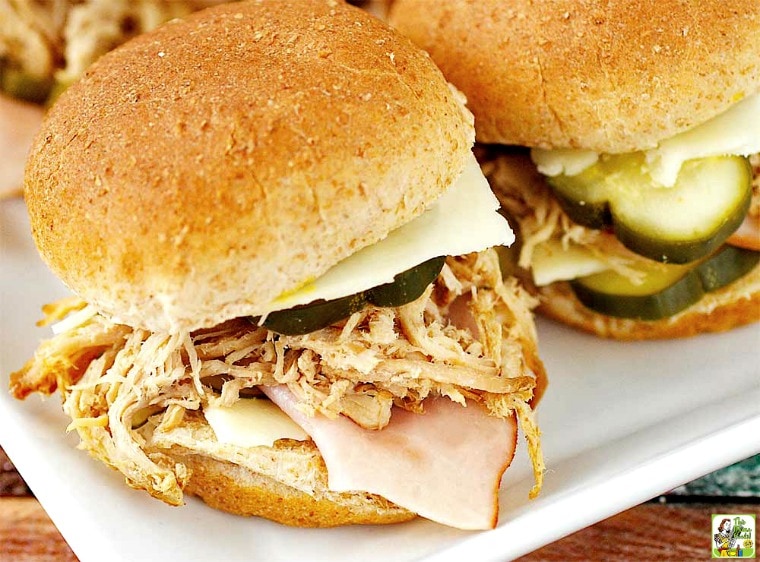 Ingredients
For the pulled pork:
4 pounds

boneless pork loin, cut into 3 pieces

1 (12 ounce) bottle

ranch dressing

1 tablespoon

lemon juice

2 tablespoons

lime juice

1/2 cup

honey or agave nectar

1 teaspoon

dried ground ancho chile pepper

1/2 teaspoon

ground cayenne red pepper

1/2 teaspoon

cumin

1/2 teaspoon

paprika

1/2 teaspoon

sea salt
For the Cuban Sliders:
2-3 packages

slider buns (any variety)

1 small jar

yellow mustard

2 large jars

whole dill pickles, thinly sliced

2 pounds

thinly sliced Swiss or baby Swiss cheese, cut into small squares the size of the slider buns

2 pounds

thinly sliced deli ham, cut into small squares the size of the slider buns
Directions
For the pulled pork:
Place the pork loin in a large slow cooker.
In a bowl, combine the ranch dressing, lemon and lime juices, honey or agave, spices, and salt. Pour the dressing mixture over the pork.
Cook the pork on Low for 8 to 10 hours or High for 4 to 6 hours. Pork is done when it's tender enough to pull apart with a fork.
Pour out all of the liquid from the crock. Otherwise, you'll have shredded pork soup!
Shred the pork and keep warm.
To make the Cuban Sliders:
Make the slider by layering two pickles, a cheese square, a deli ham square, a small mound of shredded pork, and two more pickles between the slider bun.
Keep sliders warm in the oven until it's time to serve.
Total Time:
10 Hours 30 Minutes
Servings
:
Feeds around 2 dozen people
Originally published on January 19, 2015. Updated with new pictures and information.