Last Updated on October 11, 2021 by Anne-Marie
Make this delicious okra soup recipe using tomatoes and pancetta that can be made in an hour.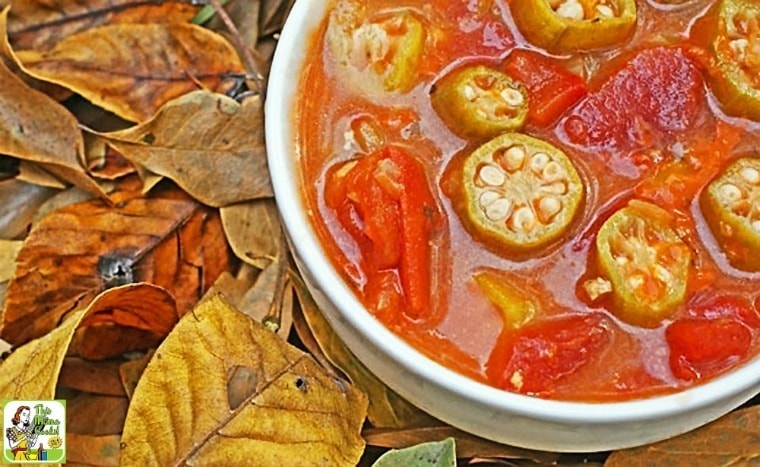 Why this recipe works
Have you ever tried Tomato and Okra Soup? Well, I loved okra even before we moved to the South.
So when I saw a recipe for Okra Soup on Staying Close to Home, my assignment during a food blogger challenge, I knew this would be a perfect cold weather soup for a recipe makeover.
How to make tomato and okra soup into a time saver
I've taken Maria's version of Okra Soup that is based on this recipe at Saveur.com and made some some changes that I think you'll like.
Pancetta: For this easy okra soup recipe, I used pre-diced pancetta. You can find this "fancy" deli section next to deli sliced salami.
If you can't find pancetta or think it's a little too pricey (no judgement!), you can use bacon. Just cut it into small pieces before cooking.
Thyme: I used fresh thyme from my herb garden. You can buy fresh thyme if you don't have a garden.
Or you can use dried, if you don't want the extra expense and hassle.
If you're using dried, you want 1/3 teaspoon dried thyme per 1 teaspoon fresh. Since I use 2 teaspoons fresh, you need 2/3 teaspoon dried.
Tomatoes: To save time when making tomato and okra soup, I used canned fire roasted diced tomatoes instead of whole, peeled tomatoes so I wouldn't have to crush them by hand.
You can use any brand of fire roasted diced tomatoes. Store brand is terrific and a big, budget helper.
Garlic: These days I love using minced garlic in a jar instead of mincing fresh garlic. It's such a time saver and so convenient.
I buy the huge jars of garlic from the big warehouse store. I find it saves me money, too, since I always find fresh garlic goes bad quickly.
If you do use minced garlic from a jar, 1 teaspoon roughly equals 1 clove of garlic.
Okra: It's hard to find fresh okra year round. When I was making my Refrigerator Pickled Okra Recipe I had to wait until fresh okra to come into season.
However, the real time saving trick was to use frozen, diced okra for this okra soup recipe. There's always frozen okra at the store!
Since fresh okra costs twice as much as frozen, it's also a way to cut costs.
Finally, don't boil the okra into a mush. I like the okra to be cooked through, but still have a crunch to it.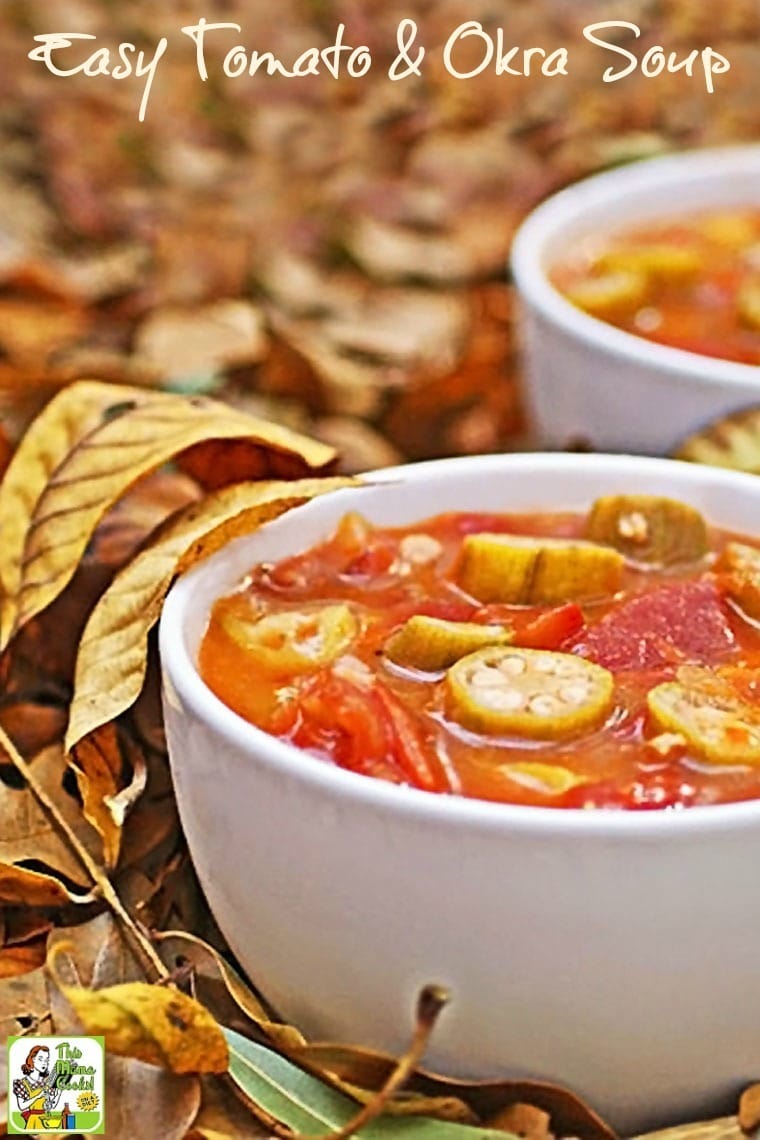 Can you freeze this recipe for easy okra soup?
Yes, you can freeze okra soup. Luckily, this okra soup recipe is already a double batch. So you'll have plenty to freeze.
(You'll need to make it in a large stockpot, too.)
Then freeze half for later when you're too busy to cook.
I like freezing soup in food freezer containers. (Make sure to label and date the containers!)
Then I defrost the containers in the refrigerator. (You can also defrost these type of containers in a bowl of warm water.)
Then you can heat up the okra soup in the microwave or on the stove top.
Also, some people freeze soup in gallon freezer bags, then stack them in the freezer.
I've never done this, but it's a cool way to organize your freezer.
The nutritional benefits of okra soup
Okra is packed with all kinds of terrific nutrients. It's a high fiber food, which helps lower cholesterol and helps with digestion.
Half a cup of cooked okra contains nearly 10 percent of the recommended levels of vitamin B6 and folic acid, too.
Okra's also a good source of calcium and magnesium. It's also a source of vegetable protein - 1/2 cup has 1.5 grams!
However, like tomatoes, okra is a nightshade vegetables. Some people avoid nightshade vegetables because these types of vegetables may aggravate inflammation in people who are sensitive to them.
(You can read more about nightshades in this issue of SELF magazine.)
More easy soup recipes
If you love creamy soups check out this Easy Gluten Free Cream of Mushroom Soup Recipe or this Instant Pot Potato Soup.
Do you love spicy soups? Check out this 30-Minute Pozole Recipe and this Kale Soup Recipe.
This Easy Cioppino Seafood Stew Recipe is made with frozen seafood mix.
This Best Split Pea Soup Recipe can be made in under an hour.
If you've given up on clam chowder because you're dairy free, check out this Easy Dairy Free Oyster Chowder. It's amazing!
This unique Sweet Potato Soup Recipe with Figs is made with fig yogurt.
Yield: SERVES 12
Easy Tomato & Okra Soup Recipe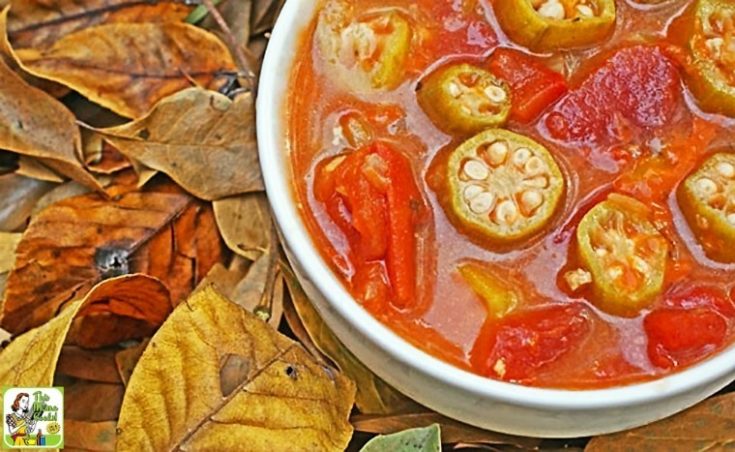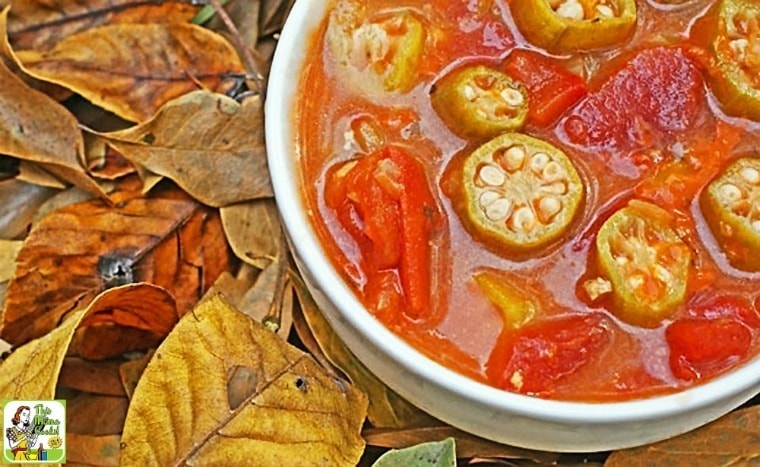 Have you ever tried okra soup? Here's a delicious okra soup recipe using tomatoes and pancetta that can be made in an hour.
Ingredients
4 tablespoons canola oil
6 ounces pancetta, chopped into small pieces
2 teaspoons fresh thyme, finely chopped
2 cloves garlic, finely chopped
1 large yellow onion, finely chopped
2 ribs celery, finely chopped
2 bay leaves
black pepper, to taste
4 tablespoons tomato paste
2 pounds frozen, sliced okra
12 cups chicken stock or broth (gluten free)
4-14.5 ounce cans fire-roasted, diced tomatoes
Instructions
In a large stockpot, heat oil and bacon over medium-high heat. Cook, stirring, until fat renders, about 5 minutes.
Add thyme, garlic, onion, celery, and bay leaf, season with salt and pepper, and cook, stirring, until soft, about 5 minutes.
Stir in tomato paste. Cook, stirring, until caramelized, about 2 minutes.
Add okra, chicken stock, and tomatoes and bring to a boil. Reduce heat to medium-low, and cook, until okra is slightly tender but not mushy, about 20-30 minutes.
Notes
This makes a double batch. Freeze half for later.
Nutrition Information:
Yield:
12
Serving Size:
1
Amount Per Serving:
Calories:

243
Total Fat:

16g
Saturated Fat:

4g
Trans Fat:

0g
Unsaturated Fat:

11g
Cholesterol:

18mg
Sodium:

441mg
Carbohydrates:

17g
Fiber:

3g
Sugar:

8g
Protein:

10g
Nutritional information is automatically calculated per the ingredients list. Serving size may not be accurate. Please double-check with your preferred nutritional app for the most accurate information.
Originally published on November 12, 2012 and September 26, 2016. Updated with new information.