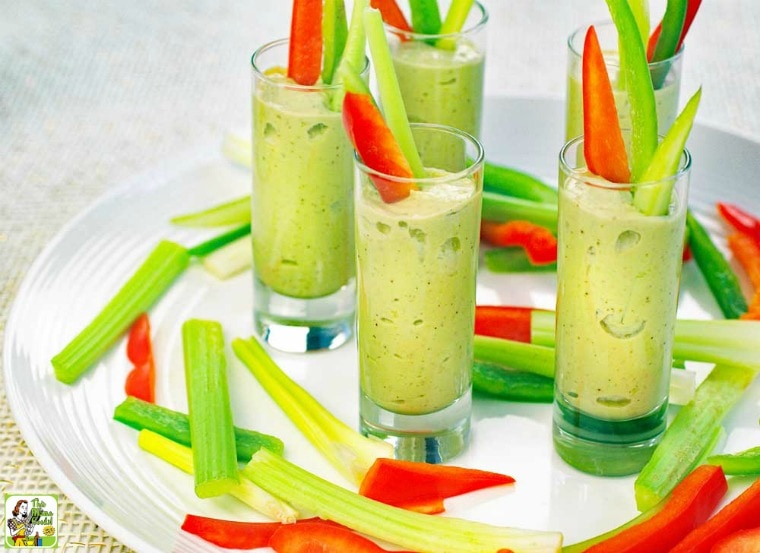 Want to make some healthy green dip recipes for St. Patrick's Day? Then you have to whip up a batch of my Avocado Dip Veggie Shooters.
What makes this avocado dip so perfect for St Patrick's Day is it's green. But that's not all! This avocado dips recipe is served in a tall shot glass making it an easy-to-eat party appetizer.
Serving the dip this way lets your guests walk around with the little shot glass while they mingle. They just dip the crunchy vegetable sticks into the avocado dip on the go!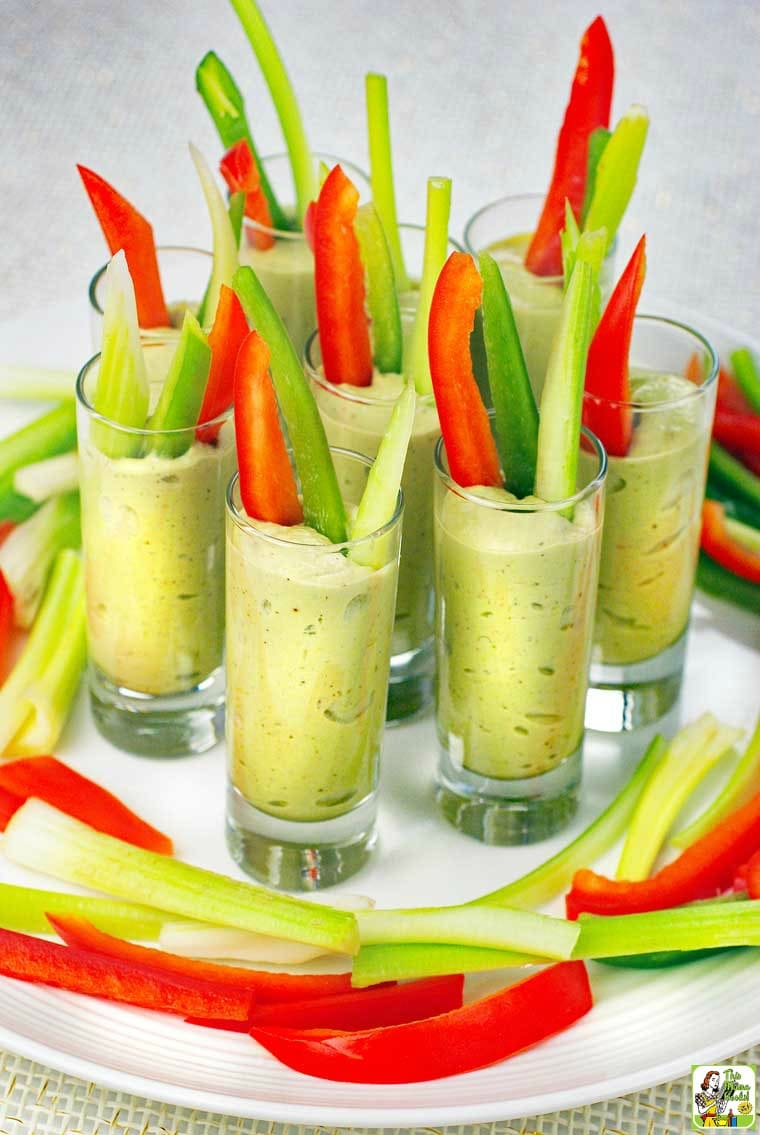 How to make avocado dip and fill the veggie shooters
I made my avocado dip recipe in my high speed blender. I just put the avocado, Greek yogurt, lime juice, chili powder and salt into the blender and pulse until smooth. Super easy. (You could use a food processor, too.)
The tricky part is getting the avocado dip into the shot glasses. Don't attempt to spoon the dip into the glasses or you'll have a big mess on your hands!
If you have tall shot glasses like mine, the easiest way to get the dip into the shot glasses is to pipe it into the glasses with a pastry bag.
First, snip the end of a pastry bag to make an 1-inch wide opening. Then tie off that end with a clip and place the bag in a tall, heavy glass. Then fill the pastry bag part way with the dip. Remove the clip, then pipe the dip into the glasses.

If you don't have a pastry bag, fill a gallon ziplock baggie with the avocado dip. Push all the air out and zip close the bag. Snip off one bottom corner to make a 1-inch hole. Then squeeze the dip out of the bag into the shot glasses.
The ziplock baggie method is probably more practical as you can put all your dip into the baggie and then leave it in the refrigerator until just before party time.
Leave some of the shot glasses empty and fill them with veggie sticks. I like a mixture of celery and pepper strips. The more colorful, the better!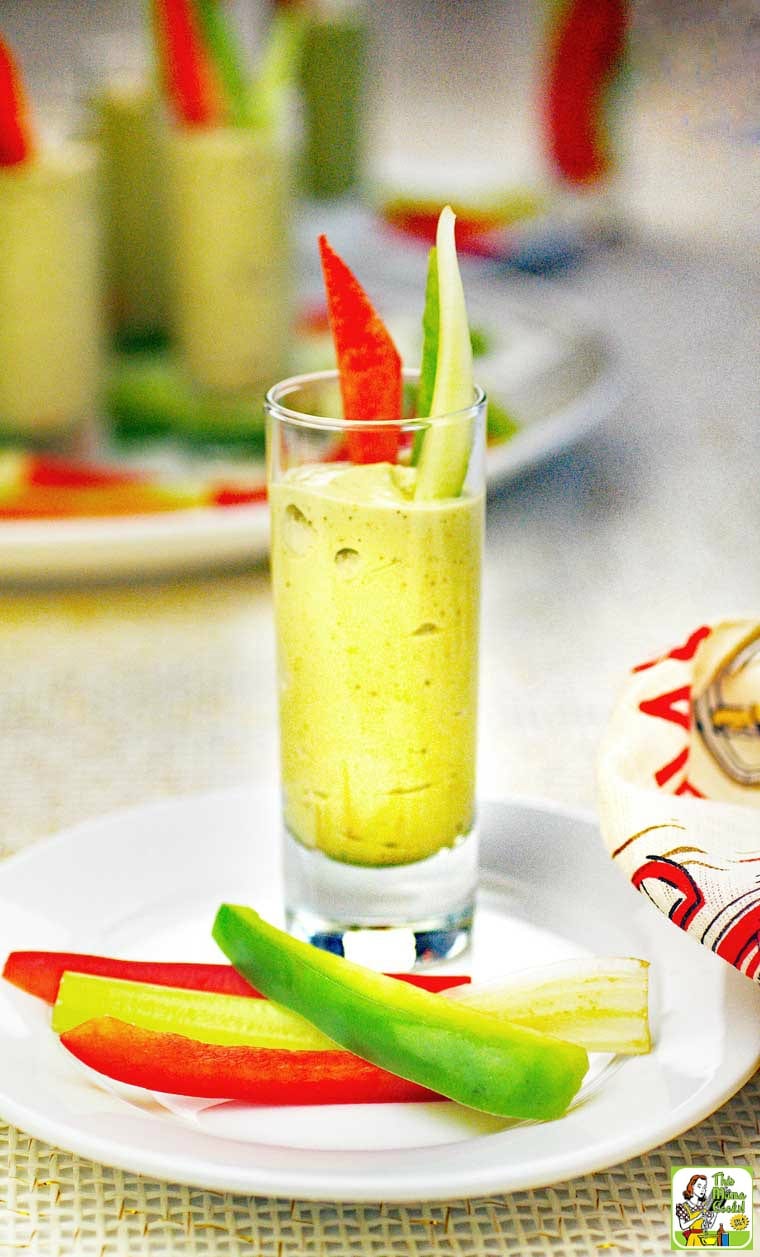 This Mama's tips for making your avocado dips recipe a hit!
If you'd like a spicier avocado dip, you can season it with ground cayenne pepper or a dash of your favorite hot sauce.
If you prefer a smokier taste dip, try smoked paprika.
Don't have lime juice? Use lemon juice instead. But don't leave either out. The citrus juice keeps the avocado from turning dark green or even greyish!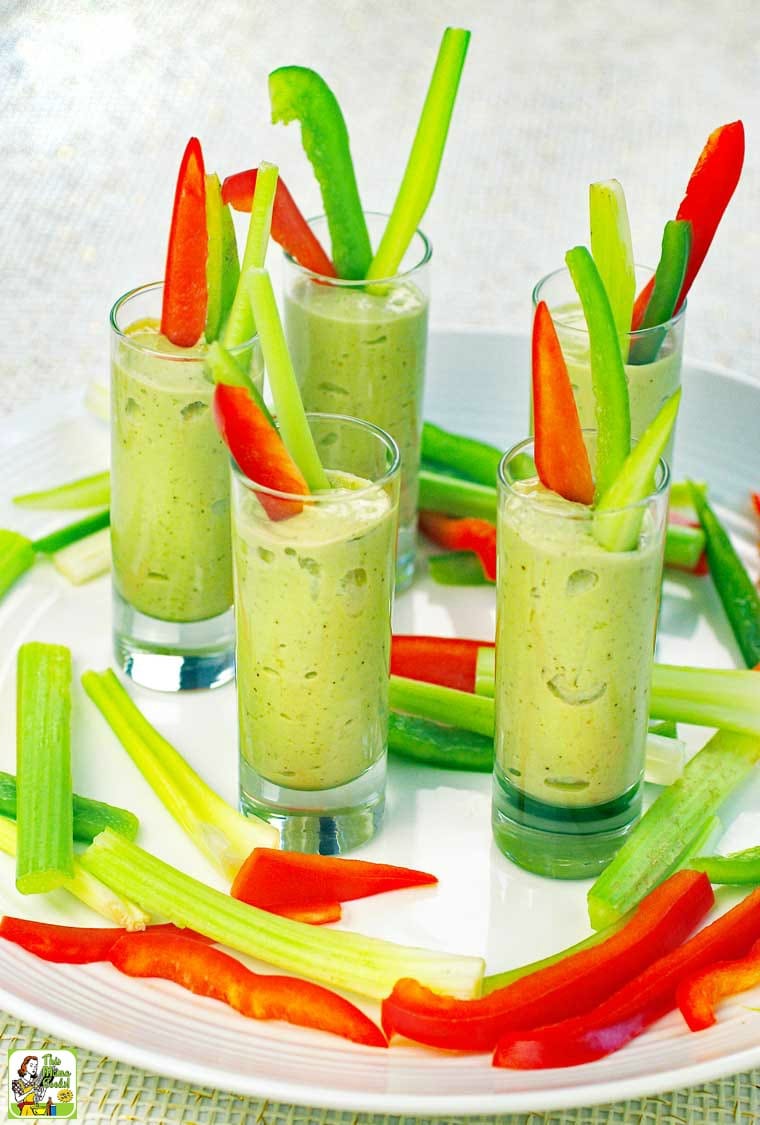 Can't find ripe avocados at the store when you need them? Try the organic section. I've had better luck there and paying a little more is worth the convenience.
If you want to make festive party appetizers, make up a batch of Greek yogurt seasoned with just lime juice, salt and chili powder. Then pipe in a layer of avocado dip, a plain yogurt layer, then an avocado layer. Pretty!
Looking for more healthy party dips? Try this easy Spinach Artichoke Dip.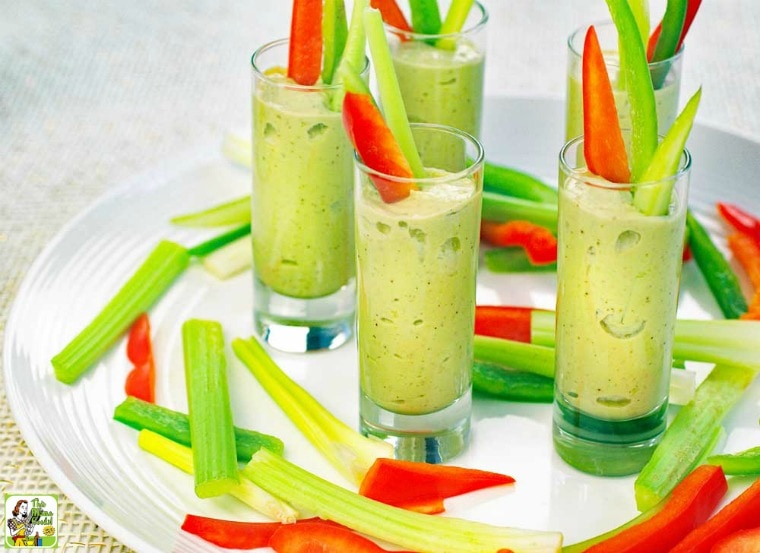 Avocado Dip Veggie Shooters
Ingredients
Avocado Dip:
2

ripe avocados, peeled and pitted

1 cup

non-fat plain Greek yogurt

1 tablespoon

lime juice

1 teaspoon

chili powder

1 teaspoon

salt
For Dipping:
3

sweet peppers cut into thin veggie sticks

5

celery stalks cut into thin veggie sticks
Directions
Place avocados, yogurt, lime juice, chili powder, and salt in a blender or food processor. Pulse until mixture is smooth and creamy.
To serve, place dip into a piping bag and pipe into shot glasses. Serve with veggie sticks.
Serving size:

depends on shot glass size
Originally posted on December 15, 2015. Updated with new pictures and information.