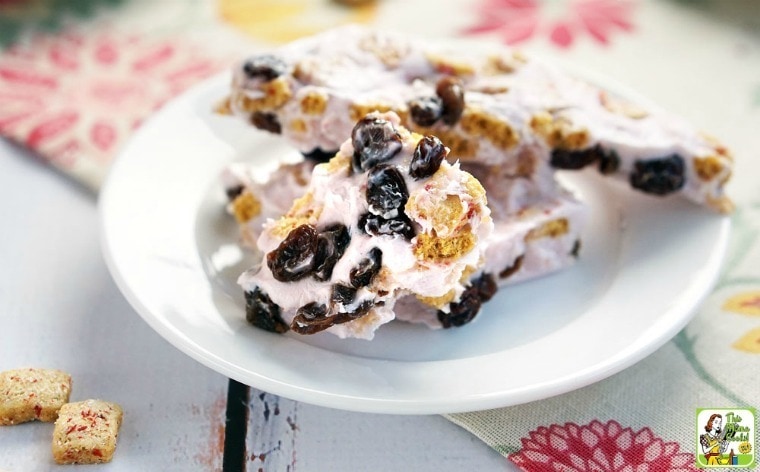 I made Healthy Frozen Greek Yogurt Bark because I was frustrated with my two teenagers' unwillingness to make a healthy breakfast choice. You'd think they'd take a few minutes to cook up some eggs or make some toast. Instead, I would find them eating chips or dessert from the night before. Awful!
There's got to be a better way to get them to eat more healthfully in the morning without nagging! But how? Thus my frozen yogurt bark recipe!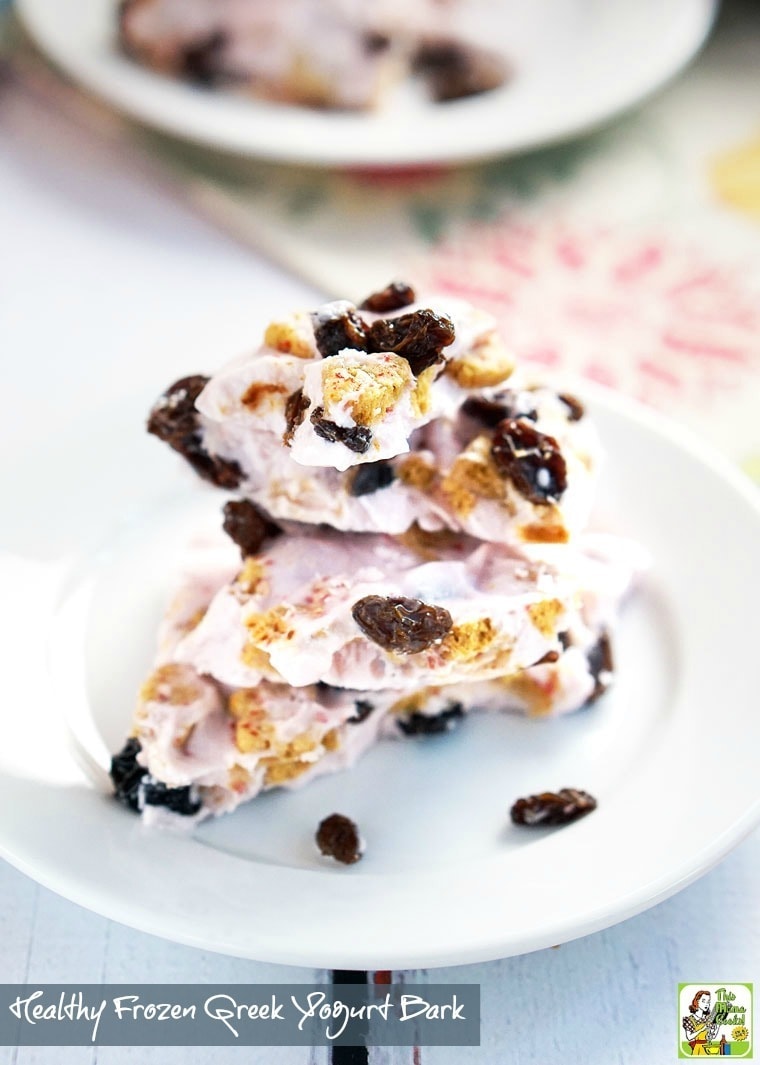 Make Healthy Frozen Greek Yogurt Bark with Tiny Toast Cereal!
When my son, Nathan, and I were out shopping at Kroger, we came across General Mill's Tiny Toast Cereal. Nathan saw the colorful boxes – bright pink and blue – and begged me to buy them. You think he was six-years-old again!
GENERAL MILLS STRAWBERRY AND BLUEBERRY TINY TOAST CEREAL ( 2 PACK BUNDLE )
Tiny Toast Strawberry Cereal 11.1 oz. Box
Tiny Toast Blueberry Cereal 11.1 oz. Box
However, Nathan knows I trust General Mills cereals for several reasons. Since I've worked with them, I know how they've eliminated artificial flavors, colors from artificial sources, and high-fructose corn syrup from their cereals. Tiny Toast has only 9 grams of sugar per serving and is make with real strawberry or blueberry flavor in every piece. Best of all, the cereals' first ingredient is whole grain oats.
But my dilemma was to make breakfasts or healthy snacking with Tiny Toast more enticing. I love making easy bark recipes, but that's a dessert treat – not breakfast ! Instead, I made this frozen yogurt bark recipe with no-fat Greek yogurt and raisins.
My two teenagers thought the Healthy Frozen Greek Yogurt Bark was delicious and fun to eat. Plus, it's a healthy alternative to cool treats like ice cream that my teens are always asking for.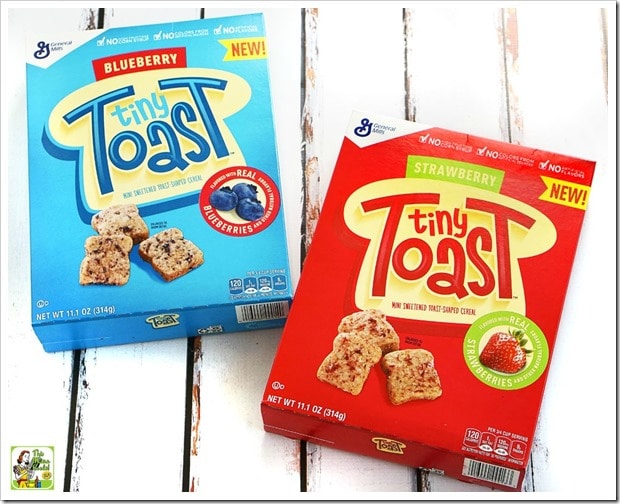 In addition, healthy yogurt bark is an easy way to give my daughter, Lucie, some dairy goodness. She likes eating her cereal dry because she doesn't like milk. I worry that's she's not getting enough Vitamin D and calcium because of it. She loved the taste of the low fat strawberry Greek yogurt combined with the strawberry Tiny Toast cereal.
Me? I loved the crunch of the frozen Greek yogurt bark from the frozen yogurt as well as the cereal.
Download this $1 off coupon so your teens can try out on Tiny Toast Cereal.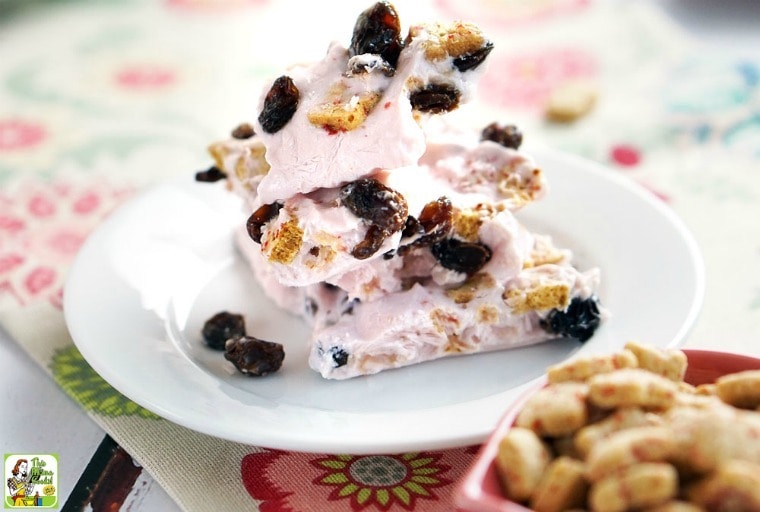 This Mama's tips for making Healthy Frozen Greek Yogurt Bark
For frozen Greek yogurt bark, I chose to use strawberry Greek yogurt to go with the strawberry cereal. You can use any flavor combination of low fat Greek yogurt and Tiny Toast Cereal.
I loved how the raisins gave frozen yogurt fruit bark some chewiness. However, you can use other dried fruit like cranberries, blueberries, strawberries, currants, golden raisins, etc.
Have fun by adding other healthy ingredients to this Greek yogurt bark  recipe. Chopped nuts, pumpkin seeds (pepitas), shredded unsweetened coconut, or fresh berries. Have fun and get creative with flavors and textures!
You can also use plain no fat Greek yogurt to this healthy yogurt bark. Sweeten it with monk fruit powder or another no calorie sweeteners if you're trying to make a low sugar healthy frozen yogurt bark. Add vanilla, almond or other extract for more flavor.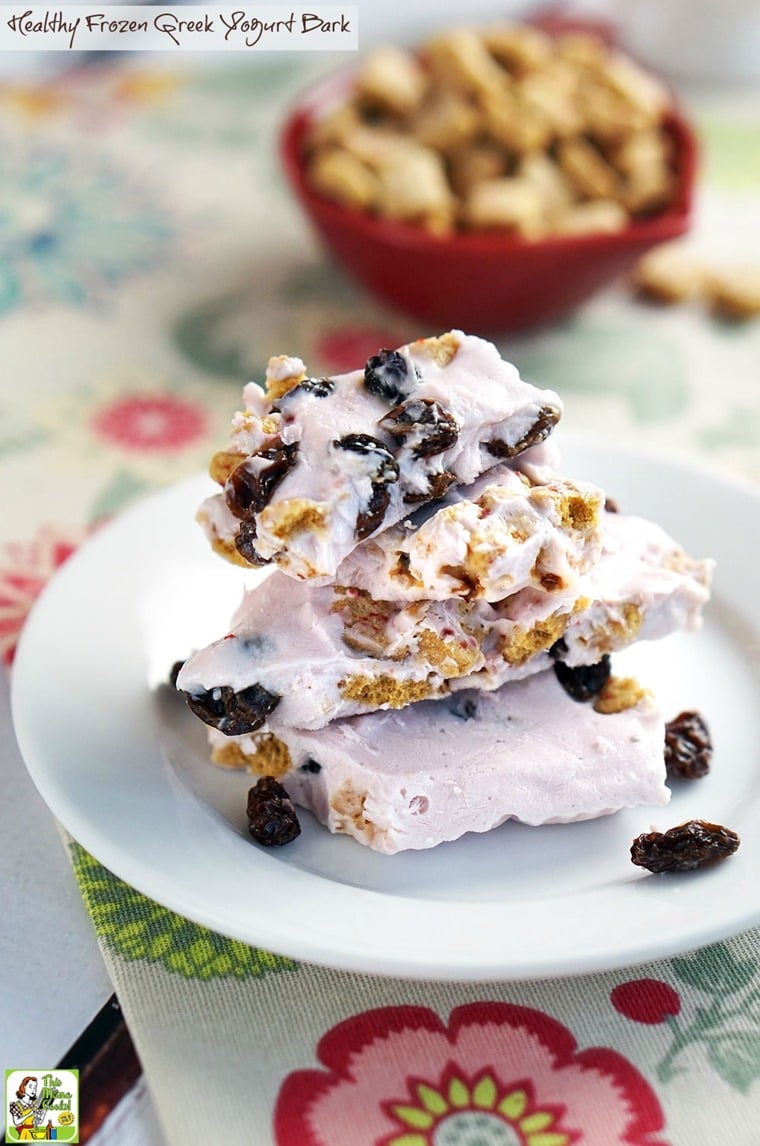 I prefer Greek yogurt for this easy bark recipe over regular yogurt because it's thicker and has more protein than regular yogurt. Also, I bet regular yogurt would be a bit runny when spreading it on the cookie sheet. Don't you think?
Want to shorten the freezing time a bit? Placing the cookie sheet in the freezer for 30 minutes before making easy bark recipes will give you a head start.
Leftover frozen Greek yogurt bark can be kept in the freezer in food containers or freezer baggies.
So you always have a quick breakfast or healthy afternoon snack when needed, make up a couple of batches of Healthy Frozen Greek Yogurt Bark to keep in the freezer!
Want to try Tiny Toast Cereals? Download this $1 off coupon!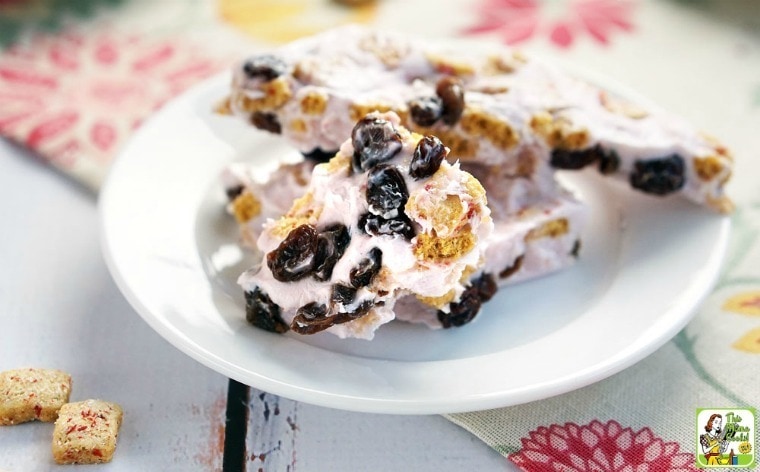 Healthy Frozen Greek Yogurt Bark
Ingredients
1 (32 ounce) container

low-fat strawberry Greek yogurt (3 cups)

1 1/2 cups

raisins (divided)

2 cups

Strawberry Tiny Toast Cereal
Directions
Combine Greek yogurt and 1 cup of raisins in a medium bowl.
Line a cookie sheet with parchment paper. (A silicon mat would work, too.) Pour the Greek yogurt and raisin mixture on the cookie sheet. Use a spatula to smooth yogurt until it's evenly spread out.
Evenly sprinkle the remaining raisins and Strawberry Tiny Toast Cereal over the Greek yogurt mixture.
Place the baking sheet in the freezer for 2 to 3 hours until the yogurt is completely frozen.
To serve, break the frozen Greek yogurt into large pieces. Serve frozen. Place leftover frozen Greek yogurt bark in a food container or baggie for future snacking!
Servings
:
5-6 cups of bark
Originally published on July 2, 2016. Updated with new pictures and information.