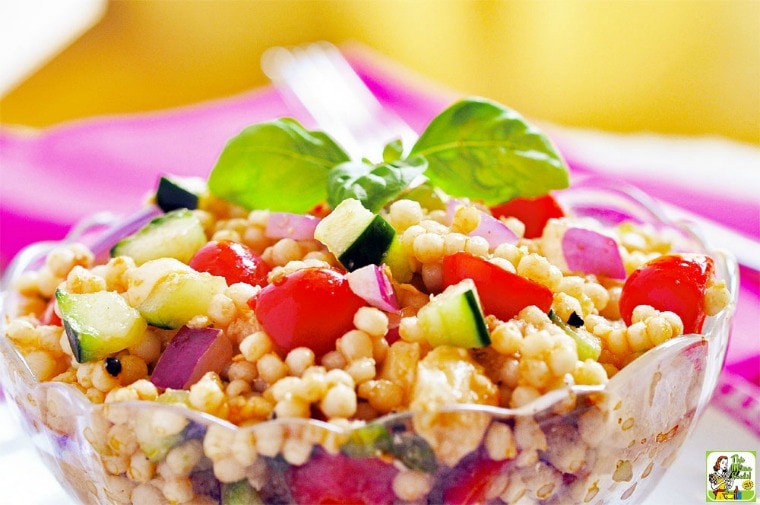 Try this Bruschetta Couscous Salad if you're looking for an easy to make salad recipe for dinner, a potluck, or just when you're trying to eat in a more wholesome way.
This delicious couscous salad recipe is from my frequent contributor, Holly Clegg. The cucumbers, onions, tomatoes and basil makes this couscous vegetable salad an easy-to-make side dish for any dinner entrée.
It's made with Israeli couscous, but you can make it with quinoa if you're gluten free.
If you make it with quinoa, it's perfect as a Meatless Monday meal, since quinoa is an excellent source of vegetarian protein.
Holly also recommends wild rice as another gluten-free substitute.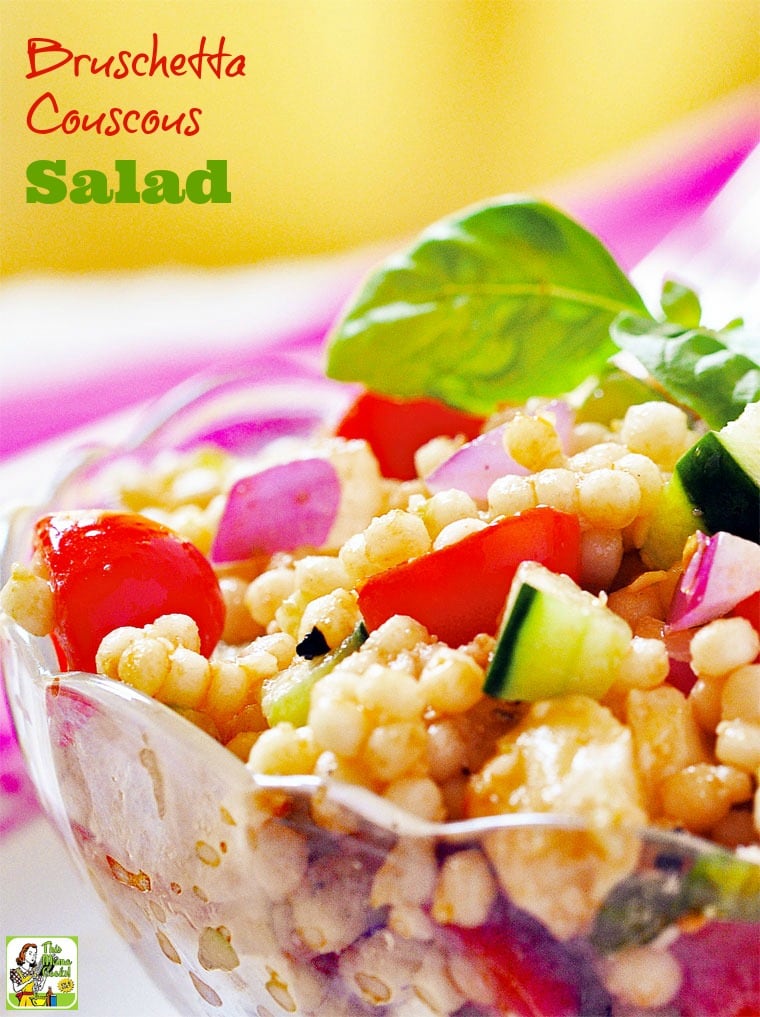 You can find more of Holly Clegg's trim& TERRIFIC® recipes at The Healthy Cooking Blog.
Check out Holly's trim & TERRIFIC™ cookbooks on Amazon, too!
Spring has sprung with Bruschetta Couscous Salad!
Spring has sprung and I'm so glad! The days are longer. The sun is warming us up, and the Azaleas have bloomed.
It's the perfect time to spread a blanket on the ground at your favorite park or in your backyard to enjoy a meal.
This bruschetta couscous salad recipe with fresh tomatoes is perfect for al fresco dining!
When in season, the tomatoes in this Bruschetta Couscous Salad from my arthritis cookbook, Eating Well to Fight Arthritis, can help fight inflammation.
Even if you don't have arthritis, his easy couscous salad recipe is an unbeatable combination of fresh basil, mozzarella, and tomatoes at their best!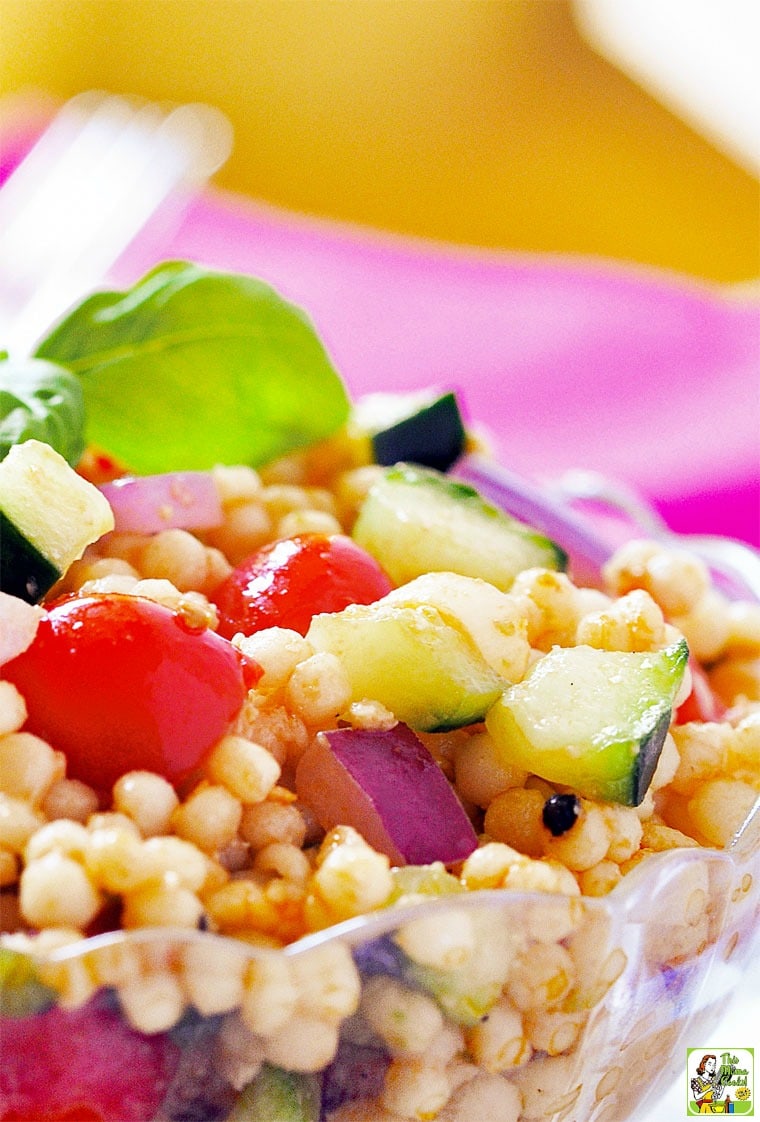 You know you are eating with nutrition when you have this colorful of a plate – each color providing important protective vitamins and nutrients.
I recommend using fresh mozzarella and basil in my couscous salad, too.
Don't have Israeli couscous? Just use whatever couscous you have.
More awesome recipes from Holly Clegg
● Southwestern Sweet Potato Salad
● Ultimate Double Chocolate Brownies Recipe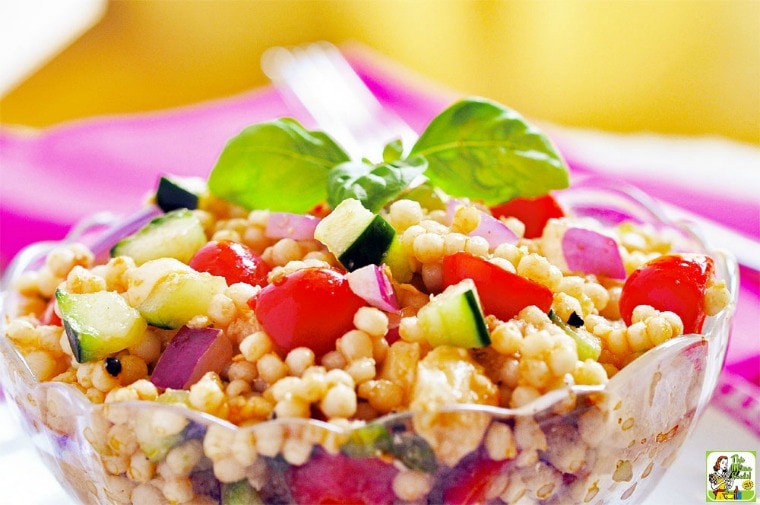 Bruschetta Couscous Salad Recipe
Ingredients
1 1/2 cups

Israeli couscous

1/2 cup

chopped red onion

2 cups

cherry or grape tomato halves

1 cup

chopped cucumber

1 cup

small mozzarella balls or pieces (fresh mozzarella is best)

1/3 cup

fresh basil leaves, torn into pieces or 2 tablespoons dried basil leaves

3 tablespoons

olive oil

2 tablespoons

grated Parmesan cheese, optional

2 tablespoons

balsamic vinegar

1 teaspoon

minced garlic

Salt and pepper to taste
Directions
Cook couscous according to package directions. Fluff with fork and cool.
In large bowl, combine couscous, red onion, tomatoes, cucumber, mozzarella and basil. In small bowl, whisk together remaining ingredients and toss with couscous mixture.
Servings
:
Makes 7 (1-cup) servings
Serving size:

1 cup

Calories:

267

Calories from Fat:

93 (35%)

Total Fat:

10g

Saturated fat:

3g

Unsaturated fat:

7g

Sodium:

43mg

Total Carbohydrates:

34g

Sugar:

4g

Fiber:

3g

Protein:

9g

Cholesterol:

14mg
Dietary Exchanges: 2 starch, 1 vegetable, 1/2 lean meat, 1 fat
Picture and recipe used with permission of author.
Originally published on May 1, 2015.