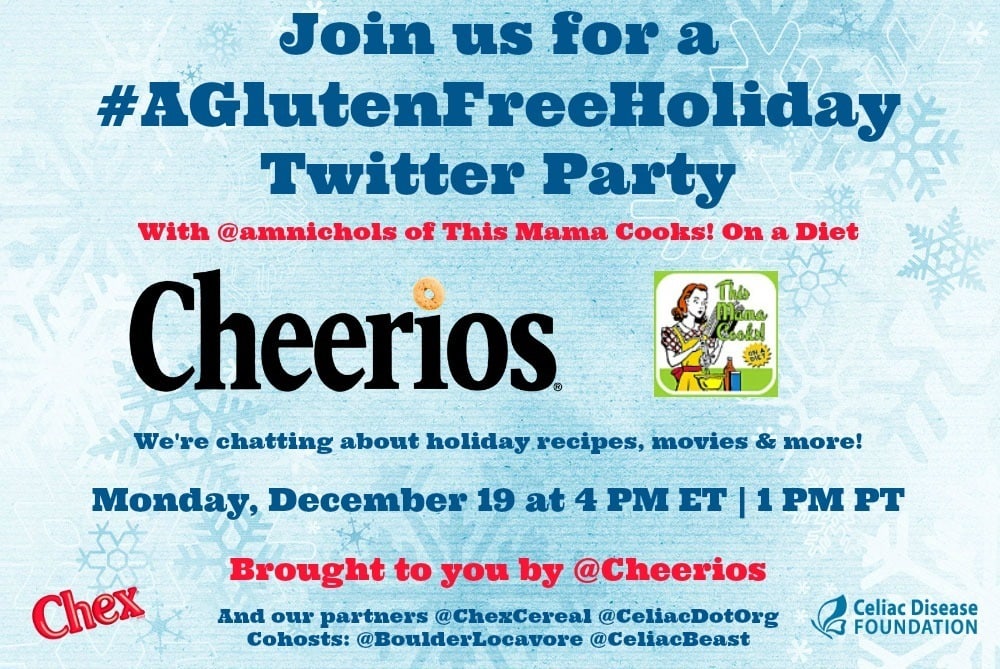 The holidays can be tough if you're gluten free. There's the office holiday party. Eating dinner at your not-so-understanding in-law's house. Trying to find food you can eat at the airport without getting a tummy ache. And searching for something to feed your gluten free kid while on a road trip that isn't ice cream!
That's why I'm hosting the #AGlutenFreeHoliday Twitter Party on Monday, December 19th with the folks at Cheerios. (Did you know seven of their flavors are gluten free?!)
The Celiac Disease Foundation is joining us to share tips on how to be gluten free during the holidays. We'll be discussing strategies on how to handle travel and holiday parties, favorite holiday recipes, and those relatives who just don't understand that being gluten free isn't a fad diet.
The holidays should be about having fun and sharing good times with your family, right?!
The #AGlutenFreeHoliday Twitter Party details
Join me and my cohosts, Toni at Boulder Locavore and Erica at Celiac and the Beast at the #aGlutenFreeHoliday Twitter Party on Monday, December 19th at 4 PM ET | 3 PM CT | 2 PM MT | 1 PM PT. We may be giving away some fun gluten free goodie packs, too! 
Date: Monday, December 19, 2016
Time: 4 PM ET | 3 PM CT | 2 PM MT | 1 PM PT
Follow: Everyone below so you don't miss out on the fun!
RSVP: Comment below to tell me you're coming and what holiday song you can't stop listening to! Mine is Springsteen and the E Street Band singing "Santa Claus Is Comin' To Town."