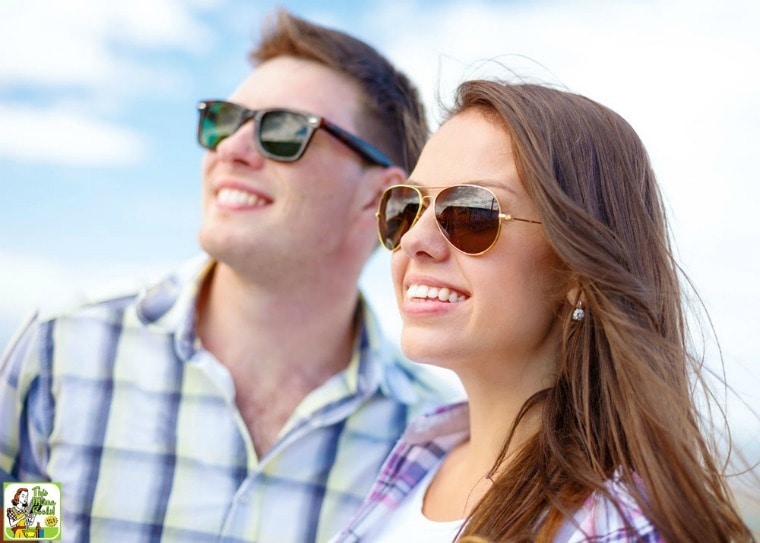 If your child needs prescription glasses, you probably forgo getting them prescription sunglasses due to the cost. However, all kids' eyes need UV protection from the sun to prevent cataracts, macular degeneration, and pterygium (a sometimes painful growth on the eyeball caused by sunlight).
Older kids – especially teens – need quality UV eye protection in a sunglass (prescription or not) for several reasons such as:
Participation in outdoor sports
Not only does your child need to see where the ball or goal is, prescription sunglasses will prevent squinting and watery eyes when looking into the bright sunlight.
If they spend time in the snow skiing, snow shoeing, hunting – or just throwing snowballs – sunglasses are a must because of the reflective nature of the snow. Same goes with watersports like fishing, boating, and waterskiing.
If your child plays a rough and tumble sport, you may want to look into polycarbonate lenses, which offer even safer eye protection.
Involvement in other outside activities
Activities like marching band, bike riding, walking the dog, and doing outside chores also expose your child's eyes to dangerous UV rays.
To remind them to put on their sunglasses, keep their sunglass case by the door, in their backpack, or by the dog's leash.
Driving
Now that your teen is driving, prescription sunglasses are especially important since bright sunlight can interfere with the ability to see the road and other drivers.
Then there's the matter of night vision. Did you know that spending just a couple of hours in bright sunlight can hamper the eyes' ability to adapt quickly to nighttime light levels? This can make driving at night after spending a day in the sun more hazardous.
If your teen rides a motorcycle, eye protection isn't just a safety issue, it's the law.
Health concerns
Does your child suffer from migraines or bad headaches? Bright sunlight can be a trigger, so wearing sunglasses can help reduce both the frequency and intensity of their headaches.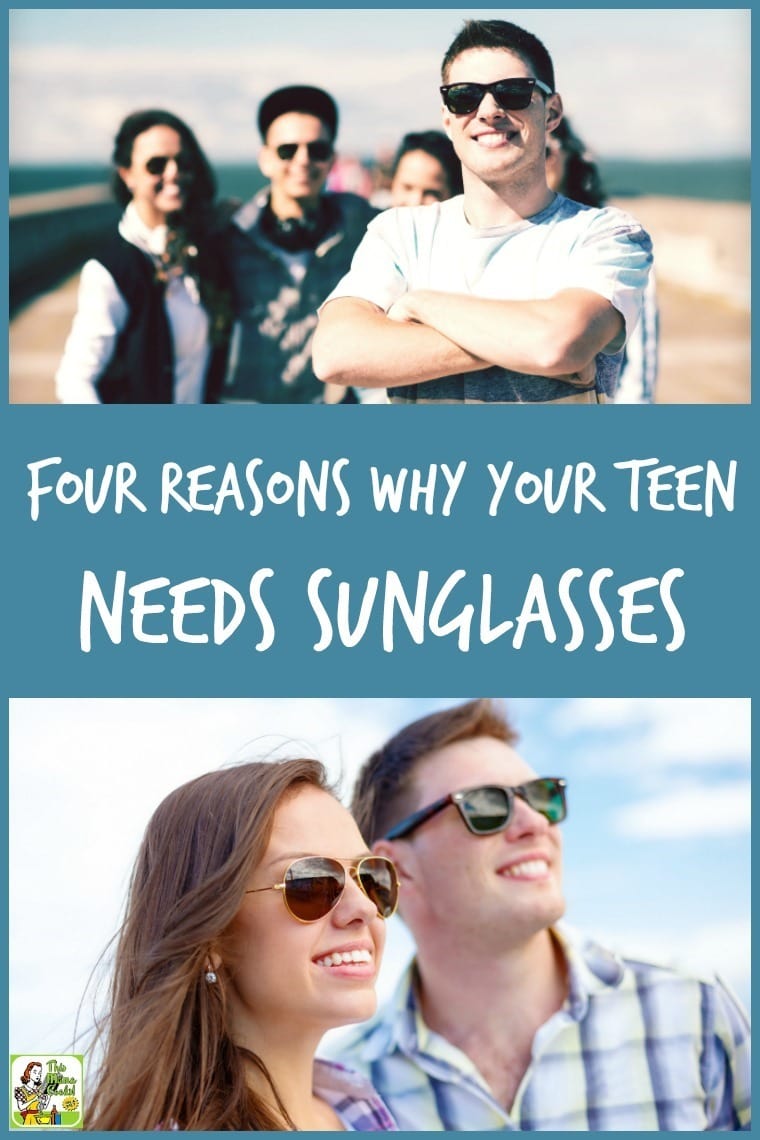 Why you should shop Glasses.com for sunglasses
Now that my teenage son is driving and participating in outdoor school activities like marching band and golf, I wanted to get him a pair of quality sunglasses through Glasses.com. (He only needs his prescription glasses for reading, so I opted to get him a non-prescription pair.)
After doing some research, I wanted sunglasses that:
blocked at least 99% of both UV-A and UV-B radiation
screened out 75% to 90% of visible light
That's why I choose Ray-Ban New Wayfarer's for him. He likes the retro cool of the Wayfarer look. I like that they come in a polarized lens, which reduces glare and reflections and provides clarity and a truer perception of colors.
I also love the quality of the Ray-Ban brand. I wear prescription Ray-Bans sunglasses. Indeed, my husband and I have worn Ray-Ban sunglasses since college.
Ordering was super easy. I also loved that I didn't have drive across town, but could shop online in the evenings when my son and I are both home. With afterschool activities and his job, it's nearly impossible to find time during the day to shop at an eyeglass store.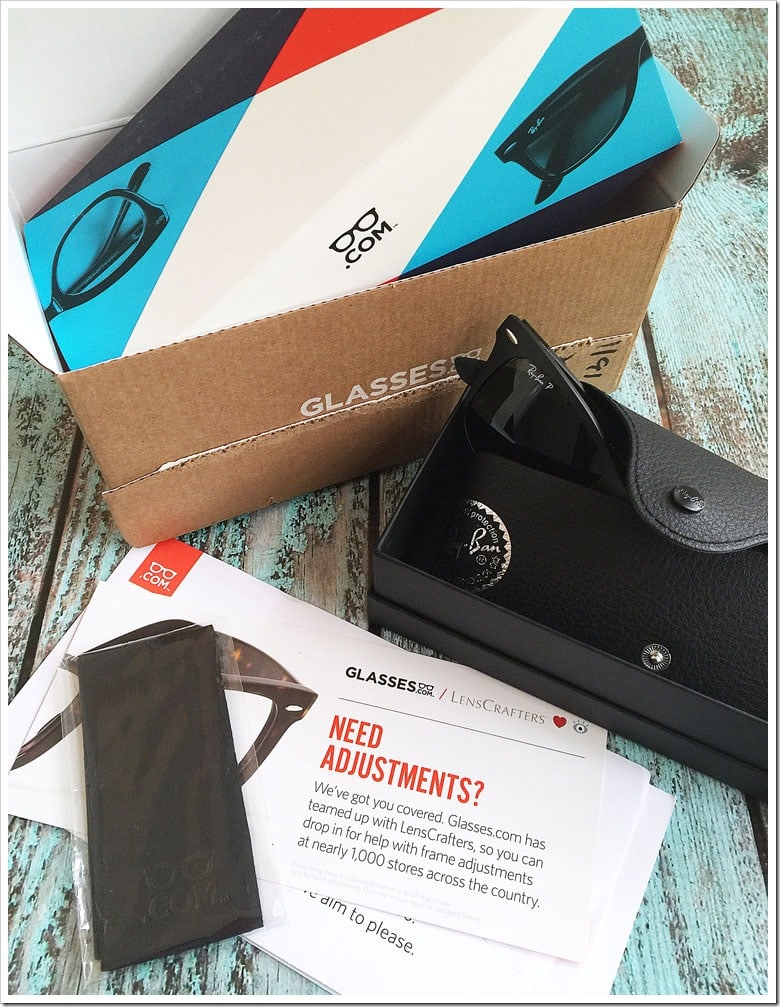 My order was quickly confirmed and I got a notice when they shipped. When I got the sunglasses, I was impressed with the shipping packaging. The outer box had an pull tab for easy opening. The glasses were protected in a colorful outer box (nice if you're giving them as a present) as well as the Ray-Ban box. I also got an eyeglass case and two eyeglass cleaning cloths (one from Glasses.com and another from Ray-Ban).
Also, I got a card telling me that any frame adjustments can be made at Lenscrafters – perfect since we already get our eye exams there.
The future is brighter with Glasses.com and OneSight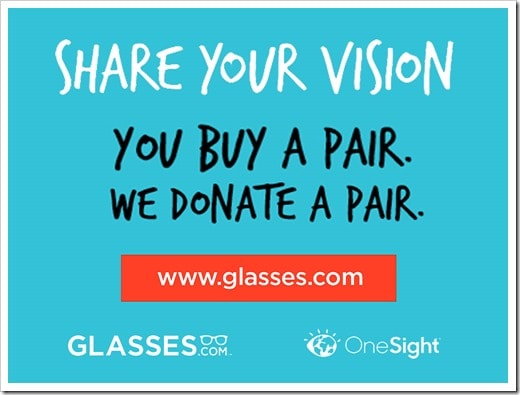 Have you heard about the Share Your Sight program? For every prescription eyewear purchase from Glasses.com, a pair of glasses is given to a person in need. So not only are you buying terrific glasses at a great price at your convenience online, but you're helping others when you shop. That's a win-win for sure!
Over 1.1 billion people worldwide lack access to an eye exam or a pair of glasses. That's why Glasses.com's is partnering with OneSight, an independent nonprofit committed to eradicating the global vision care crisis.
Beyond donating glasses, Glasses.com is committed to helping OneSight provide ongoing vision care access to those in need around the world. Frames from Glasses.com are shipped to local and global OneSight vision clinics where volunteer opticians at the clinics give patients free eye exams. If a pair of prescription eyeglasses are needed, volunteers help patients select frames. The same day, frames are fitted and prescription lenses are made. Every patient walks out with a new pair of glasses – and a brighter future!
Since 1988, OneSight Vision Clinics have served 9 million people in 41 countries and 49 states. With the help of dedicated partners like Glasses.com, there are eight sustainable Vision Centers operating today, providing permanent access to vision care to over 2 million people. In the next five years, that number will grow to over 20 million.