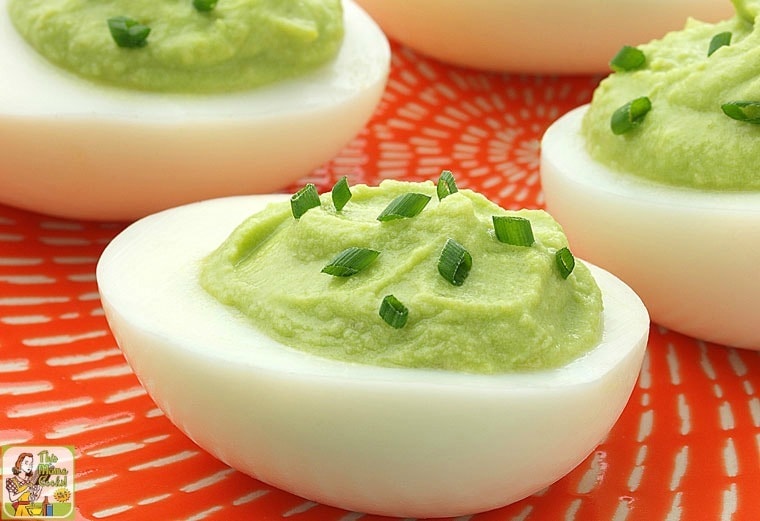 Are you looking for a green party food recipe for St. Patrick's Day, especially one that's healthy and naturally gluten free? Well, this Healthy Avocado Deviled Eggs recipe is perfect!
What you'll love about this avocado deviled egg recipe is how it takes a party classic – deviled eggs – and makes it healthier (and more delicious) by substituting avocado and plain yogurt for mayonnaise.
You can sprinkle the tops of your healthy deviled eggs recipe with chives or blend them in for a punchier green, too!
Healthy Avocado Deviled Eggs - not just a St. Patrick's Day party appetizer!
Healthy deviled eggs using avocados can be served on many occasions.
Are your kids reading Green Eggs and Ham
at school or attending a Dr. Seuss party? Serve up a platter of Healthy Avocado Deviled Eggs as a healthy snack!
Make avocado deviled eggs with no mayo as a game day appetizer, during the Christmas holidays, or any time you're invited to bring a dish to a party.
(Get an egg keeper if you bring deviled eggs to parties. It makes transporting deviled or stuffed egg appetizers so much easier!)
Healthy Avocado Deviled Eggs should be made just before serving. If you make this party appetizer too much ahead of time, the avocado will start turning dark green to an almost black, even if you add a little bit of lemon or lime juice.
However, maybe a blackened avocado green deviled egg will be the version of these deviled eggs you'll served for Halloween – sort of a Walking Dead zombie or Frankenstein version!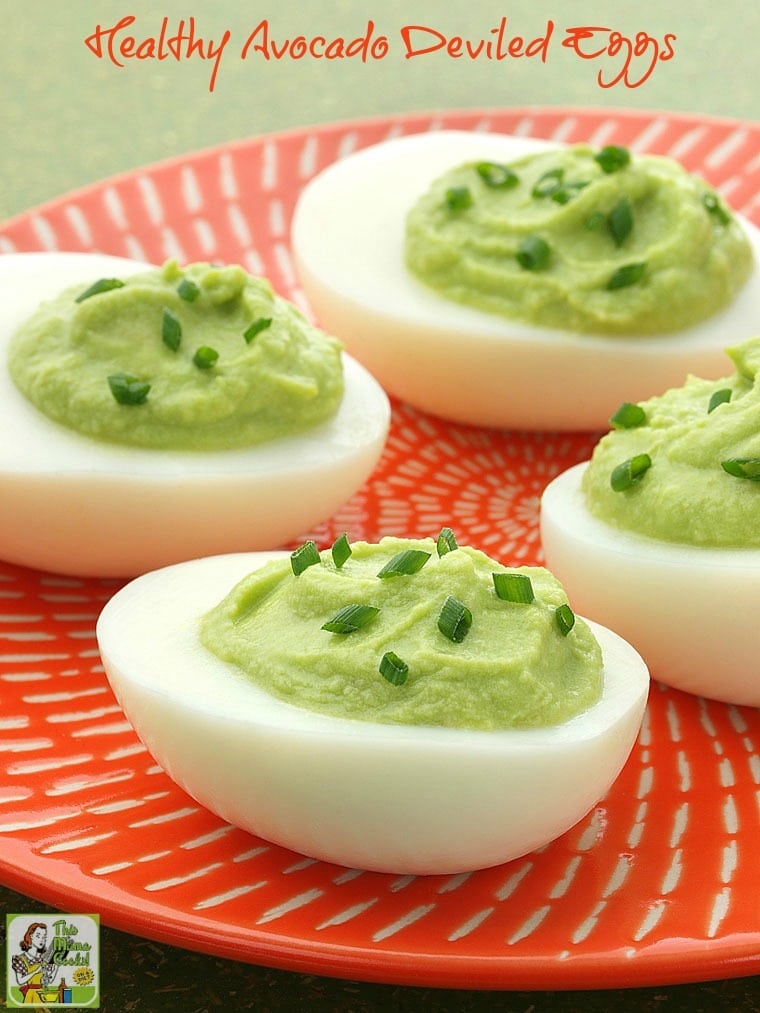 Why are they called deviled eggs?
When I was doing research for a couple of other deviled egg recipes here at This Mama Cooks! On a Diet, I learned the difference between deviled and stuffed eggs.
Deviled refers to any stuffed egg recipe that uses mustard, pepper, or any other ingredient to spice up the ingredients that are stuffed into the yolk cavity.
So if your egg recipe isn't spicy, it's just a stuffed egg that's on your egg tray.
Like this deviled egg recipe? Then check out these easy deviled eggs recipes that are healthy, too!
All these simple and healthy deviled egg recipes are perfect for picnics, potlucks, and retro Mad Men type parties!
The best way to make hard boiled eggs
Here's the best way to cook hard boil eggs for deviled eggs that I've found.
Carefully place eggs in a small sauce pan and fill with warm water.
Place pan on stove and bring water to a boil.
Cover and turn off heat.
Wait 10 minutes.
Remove from stovetop.
Remove lid and place in sink. Run cool water into pan until eggs are cool enough to handle.
Lightly tap egg to break shell to remove it.
Do you have a go-to healthy recipe for St. Patrick's Day? Try Avocado Hummus!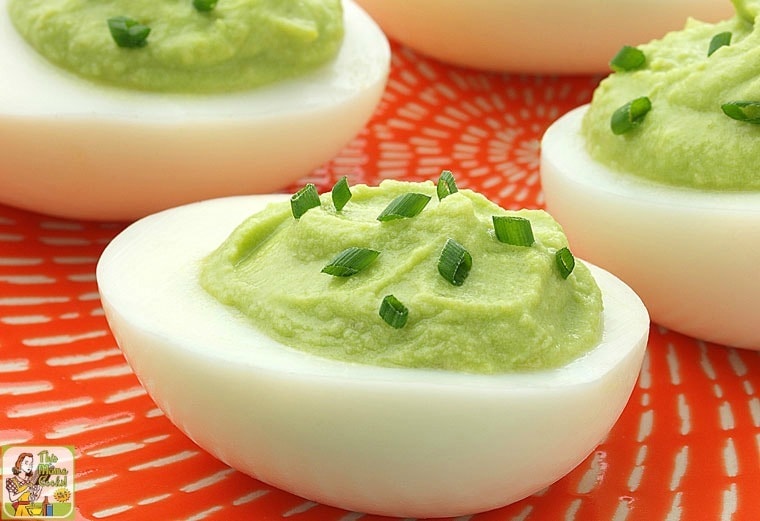 Healthy Avocado Deviled Eggs
Ingredients
6

hard-cooked eggs, peeled and cut lengthwise

1

fully ripened avocado, peeled, pitted and diced

1 tablespoon

plain low or no-fat yogurt

2 teaspoons

Dijon mustard

1 teaspoon

white vinegar

1/2 to 1 teaspoon

salt

1/2 teaspoon

ground black pepper

1 tablespoon

minced jalapeño

1 tablespoon

finely chopped onion

Chopped chives (optional)
Directions
In a small bowl, place egg yolks; add the avocado and mash until smooth.
Stir in yogurt, mustard, vinegar, salt and pepper, and mix thoroughly.
Stir in jalapeño and onion, then spoon into egg white shells, dividing equally.
Arrange on a serving plate. Cover lightly with plastic wrap and refrigerate for up to 3 hours. (Don't serve long after 3 hours as the avocado will start to darken.)
Garnish with chives, if desired.
Servings
:
12 deviled eggs
Serving size:

1 deviled egg
Recipe and photograph courtesy of Avocados from Mexico and used with permission.
Originally published on March 8, 2013. Updated with new pictures.