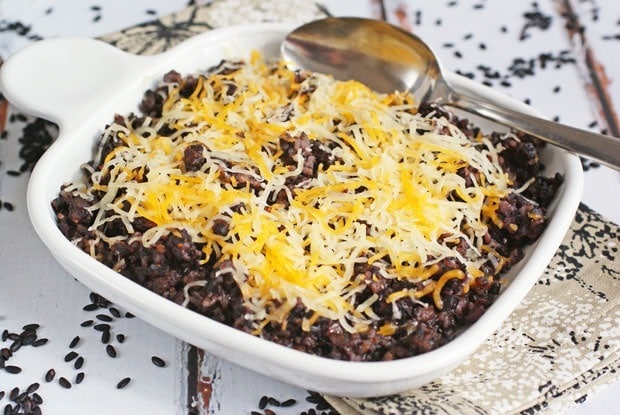 There's a story behind this Easy One Pot Black Rice and Chorizo Casserole recipe. When my sister and I had moved out of the house and were in college, my mom used to take a lot trips by herself. My father never liked to travel that much, so my mom booked seniors bus tours. Being French, she had seen Europe and now wanted to travel around the United States.
One of those trips was to Utah, where she had brought back a copy of a cookbook called Mormon Cooking: Authentic Recipes
[affiliate code] for me. It was filled with good old American recipes like meatloaf and peach cobbler, which were dishes I wasn't brought up on. Having a French mother who was enamored of Julia Child and Gourmet magazine meant I ate beef bourguignon, not hamburger casserole at home. When my mom tried to cook up American dishes like meatloaf, it was often a disaster.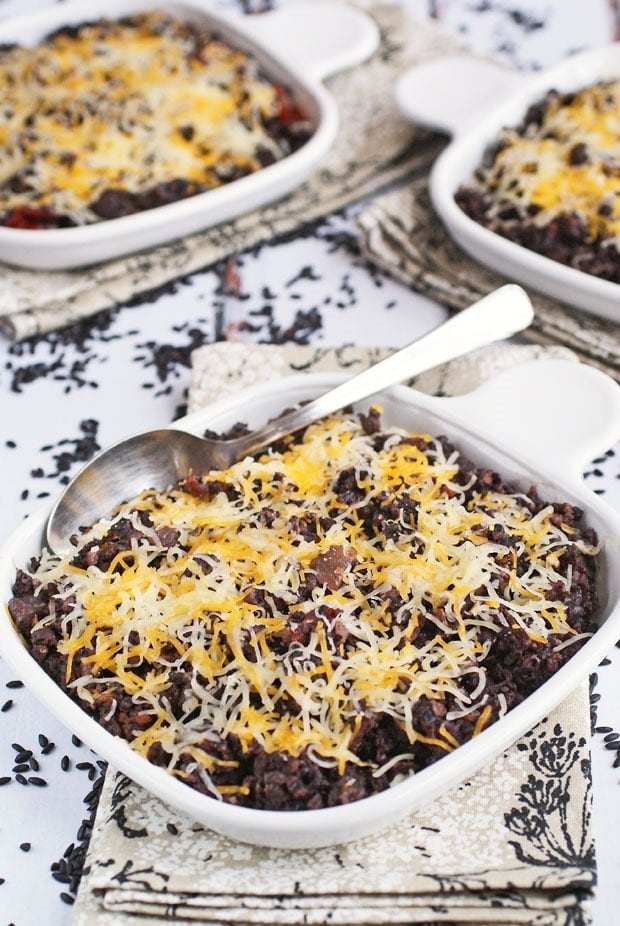 Well, I took Mormon Cooking: Authentic Recipes to heart and started cooking recipes from it for my then boyfriend and now husband. It really taught me how to cook American food, like casseroles. One of our favorites was a dish called, Delicious Beef and Rice. Over the years I've changed this recipe to make it healthier by adding vegetables and to fit in more with what I had in the pantry. (It originally calls for you to place green olive slices on top before serving, a very 1950s Better Homes & Gardens touch!)
Funny how crappy little cookbook that's filled with very ordinary recipes can be so influential!
Coming up with Easy One Pot Black Rice and Chorizo Casserole
This time around I decided to try using chorizo and black rice in my version of Delicious Beef and Rice. In the freezer, I still had some left over chorizo that I made from scratch a few months ago. I always have pepper stir fry in the freezer (great for making fajitas or for taco night!) And there was a bag of black rice that I bought at Costco sitting in the pantry that I couldn't figure out what to do with. I always have grated cheese, tomato sauce, and diced tomatoes in the pantry, so Easy One Pot Black Rice and Chorizo Casserole was born.
The shredded cheese is optional – use as much or as little as you like. The casserole is pretty creamy on its own, but kids like Black Rice and Chorizo Casserole better with a little bit of shredded cheese on top. Finally, if you don't have black rice, feel free to use white rice.
Love rice dishes? Wild Mushroom Risotto makes a great side dish.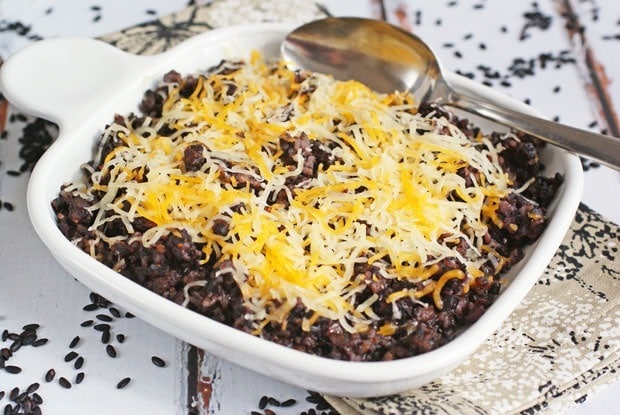 Easy One Pot Black Rice and Chorizo Casserole
Ingredients
1 pound

lean ground beef

1 pound

chorizo – loose or removed from sausage casings

1 cup

chopped onion

1 (14 ounce) bag

pepper stir fry (frozen or thawed)

2 cups

uncooked black rice

1 (15 ounce) can

tomato sauce

1 (14.5 ounce) can

fire roasted diced tomatoes

1 1/2 teaspoons

salt

1 1/2 teaspoons

smoked paprika

3 cups

boiling water

Grated Mexican style or cheddar cheese for serving (optional)
Directions
Heat oven to 300 degrees F.
Brown beef and chorizo with rice, pepper stir fry, and onion in a large Dutch oven or oven safe skillet with lid. Stir to break up ground meat and chorizo.
Add tomato sauce, diced tomatoes, salt, smoked paprika and boiling water. Stir to combine thoroughly.
Place Dutch oven or oven safe skillet, covered with a lid, in oven for 1 hour or until rice is cooked.
Serve with grated cheese, if desired.
Cook Time:
1 Hour 15 Minutes
Total Time:
1 Hour 30 Minutes
Serving size:

1/6 to 1/8 of recipe