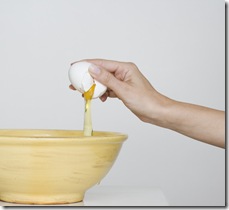 I have a bag of frozen spinach staring at me every time I open the freezer, so I wanted to try some in a frittata.
However, this recipe calls for fresh. I know frozen spinach can be soggy, so I'll make sure to defrost it first and dress out the excess moisture. Another idea would be to sauté the spinach and onions (don't have scallions on hand) to get rid of the excess water, and then add the egg mixture.
I'm keeping my fingers crossed that the kids like this recipe, because it would be a wonderful way to get them to eat more spinach.
Check out the Weight Watchers frittata dishes I made earlier this week:
Spinach and Cheddar Frittata
Servings:  4
Ingredients:
4 large eggs
2 large egg whites
1 cup spinach, fresh, baby leaves, chopped
2 tbsp scallions, finely chopped
1/4 tsp table salt
1/4 tsp black pepper
1 spray of cooking spray
1/2 cup shredded fat-free cheddar cheese
Instructions
Preheat oven to 400°F.
In a large bowl, beat together eggs and egg whites; stir in spinach, scallion, salt and pepper.
Coat a 12-inch ovenproof nonstick skillet with cooking spray; heat skillet over medium heat. Pour egg mixture into skillet and cook until partially set, about 5 minutes.
Sprinkle cheese over eggs. Place skillet in oven and bake until cheese softens and eggs firm up, about 5 minutes. Remove from oven and let stand 1 minute before cutting into 8 wedges. Yields 2 wedges per serving.
Weight Watchers POINTS per serving = 3
Update
The kids are "frittata'd out" so only my husband and I had the dish. Not bad, but nowhere as good as the Potato and Pepper Frittata from last night. Still, it was very easy to make and using frozen spinach wasn't an issue.
This was a much smaller serving of frittata than some of the other Weight Watchers frittata dishes I made earlier this week, so make sure to combine it with salad, soup or a side veggie.