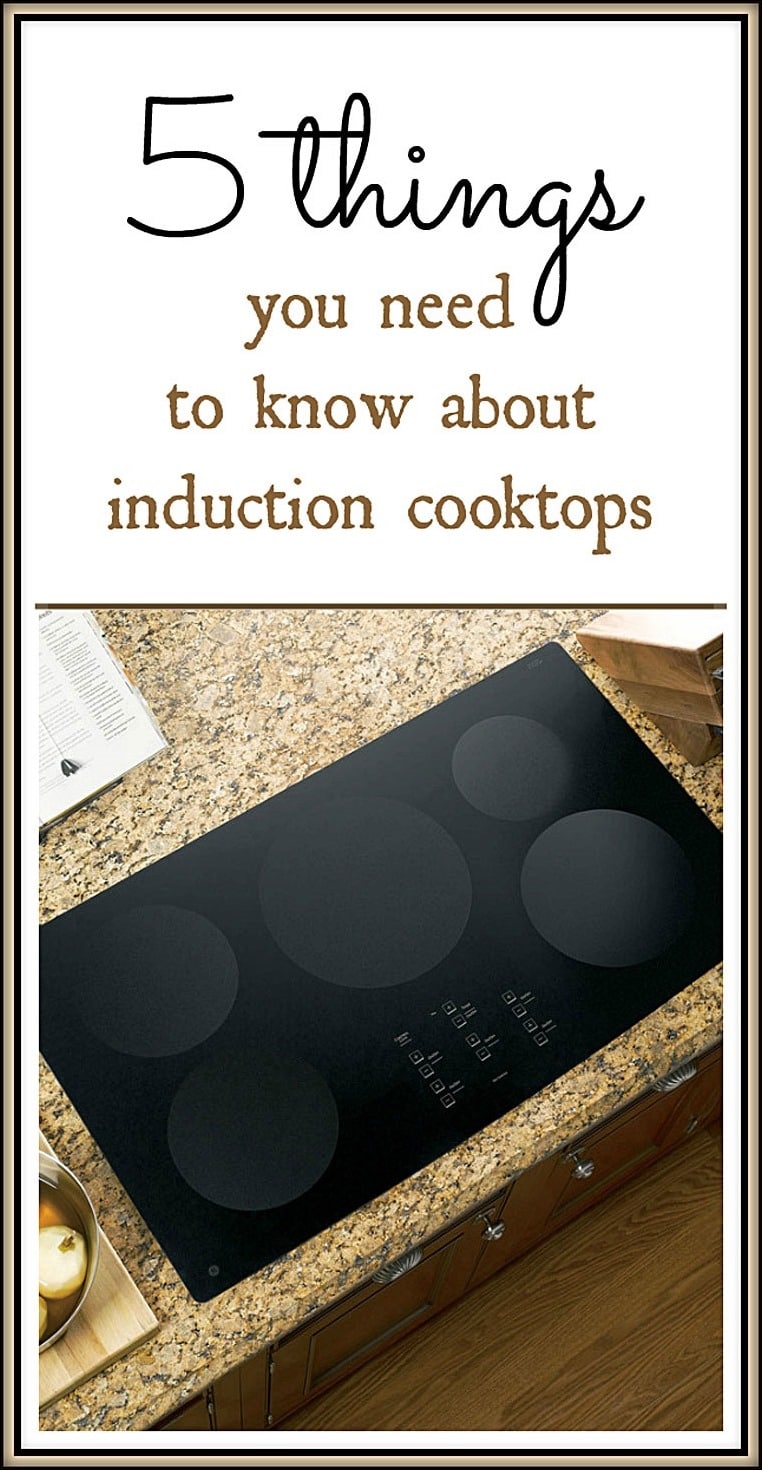 We're slowly remodeling our kitchen. So far, we've installed granite countertops, a stainless steel sink and faucet, and drawer pulls. We're leaving the ovens and cabinets as is and will soon be redoing the backsplash tile. Best of all, we finally replaced the 20-year-old cooktop with a GE PHP960DMBB Profile 36" Black Electric Induction Cooktop.
I did a great deal of research into induction cooktops and made sure I wanted to go with one rather than gas or a ceramic electric cooktop. I knew induction was the newest technology and I never liked cooking with gas. (Shocking, I know.) However, besides all the positives there are some tips, tricks and nuances to induction stove tops that you may not be aware of without doing the research such as:
1. Cost. Induction cooktops are expensive. While the cost has gone down considerably since the days when they technology was new, they can be much pricier compared to gas or electric cooktops. Even the prices between models vary quite a bit. I hemmed and hawed between a Bosch and the GE model I eventually got. Both models were highly rated, and I knew that Bosch was a highly desirable brand and I owned a Bosch dishwasher. At the time I was looking, there was a $600 difference, so I decided to go with the GE cooktop instead because of price and lack of buyer reviews.
When deciding what model you'll end up with, besides cost, brand, and user reviews, look at number of burners, and other design features. Since I wanted five burners and a larger cooktop, that helped eliminate quite a few models for me right away. But it also meant I was looking at higher priced models. Also, I thought getting the GE model stove top with the chrome ring around it wasn't worth the extra money and would be a pain to keep the cooktop clean.
2. Installation. You will need to have your induction cooktop professionally installed. If you are replacing an electric stove top, it's not just a matter of hooking it up to the old power source either. An electrician will need to run a 50 amp breaker with a #6 gauge Romex line (#8 minimum). It's all in the installation book if there are any questions, so make sure to factor that into your budget.
3. New pots and pans. Another item to consider in your budget is that you may need to get new pots and pans since induction stove tops rely on an electromagnet to heat iron or steel cookware. The best way to determine if your current cookware will work with an induction cooktop is to test it with a magnet – a refrigerator magnet will do. If it sticks to the pot or pan, you can use it on your induction cooktop. Anything else will need to go to Goodwill, though you may want to save lids and steamer inserts to use with any new pots or pans you purchase.
I've been lucky that my extensive Le Creuset cookware, since it's enameled cast iron, works perfectly on my induction cooktop as does my Lodge cast iron. I did have to replace all my non-stick sauté pans and found a couple of wonderful ones by KitchenAid and a Calphalon spaghetti pot. All my old pots and pans are going in the camper, and the ones in the camper will be donated.
4. Care and cleaning. The biggest reason I didn't want to purchase a gas cooktop, much to my husband's amazement, is because gas burners are a pain to clean. On boil over and you have to completely take the stove top apart to clean it up.  I loved having a electric ceramic cooktop previously, and felt that an induction cooktop would be as easy to clean. Well, I've found that it's even easier! As soon as the stove top has cooled down, if it's only a little dirty, I can clean up any spills with a wet sponge or papertowel. For bigger spills or dried on messes, I use a ceramic cooktop cleaner. GE induction cooktops come with a little bottle of Cerama Bryte, but I also like Weiman Glass Cook Top Heavy Duty Cleaner and Polish. Amazon carries Bar Keepers Friend Cooktop Cleaner at a really good price, so I'm going to check that out soon, too.
I just squeeze a little of the stove top cleaner, spread it around with a paper towel (not a scrubbing sponge!) and then wipe it off with a clean paper towel. Very easy and you have a new looking, sparkling cooktop every time.
The one other thing you need to be careful about is not scratching your induction cooktop. Try not to slide your cookware, but pick it up and place it on top of the burners. Everything slides a little and the stove top isn't made of cheese, but try to treat it as nicely as possible. I've even demonstrated this to my kids. And don't drop anything on your induction cooktop. It's strong, but it's not metal!
5. Heats things quickly. Speaking of teaching the kids how to use your induction cooktop, there is a learning curve on how to cook on an induction stove top. I found that a large spaghetti pot of water takes only five minutes to come to a boil and a smaller pan only a minute or two, so don't walk away! You may have been used to cooking things on very high temperatures and now find that you're having a lot of boil overs or burning your food. Except for bringing water to a boil at H (or 10 depending on the induction cooktop you buy) try cooking on medium temperatures until you get used to what your induction stove top can do for you.
The beauty of induction cooktops is that if you find that you need to get something hotter quicker, it's easy to do very quickly – just dial up the induction stove top a bit. (My induction cooktop has half settings – 5, 5 1/2, 6, 6 1/2, and so on.) If what you're cooking needs to come down quickly, take it off the burner for a second to get rid of some heat, dial down the burner, and continue cooking. You'll get used to it soon enough.
UPDATE: As of October 2015, I'm still extremely happy with my GE Profile 36" Induction Cooktop. There's nothing about it I'm unhappy with. It's got the perfect amount of burners and it cooks things quickly and evenly. It cleans up well and after a year's plus of use, it still looks brand new.