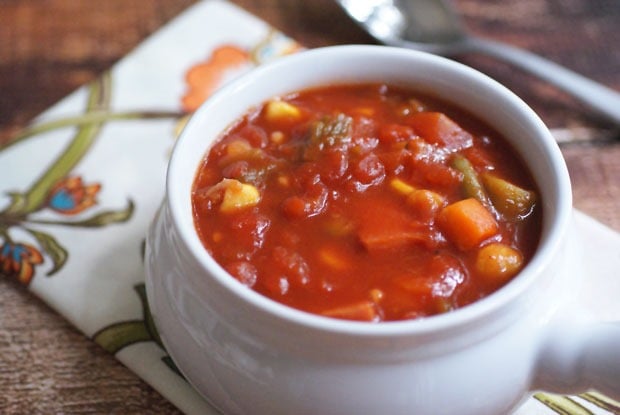 I've been hearing from friends on Facebook about being stranded at home due to ice storms and crazy winter weather. Having lived many years in Colorado, Illinois and New Jersey, I've known to keep a pantry stocked full of canned goods just in case the roads are too snow packed to get to the store. But there are other times we need to rely on canned goods. For example, camping trips since canned goods travel well and don't need refrigeration. Then there are times when you're too busy or not feeling well enough to go to the store, and want to make a warm, healthy and delicious soup for you and your family.
With all that in mind, I've created a recipe using some of my favorite canned goods from Red Gold Petite Diced Tomatoes with Green Chiles to two a new favorite I discovered after moving to the South, Glory Foods Tomatoes, Okra and Corn. This is perfect to get going in the morning just after breakfast. Open all the cans, dice up the SPAM, dump them in the slow cooker, cover and turn it on. Come dinner time you have a hearty, healthy soup waiting for you. You can make this on a gas stove top or even a grill top if the electricity is out during a snow storm, too!
The beauty of a well-stocked "cantry"
I find that having a well-stocked "cantry" helps me put more home-cooked meals on the table since I rely on canned tomatoes, tomato sauce, beans, and a variety of vegetables as the basis of so many of my recipes. I feel good about using canned vegetables and beans since the canning process locks in foods' freshness, flavor and nutrients at the peak of ripeness right after picking. Also, according to a University of California, Davis study, many canned fruits and vegetables have the same nutrients as their fresh or frozen counterparts.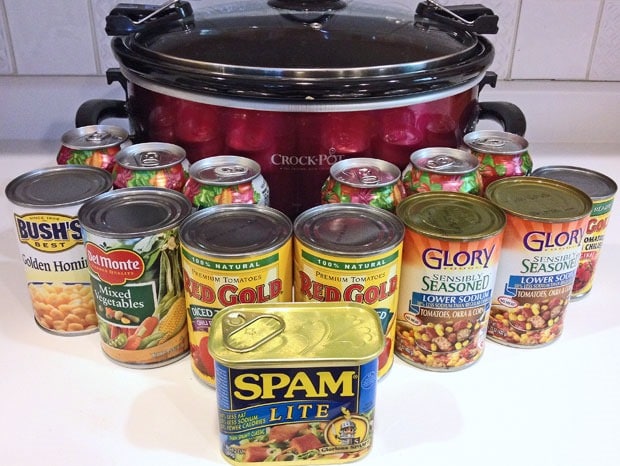 I also want to give a special shout out to SPAM. After going to Hawaii last year, I fell in love with SPAM masubi. It's the Hawaiian version of a quick snack food that you can buy at gas station convenience stores, golf courses, and even the snack bar at the beach. It consists of a slice of grilled SPAM on top of a block of sushi rice, which is then wrapped in nori dried seaweed. So good – really! Ever since then we always have a few cans of SPAM lite in the house to add to eggs, ramen, stir fry, or even  gluten free noodles. If it's too weird for you, feel free to leave it out.
For more ideas on how "Cans Can Get You Cooking!" check out their Facebook, YouTube and Pinterest pages.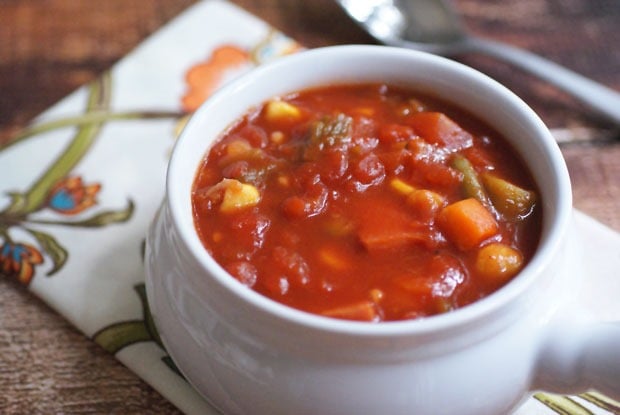 Slow Cooker Vegetable & SPAM Soup
Ingredients
8 (11.5 ounce) cans

V8 (low sodium)

1 (14.5 ounce) can

Red Gold Petite Diced Tomatoes

1 (10 ounce) can

Red Gold Diced Tomatoes & Green Chilies

1 (14.5 ounce) can

Red Gold Diced Tomatoes Chili Ready with Onions

2 (15.25 ounce) cans

Glory Goods Sensibly Seasoned Lower Sodium Tomatoes, Okra and Corn, drained

1 (14.5 ounce) can

Del Monte Mixed Vegetables, drained

1 (12 ounce) can

Spam Lite, cut into 1 inch pieces

3 teaspoons

chipotle hot sauce

3 teaspoons

smoked paprika

2 teaspoons

salt

shredded cheese for serving

tortilla chips for serving
Directions
Combine all ingredients except cheese and chips in slow cooker. Cook on low for 6 to 8 hours until heated through.
Served with a sprinkle of shredded cheese on top and some tortilla chips on the side. Or break up the chips, and throw them right into the soup, then top with some cheese. Enjoy!
Serving size:

2 large bowls
Disclosure: As a "Cans Get You Cooking" Ambassador, I was compensated for my participation in this campaign. I am also part of the Mom It Forward Blogger Network.