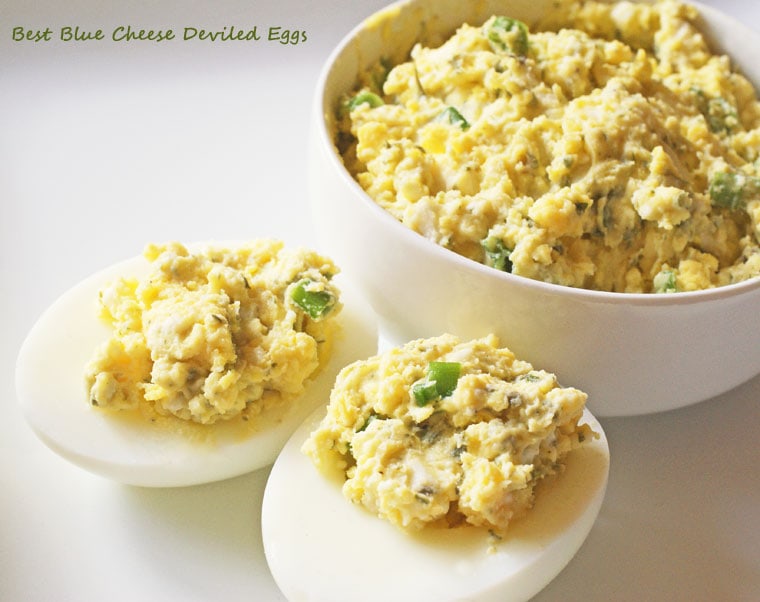 In my Planning a party? Cook up some Feta Crumble Dip post, I showed you how to use cheese in a healthy way to flavor a dish instead of making it your main course.
Here's another way to use cheese as way to flavor a dish - my Best Blue Cheese Deviled Eggs! My 10-year-old son, Nathan, said these were pretty good. He's our resident deviled egg expert and loves his deviled eggs super spicy!
However, for most kids Best Blue Cheese Deviled Eggs are more of an adult indulgence due to the strong blue cheese and Tabasco flavors.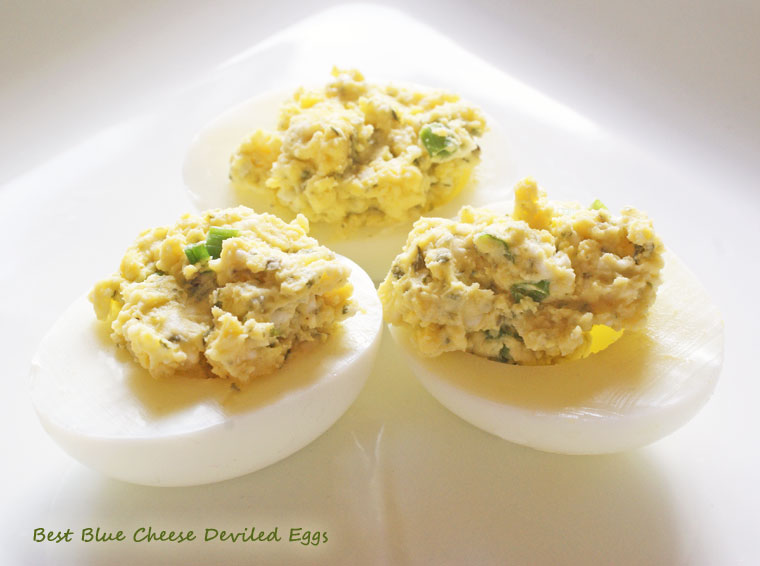 If you love deviled eggs you can try my Sriracha Roasted Red Pepper Deviled Eggs, Wasabi Deviled Eggs or Avocado Deviled Eggs, too!
Best Blue Cheese Deviled Eggs or any of these other kinds of deviled eggs are perfect to serve at your next retro Mad Men party or after Easter when you're wondering what to do with all those leftover hard boiled eggs.
This Mama's hard boiling egg tips
Everyone likes to hard boil their eggs in a different way. I prefer the following method:
Carefully place eggs in a small sauce pan and fill with warm water.
Place pan on stove and bring water to a boil.
Cover and turn off heat.
Wait 10 minutes.
Remove from stove top.
Remove lid and place in sink. Run cool water into pan until eggs are cool enough to handle.
Lightly tap egg to break shell to remove it.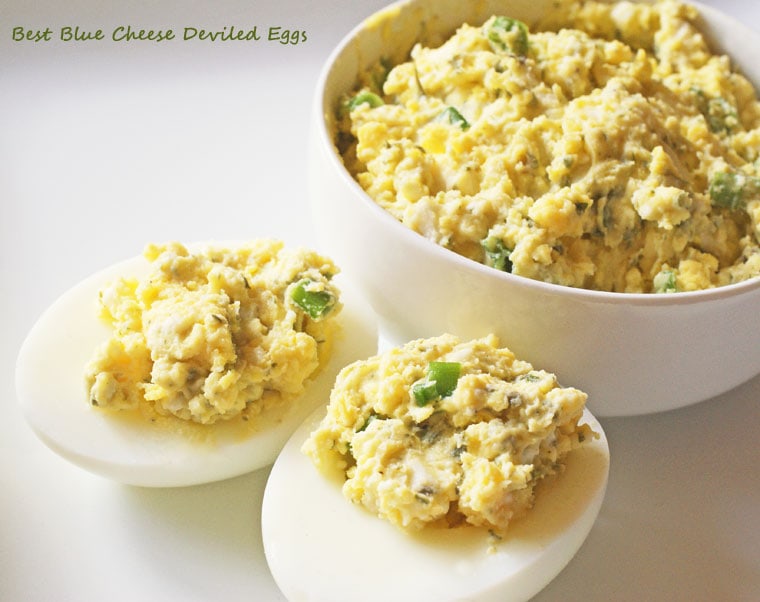 Ingredients
6

hard boiled eggs, peeled

1/4 cup

blue cheese, crumbled – try a Blue Stilton or a Maytag Blue

2 tablespoons

low fat mayonnaise

1 tablespoon

fresh parsley

5

drops Tabasco

1 tablespoon

minced green onion

Salt and pepper to taste

1 teaspoon

smoked paprika
Directions
Cut peeled eggs in half length wise.
Place yolks in a mixing bowl, set the whites aside.
Mash the yolks with the back of a fork and add blue cheese, mayonnaise, parsley, Tabasco, green onion, salt and pepper. Mix well.
Spoon or pipe the filling back into egg white and sprinkle tops with paprika.
Cover and refrigerate at least one hour before serving.
Servings
:
Makes 12 servings
Serving size:

1 whole egg

Calories:

51

Calories from Fat:

35

Total Fat:

3.9g

Saturated fat:

1.3g

Unsaturated fat:

2/6g

Sodium:

94mg

Total Carbohydrates:

0.6g

Protein:

3.4g

Cholesterol:

96mg