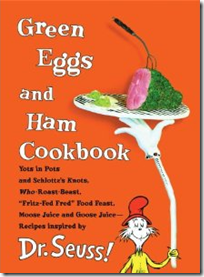 Here are some of the more whimsical and fun children's cookbooks that I've reviewed over the years. I hope the list can inspire your kids to cook with (or for) you.
If your family has a favorite kids' cookbook, please let us know by adding it to the comments section below!

Green Eggs and Ham Cookbook
Green Eggs and Ham Cookbook
is a Seuss-inspired children's cookbook. My daughter loves going through this cookbook and reading the recipes. We've even made green eggs and ham, which was a lot of fun.
Mermaid Cookbook
The spiral bound Mermaid Cookbook offers an abundance of fun recipes including Paradise Pineapple Fruit Dip, Sea Foam Floats, Treasure Island Trail Mix, Goldfish Gorp, Mermaid Hair Salad, Sea Turtle Cookies, Little Luau Cakes, Water Fairy Ice Pops, Rainbow Fish Fudge, and more. Includes salads, fruit dishes, and main courses as well as snacks and desserts. This would make a perfect guide for a mermaid inspired birthday party.
Paula Deen's My First Cookbook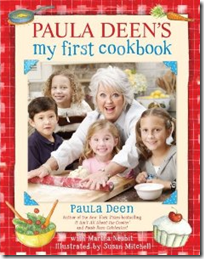 Paula Deen's My First Cookbook is printed on glossy paper that will stand up to sticky fingers, and spiral-bound with a thick cardboard cover. This cookbook is made to last, which is good because it will become a favorite in your kitchen.
It's organized differently than most beginners' cookbooks since the recipes come first and the "how to" sections follow. However, Paula sets the stage with the Safety First! and How to Measure sections that clearly explaining to kid how to be safe and how to properly measure different types of ingredients. The Glossary carefully goes over kitchen terms in easy-to-understand language, and doesn't assume that beginning cooks know what terms like "chop" or "knead" mean.
There are also sections on How to Set a Table, and Good Manners. With so many families eating dinner in the car nowadays, who knows where the knife and the fork are supposed to go?
Then there are the recipes. Paula Deen's My First Cookbook has the usual beginner's breakfast, lunch, snacks, and dinner recipes like Personal Pizzas and Frozen Bananas. However, the chapters on birthdays, cooking for your parents (love this), treats for the holidays, special drinks, and arts and crafts recipes are what make this children's cookbook stand out. It's like having several books in one.
Simply in Season Children's Cookbook
Simply in Season Children's Cookbook is an imaginative, active way to invite kids of all ages – especially 6 to 12 year olds – to get in touch with real food, to see where it comes from, to take responsibility for preparing it, and to have fun in the process.
My A to Z Recipe Box: An Alphabet of Recipes for Kids
My A to Z Recipe Box: An Alphabet of Recipes for Kids by Hilary Shevlin Karmilowicz has a recipe card for each letter. The set also comes with 26 fill-in cards to add your favorite recipes, and 50 stickers to rate the them. Each recipe has clear, simple steps that children can easily follow. They come with fun facts plus serving suggestions. While cooking up these tasty healthy dishes, children can practice skills like following directions and measuring while learning their letters. Kid tested, this recipe box is for ages four to eight.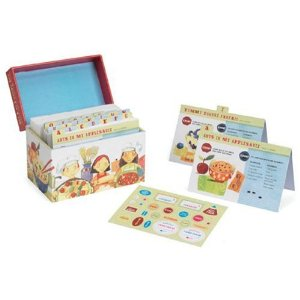 Lovely Lemon Hummus
Ingredients:
2 large garlic cloves
15-ounce can of chickpeas
1/2 cup nonfat yogurt
4 Tbsp. lemon juice
1 tsp. ground cumin
1/2 tsp. salt
6 pieces of whole wheat pita bread
Directions:
Please put on your apron and wash your hands. Preheat the oven to 350F.
Grind the garlic cloves in the food processor.*
Add the chickpeas and yogurt to the food processor bowl and blend until a smooth puree forms. Occasionally stop the food processor and scrape the sides of the bowl with the spatula.*
Use the spatula to scrape the hummus into the small bowl.
Stir in the lemon juice, cumin, and salt.
Cut each piece of pita bread into fourths.*
Service the bowl of hummus with the plate of pita wedges for dipping.
*An adult helper should handle this step.
The Star Wars Cookbook II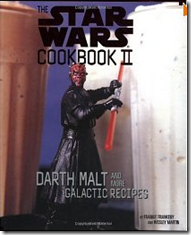 The Star Wars Cookbook II -Darth Malt and More Galactic Recipes would make a terrific present for the young Jedi in your family. This can be your guide book to fun food for a Star Wars themed party. I love the photography in the The Star Wars Cookbool II – pictures of Star Wars action figures and the food, including a Jedi stabbing a cookie and young Obi-Wan falling into a Darth Malt – funny, clever stuff. The recipe titles are good too – Padme Pad Thai, Amidala Challah, and a Forceful Frittata.
Mary Poppins in the Kitchen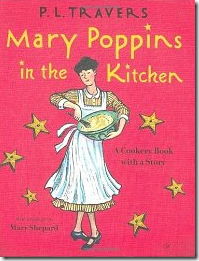 Mary Poppins in the Kitchen: A Cookery Book with a Story. Part storybook, part cookbook, Mary Poppins and the Banks children take over the kitchen for a week. With the help of familiar member of the Poppins cast, Mary Poppins teaches her young charges the basics of cooking, from A to Z.
The recipes are very British and should appeal to anyone who loves English pub food like Shepard's Pie or Irish Stew. There's also a delightful recipe for gingerbread stars.
Gingerbread Stars
Ingredients:
3/4 cup all-purpose flour
1/2 tsp. baking soda
1/2 tsp. mixed spices – nutmeg, cloves and cinnamon
1 tsp. powdered ginger
1/4 cup seedless raisins
1/4 cup or 4 Tbsp. butter
1/2 cup, packed full, dark brown sugar
2 Tbsp. dark molasses (dark treacle)
1 egg, well beaten
Also needed:
A baking sheet lightly buttered and dusted with flour
2 6-inch star shapes, buttered and floured or 1 8-inch sandwich cake pan
Says Mary Poppins "If you don't have star-shaped tins, use a round one, eight inches in diameter, and then you will have 'full moon'."
Directions:
Heat the over to 350 degrees F.
Sift into a mixing bowl the flour, soda, spices, and ginger. Stir in the raisins.
Melt the butter and sugar together in a small saucepan over low heat. Remove from the stove and allow to cool a little.
Add the molasses and then stir with the beaten egg into the spiced flour and mix well with a large wooden spoon.
Divide the batter equally between the two star shapes or fill the sandwich cake tin.
Bake the stars for 30 minutes and the cake tin for 40 minutes in the middle of the oven.
Turn out on a wire rack to cool.
Children at the Hearth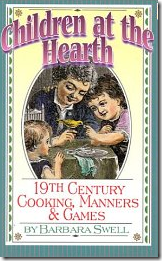 Children at the Hearth: 19th Century Cooking, Manners & Games is, as author Barbara Swell writes, "an invitation to learn about the lives of children past at the kitchen table of today."
Besides recipes, the cookbook is chock full of vintage photos and etchings, and factoids on the Stubborn Child Law, weird and disgusting goods, 19th century manners and chores, and even a West Virginia Ghost Story.
Children at the Hearth includes recipes for Hobo Mulligan Stew, Hard Tack, Fudge Snow Taffy, Cat Head Biscuits, and Strawberry Fruit Leather. Don't mind the exotic names – these are all recipes you can make at home with your children.
Healthy children's cookbooks