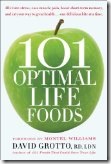 Today is the last day to win a signed copy of Dave Grotto's 101 Foods That Could Save Your Life. (Enter the giveaway here.) Dave's book is filled with fabulous recipes for all kinds of entrees, side dishes, beverages, and desserts. This breakfast recipe comes from the Washington Red Raspberry Commission.
Dave recommends raspberries if you are having problems with cold hands and feet, constipation, and fatigue. Yogurt is good for a variety of digestive issues like constipation, diarrhea, gas and bloating, halitosis, and IBS. Yogurt can also help with acne, depression, infertility and osteoporosis.
Raspberry Yogurt Muffins
Makes 1 dozen
Adding raspberry yogurt gives double the raspberry flavor and a wonderful texture to these easy muffins.  No need to thaw the raspberries – just toss them in right from the freezer. If you prefer giant muffins, use the jumbo muffin cups and make half a dozen.  And, if you wish, you can glaze the muffins with confectioners' sugar mixed with a little lemon juice.
Ingredients:
1 3/4 cups all-purpose flour
1/3 cup sugar
1 teaspoon baking powder
1/2 teaspoon baking soda
1/2 teaspoon salt
1 carton (6 ounces) raspberry yogurt
1/3 cup oil
1 egg
1 cup Washington raspberries
Directions:
Preheat oven to 400˚F. 
Spray, grease or put paper liners in 12 (2 ¾ inch) muffin cups. 
In a medium mixing bowl, stir together dry ingredients. 
In a small bowl, beat together yogurt, oil and egg. 
Stir yogurt mixture and raspberries into dry mixture until almost blended. 
Add raspberries and stir until batter is just blended.  Do not over mix. 
Spoon into prepared muffin cups. 
Bake until nicely browned, about 20 minutes.
Nutrition information per serving:
calories 160
fat 6.76g
saturated fat 0.82g
protein 3.2g
carbohydrates 22g
cholesterol 18mg
sodium 185mg
fiber 0.76g
Weight Watchers POINTS per muffin = 4
Tips:
Substitute whole wheat flour for half the all purpose flour to add more fiber and whole wheat goodness.
Add a tablespoon or two of ground flax seed for added omega-3s.
Substitute stevia powder for the sugar to reduce calories. When using pure stevia powder, 1 cup sugar = 1 teaspoon of stevia, so in this recipe, you would use 1/3 teaspoon of pure stevia.
If you are using Truvia instead of sugar, use this conversion chart - 1/3 cup sugar = 8 packets of Truvia.
To lower calories and fat, try a no fat raspberry yogurt. Another option would be using a no fat raspberry Greek yogurt, which would give the muffins a slight tart taste. Greek yogurt is higher in calories than yogurt, but it's also higher in protein.
Greek yogurt (plain or flavored) will also make a nice spread for the muffins and a lower fat alternative to butter.
For more raspberry recipes, go to the Washington Red Raspberries recipe website.
____________________
Disclosure: I was sent two review copies of 101 Optimal Life Foods by Dave's publisher and publicist. I'm giving away a copy and keeping one so I can share more recipes with my readers.
All links to BarnesandNobles.com are affiliate links. A commission may be earned from a referred sale to their website.