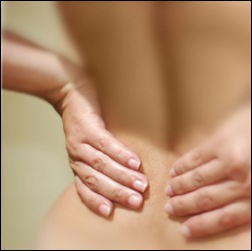 My inbox has been deluged with tips on how to make healthy New Year's resolutions or showing me how to pick three words for 2010. It just makes me want to cry.
Those plans to possibly pursue Couch to 5K (what me run?) or to try out Jillian Michaels Fitness Ultimatum 2010 for the Wii in 2010? Temporarily waylaid by an frickin' laundry basket
You see, last month I injured my lower back picking up that not-very-heavy laundry basket. According to one of my doctors this is a very common way to hurt yourself. (Laundry is an occupational hazard? Who knew?) The little ping I felt has turned out to be a bulging disc accompanied by extremely painful sciatica down my right leg.
I've been through so much that I want to share with you that I've turned it into two posts.
Where does it hurt?
I immediately saw my general practitioner. (Well, he was out that day, so I saw his partner instead.) Dr. F. prescribed a mild anti-inflammatory, a mild muscle relaxant and an x-ray. When the pain got worse, I saw my regular doctor, Dr. T., who prescribed stronger meds including a pain killer.
The pain, which felt like someone had plunged this meat tenderizer knife
into the side of my thigh, was horrible. It got so bad that I would sit on the edge of the bed rocking back and forth, trying not to cry. My preferred position was lying on my left side in bed, though walking and climbing stairs felt good.
Trying to work was challenging since I couldn't sit at the computer for more than a few minutes at a time. And forget about wearing anything tight or heavy like jeans – ouch! I immediately stocked up on loose fitting yoga pants.
After a few desperate weekend calls to Dr. T. for stronger pain meds, I was scheduled for an MRI. It's the first one I've had where my whole body was in the machine. Even though I'm not claustrophobic, I found myself panicking. So I closed my eyes and pretended I was Jeffries tube on the Enterprise waiting for Scotty to beam me out. Whatever keeps you from freaking, right?
My doctor prescribed a narcotic with a warning to take them twice a day so I wouldn't end up like Heath Ledger. (Now, there's something that should be put on medicine warning labels.) At one point the pain was so awful that I was taking them every four hours. Thank goodness I'm now down to a few pain killers per day.
Fortunately, I do not have fun or get loopy on pain meds. No Betty Ford clinic for me! Instead, I get hyper and can't sleep. The medication also messes up my digestive system. While Klingons think prune juice is a warrior's drink, let's just say too much prune juice is a bad, bad thing. However, I found out that spiking Coke Zero with prune juice is pretty tasty. Try it sometime.
Dr. T. also prescribed oral steroids that made me flush in the face. After the MRI showed a bulging disc, I had a steroid epidural. While high on the ick factor, the epidural didn't hurt much. In fact, I left the hospital to pick up my kids at school immediately after the procedure.
The epidural did help lessen the pain, but gave me raging hot flashes for weeks. While the rest of my household was freezing, I was tempted to strip down to my skivvies. (I didn't – my mother-in-law was visiting.) The side affects have almost gone, but now every time I drink red wine, my feet get hot. I think I'll switch back to Coke Zero – with or without prune juice.
Vacationing with a bad back
The pain was manageable, so one day after the epidural, we left for San Diego. I took advantage of the wheelchair service supplied by the airlines. We also rented a wheelchair at Disneyland. Yes, you do get through some of the lines a little faster. However, you get yelled at if you let your six-year-old sits on your lap as your husband pushes both of you through the park. Uncle Walt does not approve of you creating your own rides.
We pretty much took it easy on our trip, though I realized after walking around Balboa Park and the San Diego Mission Bay waterfront, I felt and slept better. The luxurious pillow top mattress at the Sycuan Resort was a lifesaver, too. Even driving wasn't too bad.
Seeing family and friends and a few therapeutic trips to In-N-Out Burger and to Mexican fast food joints for rolled tacos with guacamole helped, too. Well, it helped except for gaining a few pounds here and there.
Back pain makes you gain weight
No, not really, but emotional eating does. (Damn, I'm hurting. Maybe this piece of chocolate will help. Nope, maybe two pieces…not!)
Since the injury, I've gained weight, mostly due to the lack of exercise and the holiday and vacation eating. I'm looking forward to feeling good enough to start exercising seriously again. Until then, it's yoga, moderate exercise on the stationary bike and walking.
Part two: I went shopping for my back pain and here's what I got
Here are some interesting articles from Shine that might help you with your New Year's resolutions: