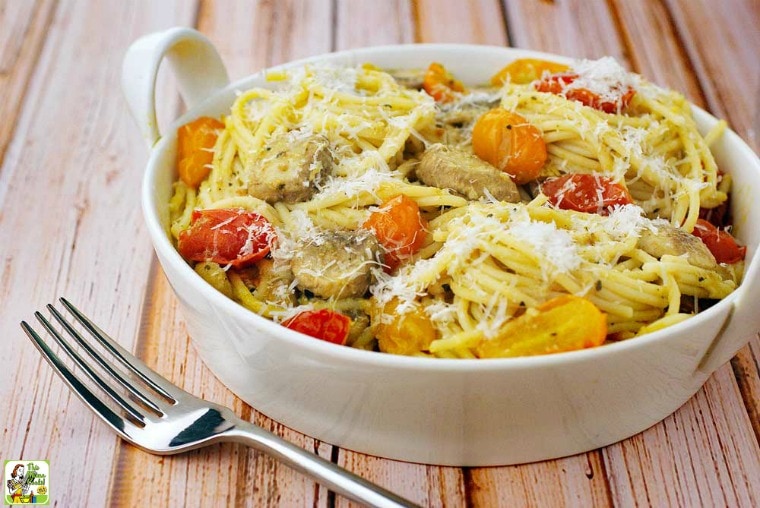 Crab Pasta with Pesto, Mushrooms & Tomatoes is one of my family's favorite dinner recipes. I've been making this pesto pasta recipe for over 20 years.
When I first started making this seafood pasta recipe, pesto was only available in specialty gourmet stores in teeny, expensive jars.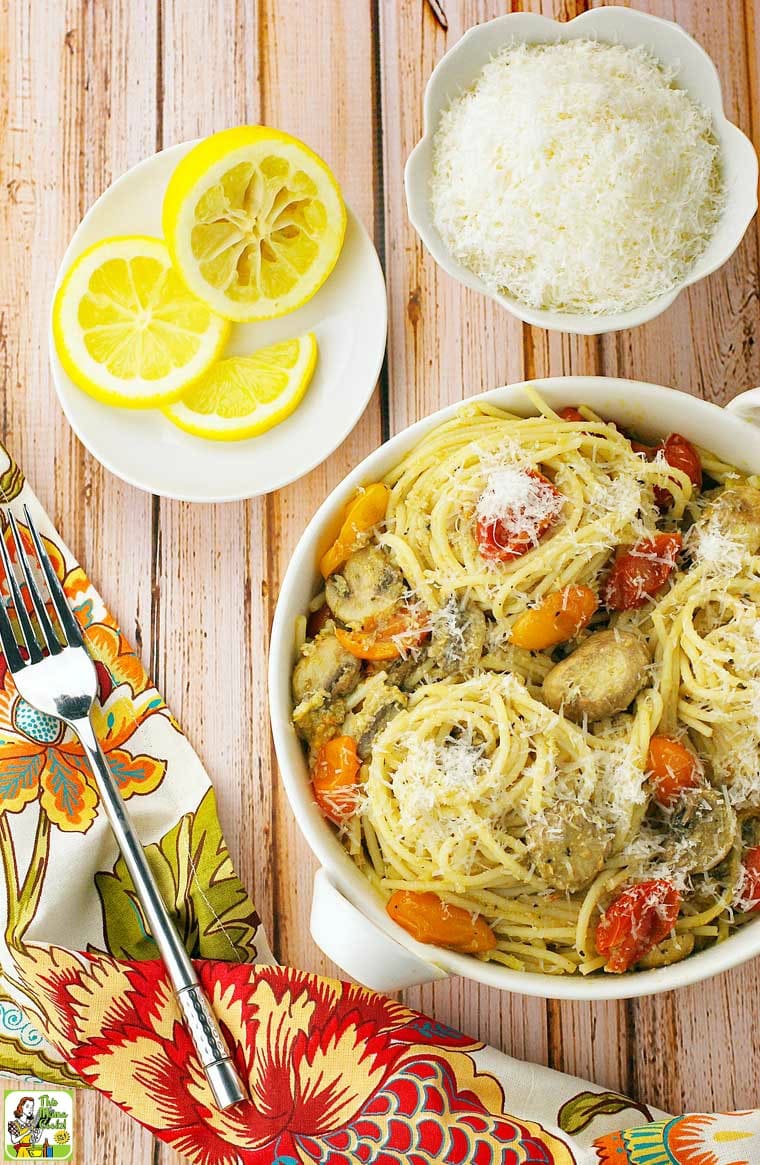 Luckily, back then I came across envelopes of pesto mix at my grocery store. It was affordable and worked well when combined mushrooms, tomatoes, and imitation crab.
Over the years, my crab pasta recipe has made several changes. Sometimes I leave out the tomatoes and sometimes I use canned crab instead of imitation crab.
No matter how you make it, if you're a fan of seafood pasta recipes, you'll love this crab pasta.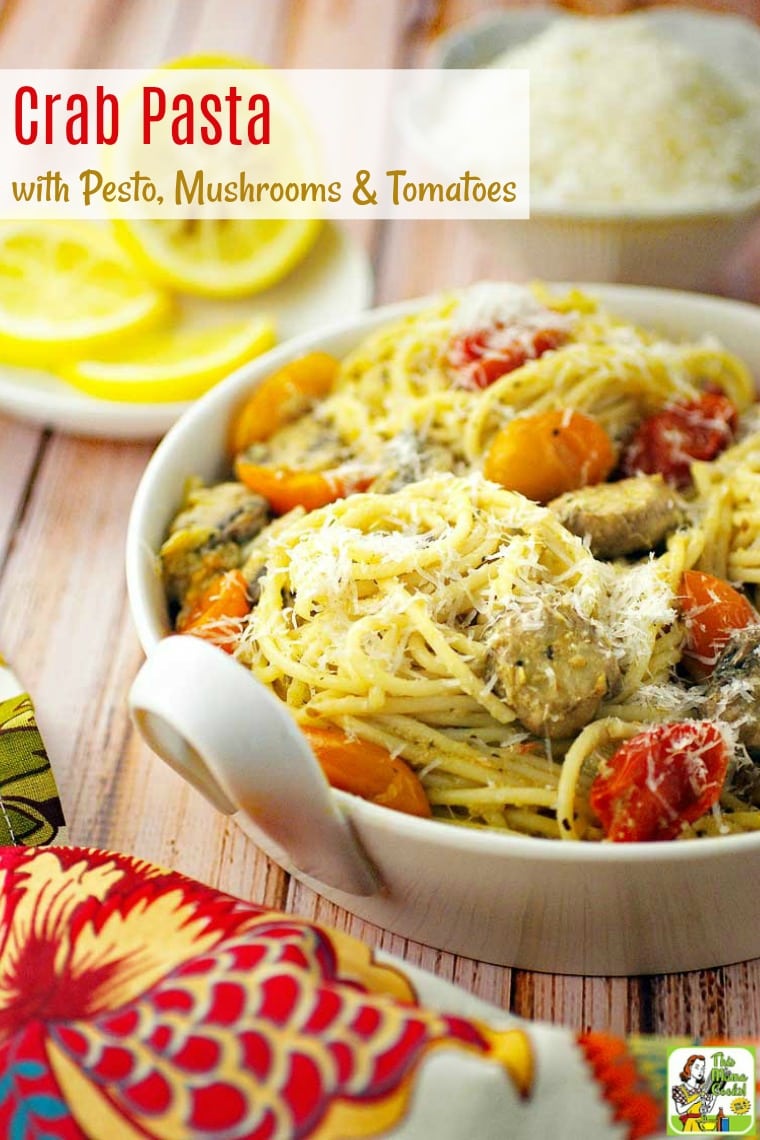 How to make this seafood pasta recipe gluten free
I now make Crab Pasta with Pesto, Mushrooms & Tomatoes with gluten free pasta. There are so many brands of delicious gluten free spaghetti on the market now that my family doesn't mind this too much.
However, if you're gluten free and using imitation crab, make sure the brand you're using is certified to be gluten free. Or use canned crab instead, which is naturally gluten free.
Another option for this pesto pasta recipe, is using bay shrimp instead of imitation crab.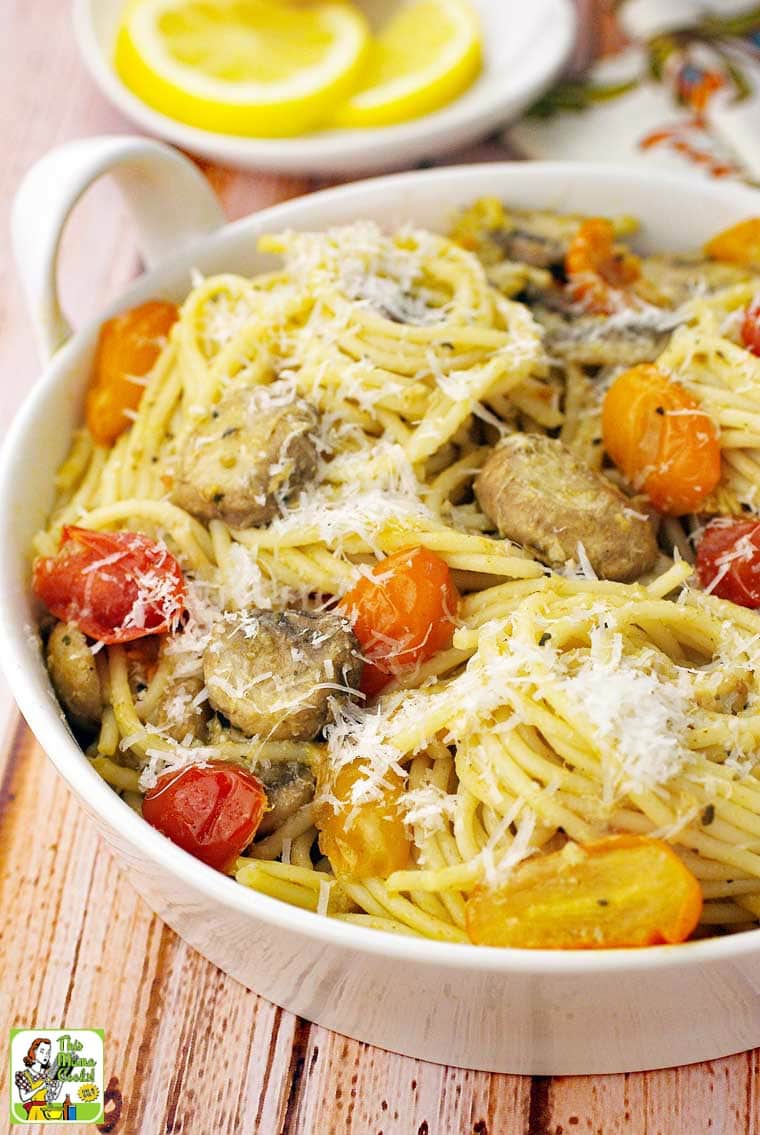 My family loves this crab pasta recipe
Even though most kids don't like crab or mushrooms, my children love Crab Pasta with Pesto, Mushrooms & Tomatoes.
Maybe it's the sweetness of the imitation crab or the sprinkling of Pecorino Romano cheese. (You can also use Parmesan cheese.) They love it reheated the next day, too.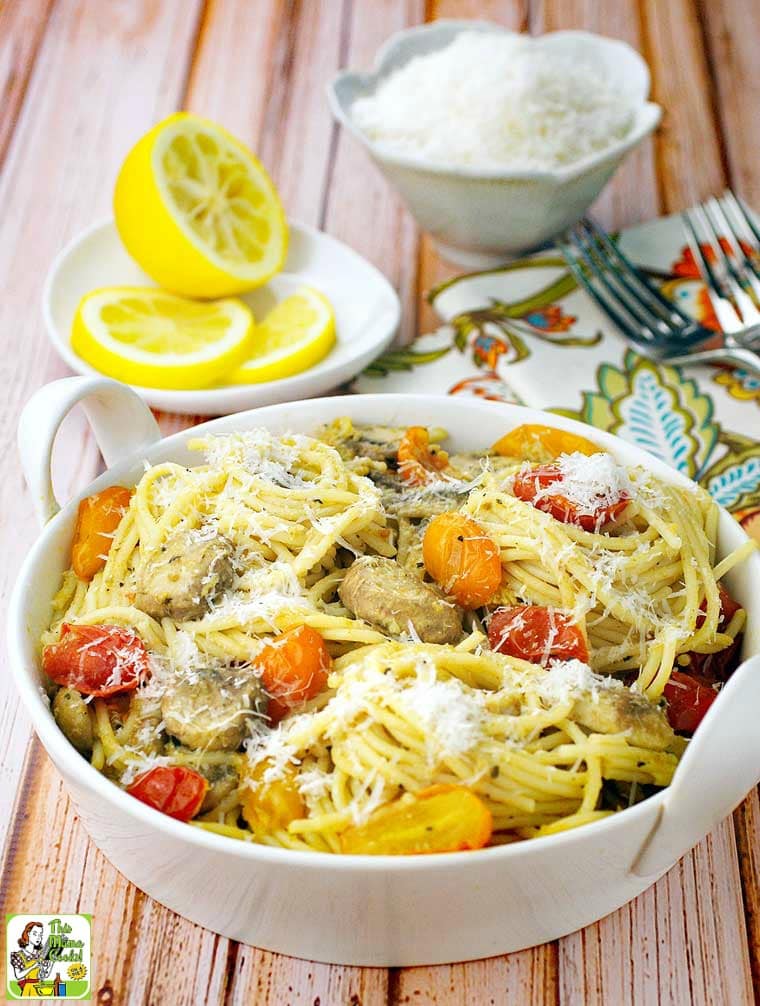 I've even eaten this crab pesto pasta recipe cold. In my opinion, the mark of a good pasta dish is that it should taste as good cold as it does hot. Yum!
Make sure to use cherry tomatoes instead of grape tomatoes (and a variety of colors) since they're sweeter and more delicious.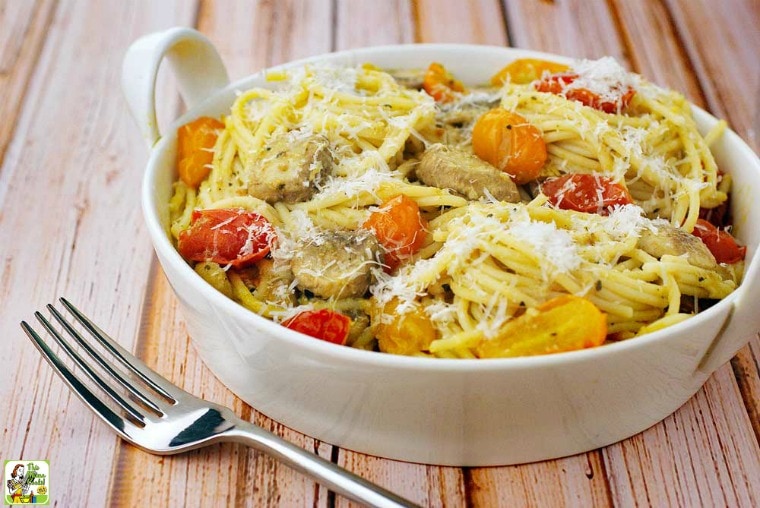 Crab Pasta with Pesto, Mushrooms & Tomatoes
Ingredients
2 (12 ounces) boxes or packages

gluten free spaghetti, cooked in salted water

1 cup

water

1/2 cup

olive oil

2 packets

pesto sauce mix

1 pound

white mushrooms, sliced

1 pound

cherry tomatoes, sliced in half

3 (6 ounce) cans

crabmeat

Pecorino Romano cheese, shredded for serving

Lemon wedges, for serving
Directions
Cook pasta in salted water according to package directions while preparing sauce. Rinse and set aside.
In a large pan, whisk together water, oil and pesto mix. Bring to a boil over medium high heat.
Lower to medium and add mushrooms and tomatoes. Cook until tomatoes are tender.
Add crabmeat and cook for another 10 minutes. Sauce should be simmering. If not, turn up heat.
Lower heat and add pasta. Toss to combine pasta and sauce.
Serve with shredded Pecorino Romano cheese and a spritz of fresh lemon juice.
Serving size:

1/6 of recipe
Originally posted on June 12, 2014. Updated with new pictures and information.