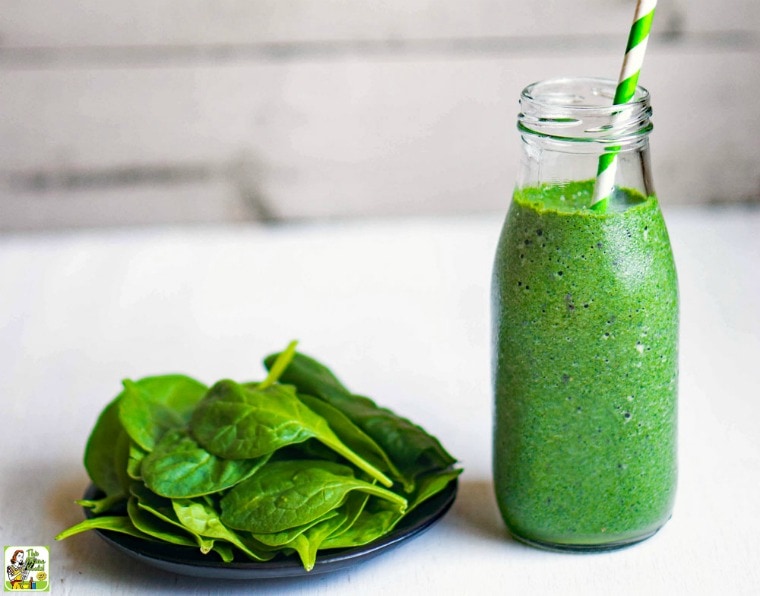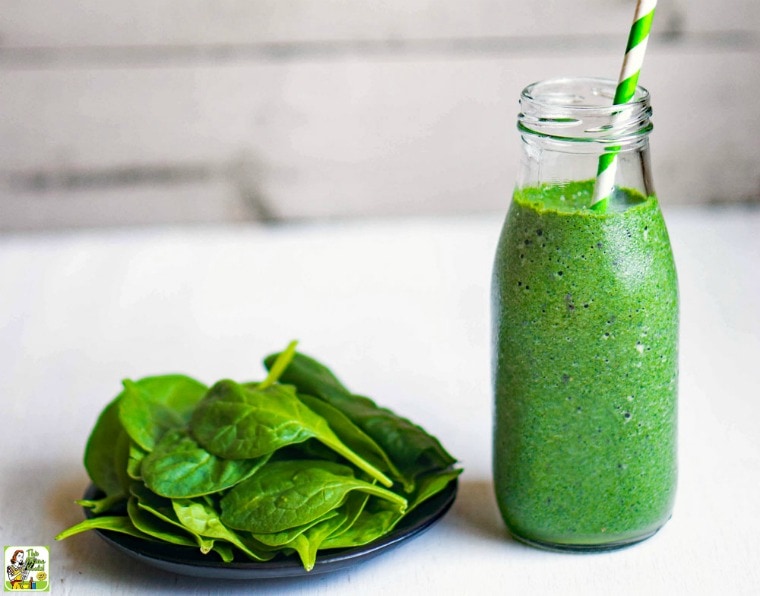 Want to make some healthy spinach smoothie recipes for St. Patrick's Day instead of getting green fast food shakes for the kiddos? Then try this Best Spinach Smoothie recipe from my favorite contributor, Holly Clegg.
Don't let Holly's healthy spinach smoothie recipe freak you out. It's filled with lots of yummy tasting fruit like bananas, and packed with delicious Greek vanilla yogurt for a protein boost. You'll never taste the spinach!
Plus, the coconut water will give this healthy fruit smoothie recipe a hydration boost!
This healthy spinach smoothie recipe comes from Holly Clegg's Trim and Terrific Eating Well Through Cancer cookbook. You can find more of Holly Clegg's trim& TERRIFIC® recipes at hollyclegg.com and The Healthy Cooking Blog. Check out Holly's trim & TERRIFIC™ cookbooks on Amazon, too!
Check out more of Holly Clegg's healthy cookbooks on Amazon.com!
Holly Clegg's trim&TERRIFIC EATING WELL TO FIGHT ARTHRITIS
Holly Clegg's trim&TERRIFIC KITCHEN 101: Secrets to Cooking Confidence: Cooking Basics Plus 150 Easy Healthy Recipes
The New Holly Clegg Trim & Terrific Cookbook (Trim and Terrific)
Eating Well Through Cancer: Easy Recipes & Tips to Guide you Through Treatment and Cancer Prevention
Learn how to make the best spinach smoothie recipes
Looking for a quick and easy way to sneak in veggies and nutrition into your day? Look no further than my Best Spinach Smoothie Recipe!
Celebrate National Nutrition Month and St. Paddy's Day all in one with this fresh and tasty green healthy spinach smoothie recipe that's naturally gluten free and diabetic-friendly. You know spinach is loaded with healthy nutrients by the rich color green; boasting powerful antioxidant protection. Add it to any dish you can, especially smoothies.
Spinach and bananas pack it with vitamins and minerals in this spinach smoothies recipe, while skim milk and Greek yogurt give it satiating protein and creaminess. Kids of all ages will love the boost this healthy treat gives!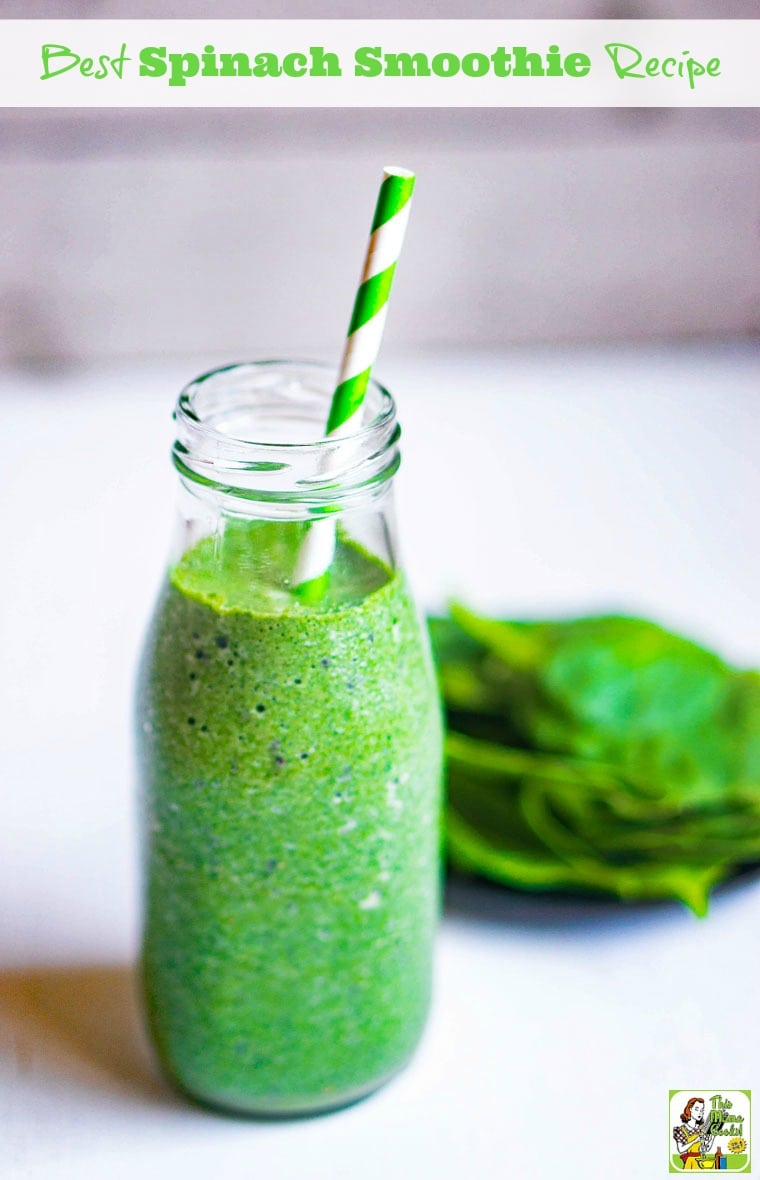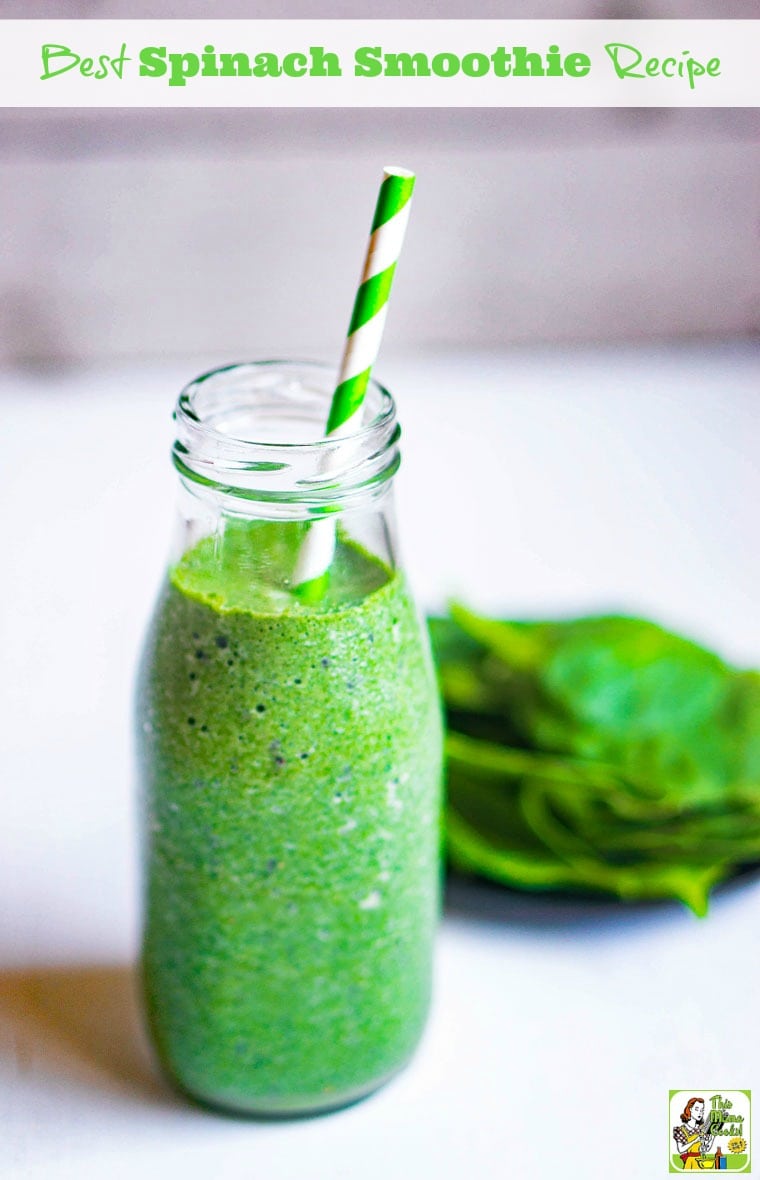 This Mama's tips for making the green smoothie spinach recipes
To make this green healthy spinach smoothie recipe dairy free, use unsweetened coconut milk or unsweetened soy milk and vanilla coconut or soy yogurt.
Add more liquid to reach desired consistency, or add more ice to thicken your healthy fruit smoothie recipe.
The right blender for making the best spinach smoothie recipes
If you love making healthy spinach fruit smoothies, you should look into investing in a high speed blender. I love my Blendtec Classic Blender. It crushes ice and makes smoothies like a champ. After using it for four years, my WildSide+ jar started leaking at the bottom. Blendtec replaced it for FREE – love that!!
Blendtec TB-621-25 Total Blender Classic with WildSide+ Jar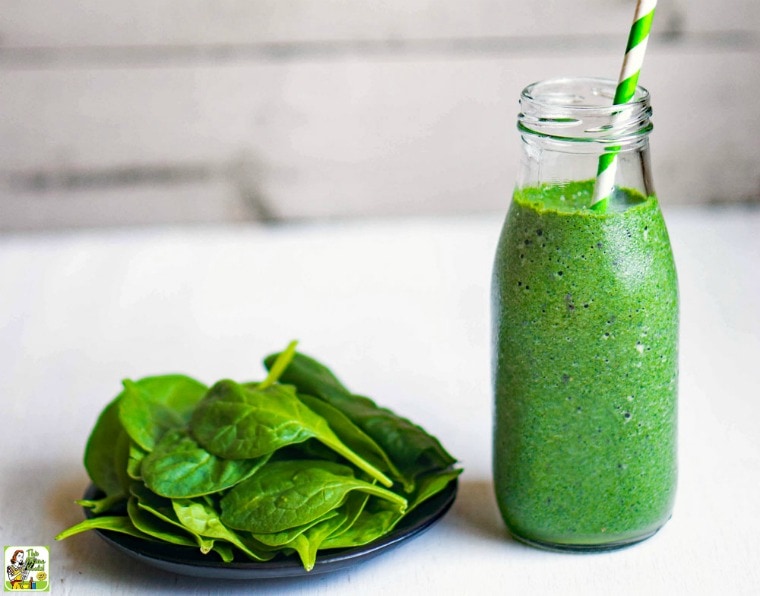 The Best Spinach Smoothie Recipe
Ingredients
1 cup

packed baby spinach

1/3 cup

coconut water

1/3 cup

Greek vanilla yogurt

1/3 cup

skim milk

Half

banana

2/3 cup

ice
Directions
Combine all ingredients in blender and puree until smooth, about 1 minute.
Servings
:
Makes 2 servings
Serving size:

1 cup

Calories:

79

Calories from Fat:

2 (3%)

Total Fat:

1g

Saturated fat:

0g

Unsaturated fat:

1g

Sodium:

90mg

Total Carbohydrates:

14g

Sugar:

10g

Fiber:

2g

Protein:

6g

Cholesterol:

1mg
Dietary Exchanges: 1/2 fruit, 1/2 fat-free milk
Recipe used with permission of author.
Photo credit: Graphic Stock