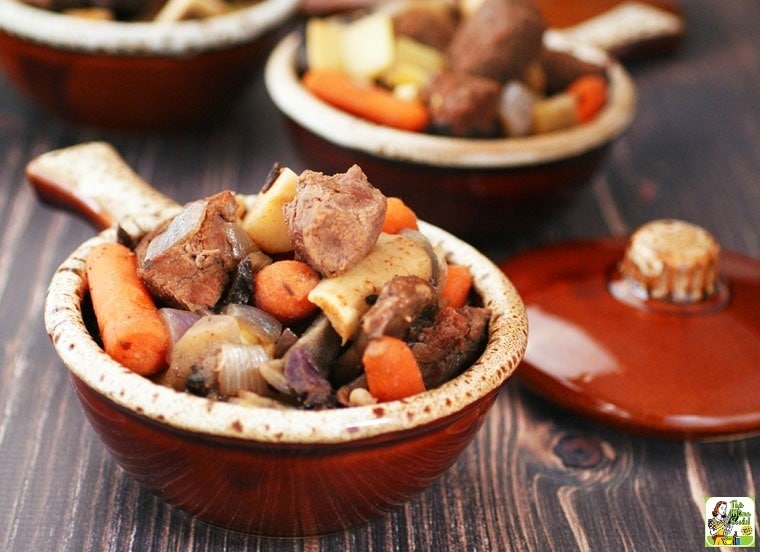 This venison stew for the slow cooker was inspired by a blogger recipe challenge.
I was partnered with Corina at Searching for Spice, and tried her recipe for Slow Cooked Juniper Beef Stew so I could use up some of the venison in my freezer. Since Corina wrote that juniper berries were used in Scandinavian and Central European stews with venison, I knew it would be perfect!
While the combination of juniper berries, cloves, allspice and nutmeg was not what my family was used to, it was a deliciously wonderful change from the Herbes de Provence type blend that I usually add to my slow cooker venison stews.
Plus, it was a great way to use up that bottle of juniper berries that's been sitting in my spice rack for eons!
Making an easy slow cooker venison recipe
First, when making my crock-pot venison recipe, I doubled Corina's recipe since it served two and we have four people in our family.
Then I added a pound of parsnips and lots more carrots and celery, since you can never have too many vegetables.
It's a lot of food, so you'll need a six-quart Crock-Pot to cook up your Slow Cooker Juniper Venison Stew. And don't forget to use slow cooker liners for easy cleanup!
Finally, prep your slow cooker venison stew recipe the night before and place the crock in your refrigerator.
Then get your easy slow cooker venison stew going in your slow cooker first thing in the morning, so it's ready when you get home from work.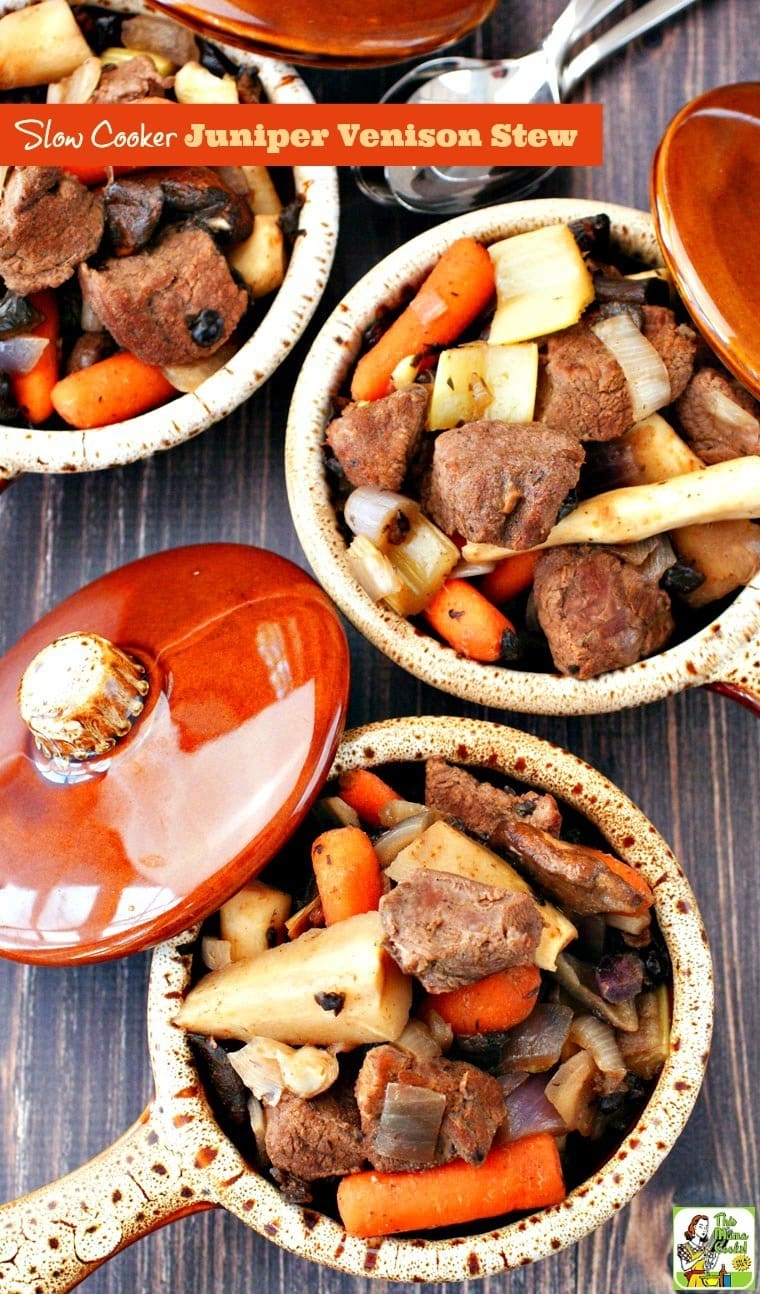 Keeping slow cooker venison stew gluten free
I coated (or dredged) the venison in a gluten free flour and browned it. Yes, it adds an extra step, but browning venison gives a nice flavor to the stew and adds a thickener to the broth.
Feel free to use any gluten free flour you like! A brown rice flour adds a nutty taste to this slow cooker venison recipe. However, an all-purpose gluten free flour like Bob's Red Mill Gluten Free 1 to 1 Baking Flour would work, too.
For the broth, I used gluten free Massel beef flavored bouillon, since I always have them in my pantry. If you're gluten free you HAVE to keep a supply of Massel bouillon and stock concentrate products in your pantry.
They're so terrific for making a quick batch of broth or stock to use in soups, stews, sauces or to flavor sautéed vegetables. Their products are vegetarian (yes, even the "beef" and "chicken") and gluten free. Check them out!
You can also use a premade gluten free beef broth or gluten free vegetable broth in this Slow Cooker Juniper Venison Stew recipe. Make sure to read the label carefully for any hidden sources of gluten if the front of the carton doesn't state "gluten free."
Check out my  Best Gluten Free Products List to find more of my favorite gluten free baking products!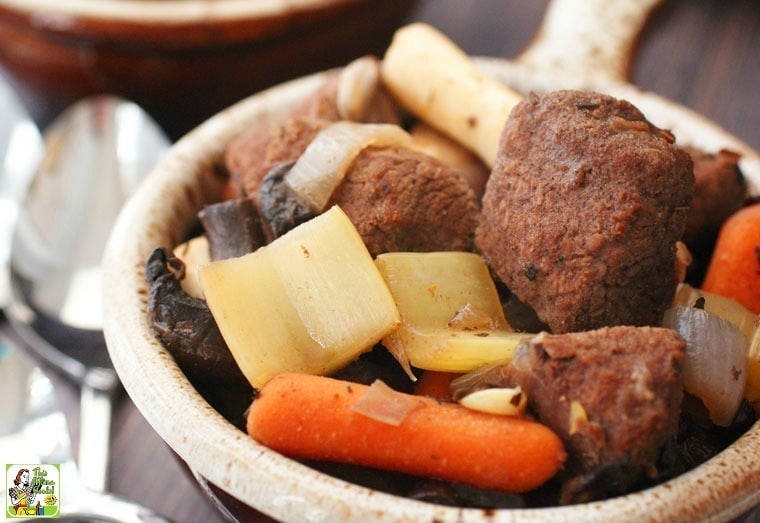 Looking for more slow cooker recipes and crock-pot recipes?
If you love venison stew recipes, check out my Easy Slow Cooker Venison Stew. 
If you love crock-pot cooking, here are more easy slow cooker recipes:
● Crock-Pot Cabbage Roll Casserole
● Slow Cooker Creamy Verde Chicken Chili
● Slow Cooker Turkey Meatballs
● Crock-Pot Mexican Shredded Chicken with Black Beans & Corn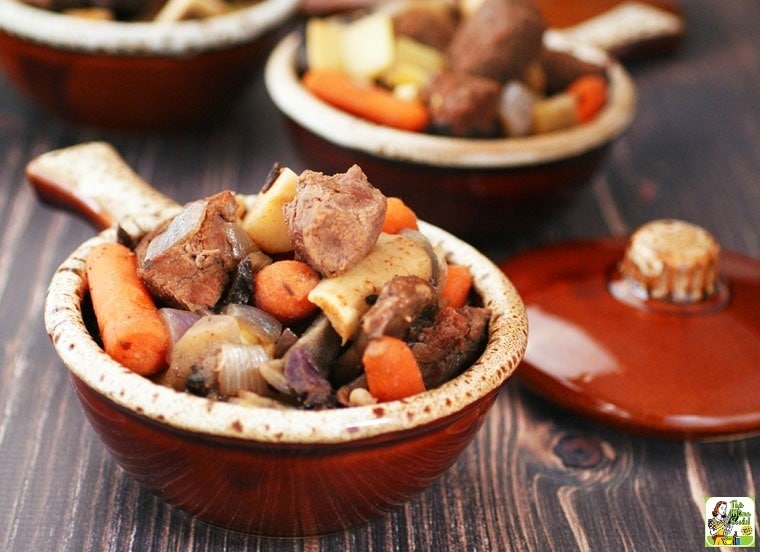 Slow Cooker Juniper Venison Stew
Ingredients
2 pounds

venison, cut into 1-2 inch cubes

1/4 teaspoon

pepper

1/2 teaspoon

salt

2 tablespoons

gluten free flour

2 tablespoons

olive oil

3 cups

gluten free beef or vegetable stock or 3 cups water and 3 Massel beef flavored bouillon cubes

2 tablespoons

tomato paste

2

cloves garlic, crushed

2 teaspoons

juniper berries, gently crushed

8

whole cloves

1 teaspoon

allspice berries

1/2 teaspoon

ground nutmeg

1 teaspoon

dried thyme

2

bay leaves

1 pound

baby carrots

1 pound

parsnips, peeled and cut into 1 inch pieces

1 pound

baby bella mushrooms, thickly sliced

2

red onions, sliced
Directions
Place venison stew meat in a bowl and sprinkle pepper, salt and gluten free flour over meat. Toss to evenly coat.
Heat olive oil in a large sauté pan over medium high heat. Place venison in pan and cook until evenly browned on all sides. Remove meat from pan and place into slow cooker crock.
Add 3 cups of broth or water to pan. Bring to boil, lower heat and keep at a low simmer. If using bouillon cubes, add to the pan, and break up cubes with back of a spoon or spatula. Add tomato paste to pan and stir to combine.
Scrape off bits of meat and cooked on flour with spoon or spatula to deglaze pan thoroughly. Pour contents of pan over meat in slow cooker. Liquid should completely cover venison. If not, add more stock or a little water.
Sprinkle spices and herbs on top of meat. Add vegetables.
Cover and set the slow cooker to the low setting. Cook for 8-10 hours until the venison is tender.
Total Time:
8 Hours 30 Minutes
Serving size:

1 large bowl
Originally published on April 14, 2014. Updated with new pictures and information.