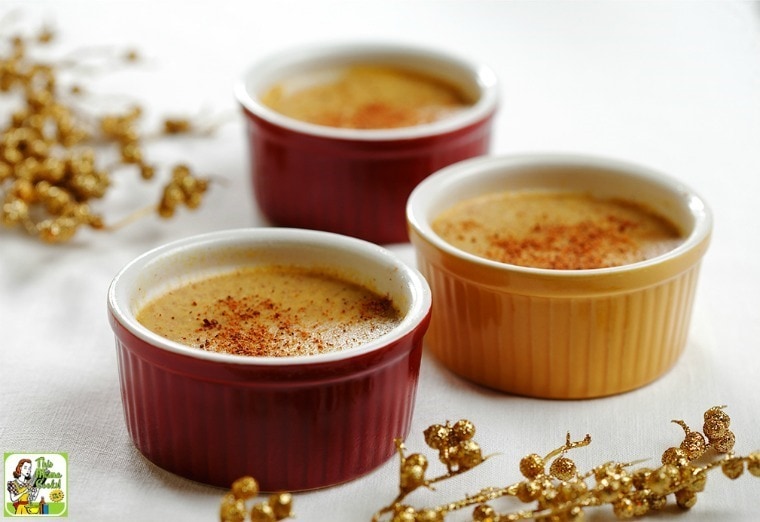 This Easy Gluten Free Pumpkin Flan recipe is the perfect Thanksgiving dessert solution if you have guests who are gluten free, nut free, and/or dairy free. This delicious Thanksgiving pumpkin recipe fits your needs, too, since it's easy to make and serve/
This delicious gluten free pumpkin dessert has no crust or nuts to worry about. You can also make it a dairy free pumpkin dessert by using an alternative milk. Coconut milk would be the tastiest.
Serving this pumpkin flan recipe also makes planning the Thanksgiving meal a snap since you can make Easy Gluten Free Pumpkin Flan up two three days ahead of time.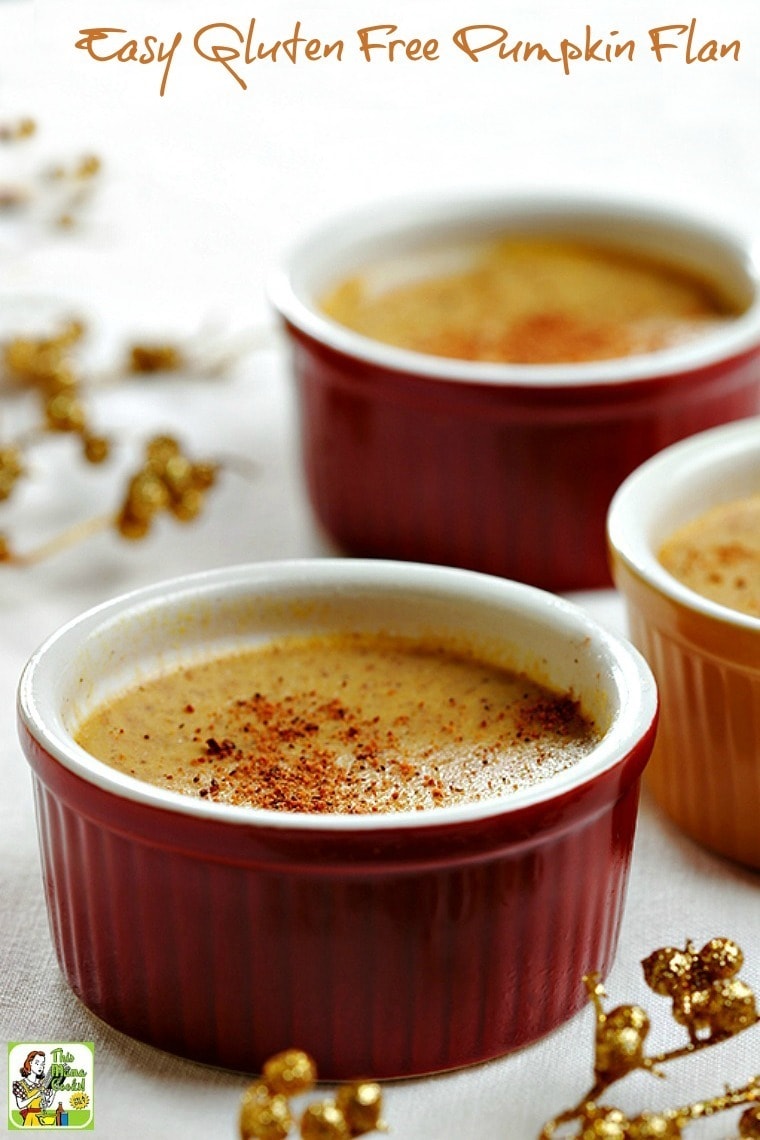 Finally, what I love about this Easy Gluten Free Pumpkin recipe is its fun presentation. You can find cute, colorful ramekins online or at any big discount store like Walmart. (Look for Pioneer Woman's Flea Market Ramekins – great colors!) Making pumpkin flan in ramekins keeps your portions under control too, though I'd be tempted to have more than one. Wouldn't you?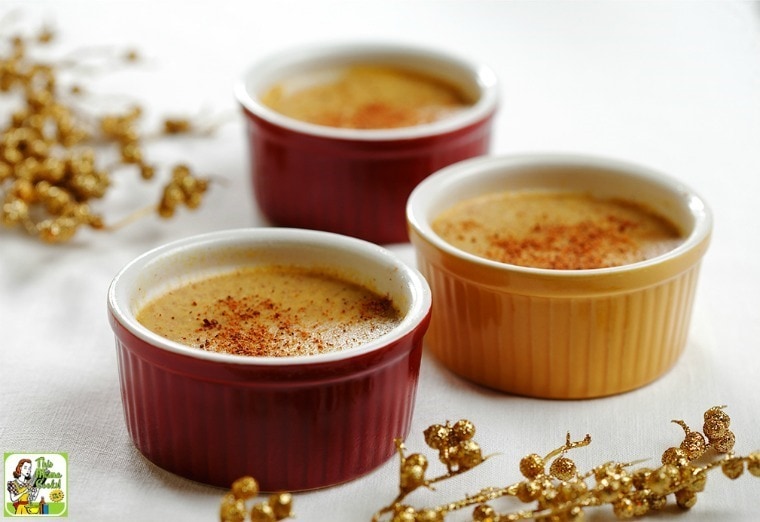 Easy Gluten Free Pumpkin Flan
Directions
Preheat oven to 350 °F. Adjust oven rack to center position. Coat six 6-ounce custard cups or ramekins with canola oil cooking spray and set them on large baking dish with sides at least as deep as ramekins.
In large bowl, beat eggs and egg white slightly. Add pumpkin purée, maple syrup, canola oil, vanilla extract, spices and salt. Beat well with mixer. Add hot milk until blended. There will be about 3 cups of flan mixture. Pour 1/2 cup mixture into each prepared ramekin.
Carefully pour boiling water into baking pan around ramekins. Water should come up to level of custard inside ramekins.
Bake 30-35 minutes or until set around the edges but still soft in center. When center of flan is just set, it will jiggle a little when shaken. Remove baking dish from oven and immediately remove ramekins from water bath. Cool on wire rack until room temperature. Cover with plastic wrap and refrigerate.
Serve cold and garnish with ground nutmeg. This dessert can be made up to 3 days in advance. Keep refrigerated until serving.
Servings
:
Makes 6 servings
Serving size:

1 flan

Calories:

110

Calories from Fat:

40

Total Fat:

4.5g

Saturated fat:

1g

Unsaturated fat:

3.5g

Sodium:

115mg

Total Carbohydrates:

12g

Sugar:

10g

Fiber:

1g

Protein:

5g

Cholesterol:

80mg
Picture and recipe courtesy of CanolaInfo. Used with permission.
Originally published on November 23, 2010. Updated with new pictures and information.