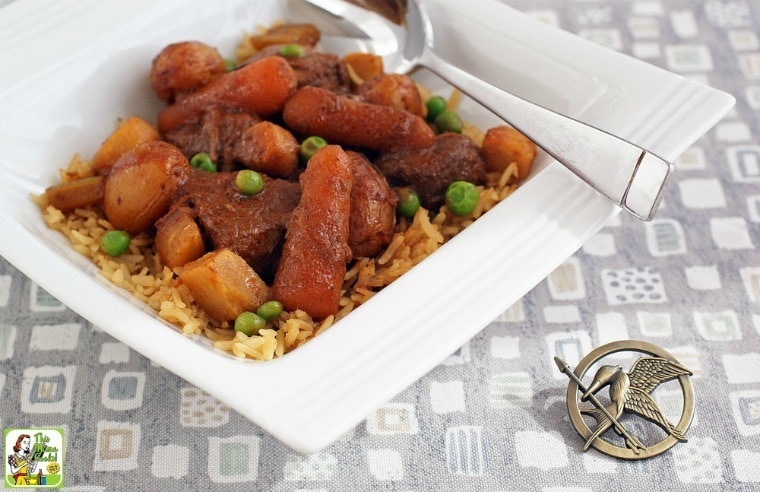 This easy Slow Cooker Beef Stew with Vegetables and Rice recipe is inspired by The Hunger Games Trilogy and the movie based on the first book, The Hunger Games by Suzanne Collins.
For this homemade slow cooker beef stew, I was tasked with creating a recipe based on both as part of event from Cook the Books and Food 'n Flix.
Heather from All Roads Lead to the Kitchen hosted the event.
Rereading The Hunger Games Trilogy for this cooking project, I realized how fixated Katniss Everdeen was on food.
People who wonder where their next meal will come from – if it comes at all – usually are.
However, in the movie, The Hunger Games
, Katniss wasn't all that fixated on food. You never got the feeling that Katniss or any of the kids from the poorer districts were starving. They all looked too healthy!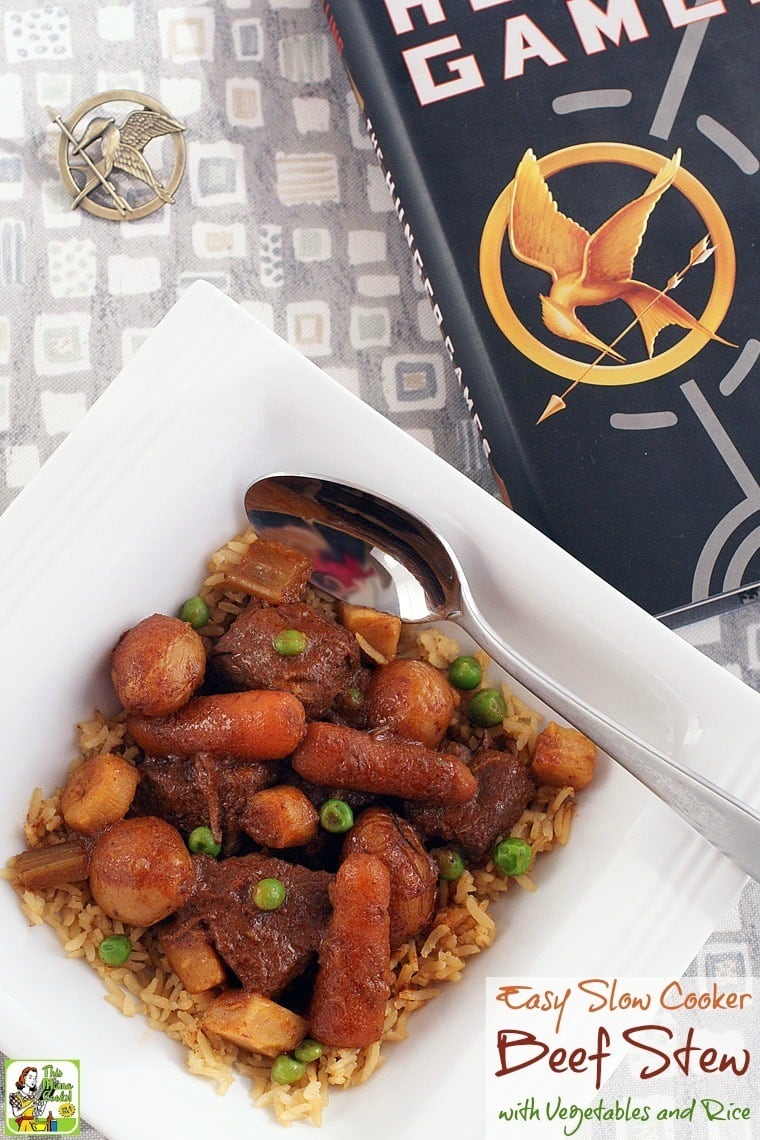 Easy Slow Cooker Beef Stew with Vegetables and Rice – Cooking The Hunger Games
When deciding on my easy slow cooker beef stew recipe for the Cook the Books/Food 'n Flix event, I took notes on the various dishes and foods that are mentioned in the book.
One dish that caught my eye was described as "hot grain smothered in beef stew" or just hot grain and stew.
So I decided to make an recipe for slow cooker beef stew.
I wanted to make an easy slow cooker beef stew that was gluten free, contained root vegetables and peas, and was served on brown rice.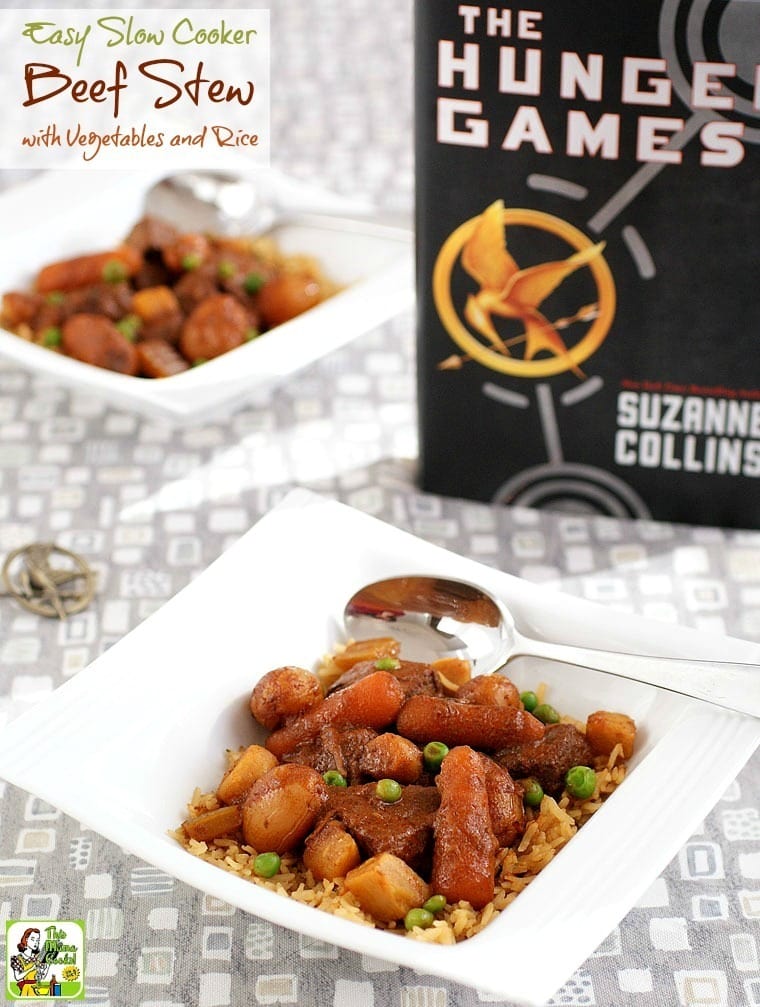 An easy way to thicken up Slow Cooker Beef Stew
Usually, slow cooker beef stew recipes call for dredging the beef chunks in all-purpose flour.
To make this recipe gluten free, I substituted a gluten free all-purpose flour.
My favorite gluten free flour is Bobs Red Mill Gluten-Free 1-to-1 Baking Flour.
Check out my Best Gluten Free Products List for more of my favorite gluten free products.
While the gluten free flour thickens the homemade slow cooker beef stew, it does add a calories – fine if you're Katniss and need some fattening up.
However, if you're watching your calorie intake, here's a healthier, gluten free way to thicken the stew.
1. Omit the flour, and season the beef with salt and pepper to taste.
2. In a large skillet, heat 3 tablespoons of olive oil on medium-high heat. Brown the meat as directed. Follow the rest of the recipe.
3. About 30 minutes before serving, mix 3 tablespoons corn or rice starch with 3 tablespoons of liquid from the slow cooker.
4. Add the mixture to the stew and stir.
5. Put the lid back on the crock pot and turn up the heat to the High setting.
6. After 30 minutes, stir and serve stew over rice.
Rice starch thickener: If you need to avoid corn products and can't use corn starch, I recommend using rice starch in this easy slow cooker beer stew.
I love using it as it works just as well as corn starch in thickening stews and soups.
You can find rice starch at Asian markets or purchase it online.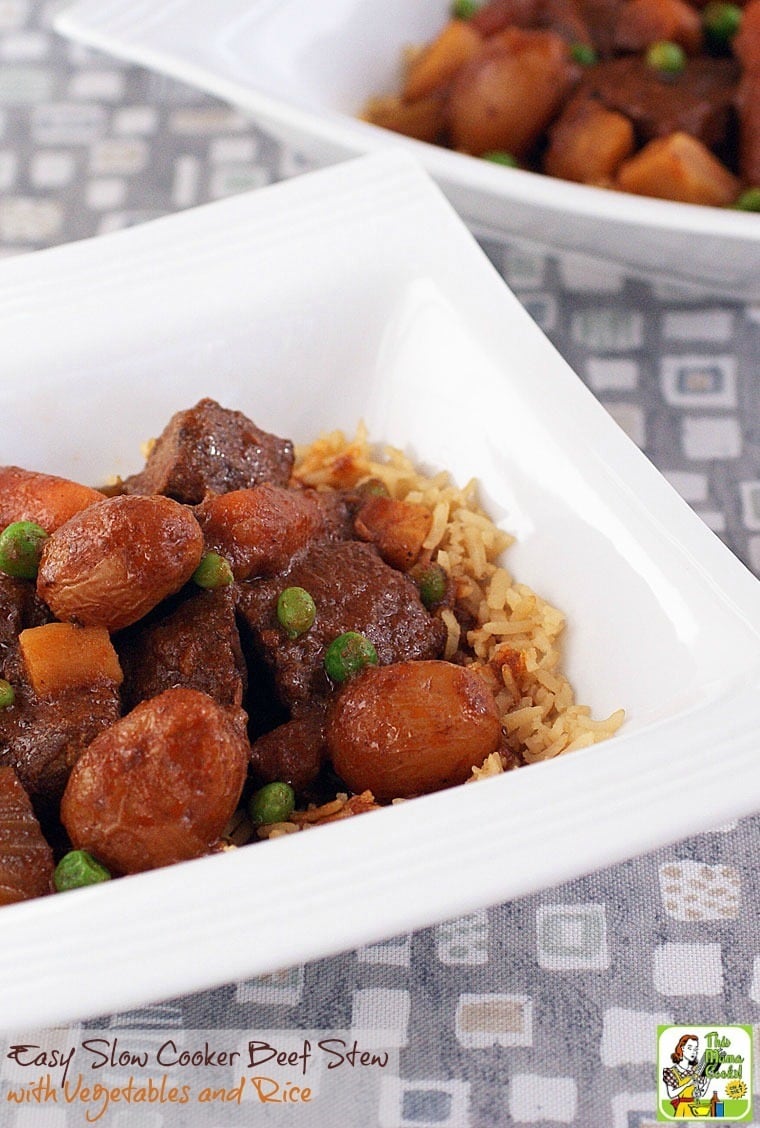 More tips for making easy slow cooker beef stew
Quick clean up: For easy crock-pot cleanup, use slow cooker liners. They're WONDERFUL.
Now that I use them, I no longer have to soak my crock-pot overnight and scrub it using Bar Keepers Friend Cleanser and a scouring pad.
Food choppers save time: To save time when making this recipe for slow cooker beef stew, dice onions using a hand food chopper.
I have a Pampered Chef food chopper and LOVE IT. Not only does it save time, but my eyes don't water when chopping onions.
Use baby carrots: I used baby carrots since they're already peeled and small enough for the simple slow cooker beef stew.
Check for gluten: If you're gluten free, make sure you choose a gluten free beef broth or stock. (Either broth or stock is fine.) Check the label closely.
Alcohol free: If you don't drink wine, use more beef broth instead.
Use other grains: While I've served this with brown rice that was cooked with the leftover beef broth I had on hand, you can use white rice, quinoa  or wild rice.
More hardy slow cooker recipes
If you're looking filling stews, chilis and casseroles made in the crock-pot, check these out:
This Baked Ziti in a Crock-Pot recipe is gluten free and easily made with jarred pasta sauce.
Slow Cooker Sauerkraut and Sausage Recipe with Apples and Potatoes can be quickly made with precooked chicken sausage and jarred sauerkraut.
Slow Cooker Pumpkin Chili – this this spicy chili is made with pumpkin, lean ground turkey, beans, and frozen vegetables.
Got venison? Try Slow Cooker Juniper Venison Stew or this Easy Slow Cooker Venison Stew Recipe.
Yield: 8 SERVINGS
Slow Cooker Beef Stew with Vegetables and Rice Recipe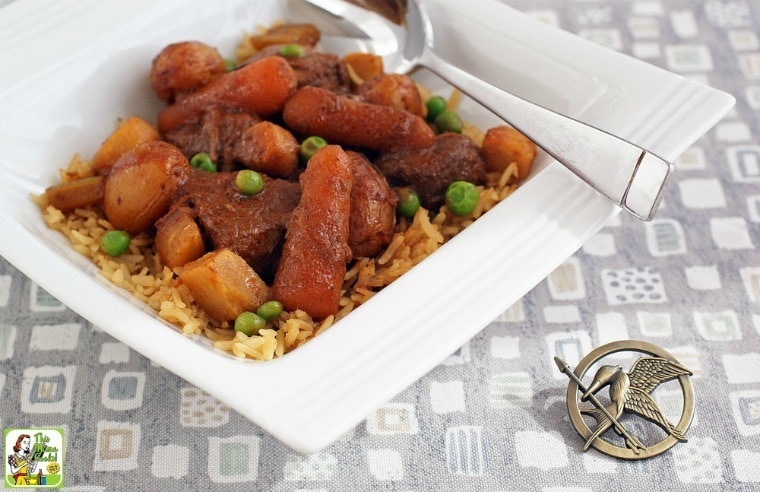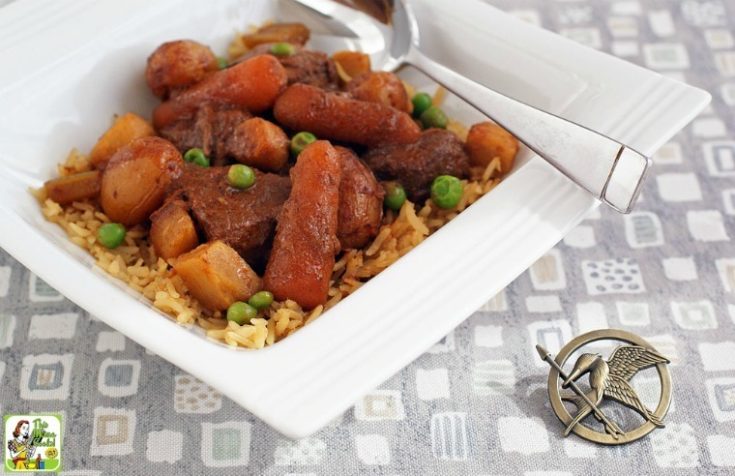 A slow cooker beef stew recipe made with root vegetables, rice, and peas. Based on a beef stew recipe mentioned in The Hunger Games book.
Cook Time
7 hours
30 minutes
Total Time
8 hours
5 minutes
Ingredients
4 pounds bottom round, trimmed and cut into 2-inch chunks
1 cup gluten free all-purpose flour
1/3 cup olive oil
1 large onion, diced (2 cups)
1 6-ounce can tomato paste
1 1/2 cups dry red wine
1 pound baby potatoes, washed (not peeled)
1/2 pound baby carrots
4 parsnips, roughly diced
2 stalks celery, roughly diced
2 cups gluten free beef broth
1 tablespoon kosher salt
1 teaspoon dried thyme leaves
1 bay leaf
1 16 ounce package frozen peas
cooked brown rice
Instructions
Coat the beef in the flour. Heat 3 tablespoons of the oil in a large skillet over medium-high heat. Brown the meat, a few pieces at a time, adding more oil as necessary. Throw out any unused flour.
Transfer browned beef to a 6-quart slow cooker.
Add the diced onions to the skillet. Cook over medium heat until tender, about 10 minutes. Stir in the tomato paste and coat the onions. Transfer the onion and tomato mixture to the slow cooker.
Pour the wine into the skillet and scrape up any browned bits. Pour the liquid into the slow cooker.
Stir in the potatoes, carrots, parsnips, celery, beef broth, salt, thyme, and bay leaf.
Cover and cook on low heat for 7 1/2 hours, or on high for 4 hours.
About 15 minutes before serving, add the peas and cook until heated through.
Serve on top of brown rice.
Recommended Products
As an Amazon Associate and member of other affiliate programs, I earn from qualifying purchases.
Nutrition Information:
Yield:
8
Serving Size:
1
Amount Per Serving:
Calories:

359
Total Fat:

10g
Saturated Fat:

1g
Trans Fat:

0g
Unsaturated Fat:

8g
Cholesterol:

0mg
Sodium:

1113mg
Carbohydrates:

53g
Fiber:

8g
Sugar:

11g
Protein:

9g
Nutritional information is automatically calculated per the ingredients list. Serving size may not be accurate. Please double-check with your preferred nutritional app for the most accurate information.
Originally published on January 24, 2013. Updated with new pictures and information.