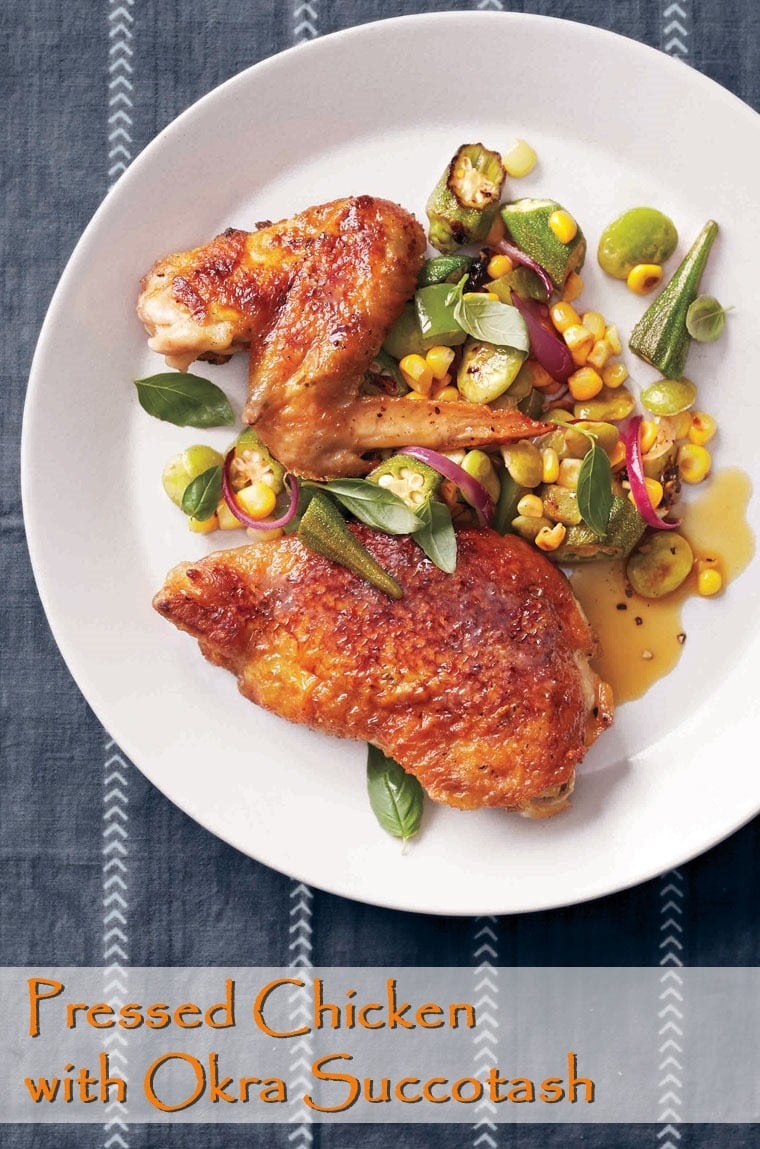 If you're a regular reader of Martha Stewart Living, you know about one of my favorite features of the magazine – the recipe cards. It's a sheet of four recipe cards that you can easily remove from the magazine, tear into index sized cards, and slip into your bag to take to the grocery store. This month I'll be featuring a few healthy and easy to make recipes from the recipe cards from the September 2014 issue of Martha Stewart Living, like this week's Pressed Chicken with Okra Succotash.
This recipe uses a rather unusual way to "press" the chicken while cooking, using a heavy, weighted skillet to do so. Make sure you read the recipe thoroughly and have all the equipment on hand – parchment paper, extra skillet, and meat thermometer. I think you'll find the method a great way to get chicken thoroughly cooked without burning the outside. And I'm sure the kids will soon call your pressed chicken, "Mom's yummy smooshed chicken." Let 'em!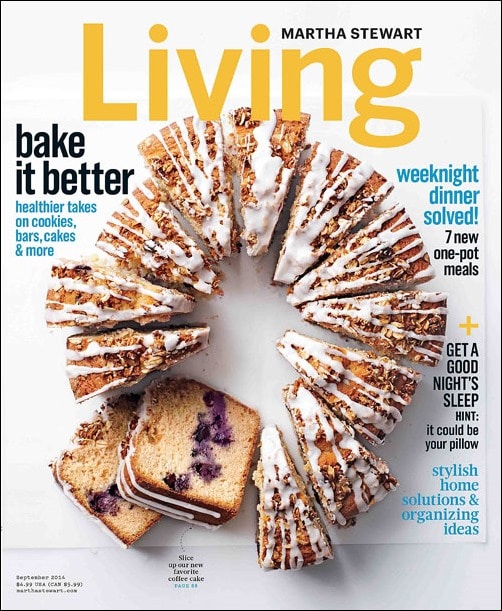 Okra and suffering succotash!
Pressed Chicken with Okra Succotash obviously features okra, which I love cooking with as well as eating, even before I moved to the South. I recommend that you buy frozen over fresh and precut over whole as it'll save you so much prep time. Plus, I find that frozen okra is much cheaper than fresh okra. (Assuming that you can even buy fresh okra in your area, that is!) You can use okra in stir fry and curries along with the other vegetables you'd normally use.
Okra is rich in dietary fiber, minerals, and vitamins like vitamin A, B-6, C, and K, niacin, thiamin, and anti-oxidants such as beta-carotene and lutein. It's also low in calories. Okra is also a good source of foliates, iron, calcium, manganese and magnesium.
We've all heard of, "Suffering succotash!" as exclaimed by Sylvester, the Looney Tunes cartoon cat. But did you know that succotash is a dish made up of corn, lima beans and maybe some other vegetables like tomatoes, bell pepper, and onions? There are many recipes out there, but you can also find bags of succotash in your frozen food section that's just perfect for adding to stir fries, curries, pasta, or sautéing as a side dish with a little bit of buttery spread and grated Pecorino Romano cheese.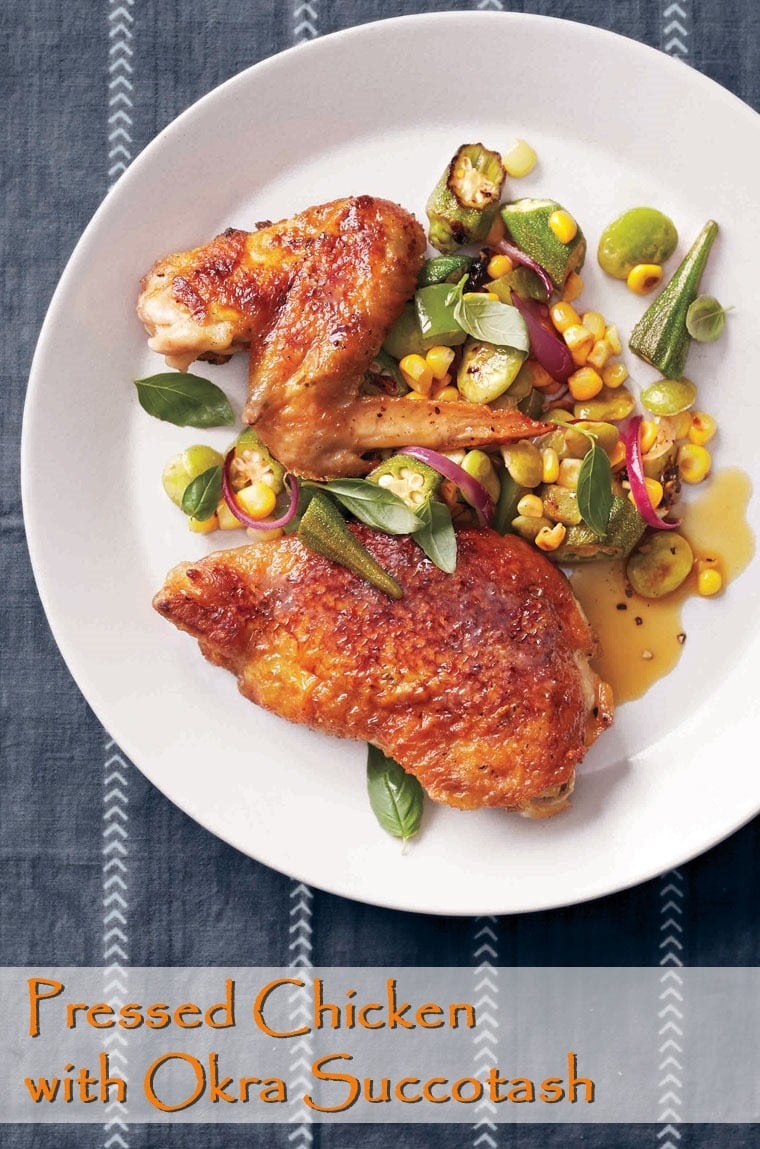 Pressed Chicken With Okra Succotash
From the September 2014 issue of Martha Stewart Living
Ingredients
1

whole chicken (about 3 1/2 pounds), cut into 10 pieces

Coarse salt and freshly ground pepper

2 tablespoons

extra-virgin olive oil

6 ounces

okra, cut into 1/2-inch-thick slices

8 ounces

frozen lima beans, thawed and drained

2

ears corn, kernels cut from cob (about 1 1/2 cups)

1/2

green bell pepper, ribs and seeds removed, chopped (3/4 cup)

1/2

small red onion, thinly sliced

2 tablespoons

red-wine vinegar

1/3 cup

fresh basil leaves, chopped, plus more for serving
Directions
Season chicken with salt and pepper. Heat a large cast-iron skillet over medium-high heat. Swirl in 1 tablespoon oil. Add chicken, skin-side down. Top with a parchment round; weight with another heavy skillet and canned goods. Cook until golden on skin side, about 5 minutes. Reduce heat to medium-low. Flip chicken; cook (with parchment and weighted skillet) until a thermometer inserted into thickest part of thigh (without touching bone) registers 165 degrees, 8 to 10 minutes. Transfer to a plate, reserving pan juices.
Return skillet to medium-high heat. Swirl in remaining 1 tablespoon oil. Add okra, beans, corn, bell pepper, and onion; season with salt and pepper. Cook, stirring, until vegetables are golden in spots, about 5 minutes. Remove from heat; stir in vinegar, then basil. Serve chicken with succotash, pan juices, and more basil leaves.
Serving size:

1/4 of recipe
Photography: Bryan Gardner. Picture and recipe used with permission.