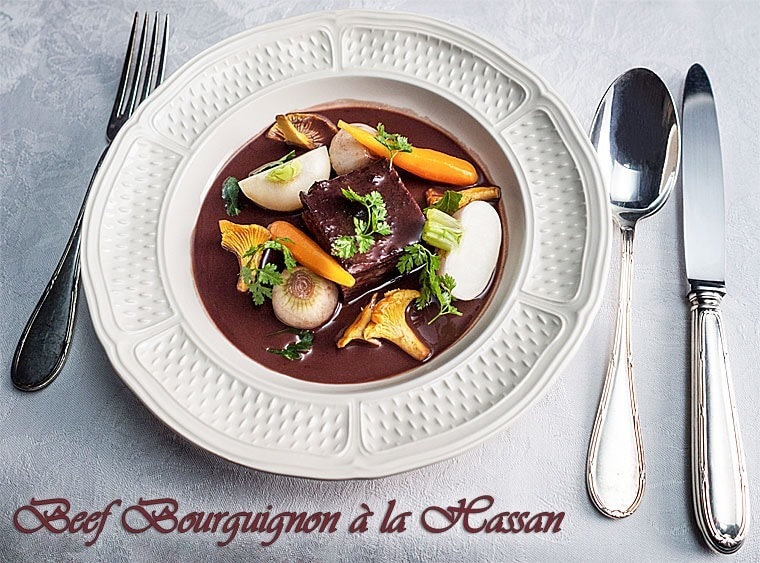 I just finished reading the book, The Hundred-Foot Journey, by Richard C. Morais, which was excellent. While I haven't seen the movie, The Hundred-Foot Journey yet, I can already tell how it will differ from the book. My best guess is that it only covers Hassan's time in the town of Lumière, a small village in the French Alps, where he meets Madame Mallory, the character played by Helen Mirren. That's alright with me, since it's probably the funniest part of the book because Mme. Mallory and Hassan's Papa spend most of their time trying to get customers into their restaurants by waging war via the mayor's office and the farmer's market.
The rest of the book is quite touching, sometimes tragic, and even a little grotesque at times. It's hard to believe it's not a biography, because it reminds me so much of Blood, Bones & Butter: The Inadvertent Education of a Reluctant Chef by Gabrielle Hamilton and even Greetings from Bury Park by Sarfraz Manzoor about the Muslim emigrant experience in England. (Hassan and his family, who are Muslim, emigrate to England from India before ending up in France.)
I was also amused to read in the author notes that Morais wrote this book hoping that it would be turned into a movie. Well, he got his wish! The Hundred-Foot Journey, starring Helen Mirren, Manish Dayal, Om Puri, and Charoltte Le Bon opens August 8th.
A classic French recipe, Hassan style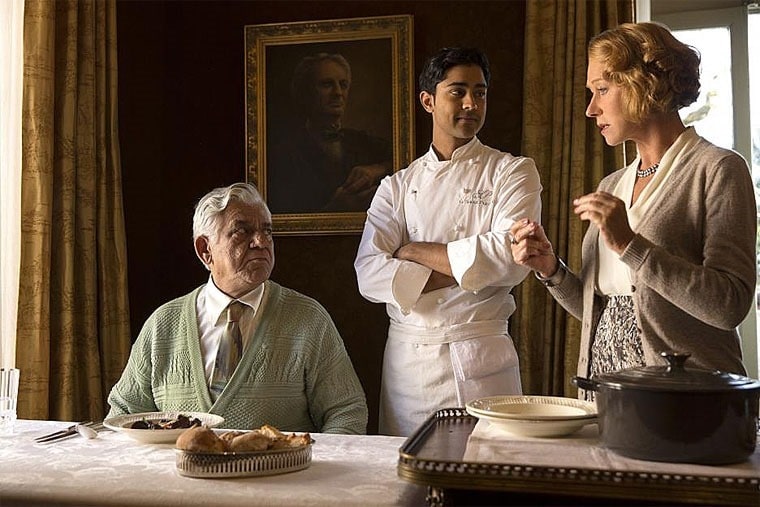 My mother used to make boeuf bourguignon all the time. I assumed she probably used Julia Child's recipe, similar to this one, though remember a version having a cream sauce as well. So when I read the recipe for Hassan's version that was created for the movie by Chef Floyd Cardoz, which I've shared below, I was at first taken aback by the spices and flavorings being used – ginger, cumin, mustard seed, and Aleppo pepper along with brown sugar. But it made sense as a French dish coming from an Indian cook.
I'm looking forward to seeing this scene in the movie!
Connect with The Hundred-Foot Journey at:
This Mama's tips
You can make this gluten free by using a gluten free all purpose flour mix instead of regular flour.
If you're gluten free, make sure the store bought beef stock you're using is also gluten free. If you can't find a beef stock that doesn't fit the bill, look in the health food section or try a vegetable stock instead.
If you can't find baby carrots, feel free to use regular carrots by cutting them into smaller pieces. Same goes with the turnips.
If chanterelles aren't in your budget, use a mushroom that is. We won't tell!
Pearl onions are a pain to peel. If you can find peeled ones in the freezer aisle, why not use them instead?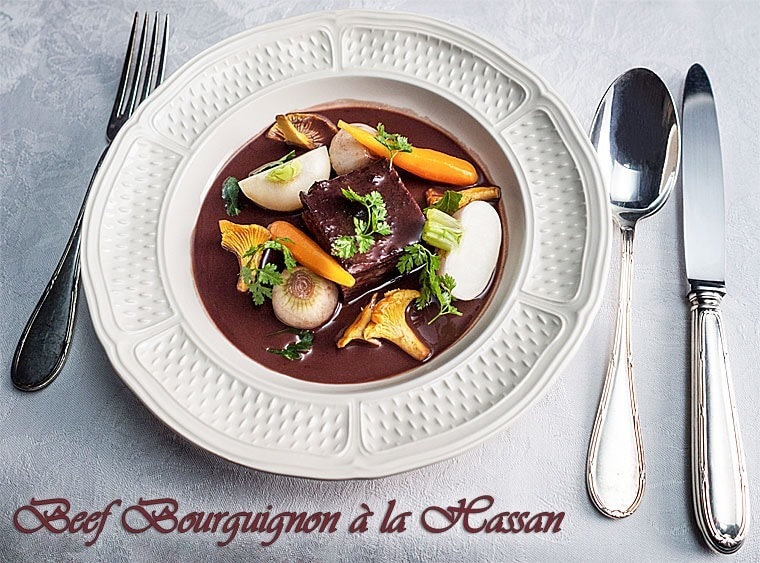 Beef Bourguignon à la Hassan
Created by Chef Floyd Cardoz for the movie The Hundred-Foot Journey
Ingredients
2 1/2 pounds

boneless beef short ribs, fat removed and cut into 1 1/2 x 1 1/2 inch pieces

Salt and pepper

3/4 cup

all purpose flour

4 tablespoons

canola oil

6 ounces

apple wood smoked bacon, cut into 1/4-inch pieces

18

pearl onions, peeled

18

baby carrots, peeled and cut into half if longer than 2 inches, otherwise kept whole

18

baby turnips, peeled and cut in half

1/2 pound

chanterelles mushrooms, cleaned, trimmed and cut in half

2 tablespoons

butter

4

cloves, tied on a string

2

bay leaves

2

onions, minced

1

garlic head, cloves separated, peeled, and minced

1 1/2 tablespoons

fresh ginger, minced

1 tablespoon

ground cumin

1 tablespoon

ground dry mustard

1/2 teaspoon

freshly ground black pepper

1/2 teaspoon

Aleppo pepper (or crushed red pepper)

2 tablespoons

tomato paste

1 (750-ml) bottle

red Burgundy wine

1 quart

beef stock

4

thyme sprigs

2 tablespoons

brown sugar

1/4 cup

fresh parsley, for garnish

1/4 cup

fresh chervil, for garnish
Directions
Preheat oven to 325 degrees F.
Season the beef with salt and pepper and lightly coat with the flour. Reserve extra flour. Keep at room temperature for 30 minutes.
Heat a large oven safe stew pot over moderate heat and add the bacon and canola oil. Cook until fat is rendered. Remove bacon and set aside.
In the same pot sear the short ribs until lightly colored. Take care not to burn the pan.
Remove the beef and set aside. Add the pearl onions cook for 2-3 minutes. Remove the onions and reserve.
Repeat this process with the carrots and turnips.
Add the chanterelles and sauté for 1 minute, remove and reserve.
Add the butter to the leftover oil. Then add the cloves and bay leaves, and cook for 1 minute.
Add minced onion, garlic and ginger and cook for 4-5 minutes until transparent.
Add the ground cumin, mustard seed, black pepper, and Aleppo pepper, and cook for 2 minutes more.
Add the leftover flour and tomato paste, and cook for 2 minutes.
Deglaze the pan with the wine and bring to a boil. Add the beef stock and bring to a boil.
Add the bacon and the short ribs to the pan. Bring to a boil, then reduce heat.
Add the thyme sprigs. Season to taste with salt and pepper.
Place the pot in the oven and cook approximately 2 to 2 1/2 hours.
Add the carrots, turnips and pearl onions. Cook for 30 minutes more.
Take pan out of the oven. Add brown sugar and remove cloves and bay leaves. Add the chanterelles. Season with salt, if needed. Garnish with parsley and chervil. Stew tastes even better the next day.
Total Time:
3 Hours 30 Minutes
Serving size:

1/6 to 1/8 of recipe