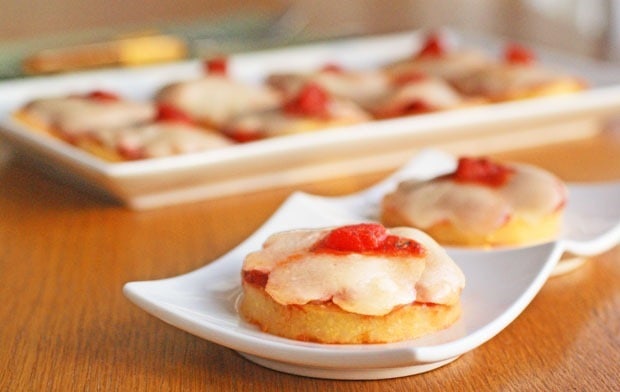 One of my go to meals when I can't think of anything else to make is polenta. The great thing about polenta is that you can keep a couple of tubes of it in the pantry since it's shelf stable. My favorite way to cook it is to sauté slices in a pan, cover them with warm spaghetti sauce, and add a little parmesan cheese on top.
I created these Polenta and Ham Pizza Rounds using deli meats and cheeses. In addition, I created a Polenta and Ham Casserole using leftover lower sodium ham and provolone from the first dish.
The ingredients shown below are for making both dishes. If you just want to make the Pizza Rounds, halve the recipe and use leftover ham and provolone in quiche or omelets.
The Pizza Rounds make wonderful party appetizers as well as a main dish. They're a little messy to eat with your hands – and you have to wait for the rounds to cool down a bit.
Even so, my nine-year-old daughter managed just fine. Her verdict – "Oh Mom, these are so good that I can't stop eating them!" – as she ate her third Polenta and Ham Pizza Round!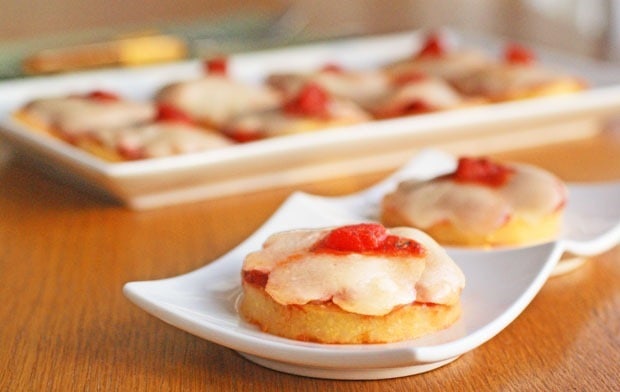 Polenta and Ham Pizza Rounds and Polenta and Ham Casserole
Ingredients
1 (28 ounce) can

crushed fire roasted tomatoes

1 teaspoon

oregano

1 teaspoon

basil

1/2 teaspoon

thyme

1/2 teaspoon

sea salt

1/4 teaspoon

pepper

2 (18 ounce)

rolls of polenta, cut into 32 rounds

Cooking spray

12 slices

Black Forest low sodium smoked Ham

1 (8-ounce) package

Provolone Cheese (approximately 16 slices)
Directions
For Polenta Ham Pizza Rounds:
Preheat oven to 350 degrees F.
Combine tomatoes, oregano, basil, thyme, salt and pepper in a bowl and set aside.
Carefully slice polenta. Keep best slices for the pizza rounds. Broken and funky rounds will be used in the casserole.
Carefully slice polenta. Keep best slices for the pizza rounds. Broken and funky rounds will be used in the casserole.
Spray a large oven safe dish or cookie sheet with cooking spray. Place 16 polenta rounds on dish, 1/2 to 1 inch apart.
Use a cookie cutter to cut ham and cheese. I used a flower shaped one that was just slightly bigger than the polenta rounds. If you run short on ham, overlap two smaller pieces of ham. Then carefully cut it with your cookie cutter. Since the ham will be under the cheese, no one will really notice that you've had to "make due."
Spoon a large dollop of the tomato mixture on to the polenta round – just enough to almost cover the polenta.
Carefully place ham and cheese slices on top and top with a piece of tomato from the leftover tomato mixture.
Place in oven and cook for 15 minutes until cheese is melted.
Remove from oven and place pizza rounds on a platter to serve as appetizers. Or serve two to four rounds per person as a main dish along with a vegetable or salad.
For Polenta Ham Casserole:
Coat the inside of a casserole dish with cooking spray.
Layer half of the "less perfect" polenta rounds on the bottom of the casserole dish. Cover with half the remaining tomato mixture.
Layer the rest of the polenta rounds. Cover with the rest of the tomato mixture.
Chop up remaining pieces of ham and cheese and liberally sprinkle on top of casserole until evenly spread.
Bake at 350 degrees F for 25 to 30 minutes until cheese has melted and starts to brown a little. Serve and enjoy!
Total Time:
1 Hour 15 Minutes
Serving size:

Don't go crazy!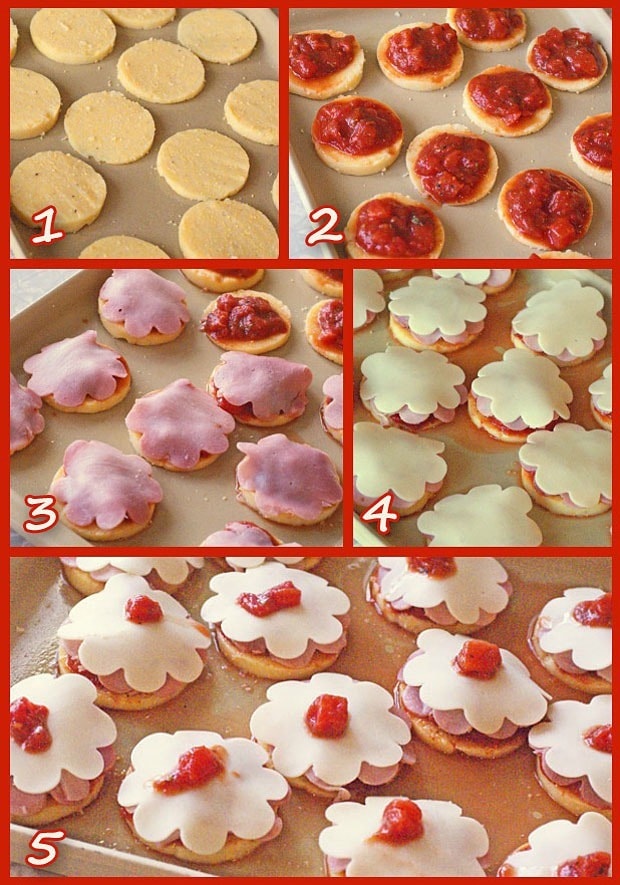 The Polenta and Ham Casserole is a very cheesy dish. If you're worried about too much fat and calories, use less cheese and save the remaining pieces for chef salad, omelets or a quiche.
In addition, you can health up this dish by adding chopped up broccoli, squash, zucchini and/or cauliflower to the layer below the ham and cheese. It's a great way to sneak in some healthy veggies into your family's dinner!